We love to catch up with our customers to see how they're getting on with their garden buildings. That's why we were overjoyed when Carla made the effort to let us know how she was getting on with her new BillyOh Summerhouse!
With the global pandemic changing the way we live, spending lots of time at home is the new normal. There are lots of upsides, of course, but sometimes we all need time out of the house. 
Carla was no different, but she had an ingenious idea. She saw an opportunity to create a place where she could get out of the house…without ever leaving home! How, you ask? As Carla will tell you, a Summerhouse is the answer.
Setting out on her search for a Summerhouse, Carla was dead-set on getting a reverse-apex summerhouse with georgian windows and a cottage-feel. She had trouble finding a model that fit her specifications – until she found us at Garden Buildings Direct.
"We looked for a summerhouse that was good quality and reasonably priced. BillyOh summerhouses suited us perfectly for this."
It wasn't long until she'd found a model that fit her needs and her garden perfectly. She opted to get walls with double thickness so that they could use the garden building comfortably in winter.  
After ordering, we unfortunately had to alert Carla that there would be a small waiting period as our summerhouses were in very high demand! But once it had arrived, she wasted no time building it and then making it her own.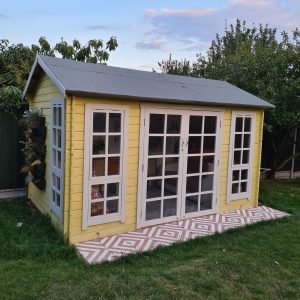 Once her BillyOh Riley Summerhouse was assembled, Carla decorated it in the cottage style that she had always wanted. Outside, this meant a coat of sunny yellow paint, white window frames, and some beautiful hanging planters! Inside, her family plastered three walls to make it feel more home-like, then added 60s and 70s decorations with a print lampshade, beanbag, vintage sofa, and a vinyl player. It definitely gives a laid-back vibe!
"With the doors open and sun streaming in it is very relaxing. Cosying up inside…with a film feels like a date night without going out."
Carla isn't done yet, either. She's planning to take it to the next level by adding a Wildflower roof! Check out some pictures of her beautiful summerhouse below!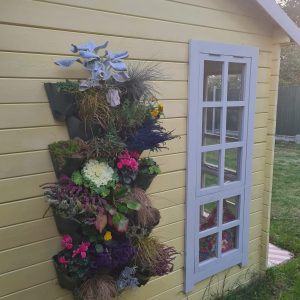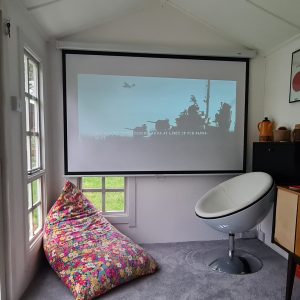 "It has given us an extra room. It feels like you are getting away from the house even though it's just a few metres from the back door."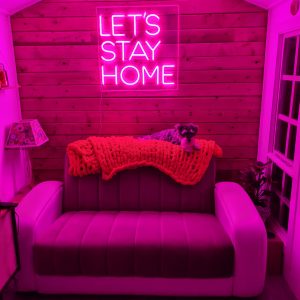 We're so glad that Carla is getting so much use from her summerhouse – and we absolutely love the decorations too! With this experience under her belt, she even has some wise tips for the rest of us.
"When buying and decorating, think about what you want to use the room for and how you want to feel when you're in there. Make it a room you enjoy!"
If that's the advice that made Carla's Summerhouse retreat look so cool, then we'll definitely be following it!
If you're thinking about following in her footsteps too, then why not check out our extensive summerhouse range? We have models and designs of all kinds of sizes, meaning we've got the perfect garden building for you. Simply click the button below to start your own BillyOh journey! Alternatively, check out some of our other customer stories here!
Shop Summerhouses