Choosing a playhouse is not that easy. There are a lot of things to consider such as the size of your garden, the design, quality price and size of the playhouse.
We have talked to Christina who purchased the Bunny Max Tower Playhouse for her two daughters and she shared her customer experience from the time she ordered the playhouse to the day it was built.
"The whole experience with Garden Buildings Direct has been great from start to finish and we know our girls will have years of fun in their playhouse." – Christina

What made you purchase your building from Garden Buildings Direct?
We bought from Garden Buildings Direct because I shopped around online and you had the best prices with free delivery.
Why did you choose the Bunny Max Tower Playhouse 4×4?
We wanted something off the ground because our garden can get quite a waterlogged during the winter, and the buying was made easy.
How was your customer experience?
Everything was explained and made simple with the slide add-on and sizes with the diagrams. I was in Spain when I made the purchase so it was delivered before we got home, the sales rep was brilliant she even remembered me by accent (Liverpool ha) when I called back 10 minutes later which made me feel like she was listening from the start and I wasn't just another call.
The personal effect was very appreciated! She explained everything and confirmed everything a couple of times so that we were both happy and sure of the sale. It was such a good standard in today's world and  I felt like she wasn't just out for the sale!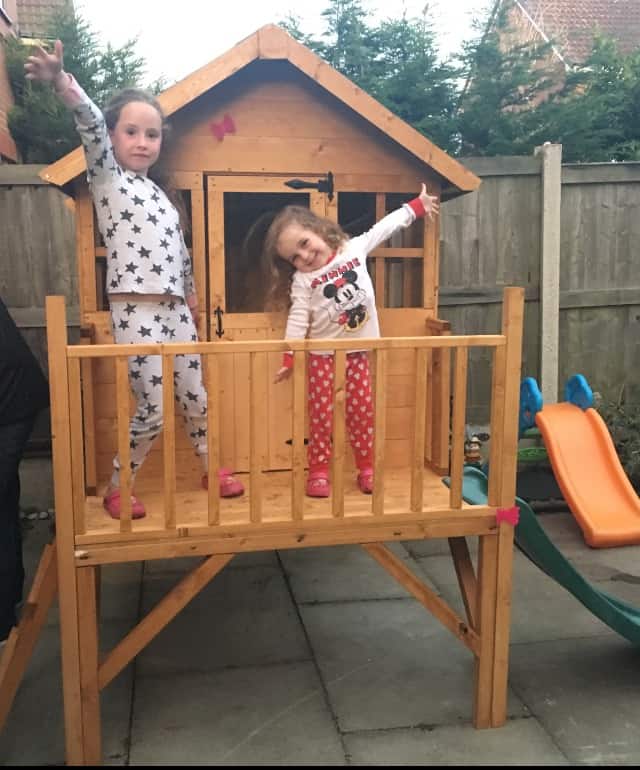 How was your experience in erecting the playhouse?
I chose my delivery date from a few slots and again the sales representative explained about the email and text the day before to confirm the time so we didn't have to wait in all day.
My mother in law was taking the delivery and received a text on the morning of the delivery day and was met by a lovely guy (her words) he couldn't be more helpful and polite a credit to the company!
My husband, Dad and father in law put the house up on a Saturday afternoon it took approximately 6 hours, (dodging the rain showers) but they said it was explained and directed well so would have been much quicker if the weather had been better!
Christina shared that her two daughters love their playhouse and their eyes lit up when it was built. They haven't painted it yet but they plan to paint it with Ronseal Garden Summer Sky Matt Garden Paint.
How are you finding the playhouse now?
Overall brilliant service and we're happy with everything.
How did you decorate it and what paint did you use?
The girls want it turquoise so we have chosen Ronseal Garden Summer Sky Matt Garden Paint.
Would you recommend buying from us?
Would I recommend your company to anyone? I already have!
It is more than happy to see your kids love and enjoy playing in their playhouse. But it is perfect if you had a great customer experience in buying it. Inspired by Christina's story? Get your own playhouse now and choose from our variety of playhouses from wooden, tower, two-story and more.
Similar BillyOh Bunny Max Playhouse Stories:
The BillyOh Bunny Max Playhouse Stories