We love to catch up with our customers to see how they're getting on with their garden buildings. Jane shared her experience with the Carmen Cabin, and we were captivated by how she had transformed the space and how she was using it!
Operating your very own business in the comfort of your garden or home is no longer the pipe dream it used to be. In fact, for many of us – Jane included – it's not just a reality, it's the norm!
As we transition to lives where we live and work at home, it becomes more important that we pay more attention to how we use and divide our home space. Having a dedicated, private workspace is essential to being productive and getting focused.
When Reiki Master and Holistic Therapist Jane decided to make the transition to having a home workspace, she took this approach too. She wanted a space separate from her house where she could do treatments and training. A log cabin presented itself as the best choice.
This led her to us here at Garden Buildings Direct. After a visit to our website, she was convinced.
"Your website was fab, it answered all my questions."
And once she had decided on us, choosing the Carmen cabin was even easier for Jane.
"I loved the shape and design of the Carmen. Loved the window and door arrangement – lots of natural light."
Once Jane had decided on the Carmen Cabin, she started making her dreams a reality. After a smooth and simple delivery, that led Jane to say that she "couldn't ask for better service" she quickly assembled the building. 
After a quick and effortless building construction, Jane started her renovations. She had big plans for her new therapy studio, and we have to say that we love her design ideas. Jane went for a clean and minimalist design, with white walls and off-grey laminate flooring for calming and neutral colours.
With white voile decorations, fairy lights, and laser-cut accessories, Jane has created a peaceful studio. Don't just take it from us – take a look for yourself!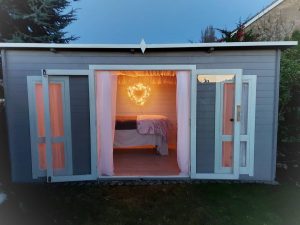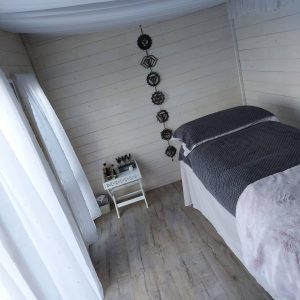 But we don't love it as much as Jane does!
"It's my little sanctuary, whenever I go in it I instantly relax. I now have my own space away from home and I don't have to travel to work."
"When I'm in it I could be anywhere, it's so Zen!"
Making people's dreams come true is our passion, so we are overjoyed every time we hear responses like this. Jane has unlocked her potential and is now holding training and treatments in her specially-tailored Carmen Cabin.
When we asked Jane what her top tip for creating a salon or studio cabin was, she had this to say:
"Think about location – away from full-on sunshine in summer and away from winds in winter – and be prepared for all temperatures."
If you want to follow in Jane's footsteps and look into creating and tailoring your own cabin, why not check out our fantastic range of log cabins or summer houses using the button below. 
Alternatively, check out how some of our other amazing customers have personalised their garden buildings in our other customer stories!