We love to catch up with our customers to see how they're getting on with their garden buildings. That's why we loved getting the scoop on Sophie's new Carmen Log Cabin which she's transformed into a wonderful home salon!
Check out this great Customer Story to read Sophie's story from the start of her search to the moment clients started using her new Cabin Salon.
Salon Search
Sophie knew that she wanted a garden building for her new home salon set-up. In fact, she'd already seen our great cabins in use for this very purpose when looking through social media. That led her straight to our website and our great range of garden cabins. After reading a couple of our customer testimonials, she knew she was in the right place.
It didn't take long for Sophie to find the model she was looking for – the 14×8 Camen Log Cabin Summerhouse.
The Carmen stood out because it was the "perfect size" for Sophie to turn into a "cosy little home salon". Importantly, it wasn't too big or too small for her needs and the size of her garden.
She was impressed with how the windows let in lots of natural light and can be opened to provide airflow and ventilation – a must in the summer.
Quality Service
Once she'd decided on her new cabin, Sophie went ahead and ordered it from us. We aim to provide a great service on all our products, and we were so proud when we heard about Sophie's time with us.
"My experience was perfect! Everything came on time and everything was delivered correctly along with instructions to put it together."
Once it was brought, delivered, and built, Sophie got to work turning it into an "at-home salon" where her clients could go and "get pampered"! This involved some expert decorating. Let's take a look at what Sophie did to decorate her cabin.
First, she plastered the interior of the cabin to provide a clean and homely feel. Then she added utilities such as electricity before finishing off the building with wooden flooring and all her salon accessories.
It really pays to invest in your garden cabin. Want the evidence? Take a look at Sophie's finished product below!
Finished Product
Sophie was super happy with how her new Home Salon turned out and, from the pictures, she has every right to be! The benefits extend beyond simply having a new cabin salon, it's changed the way Sophie lives her life.
"It has allowed me to create and design my own work space as well as work from home, which gives me more flexibility."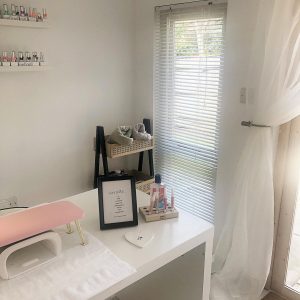 Top Tips
Finally, we asked Sophie whether she had any top tips for those of you looking to invest in a new Garden Cabin of your own – whether that's for professional use or simply as a place to relax! This is what she had to say:
"Just do it! Once you have the clients to keep you busy it's the best thing to do and it's definitely the best thing I have ever done!"
Here are some great benefits she pointed out as making it all worth it:
Having a cabin workspace of your own, and especially using it as a beauty salo cabin, gives you the

"freedom and flexibility"

for your own work. You can set your own hours and be your own boss.

You can create your own little space, tailoring it to your needs, services, preferences and even the number of clients you have on a daily basis!
We're big fans of Sophie's attitude – and of her cabin! She's done a great job and we wish her every success with her Salon business!