If a plastic shed is an adjective, it'd be low-maintenance. The powder-coated aluminium frame and durable plastic panels combination make up for it.
In turn, there's no danger of corrosion, rot or warping. Although that's true, it doesn't mean you should skip the upkeep part and then expect it to do the job well.
Proper maintenance is key, no matter the material – plastic is no exception. Doing so ensures your shed lasts a long time and functions at full capability.
Even with little effort and TLC works wonders! This post will walk you through tested and proven tips for plastic shed maintenance.
Bonus: With a few organisation hacks!
What Are Plastic Sheds?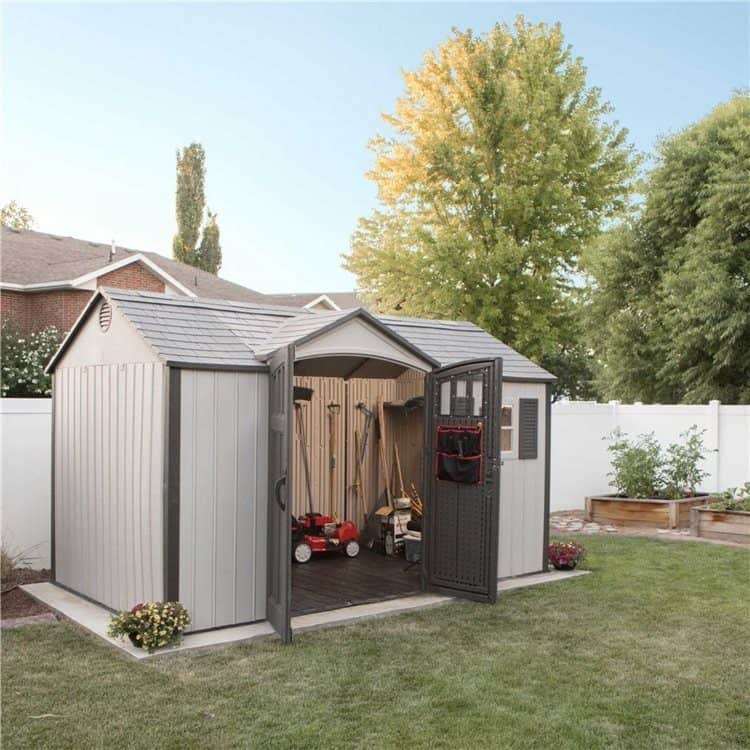 Plastic is among the popular material types of sheds in the UK, wood and metal included. 
Vinyl sheds, for one, are durable and UV-resistant yet, light and easy to move. They're built for tough outdoor use and are weather-resistant while remaining strong. 
Depending on what they're made from, plastic sheds are also referred to as:
Vinyl sheds

Resin sheds

High-density polyethene (HDPE) sheds
Overall, their weather-resistant nature subsists against all-season deterioration, ensuring sturdy construction. Most can last for ten years, even more, when well maintained.
Unlike timber sheds, you won't have to deal with rot or pest and will never need annual staining or treating. And in contrast with aluminium or metal units, you won't have to worry about rust. 
But then again, you still need to take care of your plastic shed to get the most life out of it.
Plastic Shed Maintenance
Here are some basic maintenance tips to ensure a better and cleaner state for your plastic shed:
1. Regular check-ups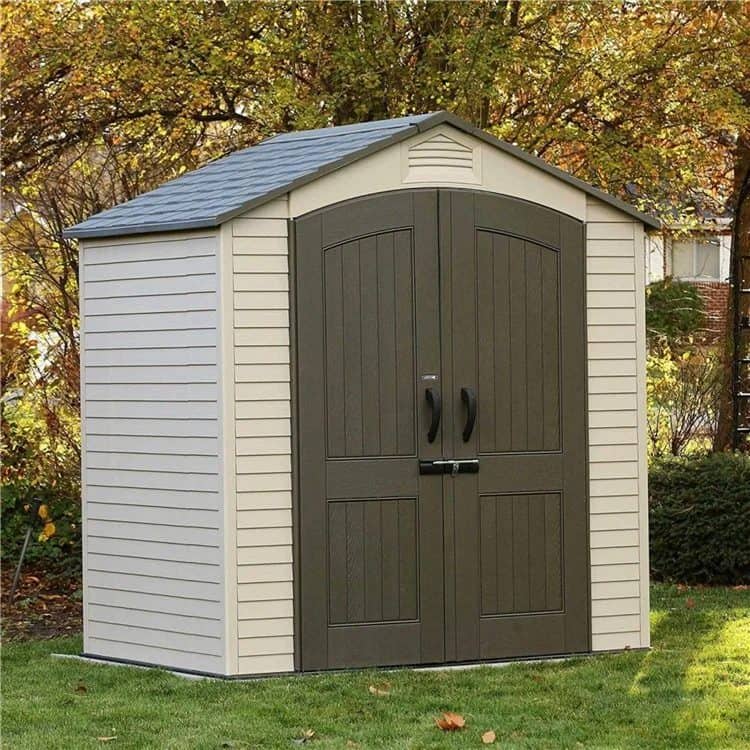 The exterior part of your shed is highly exposed to the elements, making it more prone to dirt and damage. As much as you pay attention to the interior, give the same amount of TLC outside.
As a general rule, inspect your overall shed from time to time to see what maintenance needs to get done. Take heed of the walls, ideally all sides, as well as the roofing and base.
They take the most punishment from the weather for being the shed's outer surface. And although not prone to rot or mould, it may crack due to sunlight exposure over time, drying out the material.
In such a case, you'll have to patch it with fibreglass or another plastic; for split seams, use PVC pipe glue. Overall, a regular checkup helps you find potential issues before they become serious.
2. Clean the wall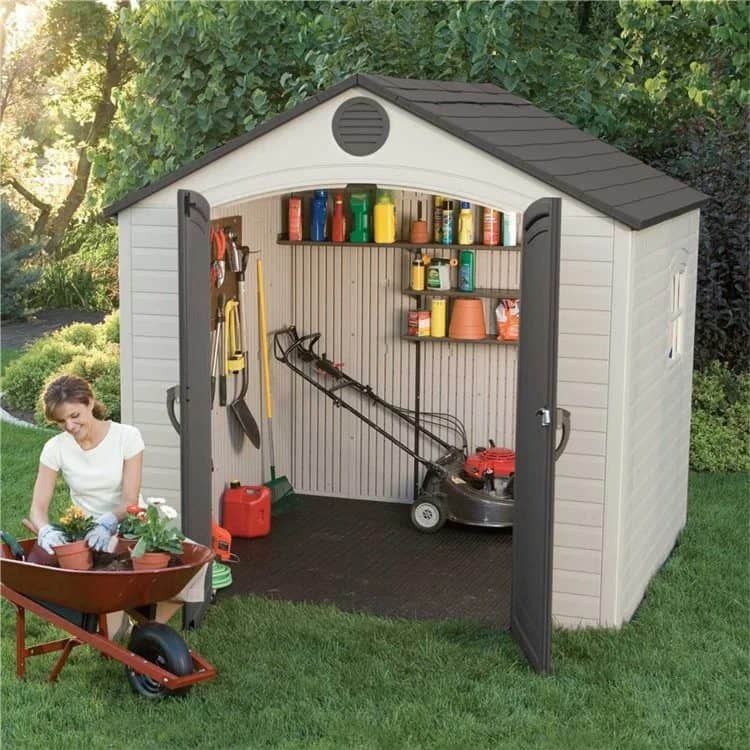 Like with other garden buildings, plastic sheds get dirty, particularly the walls. They're often located under trees, have gardens next to them, or have woodcuts stacked against them.
Such circumstances create a challenging environment to keep the structure clean. But cleaning solves the problem!
Do this by brushing off the dust and residuals, such as mud, on the wall surface. Then, prepare your cleaning solution, e.g. a mixture of soap and water, apply it on a piece of cloth and wipe all sides.
If your shed is rather large, opt for a garden hose for convenience and spray water onto its outer walls. Prepare a plastic bristle brush scrubber just in case you have to scrub away the stuck grime.
Alternatively, use a power washer, if you have one, to speed up the cleaning process. 
Top tip: Mix ⅓ cup of laundry detergent with 6 gallons of water. A few cups of white vinegar mixed into the solution also works wonders in maintaining the gleam.
3. Mind the roof and gutters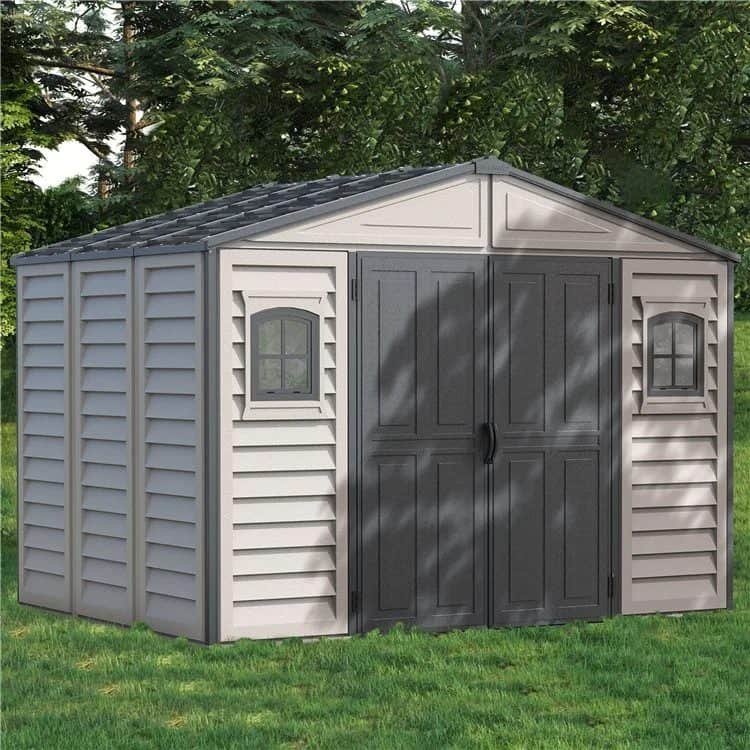 As mentioned, these are the parts of the shed that get whacked by the harsh weather. More debris accumulates by the roof in time, and the same goes for the gutters.
To start cleaning, sweep off all the dirt and dust using a push broom or hand brush. Then, use a hose to spray water directly onto the roof.
Apply liquid soap onto the surface and start scrubbing with a suitable scrubber. Once satisfied with the cleanup, rise again with water and wipe dry using a rag or squeegee.
During the wintertime, don't let the snow pile up. Consider investing in some roof-strengthening kits to add strength and durability, too. These contain extra steel rafters.
As for the gutter, you'll want to ensure the drainage is debris-free of leaves and mud. Otherwise, large pools of water may form, which can lead to damage and minor flooding.
If your plastic shed doesn't have one yet, installation is your safe bet. This will help prevent any drainage issues in the long run.
4. Apply protectant spray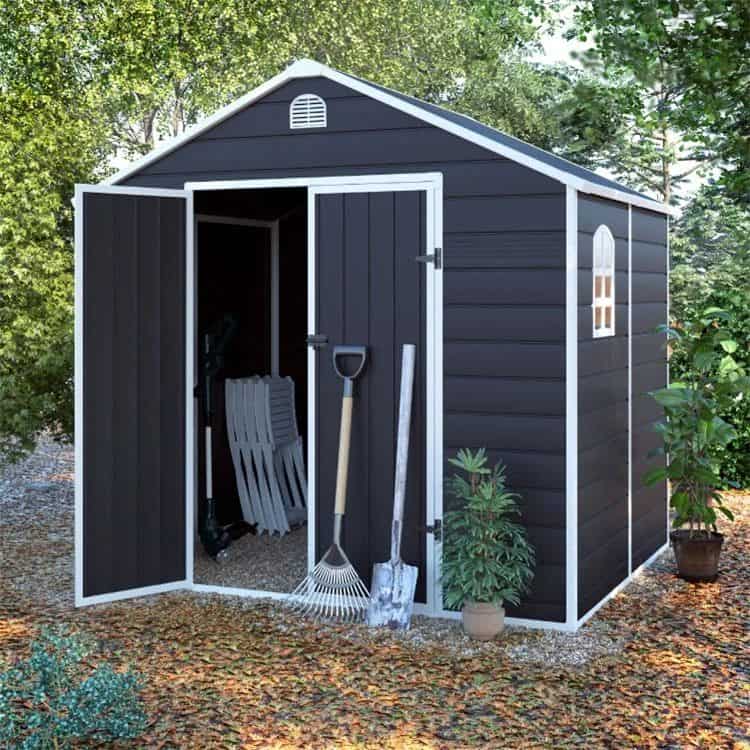 The plastic material is prone to UV damage. The sun's harsh rays break down chemical bonds in polymers. This causes plastic sheds, in most cases, to disintegrate at some point.
Luckily, there are many ways to increase your shed's ultraviolet resistance. Enter protectant sprays. Specially designed sprays like this provide enough protection to remain smooth and crack-free. 
Your shed may need to have more or less UV resistance, depending on the product application. See if there's available on your local hardware – one that can keep your shed in pristine condition.
5. Tackle the base foundation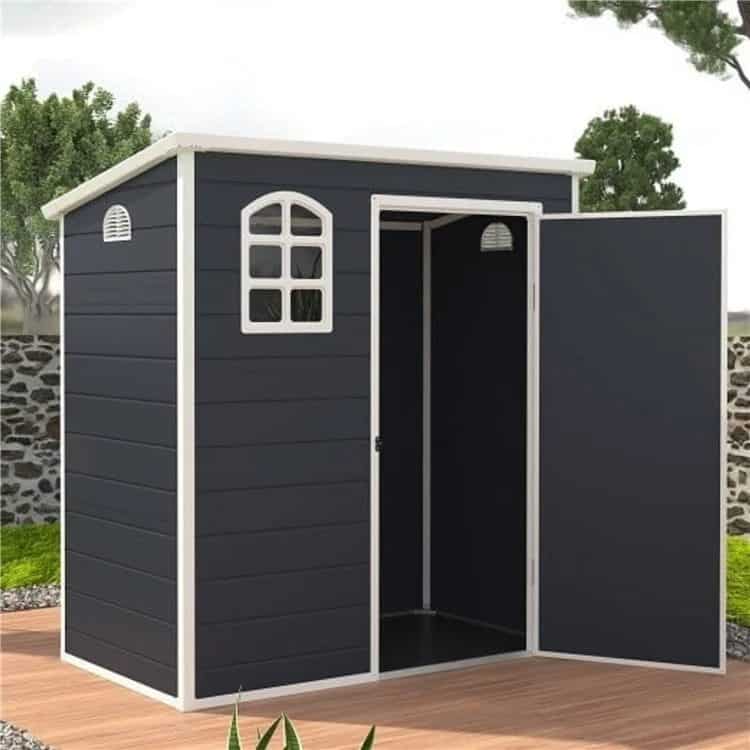 A solid level substructure helps the shed to stand on while raised above the grounds. Yours could be a decked wood frame, paving slabs or concrete.
It's more likely you've considered this already during the installation. But inspect now and then if the structure is still safe from being sat, such as in a floodplain. 
This guarantees efficient drainage, accomplishing a flawless shed construction. Unless overlooked, of course, it may do less than what it could've offered more.
For an upgrade, consider getting your floor treated. It's another way to create a maintenance-free storage shed. You don't want to end up having a garden building that lasts for 50 years with a floor that lasts 20! 
6. Organise the inside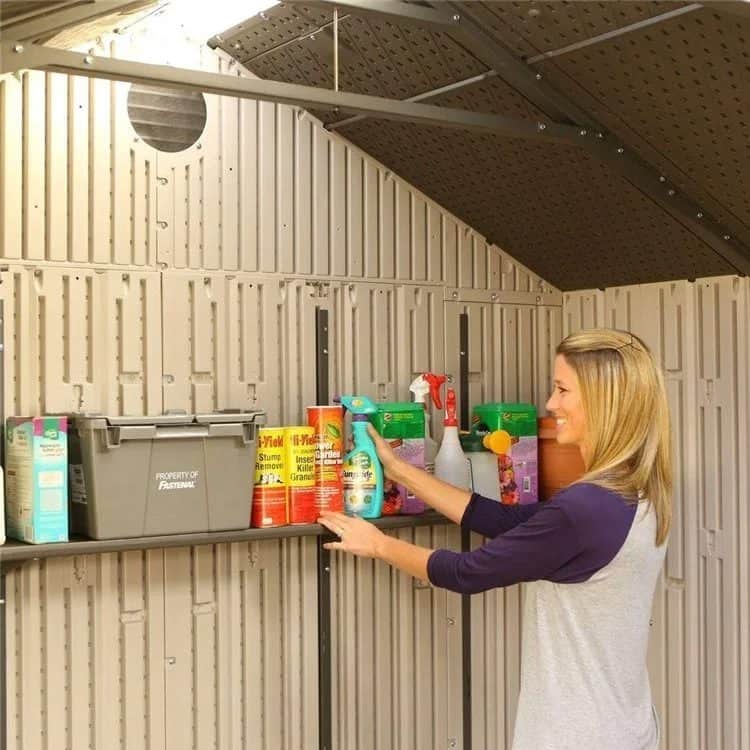 Sure, you use your shed as a storage solution to save floor space in your garage. But what's the point of storing everything in a garden room if done carelessly?
It's like you only transferred the chaos from the basement to another place. And that doesn't sound like a 'solution' at all.
You want to get the most out of your plastic storage building? Clean the inside, at least, by regularly sweeping the floors and dusting the shelves.
Also, take this opportunity to sort out your gardening tools and DIY equipment. Toss any broken or unwanted items to give you space back for the things you want to add.
If you store soil and mulch, keep them in waterproof bags or containers to prevent mould growth. As for your lawn mower and other bulky items, empty the gasoline before tucking them away in winter.
Here are some practical organisation ideas for a clutter-free plastic shed:
Cabinets and shelves.

These will give you more space and allow you to have access to tools within reach.

Pegboards.

Perfect for saving floor space, where your assortment of tools is on the wall.

Containers for chemicals.

Placing pesticide sprays and treatments in containers will keep them safe from exposure. Opt for heavy-duty plastic bins.
7. Double-check security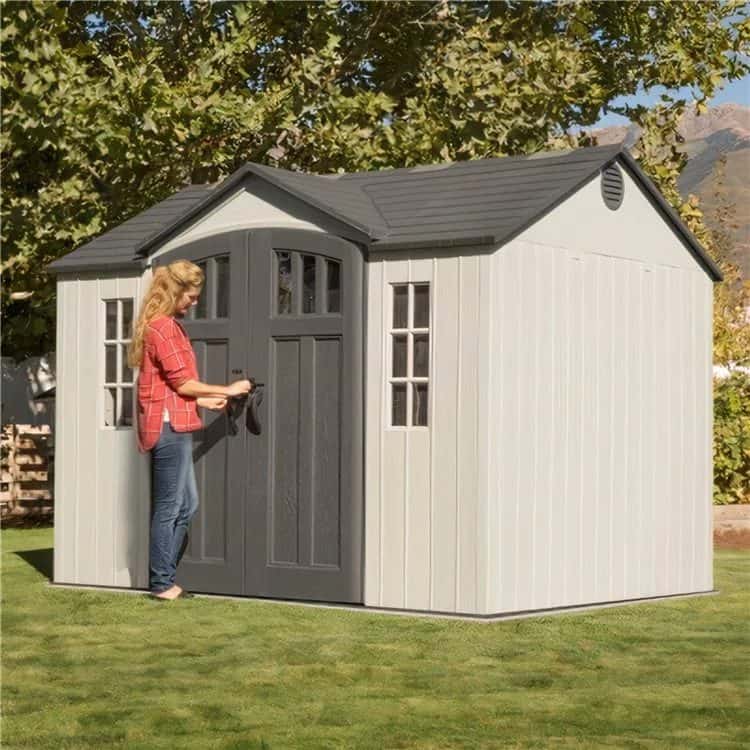 No matter how well-maintained your shed is, if it lacks security, your efforts will be in vain. A bummer! Whatever your shed's purpose is, think about the belongings you keep inside.
Opt for a hasp with strong padlocks instead of using low-quality ones. Replace the door hinge, if necessary, with nuts and bolts for robustness.
If your shed has windows, block them with curtains, blinds, or stick-on security sheets. Even better, place a motion sensor in the corner, along with a door sensor and a siren. This will scare potential burglars away.
Top tip: Keep the door closed when not in use to keep out leaves, dirt, and even animal intruders. A great habit that will cost you nothing!
Round-up
Over the past years, plastic sheds have become an increasingly viable maintenance-free alternative.  Strong but lightweight, one can be easily moved around the garden.
The UV-resistant feature also ensures no fading, keeping its look in tip-top condition. If you haven't figured out if they're any good, these pros and cons will help.
FAQs