Keeping your outdoor living space clutter-free will make it more enjoyable (and less risky!) for you and your family. But with your children's bikes, accessories, and outdoor toys scattered all over your backyard or patio area, cleaning up can be a bit challenging. That's where a cheap bike storage shed comes in handy…
If you're fed up with seeing your kids' two-wheeler lying around your outdoor space or garage, investing in a high-quality storage unit is the answer! A dedicated place to store bikes and other outdoor items during the off-season and during inclement weather will help them last longer.
So, speaking of bike storage solutions…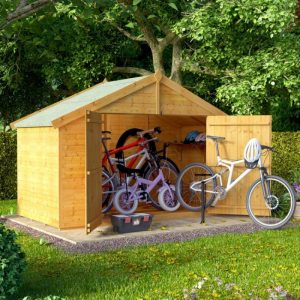 A garden shed could be a good idea. And if you're planning to purchase one, this guide will come in handy. We've listed everything you need to know to make an informed decision on the perfect cheap bike shed for you.
For many of us, learning to ride a bike was a part of growing up. But while bikes are often our pride and joy, they're also an awkward object to store. If they're not lent properly against a surface, they can easily be knocked over.
Owning a bike storage shed comes with a handful of great benefits. Not only will it ensure your little ones' bikes don't end up cluttering up space you need for something else, but it will also protect the bicycles against rust AND prevent them from being damaged or stolen.
---
If you're fortunate enough to already be in possession of enough space to store your bike, go no further. But if you aren't, plough on, and let us tell you about all the different choices you have. At Garden Buildings Direct, we stock a range of storage facilities that could all double up as a bike space.
Let's begin with which material might be best for you.
Metal Bike Sheds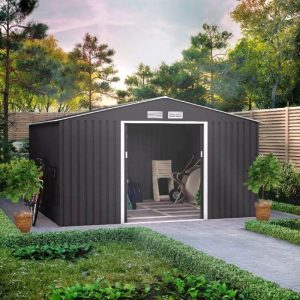 The strongest and most durable shed cladding is made out of metal. Constructed from galvanised steel, our range of metal sheds are a great choice if you want a low-maintenance unit for your child's bike.
Although they may not be as visually appealing as their wooden counterparts (that's up to you!), they still make a good option thanks to their resistance to rot and fire. Metal sheds are also more lightweight than wooden sheds, so they can be moved more easily.
Plastic Bike Sheds
Often cheaper than metal sheds, plastic sheds are an excellent choice for anyone who wants a simple, effective garden building. Durable but also lightweight, they can be easily moved around the garden too, into your preferred position.
Some plastic sheds are also UV resistant, including our Ashford Plastic Garden Shed. This means that the colour of the shed won't fade in the sunlight, and anything inside will be protected against burning rays. Ever got in a car on a boiling hot day? Everything is scorching! With a UV resistant shed, there's no need to worry about any steaming handlebars.
Unlike other sheds, wooden sheds can be easily customised or painted to suit your ideal. Keep in mind, though, that timber is a natural material, so can be vulnerable to rot and mildew. This is why it's paramount that the wood is treated before first use.  You can buy wood preservative from a hardware store, and will need to apply it to your shed annually to ensure it's protected against the elements. 
If you don't have the time or resources to treat your wooden shed, here's some good news: we offer the option of pressure treatment on many of our sheds. 
Pressure treatment is an industrial method. It involves soaking the timber in a solution full of preservatives, in a vacuum-sealed tank. This allows the chemicals to soak deep into the grain of the wood. After that, the timber is stacked and left to dry. This maximum penetration option means that the preservatives soak much further into the wood than they could through a hand-applied treatment. Subsequently, pressure treatment offers much longer-lasting protection than a dip-treating or hand-treating alternative.
Our Best Selling Cheap Bike Storage Units
Our best selling cheap bike storage units are our wooden sheds. They're compact but hardy at the same time, ensuring your gear is protected against harsh weather.
Overlap Wooden Shed
An overlap shed is considered the most traditional and cost-effective choice. Its timber slats are placed atop one another, each one overlapping the next, to create a panel. If you want budget-friendly protection against harsh weather elements, an overlap shed is perhaps your best option. 
BillyOh Mini Keeper Overlap Pent Store Shed (Price: £323)
Wondering where to store your bikes is a headache – solved with the Mini Keeper Pent! Available in 6×3, the Keeper is compact and great value for money, combining traditional overlap cladding with a modern pent roof design.
It'll keep the bikes safe and protect them from the cold and wet outdoors. Plus, it's spacious enough to house a variety of adults bikes, children's bikes and accessories, all under the same roof.
---

---
BillyOh Mini Expert Pent Tongue and Groove Bike Shed (£319)
BillyOh Mini Keeper Overlap Apex Bike Store (Price: £368)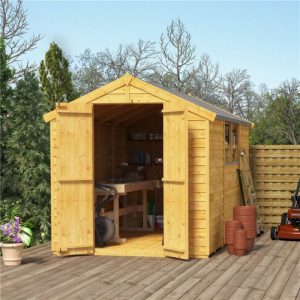 Store your bikes and accessories with ease with this excellent value apex version of the previous building! The Mini Keeper Overlap Apex shed is designed with a value overlap construction, offering ultimate weather protection to keep most of the rain out. 
It gives your bikes vital protection against the elements, preventing metal parts from rusting in the cold, damp weather.
Tongue and Groove Wooden Shed
Made from interlocking boards, tongue and groove panels provide great protection against the elements, with no gaps. Tongue and groove sheds are more weatherproof than overlap sheds, guaranteeing your shed's contents remain dry, irrespective of the conditions. Here's our pick of the bunch:
BillyOh Mini Master Tongue and Groove Pent Store Shed (Price: £373)
Whether you cycle to work or school or need your bikes ASAP for a family day trip, our Mini Master T&G Pent bike store ensures your bikes are always ready to go! It provides quick and easy access, thanks to its extra-wide door opening. 
It's a more premium choice than our overlap sheds because the doors and panels are made from 11mm tongue and groove cladding. The T&G uses interlocking boards that slot together to give the outbuilding a sturdier construction. 
Tongue and groove cladding also provides much better weather protection and we think it looks better, keeping your bikes and other items out of the rain while looking stylish at the same time.
BillyOh Mini Master Tongue and Groove Apex Bike Store (Price: £369)
Keep your items safe and sound with the premium Apex version of the Mini Master. It's an ideal bike storage solution! Available in 3×6, 4×6, 3×8, and 4×8 sizes, with the added bonus of additional height provided by the apex roof, our Mini Master T&G Apex bike store is compact, solidly constructed and weather-resistant.
Moreover, the T&G design gives your bikes and belongings extra protection from the harsh elements with its solid T&G construction, whilst providing a modern touch to your outdoor space.
Where Should I Install My Cheap Bike Storage Shed?
It's important to position your outdoor building wisely in order to not risk inconveniencing yourself at a later date. When determining where to put your bike shed, make sure to take note of the following:
Closeness to boundaries

Exposure to the elements

Proximity to the house

Ground reliability

The direction of the sun

Accessibility
At Garden Buildings Direct, we offer purpose-built, cheap bike storage, designed to house mountain bikes, BMXs, tandems or whichever mode of transport you prefer, with consummate ease. Our bike storage units are designed to protect your bikes from the harsh weather conditions of the colder months.
Bonus: Not only will our sheds fit your and your children's bikes, but they'll also double up as a workspace. This is great in the event that you need to change a tyre, tighten handlebars or perform any other kind of bike maintenance.
Shop Bike Storage