Transforming your outdoor sanctuary into an inviting haven requires one key element: decluttering. Yet, managing the chaos of childrens bikes strewn everywhere can be a daunting task. Enter the solution: an affordable bike shed.
This garden structure offers a dedicated haven for two wheels and outdoor essentials. It ensures their longevity through all seasons and weather conditions.
In this guide, we've listed everything you need to know to make an informed decision. Ready to find the perfect bike storage shed for you?
Learning to ride a bike is a cherished rite of passage in our journey to adulthood. However, as much as we love our bikes, they can be unwieldy to store. Leaning them against a surface is a precarious option, as they can easily topple over.
This is where a cheap bike shed comes in — a solution with many compelling benefits. To start, it frees up valuable space that can be better utilised for other purposes. Moreover, it shields your bicycles from rust and the risk of damage or theft.
Let's kick things off by delving into the material choices that might suit your needs best:
Metal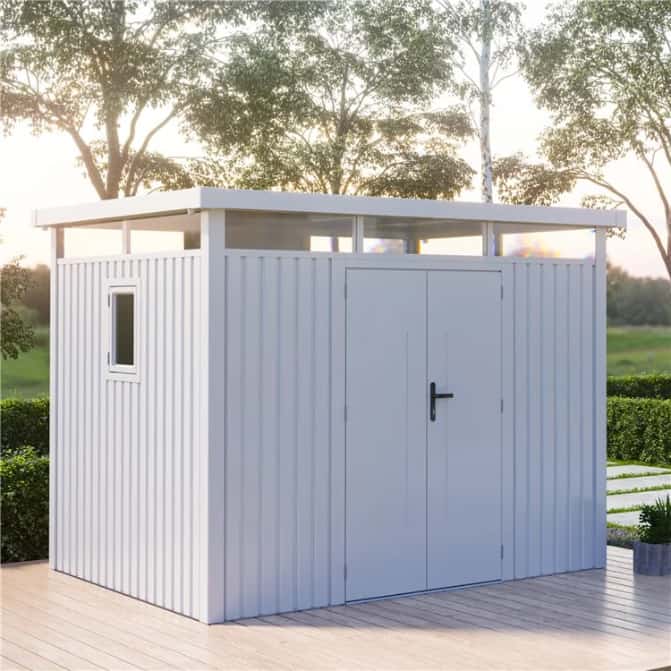 Regarding strength and durability, metal shines as the top choice for shed cladding. Crafted from galvanised steel, metal sheds excel as low-maintenance options. They offer impeccable resistance to both rot and fire hazards.
Moreover, their lightweight construction ensures easy relocation when needed. This, overall, makes them a practical choice. Although they do not match the rustic charm of timber sheds, this can be a matter of personal preference.
Plastic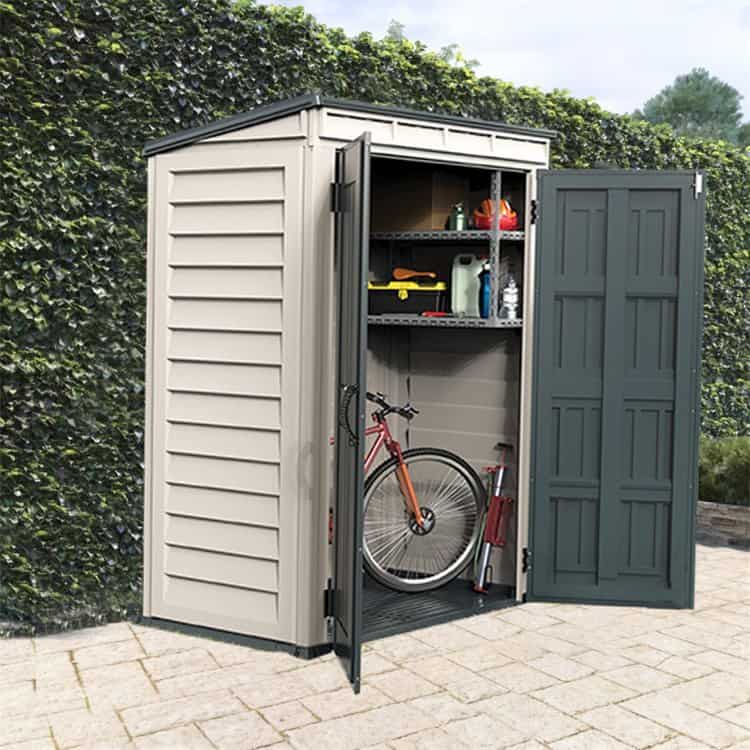 A budget-friendly alternative, plastic sheds offer simplicity and effectiveness in garden rooms. They blend durability with a featherlight design, allowing effortless relocation within your garden.
Certain models, like our Ashford sheds, come equipped with UV resistance. This means the structure's colour remains unfazed by the sun's relentless rays. Even better, anything stored inside is shielded from scorching heat. No more sweltering handlebars when you step into a car on a scorching day. With a UV-resistant shed, you can bid farewell to worries about sizzling surfaces.
Wood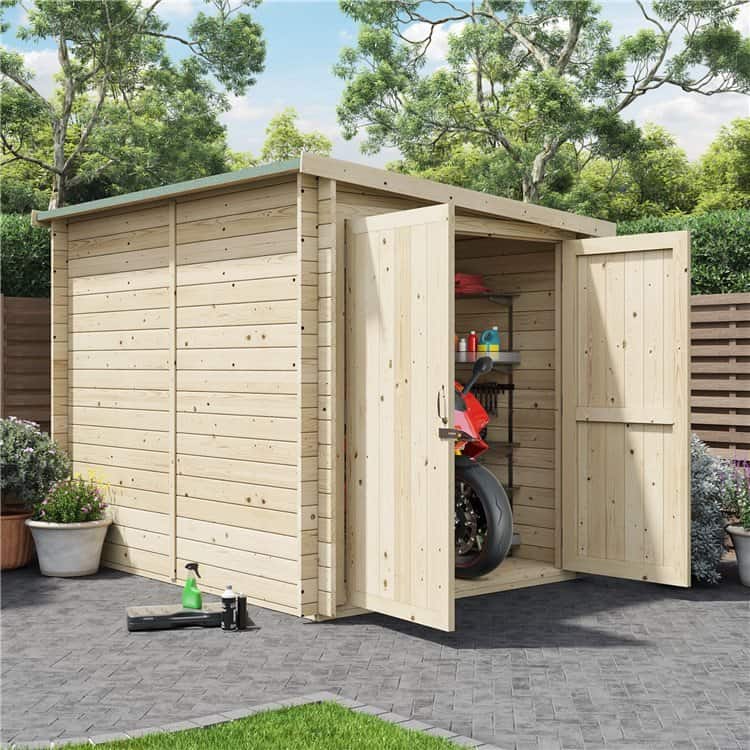 Wooden sheds stand out due to their flexibility for customisation and personalisation. However, timber, being a natural material, is susceptible to rot and mildew. Thus, applying a wood preservative, e.g., clear shed treatment, before initial use is crucial. Do so annually to ensure continued protection against the elements.
For those with limited time or resources, we offer a solution: pressure treated sheds. This process immerses the timber in a preservative-rich solution within a vacuum-sealed tank. It enables deep penetration of the wood grain. The result? Long-lasting protection far superior to dip-treating or hand-treating methods.
Our top-selling budget-friendly bike storage solutions are our compact yet robust wood sheds. Check them out below: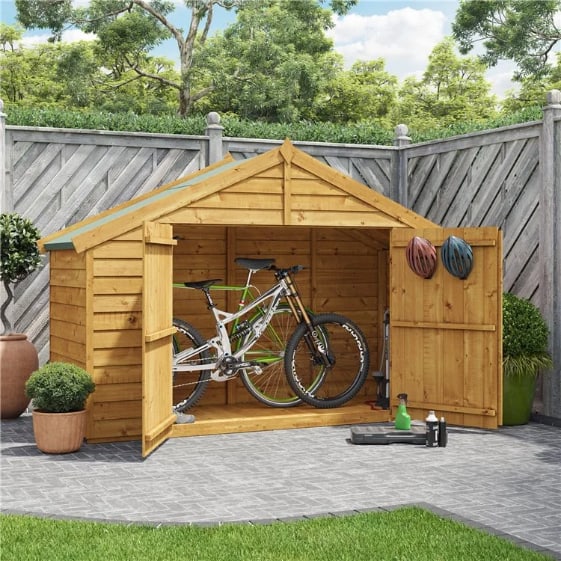 In need of an outdoor building to make the most of your outdoor spaces, but garden sheds take up too much room? Then the Mini Keeper is the perfect solution!
The overlap cladding style used guarantees weather resistance. Meaning the unit is built to cope with British weather at a budget-friendly price. What's more, the apex roofline isn't just a stylish traditional addition. It's also designed to allow for excellent runoff in even harsh weather, protecting your bikes.
Other design insights include:
Windowless design for extra security

Wide-opening double doors for easy access

Offset design, allowing for shelving to be added for extra storage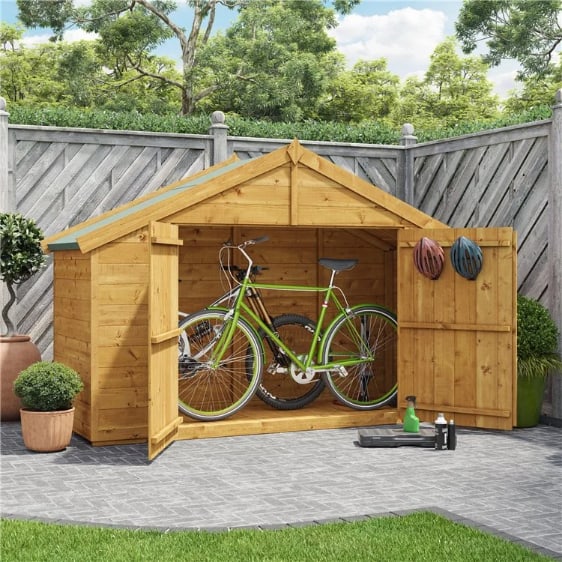 The Mini master apex bike storage shed is an excellent addition to any garden. It is designed to keep bikes away from prying eyes while stopping them from cluttering the space.
Not only does this building have room for your bikes and equipment, but it also works great for tool storage. The taller apex roof gives you an extra little bit of headroom, which is great for storing accessories.
Its small footprint and classic style won't detract from your garden or patio space. This bike store is excellent for any type of bike, including but not limited to balance and hybrid bikes. Just check the technical specifications to see what size best suits your needs.
Other design insights include:
11mm strong Tongue & Groove construction

Windowless design for extra security

Versatile storage to suit your needs

Extra wide double door for easy access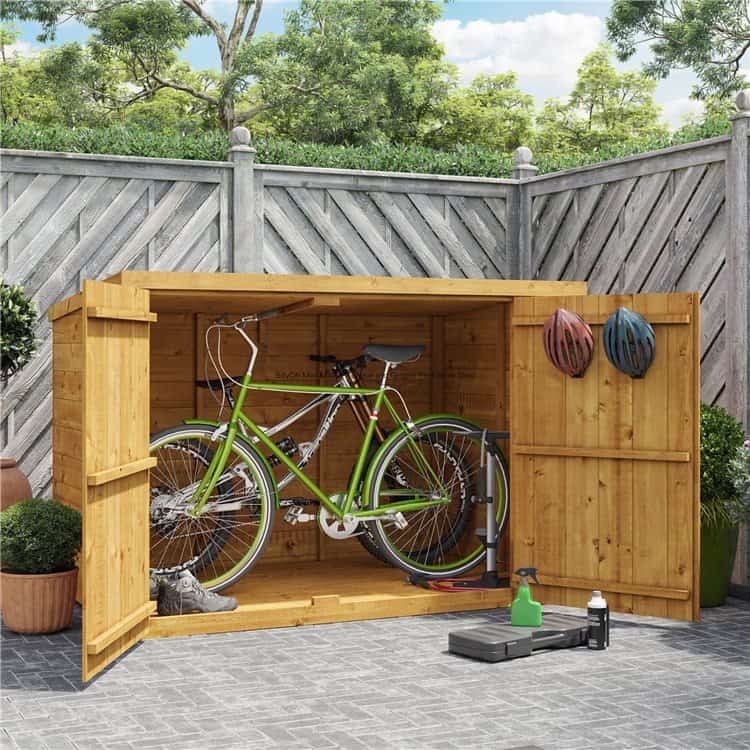 The Mini Keeper is a versatile building suited to your small storage needs. Its modular design keeps it clear and out of your garden and patio space. This product has many different uses but works very well as a bike shed tool and garden items storage.
The overlap construction creates a robust, sturdy and cost-effective construction. Meanwhile, the strong roof and floor create a solid base and cover for all your possessions. This building comes as a 6×3 bike shed. An excellent size for most storage needs while still small enough to fit snugly in the corner of a garden.
Other design insights include:
Perfect size for bikes

Windowless design for extra security

Compact storage to suit your needs

Wide-opening double doors for easy access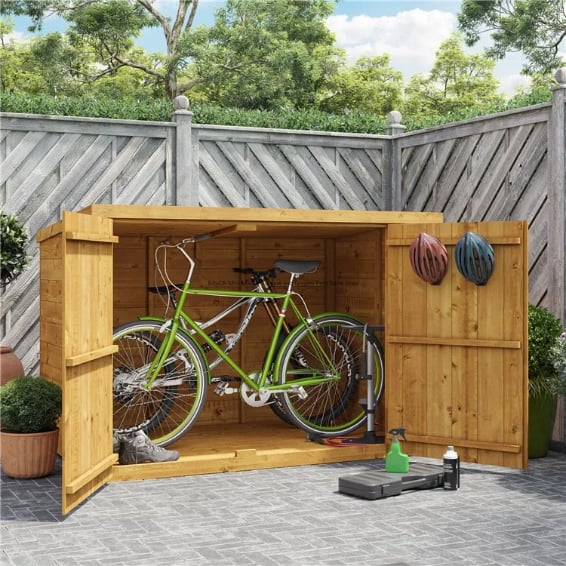 The Mini Master Pent offers an excellent solution for storing your bikes. The windowless design gives the building increased privacy and security. Moreover, the pent-roof style provides a modern look and increased headroom at the front. This type of roof also comes with quality green mineral roof felt included!
For superior weather protection, the Mini Mater uses a durable T&G cladding style. Tongue and groove timber are fitted together as tight interlocking panels. This construction technique offers a tight seal against water ingress.
This unit comes in 2 sizes, offering a range of options for the best size. Regardless, all sizes have an 11mm T&G roof and floor for enhanced weather protection. The flooring can be upgraded to an even thicker 19mm tongue and groove for more intensive uses.
Other design insights include:
Windowless design for extra security

Versatile storage to suit your needs

Extra wide double door for easy access
Bike Sheds Great Value
Bike storage sheds offer exceptional value by effectively addressing several key needs. First, they safeguard your bicycles from weather-related damage. This, in turn, prevents rust and deterioration, which can extend their lifespan.
Next, these sheds efficiently utilise space, keeping your outdoor areas organised and clutter-free. Moreover, they enhance security, reducing the risk of theft or vandalism.
Lastly, their versatility allows for multiple uses. From storing gardening tools to creating a dedicated workshop, you name it.
In essence, bike sheds provide a cost-effective solution that combines:
protection

organisation

security

versatility
This makes them a valuable addition to any outdoor space!
Round-up
Finding the right bike storage solution can transform your outdoor space. Regardless of the material, the benefits are clear:
protection from the elements

organisation

security

versatility
So, invest wisely in a shed that suits your needs. Speaking of investment, you can never go wrong with Garden Buildings Direct. Explore our great selection of garden storage solutions. For premium choices, check out our motorbike shed.
Next on your reading list: Practical and Functional Bike Storage Ideas
Shop Bike Storage