Working from home means not having to face the daily commute. But having your home office in a log cabin could be even more rewarding and beneficial thanjust that!
Sure, shifting from an office chair to a living room couch is one of the perks of working remotely. But aside from flexibility, it also can demand a lot from you in return.
For one, you might struggle to set apart all your professional matters from those of your household. Enter log cabin offices, which now set the standard for work-life balance in the new normal.
If you don't have a dedicated work area at home, a garden cabin office might be the proper solution for you. And the BillyOh Devon Max Log Cabin can give you the ideal working environment you're dreaming of!
Working From Home in a Log Cabin Office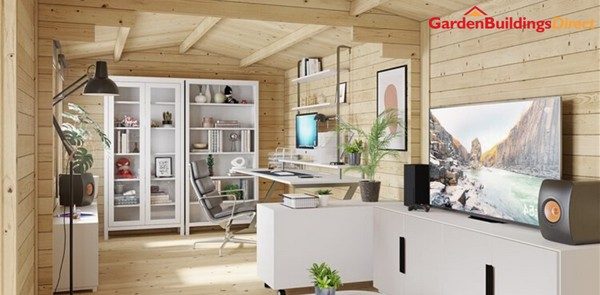 Why is it that working from home in a log cabin office has become so popular in the UK? Log cabins, in general, are versatile garden rooms that you can convert into whatever you need.
And if working from home conjures any images up, chances are you're already thinking of a cabin office. One of the most common log cabin uses we see is people setting up a home cabin office in their garden.
This answers the problem, "how can I take on a professional responsibility from home?"
Having a work-life balance isn't always simple but it's a lot more workable as long as you have a separate workspace. This makes cabin offices a fantastic solution to establishing an adaptable working environment. Particularly remotely.
If you have the means of investing in one, you can free up your own 'makeshift office' in your home. It could be your kitchen countertop, on the living room couch, or in your bedroom. 
But for a dynamic and flexible home-working arrangement, we'd like to introduce to you the Devon Max log cabin.
Presenting the BillyOh Devon Max Log Cabin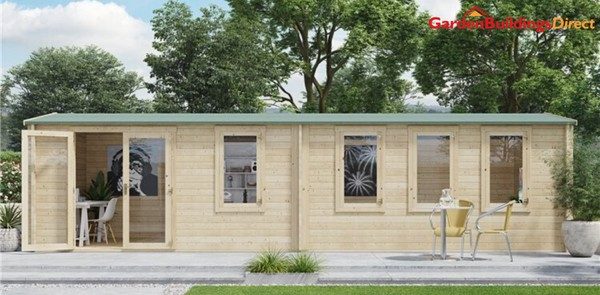 Arranged in an eye-catching and asymmetrical design, this spacious log cabin gives you the room to stretch out in life.
The Devon Max features a tall reverse apex roof with extra headroom of 2.5m and strong 44mm log cladding as standard. It has been specially designed to provide you with a tranquil home office as well as a relaxation hub.
The design is a sleek, contemporary one, with wide windows and glass-centred doors. The tall windows let natural light flood through the cabin, keeping the space light and airy.
And with its reverse apex roof and wide double doors, you'll never feel confined. Working in the cabin will give you a bright, open, spacious work experience.
Another thing we like about this cabin is it offers space in abundance. Not only does this allow you to create a dedicated working area, but also perhaps a space for leisure after work.
No matter how you want to use it, the Devon Max cabin gives you the blank canvas to make it your own.
Another key feature that makes it an excellent garden office is that it's big on quality and comparatively low in price. A worthwhile investment for long-term use not only for work but also for year-round entertainment.
Materials and Upgrade Options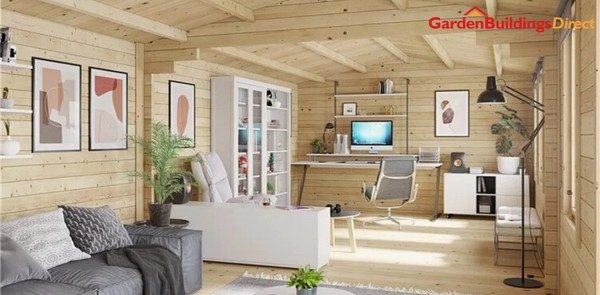 Devon is guaranteed to be strong and reliable, thanks to its premium Tongue & Groove cladding. The log cladding has an impressive width of 44mm which provides fantastic insulation.
The Styrene Acrylonitrile (SAN) glazing it features is also worth noting. It's high-strength rigid plastic glazing that's UV-stable and shatter-resistant.
Note: Toughened, double-glazed glass is available as an upgrade. Features of toughened glass include added strength versus regular glass and double-glazing with a space between panes to further reduce heat transfer.
For a log cabin that lasts the test of time, you can also opt to have your building pressure treated. This ensures your cabin office can withstand any even more harsh weather conditions depending on where you live.
At the same time, it extends its lifespan compared to untreated models. The pressure-treated option also leaves you with a low-maintenance and cost-effective unit.
Lastly, it comes with a fantastic 10-year guarantee as standard! This helps you protect your cabin against rot, decay, and insect infestation for a decade.
If you opt for pressure treatment, we'll extend this guarantee up to 15 years – now that's what we call value for money!
Why Choose The Devon Max?
1. A worthwhile investment
The Devon Max offers a worthwhile alternative solution to your home office requirements. This is particularly true if you're starting or running a small business.
It makes sense to have your crew work in the same place as you. Luckily for you, the Devon Max has sufficient space to cater for a small team. 
And with a starting price of £7035, it may cost you upfront, but it'll help save you money in the long run. Especially when compared to renting an office space and setting a budget for gas and the commute.
Even better, the unit provides you with a blank slate so you decorate your office according to your taste.
2. Naturally insulated
Log cabins make for energy-efficient garden buildings. The timber and cladding style acts as a natural insulator with thermal regulating properties.
This slows heat transfer between the interior and temperatures outside – keeping it warm in winter and cool in summer.
This is because the wood itself is a natural insulator, offering tons of benefits. In short, this enables you to use your cabin office year-round.
3. Eco-friendly
Limiting the need for artificial heating or cooling makes for excellent cabin features. But it also means you can help to reduce your carbon footprint and heating and cooling bills!
4. Promises strength and durability
Wood can endure a lifetime if quality materials like those in our cabins are used. Especially if it's well-maintained throughout the years.
It's also best to treat wood for water rot, termites, and sun damage, especially for garden buildings. And, this unit is built with premium 44mm log boards, making it exceptionally durable. It's guaranteed to withstand Britain's temperamental weather, including snow, frost and heatwaves.
And with the pressure-treated option and a 15-year anti-rot guarantee, you've got the best of both worlds!
5. Easy to assemble
Log cabins are one of the most accessible types of garden buildings to construct in yards. With the help of one or two people, you can finish assembling the Devon Max within a matter of hours.
The unit also comes with a comprehensive assembly manual for you or a third-party installer. This ensures you'll never go wrong during the installation process.
Once safely installed, the next thing is to think of creative Garden Office Ideas for your dream WFH space!
6. Achieve a work-life balance
Stepping out of your home and heading into the log cabin makes all the difference. It gives you a sense of responsibility as an employee or owner and helps you stay committed to your duties.
At the same time, it keeps you away from household distractions. As a result, you can focus more on time management and productivity.
Here at Garden Buildings Direct, we always provide our customers with a built-to-last product. For technical specifications, videos and guides about the Devon Max, click the button below.
Shop The Devon Max