Imagine having your own retreat, A charming haven nestled in your backyard. The summer days are a little sweeter, and the evenings a touch more magical. That's the allure of a large summer house. Beyond being a quaint property addition, it offers a world of advantages beyond its size.
In this blog, we'll unlock the secrets of why opting for a grander summerhouse might just be for you. Get ready to unlock a world of possibilities and the myriad benefits it offers!
1. Increased space and versatility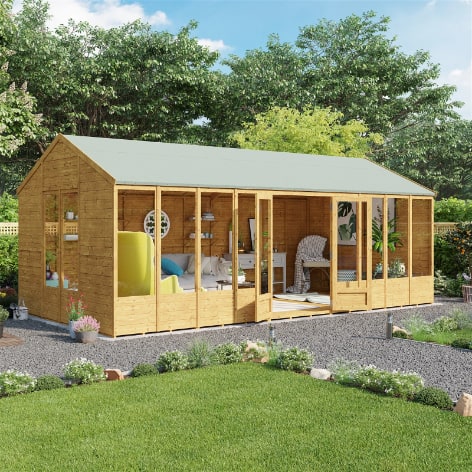 A larger garden summer house is a canvas of space waiting for you to paint your leisurely dreams upon. With ample square footage, it generously accommodates a plethora of activities. This makes it a versatile addition to your property.
Picture it as your sanctuary where you can indulge in relaxation with ease. Lounge in cosy summerhouse chairs, read a book or simply bask in the tranquillity of your garden oasis. But it's not just about solitude; it's a social hub, too. Invite friends and family for gatherings, al fresco dinners, or even small celebrations.
Some transform this space into a garden office, an art studio, or a yoga retreat. The possibilities are limited only by your imagination. And the extra space in your summerhouse is the canvas upon which you can paint your ideal escape!
2. Enhanced aesthetics and curb appeal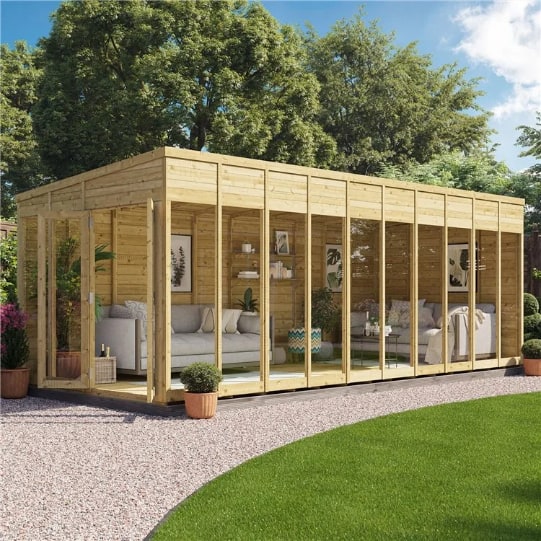 The size of a large pent roof summerhouse commands attention. It seamlessly becomes an attractive focal point in your garden or backyard. Moreover, the scope for customisation is vast. You can even tailor the design to harmonise with your home's architecture.
Play with various finishes, colours, and materials. Landscaping around the summerhouse can further accentuate its beauty. Consider lush gardens, charming pathways with an outdoor arch, or a seating area like a 2 seat bench.
This synergy between structure and landscaping elevates your property's overall visual appeal. It creates a picturesque atmosphere that's both inviting and captivating.
3. Functional design possibilities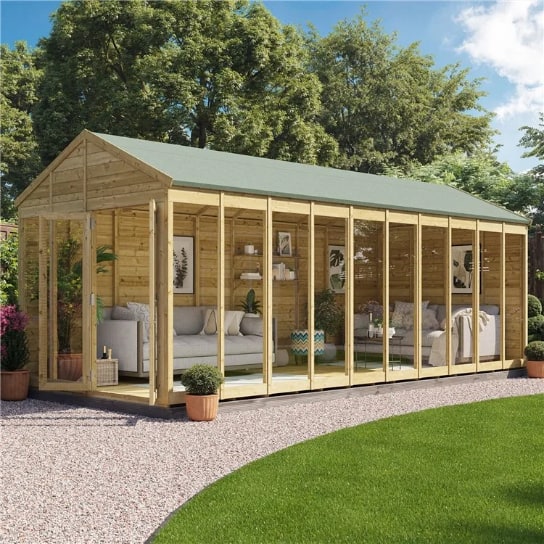 The design possibilities for large summerhouses are limited only by your imagination. Additional windows can flood the space with natural light. This creates an inviting and airy atmosphere, perfect for reading or lounging. Right at the top of the range, a large, 20×10 summerhouse has endless possibilities. 
Consider incorporating storage solutions to keep your outdoor essentials organised and eliminate clutter. Take your insulated summer house to the next level with a small kitchenette! It opens up a world of entertaining possibilities. For one, it allows you to host outdoor gatherings without the need to shuttle back to the main house.
Besides the aesthetic, these design elements also enhance the structure's functionality. They transform it into a space that perfectly aligns with your needs and lifestyle.
4. Ideal for entertaining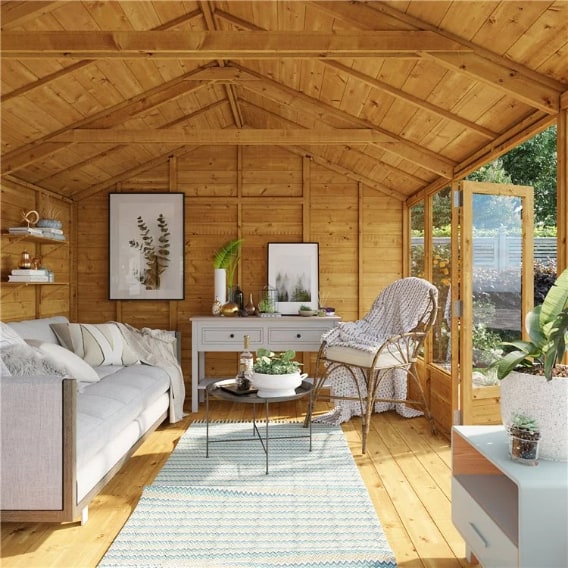 A large summerhouse is the ultimate venue for hosting unforgettable gatherings and parties. It offers a spacious oasis for entertaining, free from the constraints of your main home. With ample room to set up seating, dining, and even a BillyOh bar, it becomes an ideal canvas for social events.
Picture cosy outdoor dinners under the stars, birthday celebrations, or intimate cocktail parties. All set within the charm of your pressure treated summerhouse!
5. Increased property value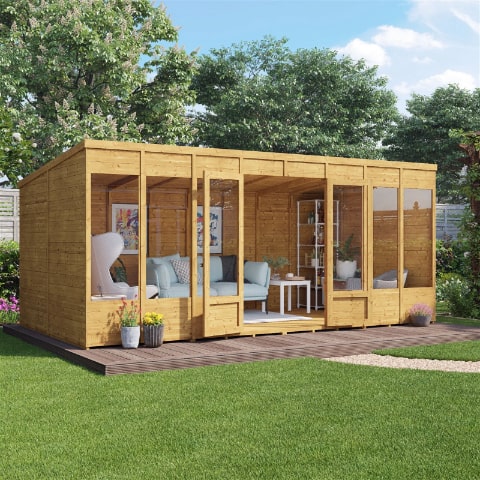 A garden room is an investment that can boost the overall value of your property. Its size, functionality, and aesthetic contribute to the perceived worth of your home. When it comes time to sell, it can serve as a compelling selling point. In turn, this attracts potential buyers who value the added space and versatility.
A well-designed summerhouse can be the difference-maker is another. It sets your property apart from others on the market, translating into a higher resale value.
Round-up
A large summer house is a remarkable asset. It offers expanded living space, versatile design options, and increased property value. So, consider embracing this architectural gem, Let it redefine your outdoor living experience.
Explore the summer houses for sale from Garden Buildings Direct. And even if you have limited space, you can still make your dream a reality with our corner summer houses!
What's next on your reading list: Summer House Interior Ideas You Don't Wanna Miss!