No matter the season, garden shed maintenance is crucial.  The winter especially can be a tricky period for your shed. From the strong winds and heavy snow to rain and potential flooding, your shed will need to resist and stand up against these often harsh elements.
Oterhwise, all the stored items inside, such as gardening tools, bikes, and other bulky outdoor items, are at risk of damage. So, we're here to help you look after your garden shed this winter!
If you're looking for easy ways to make the most of your shed while at the same time, prolonging its lifespan amidst the cold weather conditions, we've got you covered with our shed maintenance guide!
Identifying Your Shed Type and Their Treatment
First things first, you need to identify what your shed type is. This way, you'll know what kind of treatment and shed maintenance your garden building needs.
Keep in mind that with every shed type, there's likely to be some upkeep that can only be applied to that type of shed. For instance, a wooden shed has to be treated with wood preservatives. As the name suggests, timber treatments are designed for wooden structures. Hence, if you own a metal or plastic shed, you can skip this part.
While we're mainly focusing on wooden sheds in this write-up, we've still gathered information regarding the best treatment you can provide for your shed during winter, regardless of whether it's wooden, metal or plastic.
Listed below are the three common types of garden sheds available, and the varying forms of maintenance for each.
Wooden Sheds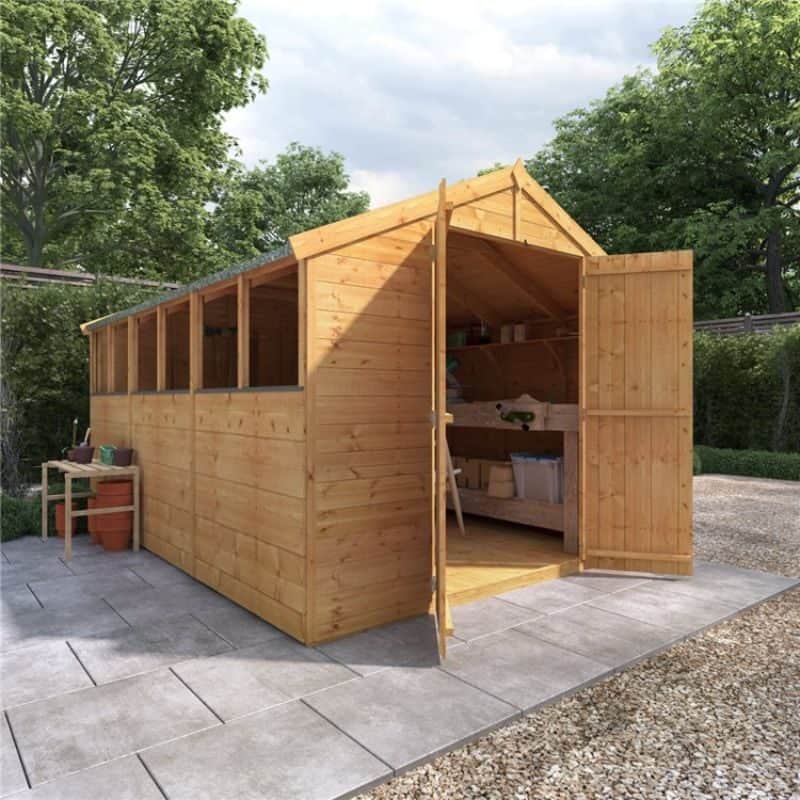 Arguably the most popular garden shed, wooden sheds come in modern or traditional designs to suit most gardens, and can be easily modified to add shelving or additional storage. 
Wooden sheds are generally much easier to work with and assemble. Depending on how thick the timber is, you can opt for domestic or heavy-duty use, with the latter being ideal if you wish to use it as a workshop.
Wooden Shed Maintenance
Maintaining your shed is very important. When your shed hasn't been treated, applying wood preservative is crucial (unless your shed has already undergone the pressure treatment process).
Pressure treatment works by dipping timber into tanks full of preservatives to penetrate them.
A pressure-treated wooden garden building can comfortably stand up against the harshest weather conditions the UK can throw at it while at the same time, extending its lifespan beyond that of an untreated alternative.
Metal Sheds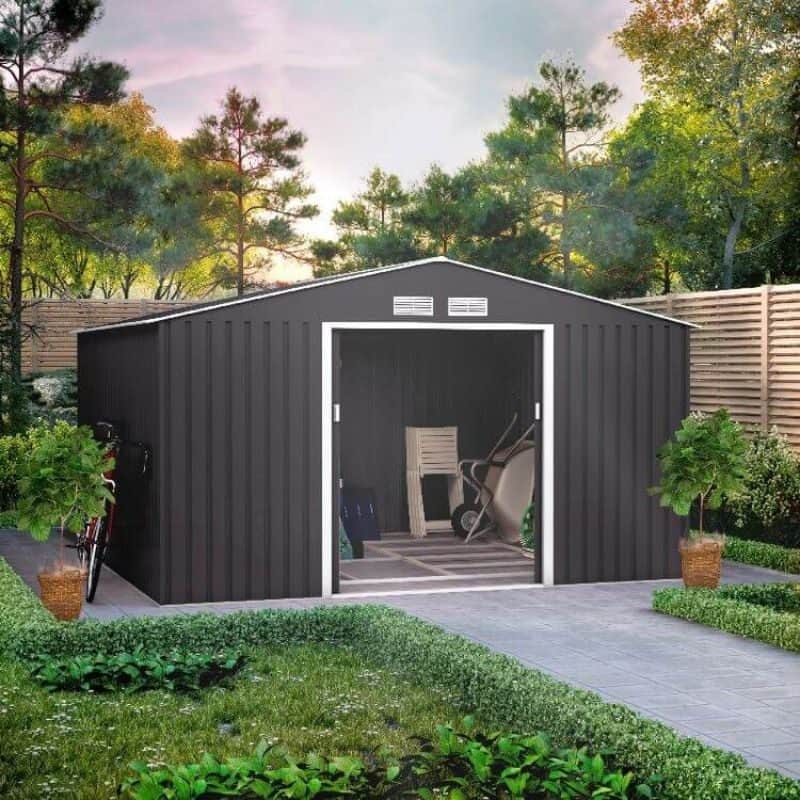 Metal sheds are known for their durability and robust quality, making them an ideal choice if you wish to have a secure shed to store your valuable items in. They're also designed to withstand the harsh elements and won't suffer from rot or mould, thus offering long-lasting garden storage all year round.
Metal Shed Maintenance
The good thing about metal sheds is that they only require minimal maintenance. But to make sure your steel shed remains in good condition, focus on the gutters. 
You'll want to make sure that all the gutters are firmly attached to the metal building. Then, remove all the dirt and other debris such as:
Leaves

Twigs

Pine needles

Any other dirt from the roof
Plastic Sheds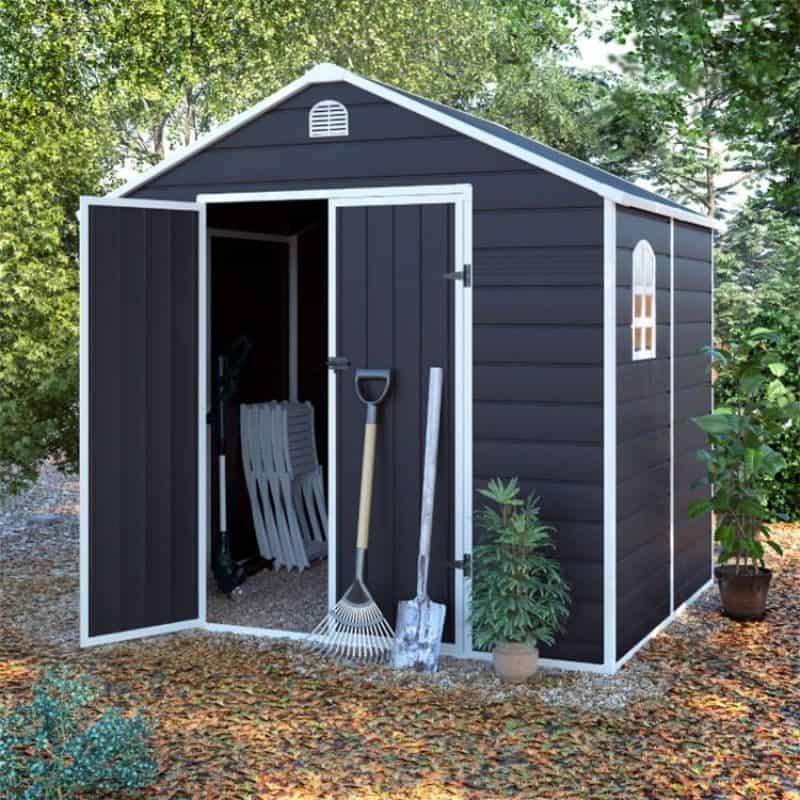 Often less expensive than metal sheds, plastic shed designs are an excellent choice for anyone who wants a low maintenance garden building. Strong but also lightweight, they can be easily moved around the garden into your preferred position.
Plastic is impermeable, meaning these kinds of sheds are perfect for keeping out the rain, snow, and ice. Lastly, they avoid issues such as rot or rust, and are easy to assemble, making them a maintenance-free garden building.
Plastic Shed Maintenance
If you own a plastic shed, you'll want to make sure that snow won't end up piling on your building's roof. Remember that snow can add excessive weight to the roof. If overlooked, your shed might collapse or be at risk of damage.
What you can do is remove any snow when it gets cold, and invest in a roof strengthening kit to add strength and durability to your roof.
Shed Maintenance: Ways You Can Look After Your Garden Shed this Winter
Stop the Mould
Experiencing damp conditions in your home is nothing new during the winter season, and your garden shed is not an exception. With dampness naturally comes mould.
To stop the mould from growing and eventually spreading, our advice is to leave your shed's door open as much as possible. Or open the windows for ventilation, as this will help dry out the overall building.
Make Improvements
If you want to get a good look at the overall condition of your shed, we suggest emptying the building as soon as possible. Keep an eye out for the floors, walls, and roof.
To ensure your floor is debris-free, start by sweeping the shed. Don't let any rubbish linger on the floor, as it can attract bugs, rodents, and other pests.
Your next task will be the surface; look out for any cracks or holes lurking around. Start doing an interior and exterior inspection so you can identify the gaps and seal them before they can invite cold air and pests into your shed. Tip: To fill any hole you find, you can use caulk and spray foam.
Don't ignore your windows or shed door! If you noticed some cracks or splits on the windows, it's better to replace them right away. And if there is no weather-stripping installed, it's time to add some before winter arrives.
Weatherproofing
When the temperature begins to plummet, weatherproofing your garden shed should be at the top of your winter maintenance to-do list. With most outdoor buildings constructed from wood, winter weather conditions can wreak havoc. 
To protect your possessions or any gardening belongings, check for termites and leaks, and inspect for rust and corrosion if you own a metal shed. Your shed also needs proper insulation. Moreover, the flooring and windows need to be well-sealed and free from leaks to protect belongings from condensation and prevent water from getting in.
Store Your Tools & Equipment Properly
Your shed can accumulate heaps of clutter over the years. To prep your shed for the winter, this is the ideal time for you to sort out your gardening tools and outdoor equipment. 
Toss any broken or unwanted items away to give some space to the things you want to add. You can either sell these or throw them away.
If you store any gardening supplies in your garden shed, such as soil or mulch, we advise storing them in waterproof bags or containers to prevent growth of mould. As for your lawn mower, edger, and other bulky items, make sure any petrol reservoirs are empty before they're put away for the winter.
You can also use tarp to cover your tools and garden supplies. This will prevent any dust from settling, so you don't have to clean your equipment again next spring.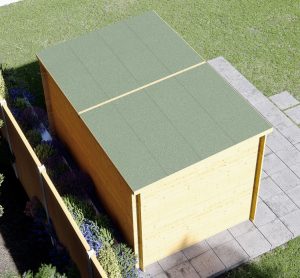 Check The Roof
Much like your home, inspecting the roof of your shed for any leaks is also important. If overlooked, the holes could let water drip inside your shed, which can potentially cause damage to your possessions inside.
If the shingles are damaged, then now is a good time to replace them. Keep in mind that your shed is only as durable as its weakest link. Hence, a soft shingle can lead to leaks and all kinds of other problems.
As we mentioned earlier, don't forget to remove any snow or other debris from the roof as well. Not only will an accumulation of snow or other debris cause a weight issue, but the constant presence of moisture from the snow may also cause damage to your roof's shingles as well. You can use a wide bristle broom to clear off the snow from your shed's roof. Be sure to keep an eye out for it throughout the winter months.