It's a new year, summer is approaching, and log cabins are still hot and at the top of everyone's wish list. At Garden Buildings Direct, we've got a host of log cabins, summer houses and sheds to choose from. But we're always innovating to keep up with the times. That's why we've just announced a new release – our first ever corner log cabin.
This is the BillyOh Robyn Corner Cabin – the newest member of our garden log cabin range.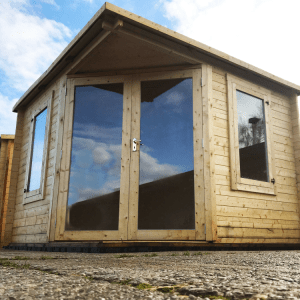 With a sleek, modern design fit for 2021, we've adopted the corner design of our hugely successful corner summer house range and paired it with the immensely popular rustic aesthetic of the log cabin.
Coupling the best features of both a log cabin and a corner summer house, the BillyOh Robyn Corner Log Cabin is a striking addition to any home and will make the perfect statement in a British garden this summer.
Let's tell you a bit more about why the Robyn is so great.
It's good for everything!
Corner log cabins are great for those who have less garden space to spare. With their unique, trimmed design, they fit snugly into whichever corner of your garden you prefer.
In addition, their list of potential uses are practically endless.
A normal log cabin, never mind a corner log cabin, can be used for just about anything. We made a massive list of every possibility we could think of, from budget-friendly burrows to blow-out bonanzas.
With a corner log cabin and it's space saving qualities, we think it'd make a great summer shelter for those warm-evening gatherings. It's ideal for cramming into when you spot a drop of rain – or, with the right seating inside, for just resting your legs after hard work manning the barbecue. Alternatively, why not optimise it for relaxation and pop outdoors after a long day working at home? Or, flip that on it's head entirely and use the cabin as your home office. You could use it to sit out while the children are playing in the garden. Visitors might even be partial to a night under the stars if there's no spare bedroom indoors!
Design Insights
Equipped with premium quality 44mm walls for added insulation, contemporary double doors for easy access and our new, stylish hipped roof design, the BillyOh Robyn stands out from the crowd with its selection of luxury features.
Windows on three sides of the building ensure light captures every angle. The secure, lockable front doors provide maximum security, allowing you to relax even while you're away. And the six-foot-six minimum height guarantee yields a liberal amount of headroom, granting even the tallest members of your family license to relax!
Supplied with an 11mm tongue and groove floor and an 11mm tongue and groove roof as standard, we ensure everything you need to build your ideal outdoor home is included in the price. Felt, fixtures and fittings are also supplied, guaranteeing a hassle-free installation process.
With the BillyOh Robyn, you can expect precision, quality and expert consideration in every fine detail.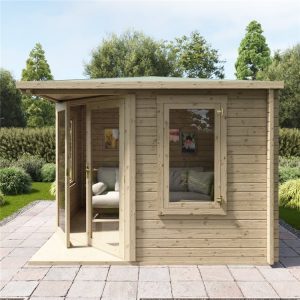 Our materials
For all our garden buildings, we source the best quality European softwood, out of which we craft the wall panels for our buildings. In this instance, at 44mm thick, the timber provides a sturdy, robust structure to the log cabin.
In the same high-quality fashion, all of the ironmongery we provide as part of the log cabin package is galvanised. This means it is coated in a protective layer of zinc to prevent rusting and damage from the elements. The door handles, the latches and the hinges all count, meaning you won't need to worry about them losing their shine for years after the initial installation of your building.
Customise your building
As with all of our garden buildings, we offer a variety of options to choose from on a multitude of features.  We pride ourselves on making our buildings customisable, allowing you to personalise your log cabin to your heart's desire.
With the BillyOh Robyn, we give you the choice of single or double glazed windows. Our cheaper single glazing option is by no means inferior, and is constructed from styrene acrylonitrile, a thin plastic. Our double glazing option presents the opportunity to really make your log cabin a second home with thickened glass.
You can also choose from our pressure-treated (PT) and non-pressure treated options. Our pressure treatment process infuses the wood panels with liquified wood preservatives, optimising it for withstanding bad weather conditions, insect infiltration and other potential forms of damage. Opting for PT boosts your anti-rot guarantee from ten to fifteen years, giving you five extra years of reassurance.
Additionally, you can customise the indoors. As mentioned, the Robyn corner log cabin comes with an 11mm floor and roof as standard. But if you want to ensure your building is primed for long-term, consistent usage, our heavy-duty floor and roofing options may suit you best. Upgrade to a thicker 19mm – and be doubly sure that your log cabin will support any weight.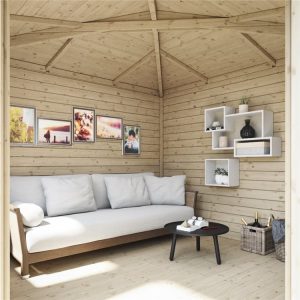 Our promises to you
Our faith in our products is exemplified by the ten-year BillyOh guarantee, protecting you against rot, decay and bug infestation. This means that if you have any problems, you can contact us immediately for a solution.
We also promise that all of our wood panels and full buildings are manufactured right here within the U.K. Every product is built on site at our factory in Nottinghamshire. And, to add to that, we have over twenty years of experience in the industry, selling thousands of buildings annually.
With Garden Buildings Direct, your log cabin will be of exemplary standard.