Water features stand out against greenery and foliage to make beautiful centrepieces. And garden ponds are no exception. They make great focal points and serve great purposes in the garden.
On top of aesthetic benefits, ponds are a perfect addition to wildlife garden ideas. Depending on the design, more beneficial insects and animals can pollinate your backyard.
If you value safety and want less digging involved, a raised garden pond is your best bet. Have a look at these ideas to build the right above-ground water feature in your yard!
Great Raised Garden Pond Ideas
1. Raised timber with waterfall
This small raised pond has a capacity of roughly 300 litres. Built with wide decking boards, the waterfall tower and accent lighting create interest and impact.
A design that's worth considering for DIY or bespoke pond design. Top tip: Consider repurposing your old deck boards, fencing, or even some bits from your garden shed.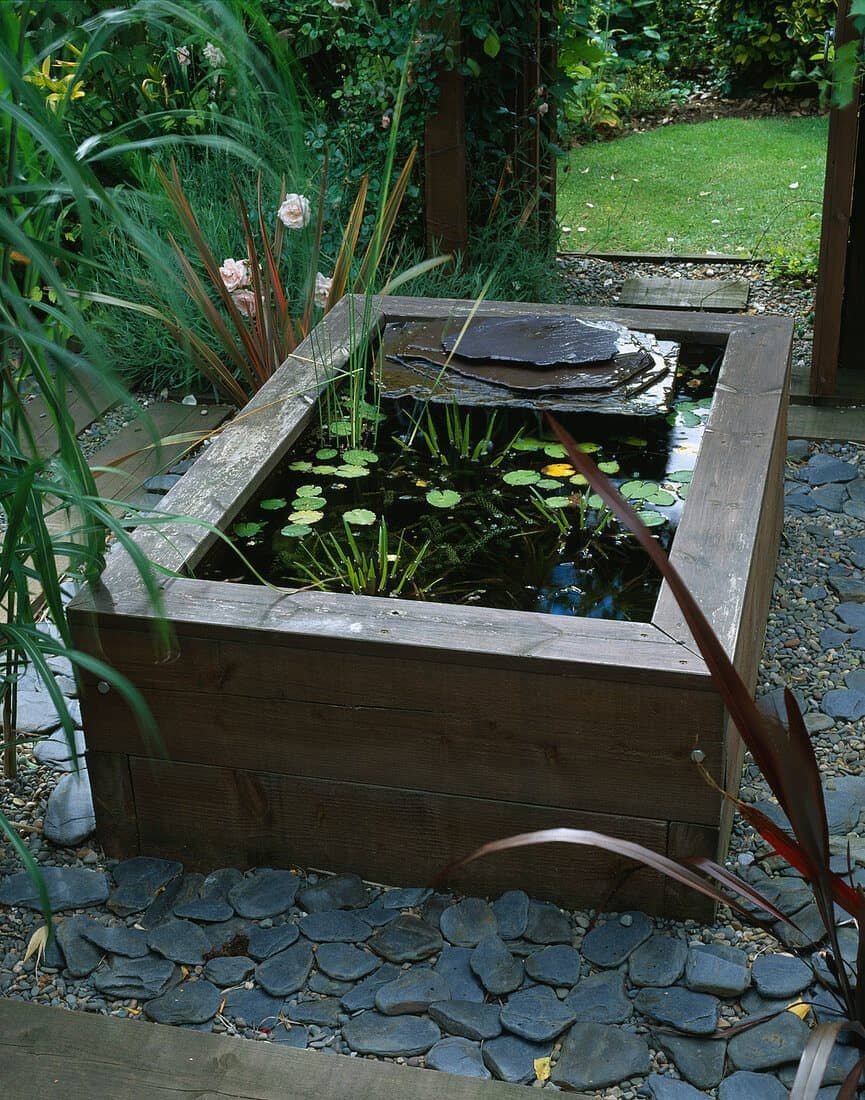 2. Made of natural stones
Generally, a pond with natural stones makes a rustic, scenic, and relaxing feature. Using landscaping stone pavers can also provide a modern and elegant touch to your yard.
Take a cue from this raised pond with walls and stones surrounding it.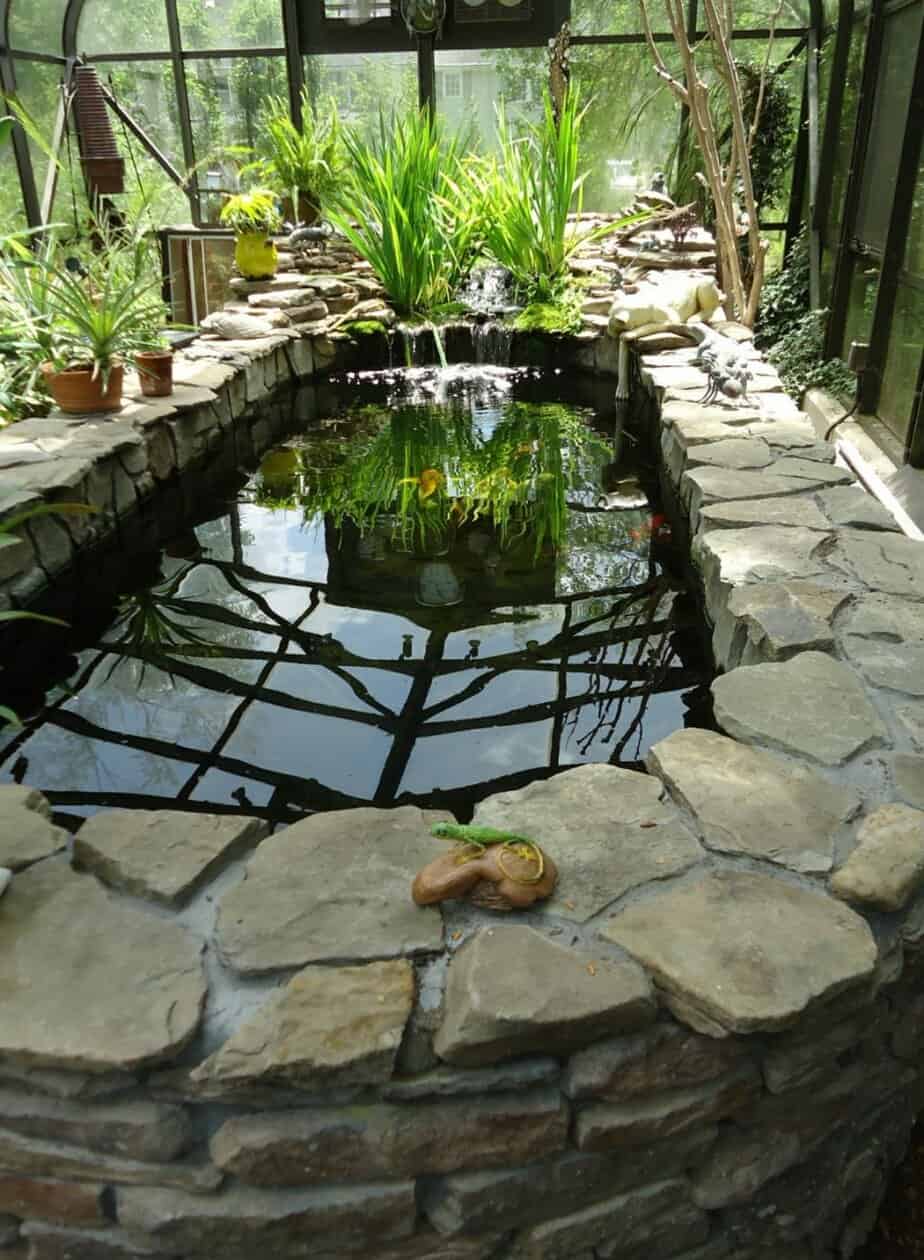 3. A layered-style water feature
A series of above-ground ponds positioned at varying heights can add a great dimension. The water trickling down each layer creates a sense of serenity and enhances interest.
Here, a pond doubles as a charming wishing well, creating a tranquil atmosphere. Enhance the experience by adding a wooden garden bench UK nearby. Not only does this let you savour the soothing sounds of water, but it also immerses you in nature's beauty.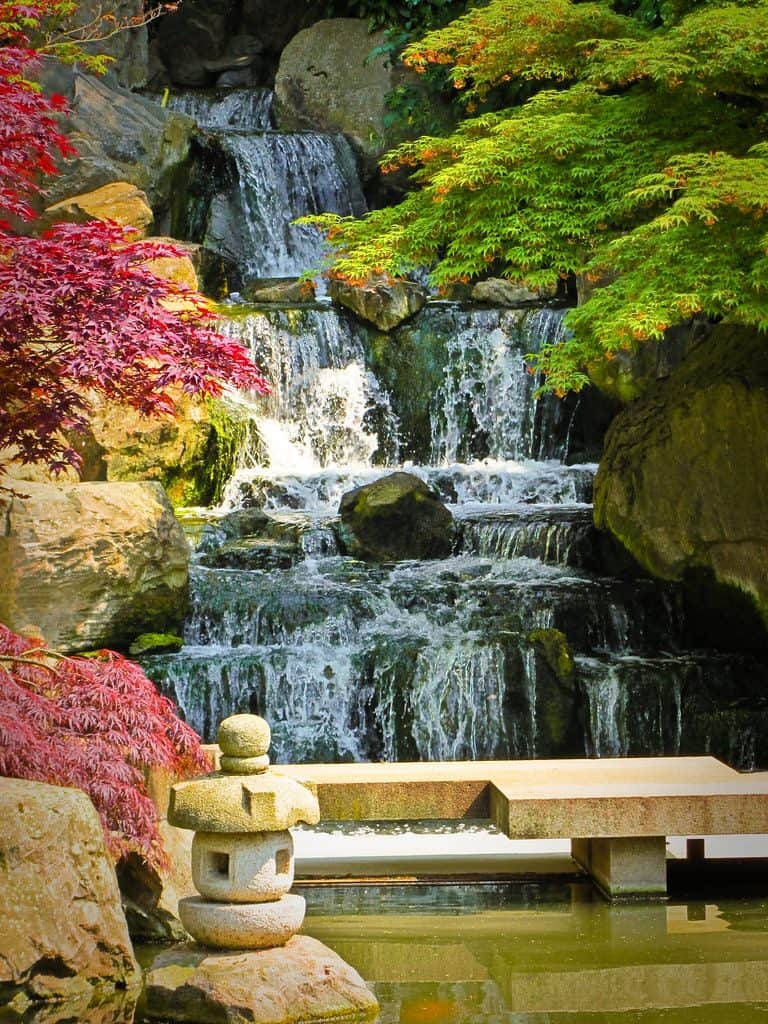 4. Bridge addition for natural curves and flow
It turns out that a bridge also looks great on raised garden ponds! In this design, a 3-metre bridge is built over a Koi pond, providing a beautiful walkway.
Furnished with metal garden furniture, it would look amazing in your minimalist patio setting.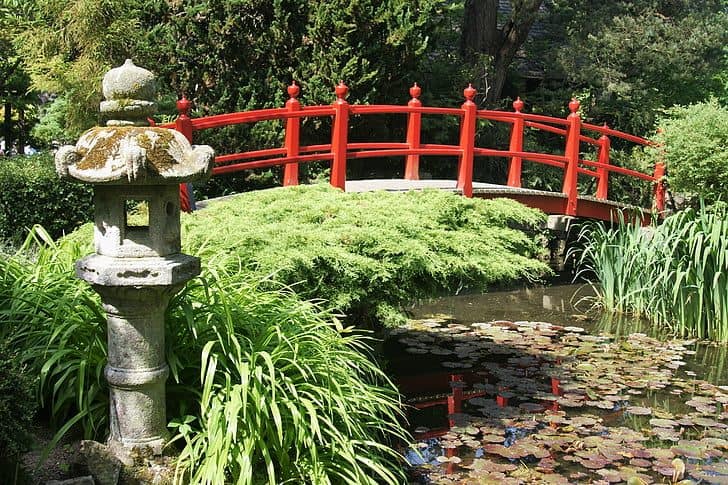 5. Hexagonal windowed pond
You can never go wrong with this concept if you want an aquarium-style garden pond. Instead of having the panels fully covered with timber, equip the centre with glass.
And voila! You've got yourself a large aquarium with promising viewing windows to keep an eye on your fish.
6. The minimalist approach
Designs with steel and glass, clean lines, and a smooth exterior make a real contrast with lush greenery. This modern stainless steel pond with a viewing window happens to be one of them.
This would look amazing in your minimalist garden setting.
7. Make use of metal tanks
Metal tin tank-raised ponds define the no-digging water feature best. All you need is a medium- or large-sized stock tank, fill it with water, and add the fish and plants. Stock tanks also make an excellent alternative to an inflatable hot tub.
Stock tanks also make an excellent alternative to outdoor hot tubs.
8. Pond in a box
Minus the shovel work, this pond features a fountain and a trellis. It's attractive and less of a hazard than in-ground ponds. Build the walls and trellis in the morning and assemble the pond in the afternoon. And buy goldfish the next day!
9. Tucked in the corner
As a corner accent to this garden, this raised pond gives the illusion of a carefree space. You'll also find the box structure surrounded by trees and shrubs, hiding any machinery.
If the nearby tree is big enough, consider hanging a hammock sun lounger. Enjoy the soothing water sound and fall into a peaceful slumber.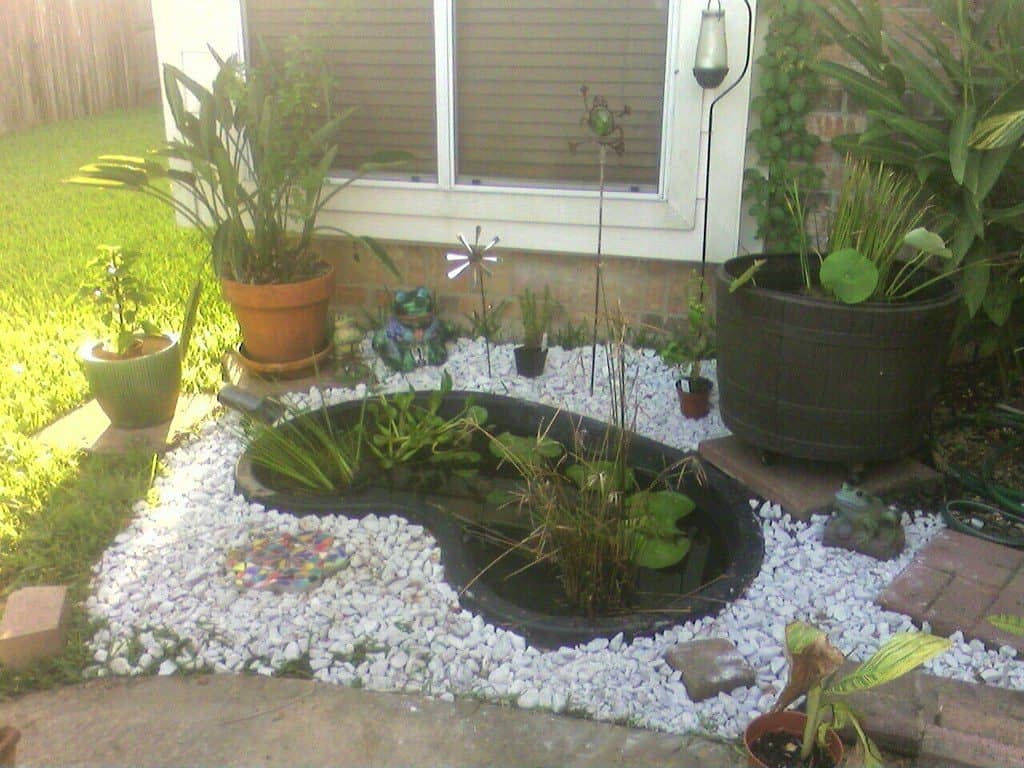 10. Modern and rectangular
This rectangular pond, although a bit hollow, makes a desirable feature of the garden. To make this setup extra special, opt for lengthy grass and floating lilypads. They'll add complexity and can help camouflage the pond's borders.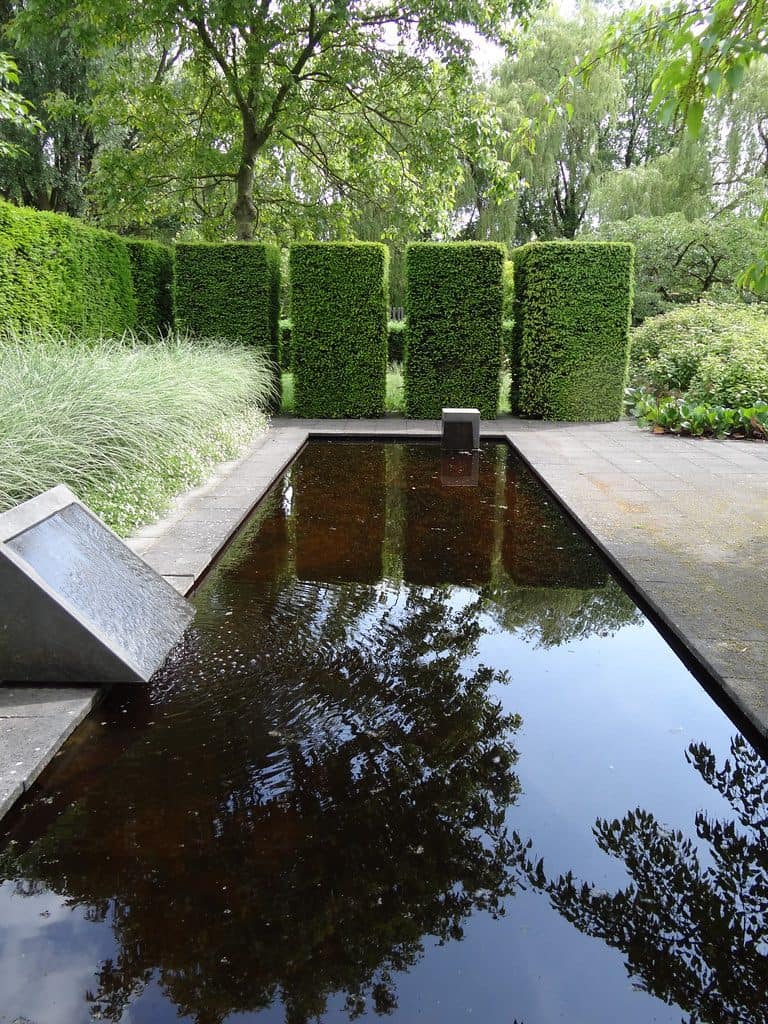 11. Pair it with a water fountain
Aside from increasing oxygen levels, a fountain can present a fresh dimension to the pond. This raised red-brick garden pond features a decorative centre fountain. It adds a focal point and balances the paving area to create a well-structured landscape.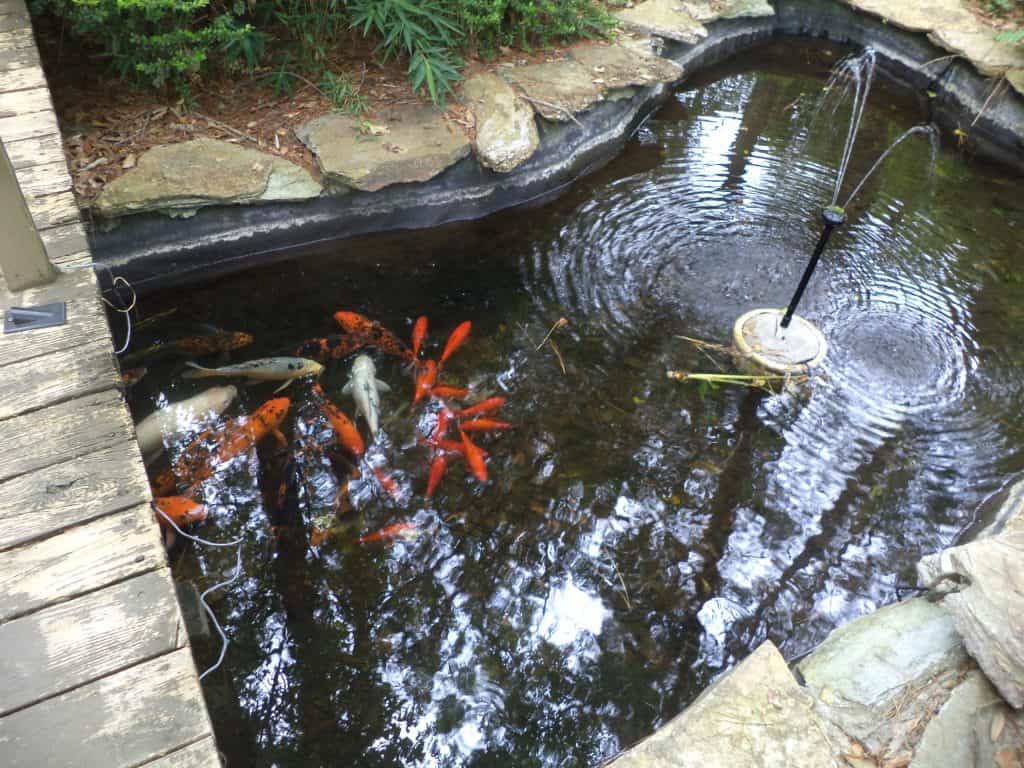 12. Mini wooden barrel
For an instant raised garden pond, use a wooden barrel for a mini version. This concept would also look fantastic near a wooden structure, such as a summer house. Take a cue from this one; it can be set up with minimal effort. Place it on your terrace or balcony to transform the space into an idyll.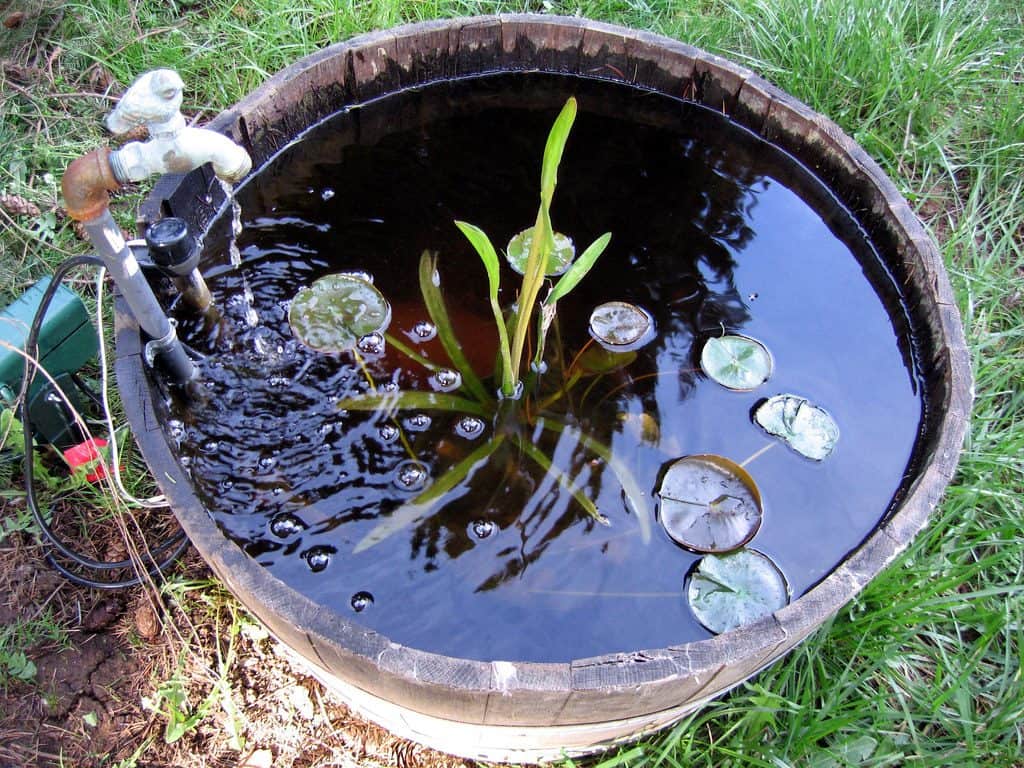 13. On the deck
A smart way to elevate your decking ideas UK is to add a raised pond. For high durability and built to last, use composite for the deck and, if possible, for the pond as well. The composite is also rot-resistant, making it ideal for water features.
14. Use smooth pebbles and rocks with rough edges
Surround your garden pond with pebbles for flooring and rocks for edging. Place it amongst flowering beds, clambering alpines and small trees.
This freestanding effect is integrated into the surrounding environment, giving a natural vibe.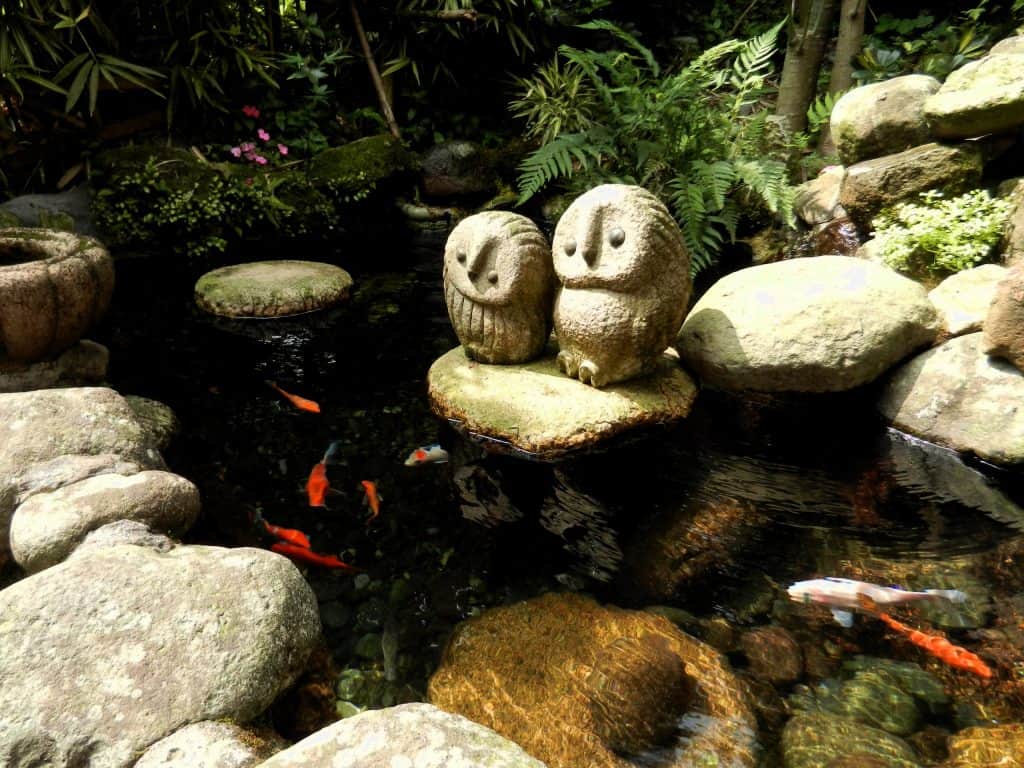 15. L-shaped pond
This elevated concrete deck features an L-shaped pond with a waterfall indented on the ledge. This water feature vignette shows how modern design meets the wilderness of nature. The flowing water also helps the pond from getting stagnant. Top tip: If the space allows, think of adding a rattan corner sofa.
16. Brick Koi pond
The pond featured below utilised a curvy and modern brick structure. Streaming water falls from the multi-levelled rock waterfall to draw interest.
Build bricks to form your desired shape, then add paving stones on the top for trimming.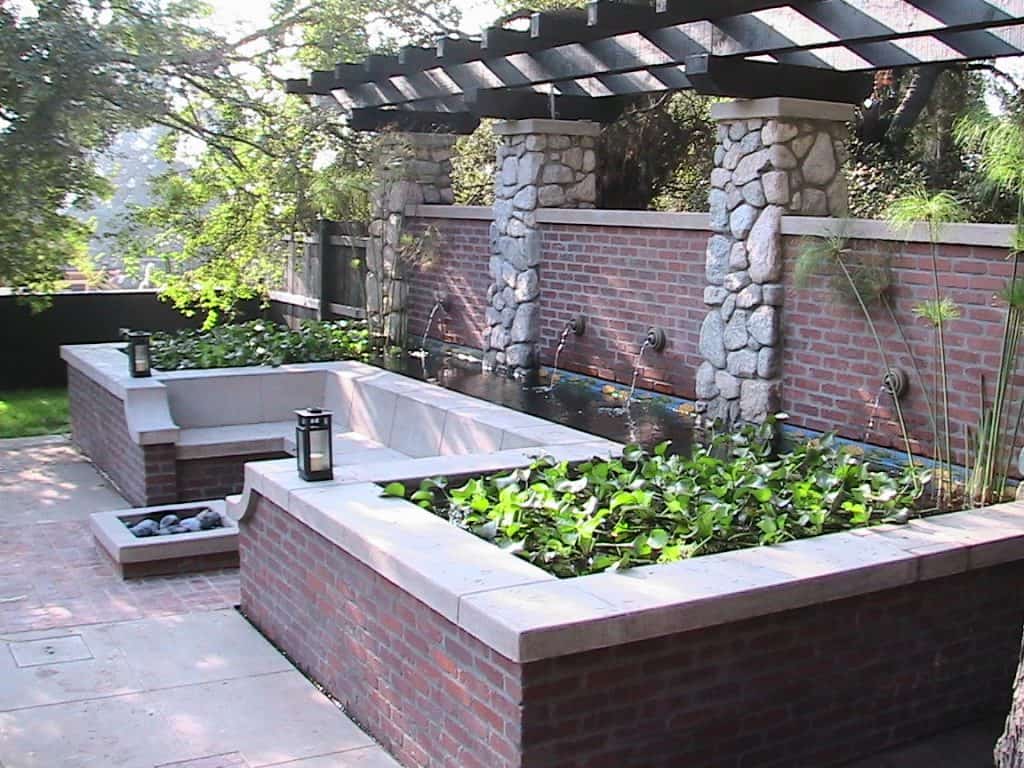 17. A rooftop pond
A rustic modern take on a rooftop pond where water flows from a pipe-like steel funnel. The wooden box hides the plumbing, while the rusty metal pond houses water lilies and fish. To fully appreciate the top view, complement the water feature with cozy seating and a fire pit BBQ.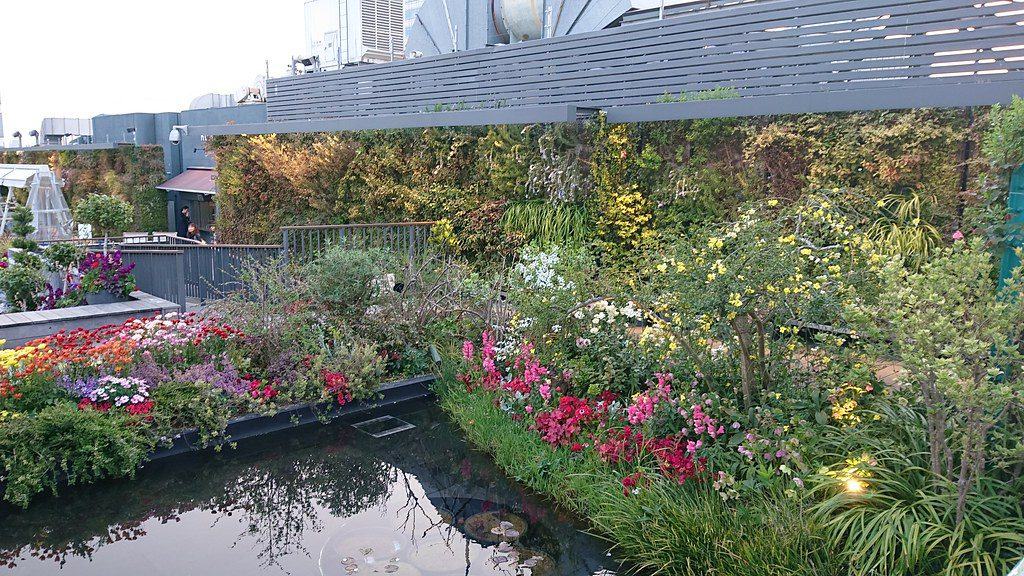 18. The urban concept
This urban project incorporates contemporary elements with sustainable features like rainwater tanks. The above-ground pond is next to an in-ground one, allowing for continuous water flow.
19. Pipe-pouring pond
The pond is skinny, but it's enough to catch the water flow from the pipes. This concept will work on your backyard or rooftop if you have a rustic or cottage-style setup.
Paint the pipes to match the raised pond and create a stunning statement.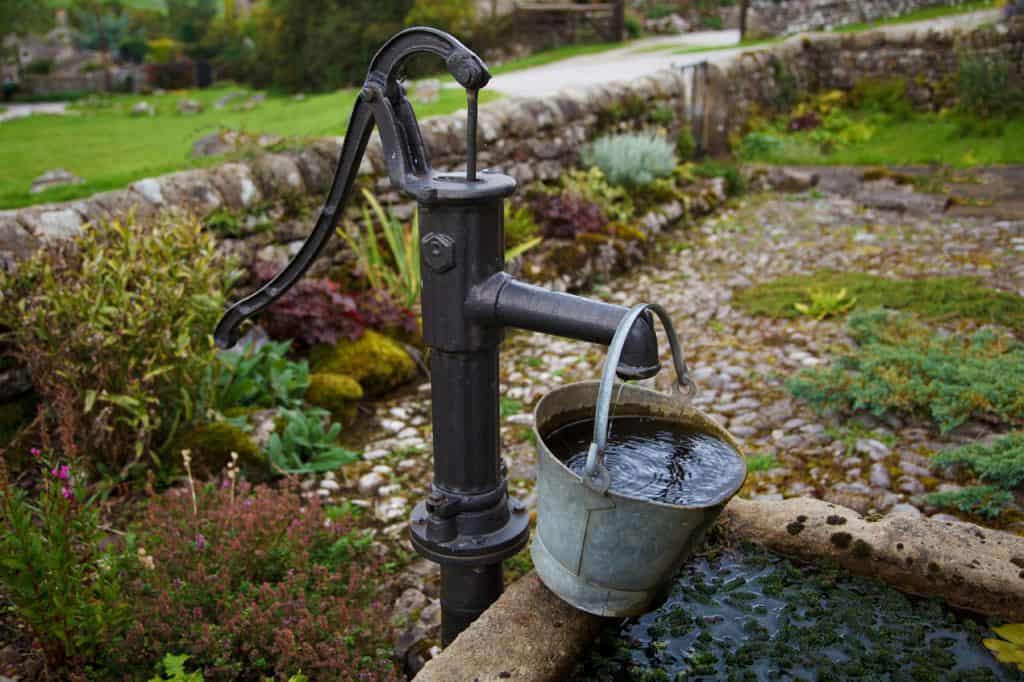 20. Made from mosaic tiles
A garden mosaic can be thought of as a miniature work of art, and this pond is a great example. To recreate this water feature, you may use broken pieces of pottery, china, glass, and other materials.
Round-up
As the name suggests, a raised garden pond is raised above ground level. The design is suitable for a wildlife pond as it allows for careful control of water levels.
Moreover, it provides a vertical barrier to prevent children from falling in. And, considering there's little digging involved, it's usually quicker and easier to assemble.
Timber is a wonderful choice of material for a raised pond, too. It may not be the cheapest option, but it often represents excellent value for money. So, what are your favourite raised garden pond ideas? Once you've got a design in mind, it's time to start the building process!
Enhance the atmosphere around your garden pond with essential outdoor living upgrades. Think electric patio heaters for comfort and a Sunjoy gazebo for shade and privacy. Explore Garden Buildings Direct for a wide range of options. Visit us today!
FAQs