Herb gardens can be any shape or size, indoors or out; it all depends on the space you have available and how many herbs you'd like to grow.
Whether it's out in the garden or inside your own personal potting shed, we've collected a range of ideas to help you create your own herb garden, from a small kitchen herb garden to planters and beyond.
Let's jump in!
1 – Wooden Container Herb Garden
Partition your herbs into their own cube beds so you don't confuse your basil for coriander! For even more growing space, explore our three tier planter.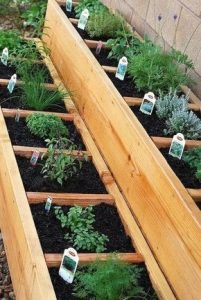 2 – Spiral
Make the best of a small space by creating a functional but attractive herb garden in a cute spiral shape.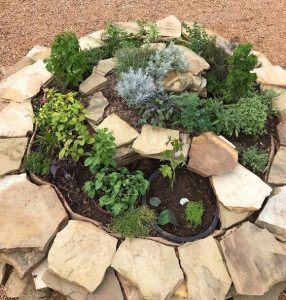 3 – Wood Pallet Garden
Give an old wooden pallet a second chance at life by turning it into a small, vertical herb garden. You could even hang it on the wall!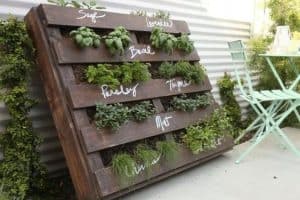 4 – Indoor Jar Garden
If you're short on outdoor space for growing plants, you could recycle your old jars to use as indoor plant pots. That way your herbs are on hand when you want to use them in your recipes!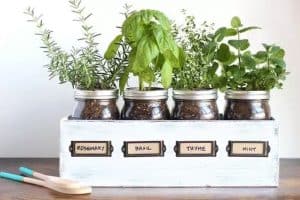 5 – Wall Pots
A great idea for small yards with no flower beds – you could bring your walls to life instead with some fixed plant pots!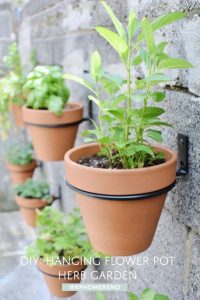 6 – Hanging Pots
If you only have space indoors for your herb garden, design your own 'hanging' garden using planks and cables. This not only saves space but also brings some colour to a plain wall.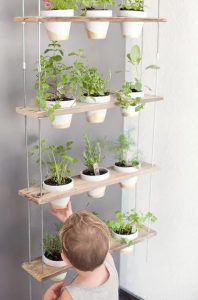 7 – Vertical Garden
Inside or outside the house, a pot plant ladder is a great way to have a small herb garden without it taking up too much space.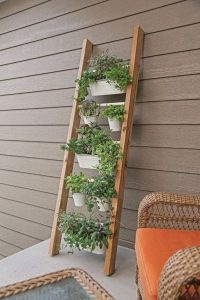 8 – Bookshelf-like Herb Garden
Give a second chance to an old bookshelf! It's a great way to keep your herbs and plants organised.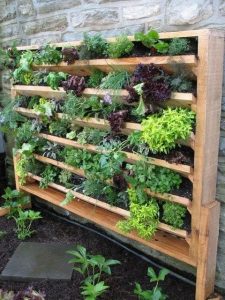 9 – Mason Jar Garden
Create your own indoor herb garden in jars to grow whatever you need for cooking in your very own kitchen.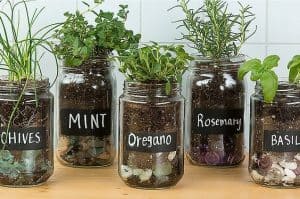 10 – Minimalist Shelf
If you're struggling for planting space, go up! Shelves can provide the perfect platform for your herb pots.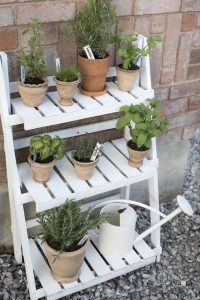 ---

---
11 – Underground Pots
If you prefer not to see plant pots, bury them in the ground so you can just enjoy the herbs! It's a great way to keep your herbs organised at ground level.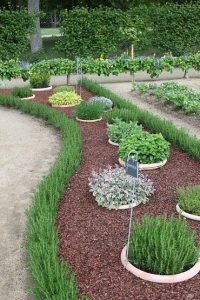 12 – Pallet with Steel Planters
A wooden pallet can make a great budget-friendly frame for hanging your planters. 
13 – Old Well
Do you have an old well you don't use in your backyard? Fill it up and put it to good use!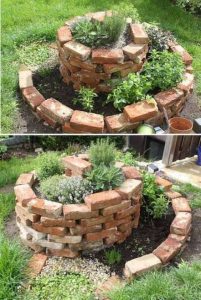 14 – Hanging Modern Pots
Go monochrome for a more modern take on hanging plant pots.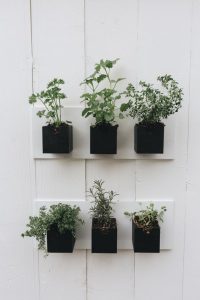 15 – Cedar Tiered Herb Garden
Tiered trough planters could be used inside or out for a great space-saving herb garden.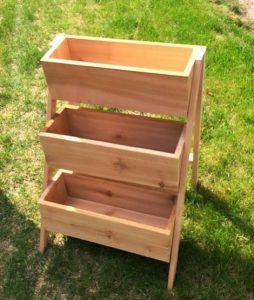 16 – Raised Bed Herb Garden
Some paving slabs left from your garden makeover? Use them to build your own quirky raised bed in a hexagonal shape.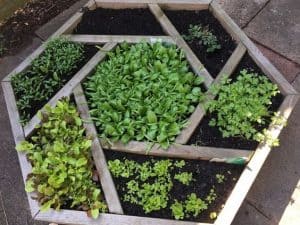 17 – Kitchen Herb Garden
Wouldn't it be lovely if you could just reach up and grab whatever herbs you need for your recipe?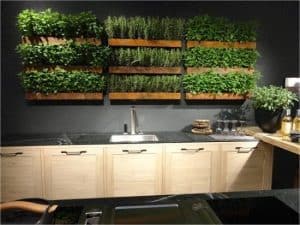 18 – Small Corner Garden
You don't need much space for a herb garden, just dig out a small bed in the corner of your backyard to grow your own herbs and flowers.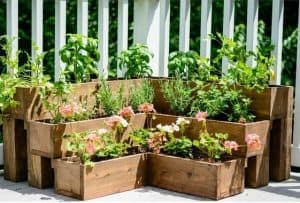 19 – Balcony Garden
If you live in an apartment, don't let that stop you from growing your herbs! A flower box would be a perfect addition to any balcony. 
20 – Vertical Stacked Planters
All in one! Don't take up more space than you need to; plant your herbs on the borders of the planters and stack them!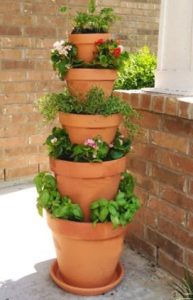 21 – Tabletop Portable Garden
Pop your herb jars in a small caddy so they can be easily moved around.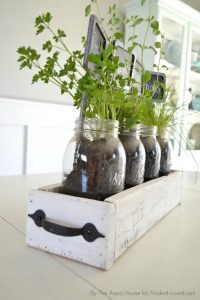 22 – Old Cans
Add pops of colour to your garden with an array of coloured plant pots. You could even paint your pallet to give your pots a more distinguished backdrop.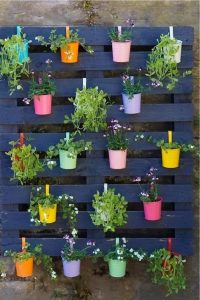 23 – Corner Tiered Herb Garden
Make the most of every space in your garden – fill up an unused corner with tiered plant troughs; the perfect setting for a herb garden.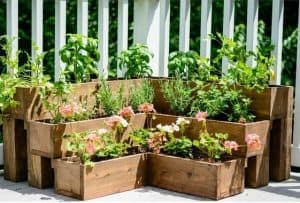 24 – Herbs in Cups
Give those traditional cups and saucers a new lease of life – they make very elegant planters!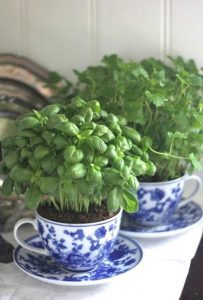 25 – Indoor Vintage Vertical Garden
Upcycle those old cake stands into an indoor tiered herb garden!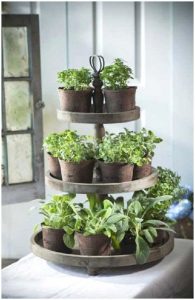 26 – All-in-One Pot
Keep it simple with a miniature herb garden, all in one pot! Perfect for balconies or small yards where space is a precious commodity.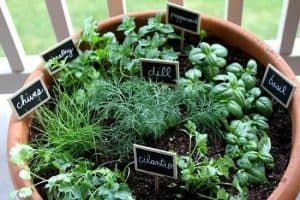 27 – Tin Can Herb Garden
A huge garden is a huge responsibility. Keep things small and manageable by using old tins as indoor plant pots. Just be sure to wash them out first!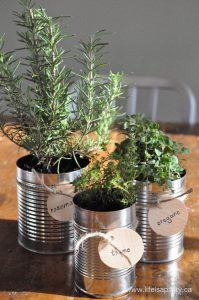 28 – Wagon Wheel Herb Garden
Give an old wagon wheel a second life by planting some flowers and herbs inside.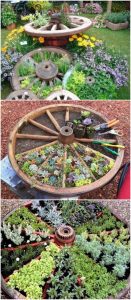 29 – Wooden Boxes
Keep it simple with wooden box planters aligned and decorated on the front so you won't forget what you're growing.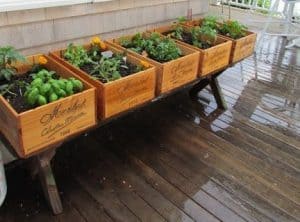 30 – Small Wall Sacks
You don't even need pots or planters to grow your herbs. Use your imagination!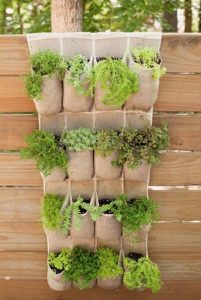 31 – Modern Vertical Garden
You can add some pots to a metal fence panel and create your own vertical garden.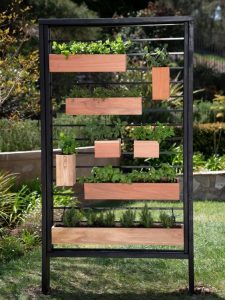 (Image Credit – DIY Network)
32 – Minimalist Mason Jar Garden
Get creative with a simple mason jar set up – attach them to boards so you can make a note of what's growing!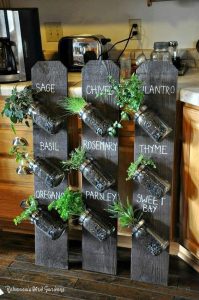 33 – Ceramic Pots
Add some extra colour to your garden by using striking ceramic pots.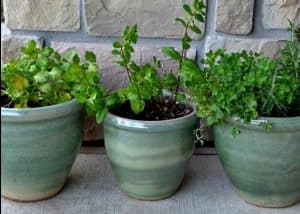 34 – White Drops
A great idea for indoor herb gardens – hang small pots from a frame for a stylish finish.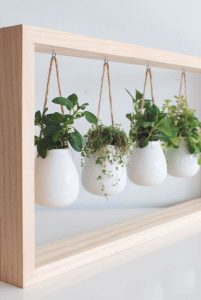 35 – Modern Hanging Garden
Simple grey frames and a resistant chain create a beautiful indoor garden.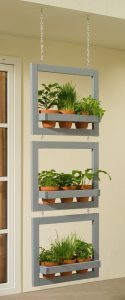 36 – Coloured Mason Jars
Add some personality to your jar planters by painting them your favourite colours!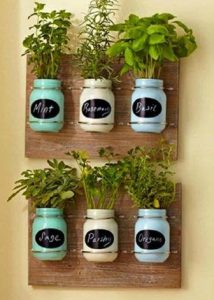 37 – Funky Stacked Pots
There's no rules for stacking your plant pots, use your imagination to create a unique style!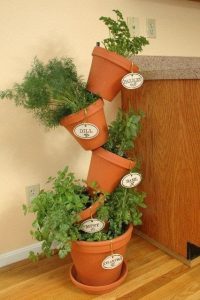 38 – Planters and Rope
A simple but effective idea – it not only looks great but it's practical, as your herbs will be at arm's length while you're cooking!
39 – Recycled Wine Boxes
Old wine cases make great planters for your herb garden and won't cost you the earth!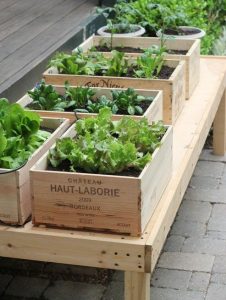 40 – Pyramid Planter
A little tribute to the Mayans in your garden. It's also very practical to separate your herbs so you won't mix them up.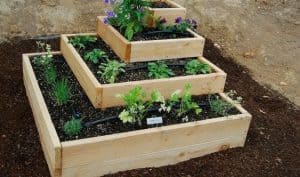 ---

---
41 – Mini Greenhouse
There's no limit to the size of a greenhouse if you want to grow some seeds. Recycle those old meal tubs to get your seedlings going!

42 – Hexagon Garden Bed
Choose a modern-shaped planter to grow some herbs and flowers.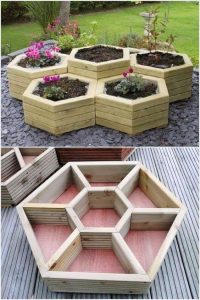 43 – Shelf Garden
Space an issue? Hang a small shelf in the kitchen or on your patio and grow some herbs in beautiful cups and glasses.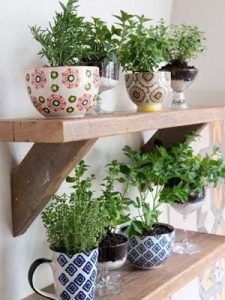 44 – Spiral Herb Garden
A stunning but classic design for your herb garden. The spiral shape and extra height is great for providing microclimates for the different herbs; plant those that need the most moisture at the bottom, and those that like the most sun at the top!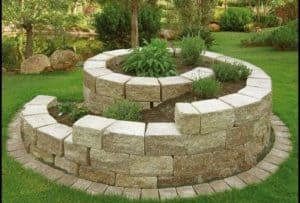 45 – Light Wood Pallet with Pots
Wooden pallets don't have to be boring – spruce them up with a paint job and add the names of your herbs to keep them organised.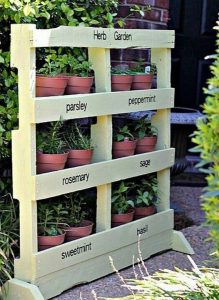 46 – DIY Wooden Planter
A small, classy and simple choice to grow your herbs indoors – a DIY wooden planter.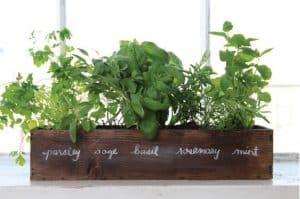 47 – Terraced Herb Garden
Repurpose some old steps to create your own tiered herb garden in the corner of your backyard.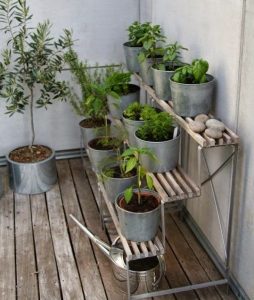 48 – Recycled Milk Bottles
Do your bit to save the planet by recycling your old plastic milk bottles into plant pots! Plus they won't cost you any extra.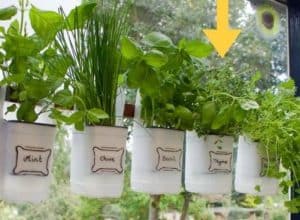 49 – Concrete Raised Garden Bed
Use breeze blocks to create your own raised bed to plant your herbs in.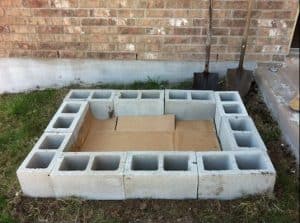 50 – Herb Garden Container
Use separate containers for your herbs to help you keep them organised.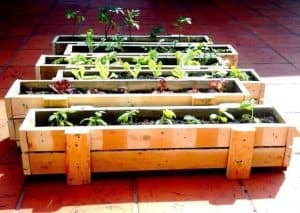 Round-Up
Herbs are great for beginner gardeners as they're easy to grow and they take very little effort to get started. Plus you won't have to buy them from the supermarket anymore, just trim them from your own herb garden!
Hopefully, we've provided some useful ideas for planting your own herbs using the space you have to spare. 
Shop Greenhouses