Garden sheds are known for their outdoor storage capabilities. But have you ever considered them as more than just a place to stow away your belongings? Welcome to the realm of large wooden buildings, where functionality meets versatility.
At Garden Buildings Direct, we take pride in offering some of the finest models. Each is crafted with quality and comes with its own unique advantages.
In this article, we will delve into the exciting possibilities of large wooden sheds. Here, we'll showcase how they can transform into DIY havens. Say goodbye to clutter and hello to your new creative space!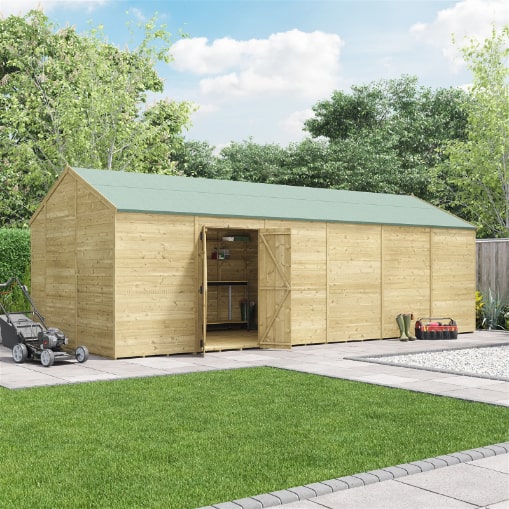 Wooden garden sheds offer the perk of easy customisation to match your garden's style. They may be susceptible to rot, rust, and mildew, but these concerns are easily addressed. The secret to this is through the best wood protector or preservative. Some models come equipped with galvanised hinges for added durability.
If you're short on time and resources, our large garden sheds come with a pressure treatment option. This method involves applying a protective treatment to the wood before letting it dry. It ensures superior penetration and long-lasting protection compared to dip-treating.
Our collection comes in two primary designs:
This traditional choice features timber slats stacked on top of each other. In return, it creates an overlapping panel, hence the name. It's ideal when you don't require heavy weather protection.
Crafted from interlocking boards, this cladding offers excellent weather protection. It guarantees that your shed's contents will stay dry, regardless of the weather.
We also offer a variety of roof styles, such as modern pent roofs, classic apex, and reverse apex sheds. With these selections, you can choose the perfect design for your needs!
The Best Large Wooden Sheds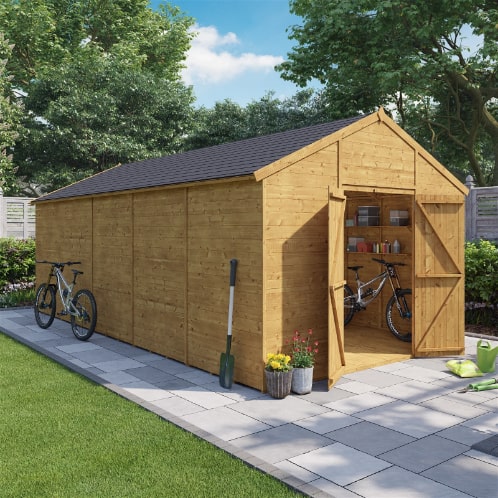 The BillyOh Expert Apex is an amazing take on the traditional garden shed. The expert apex comes in a wide variety of sizes, all with a robust 11mm floor and roof. Even better, with the option to upgrade the floor to 19mm.
Smaller sizes, such as 8×8 and 10×10, are great for uses such as a bike shed or garden tool store. Whereas larger ones offer many more use cases. The larger sizes of this garden building, the 20×10, would make excellent spaces for a DIY shed or garden studio.
The option to have a windowed or windowless design allows you to customise the unit. A windowed design lets a large amount of natural light in. This option is fantastic for a garden workshop, office or even just as a more modern storage solution. Meanwhile, the windowless variations offer more privacy by keeping prying eyes out. Both variations come with tall, wide double doors with a high apex, giving you a great head height.
Green mineral roofing felt is also included for weather resistance. To improve your lifetime and durability further, opt for our pressure treatment option.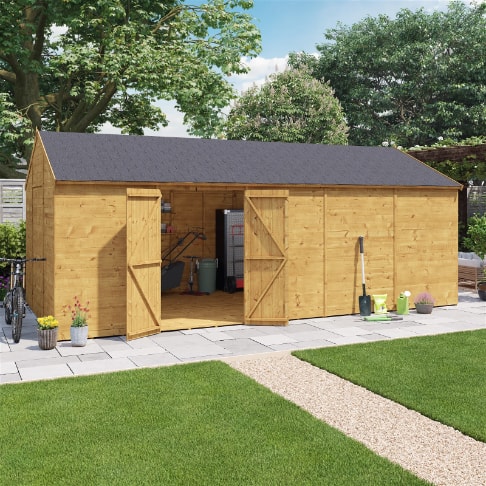 The Expert Reverse Apex Workshop comes in a wide range of sizes and options suited to an amazing range of uses. You won't have to decide between timber workshops and sheds — you can have it all in one! And you don't have to stop there – this model can easily be converted or repurposed as a garden office.
The larger size, which is 20×10, guarantees enough room for storage. With space for a workbench, shed shelves, and the option to have windows, you name it! It fulfils everything you expect from massive outdoor storage.
The windowed version is perfect for a workshop or to allow more natural light into the building. Meanwhile, the windowless option offers increased privacy and security – perfect for storage.
Both options use durable 11mm wall, floor and roof construction. The floors can also be upgraded to 19mm thick T&G timber for more intense usage.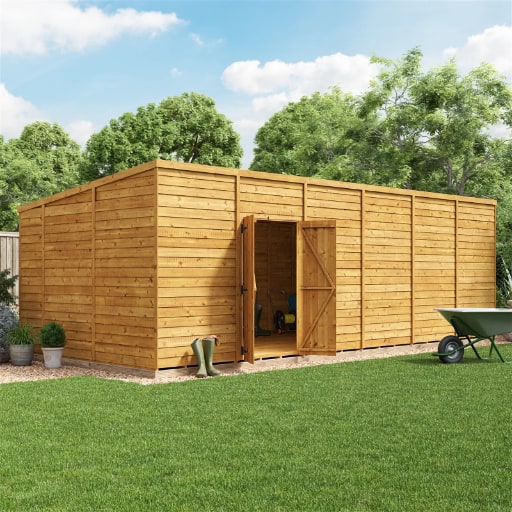 The BillyOh Switch Overlap Pent is one of our most versatile and adaptable garden sheds. The pent roof gives you lots of headroom for use as a storage shed or internal use. The modern silhouette of this type of roof isn't just aesthetically pleasing, too. It also allows for easy and efficient drainage – reducing the chance of water ingress.
The wide-opening double doors allow for easy access and support shed locks. It comes spray-treated as standard. The chemicals prevent rot by filling in the gaps water might seep into.
As with the first two models, we leave the choice of windowed and windowless options down to you. It also comes with the ability to choose the position of the double doors to suit your needs and your garden.
The largest size available is 24×10.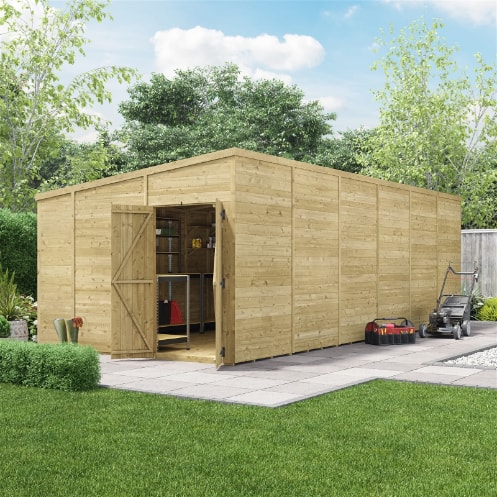 Made from durable Tongue and Groove panelling, it boasts a modern-looking shed building. Pent-roof sheds work amazingly as a bike or BBQ store, leaving more usable space in your house or garden.
All sizes come with everything you need included, including the larger one, 24×10. This makes assembly quicker and easier, no matter the dimension. The 11mm T&G floor, roof and walls provide robust and weather-resistant construction. Even better, the mineral roofing felt increases this weatherproofing further.
Like the Switch Overlap model, it comes pressure-treated to cut down on maintenance. We also extend our amazing BillyOh guarantee to a huge 15 years! That's 15 years of protection against rot, decay, and insect infestation.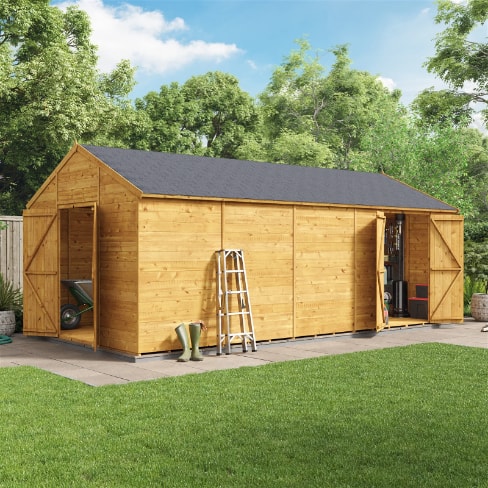 The dual entrance improves access and makes it a perfect option for fitting in a garden corner. The side door can be placed in the space of any panel down the side of the building. This enables you to have the best access to your garden space.
This large timber workshop has an eaves height of 1.73m (5ft8) and a ridge: of 2.47m (8ft1). The larger size available is 20×10 – an ideal solution if you're in need of some extra space.
This workshop garden unit is also available in a windowed or windowless design. What's more, it comes with a range of options to choose from extras like shelving and shed bases.
The Expert T&G Apex Workshop comes with a 10-year anti-rot guarantee. Your guarantee against rot also covers your building against decay and insect infestation.
Why Buy From Garden Buildings Direct?
Garden Buildings Direct is a leading manufacturer and seller of garden rooms. Our selection spans sheds, log cabins and summerhouses to playhouses and greenhouses. We invest huge amounts of time and manpower into ensuring our products are the very best they can be.
For your next read, head into: What Can You Keep in Wooden Storage?
Click the button below to shop from our BillyOh wooden sheds today.
Shop Garden Sheds