Garden sheds offer an excellent solution for outdoor storage. But did you know they can be much more than a mere storage area? This is where large wooden sheds come into their own. In particular, our best large wooden sheds.
Not only are they a perfect solution to clearing out space within your home, but they're also a great companion for anyone who needs a room where you can work and enjoy your hobbies.
Here at Garden Buildings Direct, we offer some of the best garden sheds that are high-quality and available across three materials — all of which have their unique advantages. One of our customer favourites is our wooden sheds collection.
If you're planning to purchase a wooden shed—in this article, we'll explore what we believe to be the best large wooden sheds for DIY all for under £1000.
Why a Wooden Shed?
Unlike metal and plastic sheds, wooden sheds can be easily customised or painted to suit the style of your garden. The only downside is that they can be vulnerable to rot, rustt, and mildew, but these concerns can be comfortably solved by merely applying a wood treatment or preservative. (Plus we use galvanised hinges). Easy peasy!
If you don't have enough time and resources to treat your wooden shed, then the majority of our large wooden sheds come with the offer of pressure treatment.
Pressure-Treatment

– This kind of treatment generally involves blasting wood with protective treatment before the timber is stacked and left to dry. This process offers not only maximum penetration but also provides longer-lasting protection than the dip-treating alternative.
Our large wooden shed collections are also available in two different designs:
Overlap Wooden Shed

– This type of cladding is considered the most traditional and cost-effective choice. Its timber slats are placed atop one another, each one overlapping the next to create a panel. If you don't need much protection against the elements, then this is the best choice to opt for.

Tongue and Groove Wooden Shed

– Made from interlocking boards, this type of cladding provides excellent protection against the elements. What's best about tongue and groove is that it guarantees your shed's contents will remain dry, irrespective of the weather.

A range of roof styles – Including modern pent roofs, classic apex and reverse apex sheds
7 Best Large Wooden DIYSheds Under £1000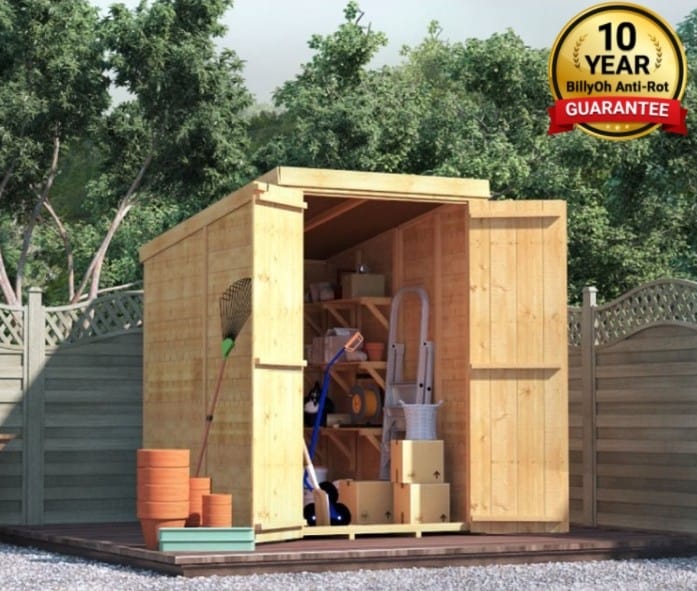 The master pent works as an ideal garden storage shed. This pent shed is windowless to provide increase privacy and security but offers a tall and accessible entrance with a modern style.
This storage solution comes with an 11mm tongue and groove roof, and floor included as standard, giving a strong and durable construction. The floor can also be upgraded to a more robust 19mm floor, while the roof can be upgraded by adding extra trusses increasing the roofs overall strength.
To increase the strength of your building further, we offer a pressure treatment service that will improve the weather resistance of the building while also increasing the BillyOh Guarantee to 15 years. All sizes of this building include green mineral felt as standard to help keep your items clean and dry.
Sizes available (size measured in feet):
| | |
| --- | --- |
| 4x6 | £453 |
| 8x6 | £635 |
| 10x6 | £845 |
| 12x6 | £939 |
The BillyOh Keeper Overlap Apex Shed is perfect for DIY beginners. As a budget model, this shed will supply you with the ideal space for your workshop and storage needs, all for a fraction of the price.
Designed with a 7mm rustic overlap cladding and optional pressure treatment, this popular starter shed is great for the budding DIY enthusiast who will be able to spend hours working away in the garden thanks to the Keeper's increased headroom feature for maximum accessibility.
This shed is also ideal for those who have storage in mind, as the windowed or windowless option makes this building adaptable to your security needs, providing maximum protection during the winter months.
Sizes available (size measured in feet):
| | |
| --- | --- |
| 4x6 | £369 |
| 8x6 | £505 |
| 4x8 | £537 |
| 10x6 | £709 |
| 8x8 | £709 |
| 12x6 | £829 |
| 10x8 | £885 |
| 12x8 | £935 |
| 16x8 | £1,195 |
Do you have a passion for DIY? Are you looking for a durable workshop that is suited to all of your projects? Well, look no further. The BillyOh Master Tongue And Groove Shed serves all of your workshop needs; from a sturdy construction to an abundance of light intake for maximum visibility.
Constructed with 11mm tongue and groove cladding, this shed has added strength and durability, and is excellent for storing DIY equipment and machinery. This shed will also last well for its money, as its robust model is fit to fight even the toughest weather conditions, ensuring your possessions are safe.
| | |
| --- | --- |
| 4x6 | £469 |
| 8x6 | £605 |
| 6x8 | £835 |
| 10x6 | £855 |
| 8x8 | £859 |
| 10x8 | £1,055 |
| 12x8 | £1,175 |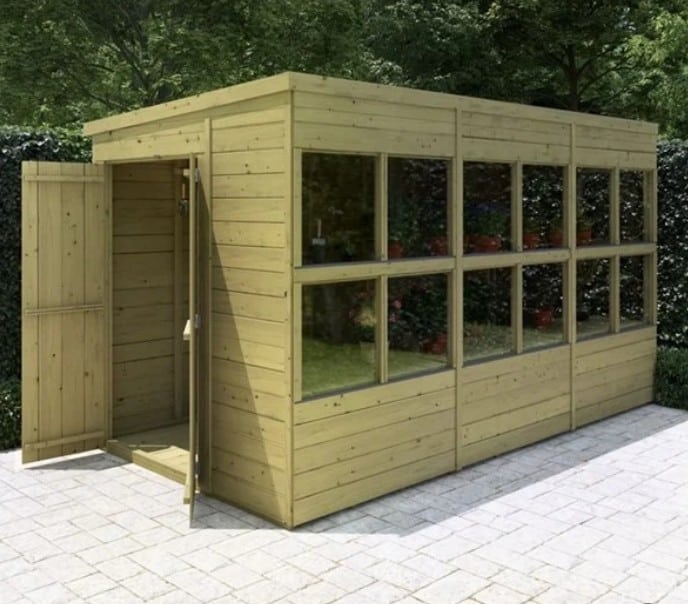 Sizes available (size measured in feet):
8×6 – £865
12×6 – £1,085
16×6 – £1,395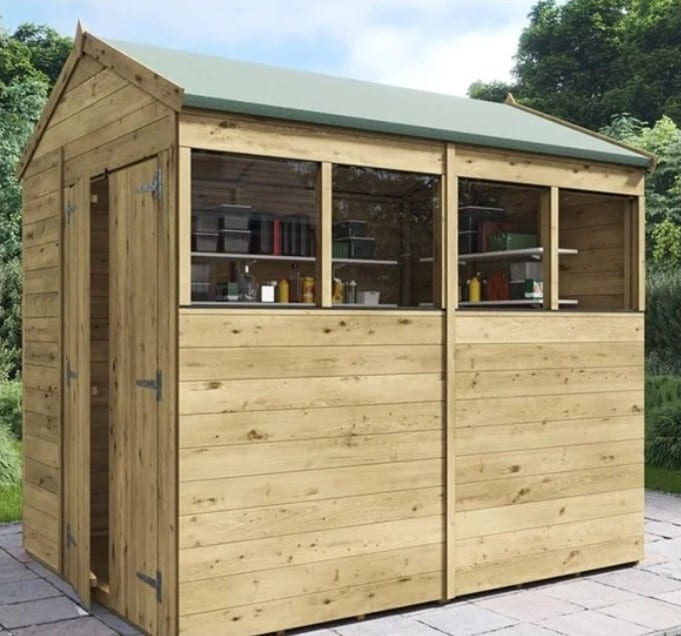 The Switch Apex is one of our most adaptable sheds. With windowed or windowless options you can champion DIY by daylight or security for your possessions!
All sizes of this building come with everything included, making assembly quick and easy. The 11mm tongue and groove floor, roof and walls provide you with robust construction and weather-resistant building.  And the included roofing felt increases this weatherproofing further, protecting your building into the future.
Sizes available (size measured in feet):
8×6 – £805
12×6 – £999
16×6 – £1,275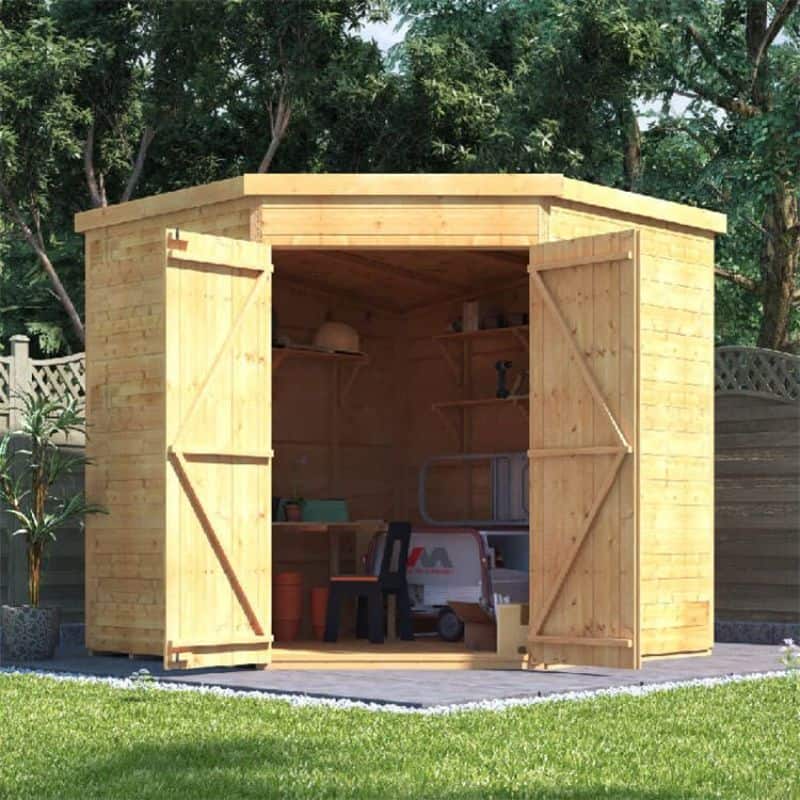 Take a look at our 7×7 garden unit, known as the Expert Tongue and Groove Corner Workshop. If you have limited garden space, this garden unit shed is the perfect storage solution for you!
Accommodating to any garden style, this shed can slot easily into any corner and at the same time, providing plenty of interior room. With its corner design, regardless of the size, style or shape of your back garden, this building will surely fit! It also makes an excellent choice for overcrowded gardens with an easy to use storage space. 
Another quality feature that we admire about this garden building is the windowed design option that gives panoramic views of your garden. Imagine having a space to grab some time for yourself? 
With the light, airy design that the Expert range offers, you can delve into a good book and take advantage of some comfort in your outdoor space. Alternatively, you can transform this shed into more than just storage space! You can use it as an ideal location for DIY, woodwork and more.
You don't have to worry about the overall construction as well as this large wooden shed is constructed using Tongue and Groove panels, featuring a more secure and stable garden building.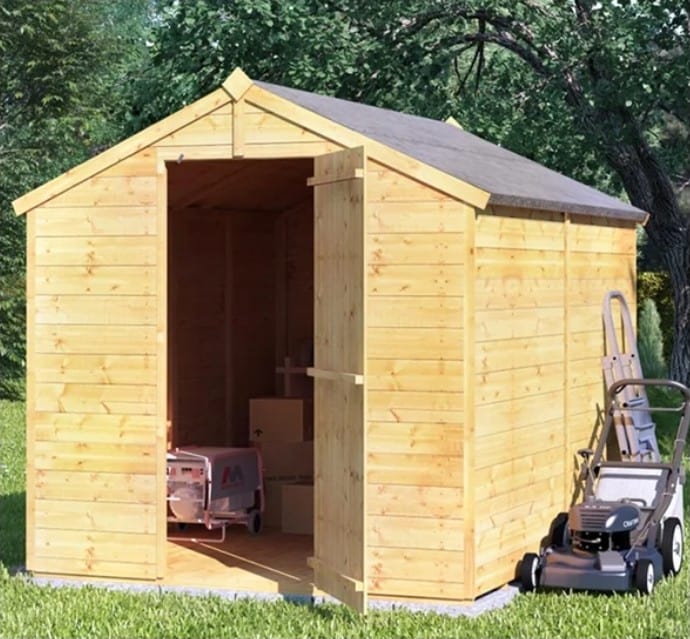 The Storer Apex is a very adaptable garden shed. It comes in a more compact 6×4 shed or the larger 8×6. Both options offer increased head height and easy access making them perfect as an outdoor storage solution.
The classic apex roof is traditional and your possessions will be protected by the strong 11mm Tongue and groove walls and the included roof, floor and roofing felt.
Small garden sheds are a fantastic addition to any garden, with their small footprint yet tall height, they provide a great space for vertical storage without detracting from a beautiful garden.
Sizes available (size measured in feet):
Why Buy From Garden Buildings Direct?
Garden Buildings Direct is a leading manufacturer and seller of garden buildings; be it sheds, log cabins, summerhouses, playhouses and more. We invest huge amounts of time and manpower into ensuring our products are the very best they can be, whilst maintaining prices that allow our customers to always feel happy spending relatively little for an excellent product.
Because of this, we like to think that we know a thing or two about wooden sheds, and feel confident in endorsing the above large wooden sheds as ones that are absolutely worth checking out! Click the button below to shop from our BillyOh wooden sheds today.
Shop Garden Sheds