The colder months signal winter garden prep, yet outdoor storage sheds are often left out. Unfortunately, many homeowners tend to forget how valuable they are throughout the period.
Some level of weathering is inevitable for garden buildings. The big BUT is, besides the constant exposure to the elements, negligence is also a root cause. Taking steps to prevent any of these will pay off immensely, so regular maintenance is needed.
So, if yours has seen better days, don't let it be an eyesore any longer. Bring your shed back to life in no time with these tips and tricks! Note: Generally applies to wooden sheds.
Reviving Your Shed: Applying Treatments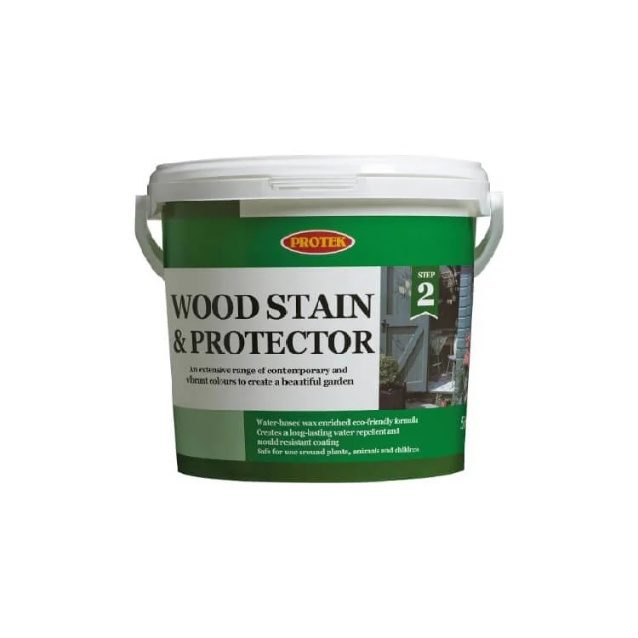 A wood stain shed does an incredible job of protecting timber from becoming weathered. The added colour and shine make up for the enhanced appearance of the shed. Consistent upkeep, e.g. re-applying once a year, can also prevent costly repairs down the line.
Without a wood preserver or any treatment alike, it's easy to imagine what timber storage would go through.
It'd become susceptible to rot, mould, and insect infestations. As a result, this can weaken the structure and reduce its lifespan.
Invest time and effort into treating your wooden garden shed. That way, it can stand up to harsh weather conditions better than others for years to come.
Things to consider
If the wood has been previously stained or painted, strip it back to bare wood before painting. Use sandpaper or chemical solvent to get rid of the old paint job. For debris or cobwebs, use a brush to sweep these grimes off. Surfaces should also be dry and dirt-free, so check for any sign of algae, fungi or moss; tackle them at once if needed.
Before applying a coloured wood preservative, check the condition of your front shed. Are the screws shorn off? Do the nails need replacement? How about the doors – are they crooked and distorted? Don't forget the windows! Check if the sealant is good for another year; re-apply if otherwise.
As summer weather can make old felt go all crispy, crack and get holes in, it's also a good time to replace roofing felt. Overall, you'll want to ensure your wooden shed is in good nick. Only then can you start applying the treatment of your choice.
Wood treatment vs stain vs preservative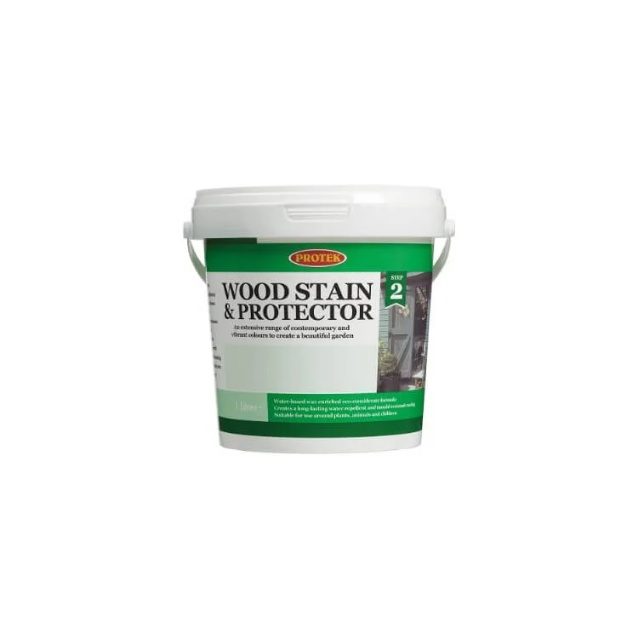 Treatment, stains, and preservatives are all different methods of protecting wood from damage.
Wood, in general, is extremely durable, but some are susceptible to decay if left untreated. This is where wood treatments come into play. The term "treatment" refers to protecting wood from damage caused by:
insects

moisture

decay fungi
It involves using chemicals to infuse the wood and make it more resistant to rot, insects, and even fire. Types of exterior treatments include oil, water, solvent, and wet rot/dry rot.
Shed stain, in contrast, is a type of wood finish that adds vivid colour or subtle hint. Though it protects the wood from water damage, it doesn't provide protection like a treatment. We recommend darker colours for better protection, such as Protek paints, – thanks to their extra pigmentation.
Unlike wood treatments, preservers are the 'chemicals' themselves. They are applied to the wood's surface to slow down the deterioration. These preservatives can be applied by spraying, brushing, or dipping the wood. Examples include borates, copper-based, and oil-based preservatives.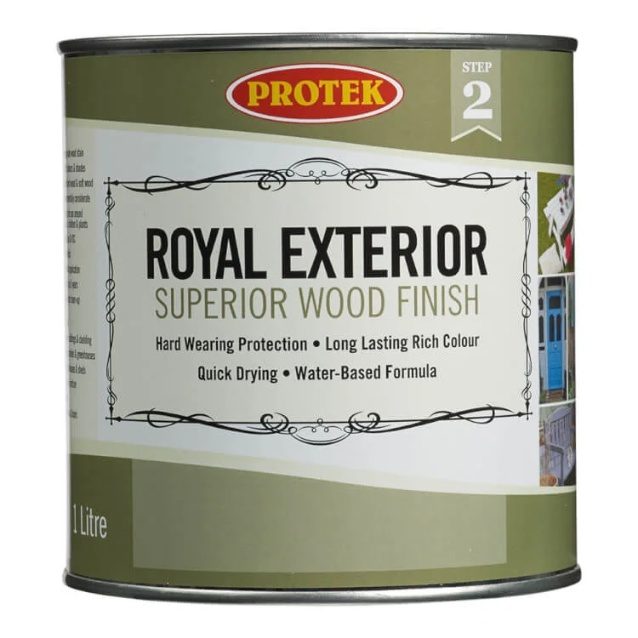 Once you decide which treatment is best for your shed, apply a finishing coat as the final touch. Doing so can add a layer of protection from ultraviolet rays. Pick out a good varnish or oil unless you opt for pressure treatment.
Reviving Your Shed: Refurbishing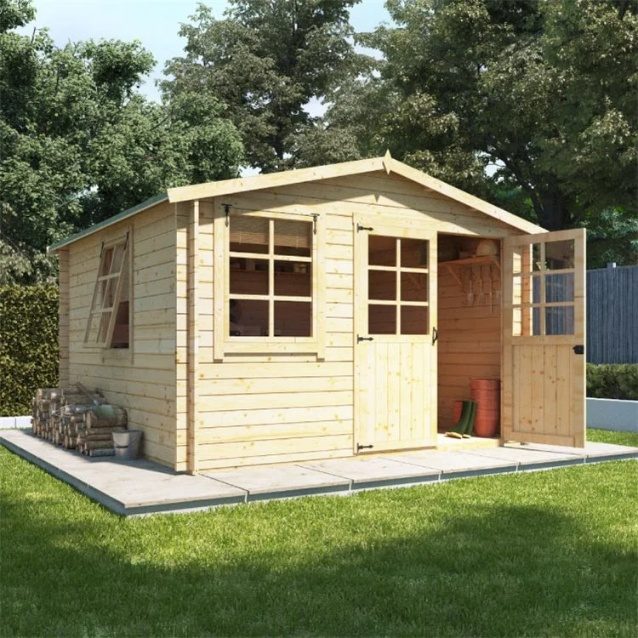 Refurbishing your shed can vary depending on your needs and goals. You may want to turn it into a functional workspace or garden storage unit. Or perhaps to create a cosy backyard retreat or guest house. Nevertheless, it can increase the value of your property, as it can serve as an extra living or working space. But before that, here's what you need to or can do:
Empty your shed by removing any old bits and bobs

Look out for any wear and tear in both the interior and exterior

Make necessary repairs like restoring old wood with new planks

Re-shingle the roof and repair the sidings

Apply a fresh coat of paint after applying the treatments

Add shelving or storage to maximise the space
This is basically the round-up of the things you need to consider. Also, it's more like the second step after applying exterior treatments. Plus, a great opportunity for you to improve its appearance!
But say you've done it, and that leaves you with a pleasant yet blank canvas interior. The time has come for you to be really creative.
Reviving Your Shed: Repurposing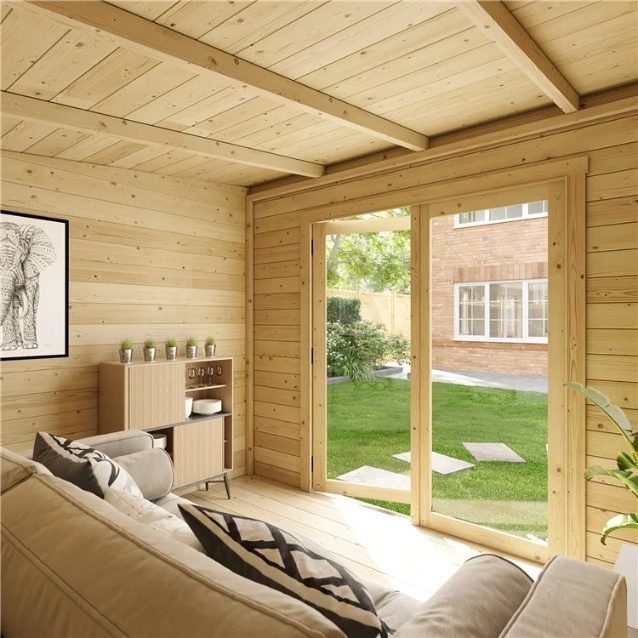 Garden sheds are simple structures but versatile and can be utilised in various ways. With some effort and creativity (and ideas), your old shed can breathe new life into your outdoor space. Our top favourite transformation ideas include the following:
Summer house.

Everybody needs a spot for their creature's comfort. A shed converted into a summer house can be your go-to relaxation haven.

Home gym. Having your own personal fitness space is a practical and beneficial way to stay fit. Check out these gym shed ideas for inspiration.
Garden office.

If a hectic household is putting you off work, this is something you need.

Music room.

Convert your shack into a room that provides an ideal place to rehearse and play music.

Art studio.

This is a dream come true if you're an art enthusiast!

Home cinema.

Have a private spot in your outdoor space where the whole family can have a movie marathon on a bigger screen.

Workshop.

The perfect conversion idea if you're a DIY enthusiast yourself. It'll give you enough space to both store equipment and get on with your projects.

Home library.

Give your books a new home and spoil your inner bookworm with a library to call your own.

Garden bar shed.

Ah, one of our favourites! It's time to flaunt your bartending skills and get that 'inviting pals over for a drink' excuse. Use this guide on

how to build a garden bar

.

Pet house.

Give your furry friends a home of their own, and make sure it's well-ventilated and suited for their needs.
Having an old shed sale just sitting in your back garden is a wasted potential. Let alone overlooking your supposed-to-be investment during the cold winter months. But we hope these ideas will help you find ways to make it functional as it ought to be!
Top tip: Feel free to apply these tips and ideas for your log cabin or summer house retreat. Browse through these shed interior ideas for more inspiration.
Shop Garden Sheds