Garden sheds are prone to weathering due to their constant exposure to the elements. But apart from the harsh weather conditions, negligence is one of the main causes of a shed deteriorating—and consequently needing a major restoration.
Thousands of garden buildings are left unused and abandoned in U.K. gardens every year, particularly over the course of winter. This angers us! We believe that a garden shed has a purpose all year round. They're the focal point of every garden, so protecting them is vital.
One of the best ways to ensure your garden shed is well maintained is to keep up with your gardening activities and to use your tools and equipment regularly, so they don't get left unattended and rust. But if your shed is past that point and needs some work, then you're in the right place. This guide is all you need!
We've compiled this list of effective ways you can bring your garden shed back to life in no time.
Ready?
Reviving Your Shed: Applying Treatments
To maintain a beautiful shed all year round, keep an eye out for bare or untreated wood surfaces around your shed. If you find any, make sure to patch them up with an appropriate wood preserver to prevent rot and decay.
If the wood has been previously stained, painted or varnished, it should be stripped back to bare wood to  before painting. Use sandpaper or chemical solvent to get rid of an old paint job before you start work on the new one. Surfaces should also be dry and free from dirt, so check for any sign of algae, lichen, fungi or moss and get rid ASAP. You can use a brush to sweep off any debris or cobwebs. 
Things to Consider Beforehand
Before applying wood preservatives, it's a good idea to replace shorn-off screws, hammer in replacement nails, and generally make sure your shed is in good nick.
At the front of the shed, the doors can crook and distort more than the rest of the shed due to their outward facing position to the elements. If your door has come loose, make sure the wood is dry before fixing it so it closes smoothly. 
Sand the edges if necessary, and sweep the door frame clear of spider webs, compost, leaves, and other outdoor debris. As summer weather can make old felt go all crispy, crack and get holes in, it's a good time to replace this if it's worn out as well.
Next up, windows. Check they're still watertight and that the sealant is good for another year. If not, we suggest re-applying sealant to each window. To achieve a good, strong seal, do it both indoors and outdoors.
Alternatively, silicone is good for sealing windows, the same stuff that is normally used in fish tanks and aquariums.
Finally, as we mentioned earlier, give the entire exterior of the building a good brush to remove dust, dirt and cobwebs. After you've completed these first few steps, you can start applying treatment to your shed.
Wood Treatments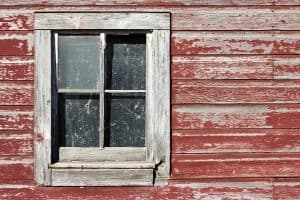 Regardless of what you use your shed for, keeping the wood protected is imperative (unless you're not fussed about it's longevity).
The best way to make sure sheds are protected from the weather is to apply treatment before the building is constructed. This way it will not suffer any damage before treatment takes place. 
Take a look at the best ways to treat your garden building.
Stain
Staining your shed is similar to painting it, but whereas paint covers the wood, stain soaks into the wood and exaggerates the natural grain of the wood. Stain usually comes in natural colours such as brown and beige, whereas paint can come in any colour. Stain soaks into the wood, whereas paint rests on top of it.
Using stain can protect your shed against the hot weather. If you are planning to opt for stain, we recommend darker colours as they provide better protection due to their extra pigmentation.
Lighter-tone stains can be prone to fading in the sun. When it comes to staining, you can stain the interior of your shed to prevent moisture from building up. If you're getting a new shed, it's better to to do this to individual panels before you construct the shed.
Wood Preservatives
Water is the common garden shed's arch nemesis. Water ingress can lead to the growth of mould and mildew, as well as encourage fungal growth and insects. If this is something your shed's been subject to, applying wood preservative can be the best solution. You can buy water or oil based treatments from any local hardware shop. Like stain, they can be simply applied using a brush. Make sure you get into all the nooks and crannies!
Wood preservative does an excellent job at keeping the shed protected from insects, rot decay and water ingress.
Pressure Treatment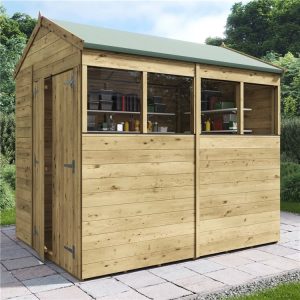 If you're looking for ultimate protection, pressure treatment can be your best bet. By pressure treating the wood, we leave you with a building that is low maintenance and doesn't need treatment at home. 
This option is also perfect for those who specifically want to save money in the long run. However, it is an industrial process carried out by professionals, and not something you can do yourself. So make sure you opt for the pressure treatment option when customising your building!
Here at Garden Buildings Direct, we offer a range of pressure treated garden sheds which require no treatment at home. Make sure to check them out!
Finish Coating
Last but not least, a finish coating is a good way to add a final touch after applying wood preservative or stain—unless you opt for the pressure treatment. Picking out a good varnish or oil can keep the building protected from heavy rain, making it more water-resistant. It also adds a layer of protection from ultraviolet rays.
Reviving Your Shed: Refurbishing
Refurbishing your shed isn't just great for bringing your old garden building back to life. It's also the perfect way to revive an old passion or interest. Like taking up the gardening hobby you left behind.
Now that you have more time, you can make use of your shed and the tools may be for gardening, wood working, or other activities. Here's how you can refurbish your outdoor building:
Empty your shed by removing any old bits and bobs
Look out for any wear and tear in both the interior and exterior of the building
Make necessary repairs, such as restoring old wood with new planks
Re-shingle the roof and repair the sidings
Add a fresh coat of paint after applying wooden treatments to add life
Maintain and clean your shed regularly
Painting over wood that has been treated with a wood preservative depends on what sort of preservative and what type of paint is being used. If you use an exterior wood preservative, you should paint over with a water-based exterior wood paint.
Make sure the wood preservative being used does not contain any wax, oil or silicon, as these will ward off the water content of the paint, preventing it from sticking or adhering to the wood.
Tip: You may consider adding a turf roof, sow some plant seeds and attach some hanging baskets and bird boxes to the roof. In just a few weeks you will have a mini habitat on top of your shed. 
All you need to do is to grab some turf and spread it all over the roof of your shed, making sure to press it down so that it's firm.
Reviving Your Shed: Re-purposing
Another way to revive a shed is to re-purpose it.
Re-purposing a shed into something more useful than a simple storage container can really boost your garden (and the value of your property!). Sheds are simple structures, but they're really versatile, and can be utilised in various ways that benefit you and your whole family.
Shed Transformation Ideas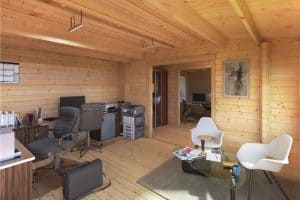 Summer House

– Everybody needs a spot for their creature comforts, and a summer house can be your go-to relaxation haven.

Home Gym

  – Converting

 your shed into your gym is a really practical and beneficial way to keep your fitness regime going from the comfort and convenience of your home.

Garden Office

– If  a hectic household is putting you off work, converting your shed into a garden office is the perfect solution!

Music Room

– Convert your shed into a room that provides an ideal place to rehearse and play music. You can fill it out with space to hang guitars, store drum kits and more.

Art Studio

– It'd be a dream come true for most art enthusiasts to have their own studio. If you're one of them, and you own a shed, you know what to do!

Home Cinema

– A home cinema is a place the whole family can enjoy. So why not transform your old shed into a spot to watch all your favourite films?

Workshop

– A shed is the perfect place for DIY enthusiasts, giving you enough space to both store equipment and get on wit work.

Home Library

– Setting up a library in your garden shed is a fantastic solution to a lack of space at home for your books.

Bar Shed

–

One of our favourites. A shed bar – the ideal place for you to flaunt your bartending skills and the perfect excuse to invite your friends over for a drink. What's not to love?

Pet House

–  A repurposed shed can be the perfect solution to a lack of space, and a great excuse to give your furry friends a home of their own.
Conclusion
Having an old shed just sitting in your back garden is a wasted potential. Let alone overlooking the garden building during the cold winter months. We hope these ideas will help you find ways to breathe new life into your shed.