Whether you're looking at a summerhouse, bike store, or just a storage shed – there's loads of solutions out there.
Keeping your outdoor living space clutter-free will make it more enjoyable (and less risky!) for you and your family. But with your children's bikes, accessories, and outdoor toys scattered all over your backyard or patio area, cleaning up can be a bit challenging. That's where a cheap bike storage shed comes in handy…
If you're fed up with seeing your kids' two-wheeler lying around your outdoor space or garage, investing in a high-quality storage unit is the answer! A dedicated place to store bikes and other outdoor items during the off-season and during inclement weather will help them last longer.
So, speaking of bike storage solutions…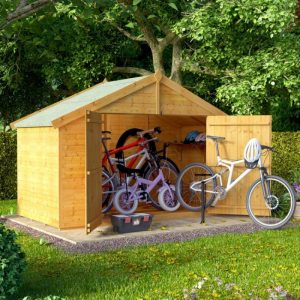 A garden shed could be a good idea. And if you're planning to purchase one, this guide will come in handy. We've listed everything you need to know to make an informed decision on the perfect cheap bike shed for you.
For many of us, learning to ride a bike was a part of growing up. But while bikes are often our pride and joy, they're also an awkward object to store. If they're not lent properly against a surface, they can easily be knocked over.
Owning a bike storage shed comes with a handful of great benefits. Not only will it ensure your little ones' bikes don't end up cluttering up space you need for something else, but it will also protect the bicycles against rust AND prevent them from being damaged or stolen.
---
If you're fortunate enough to already be in possession of enough space to store your bike, go no further. But if you aren't, plough on, and let us tell you about all the different choices you have. At Garden Buildings Direct, we stock a range of storage facilities that could all double up as a bike space.
Check out our range of bike storage solutions over on our store.