Investing in garden sheds is a practical solution for gardeners and DIY enthusiasts. But with an array of shed sizes available, finding the ideal fit can be overwhelming.
So in this blog, we'll walk you through the considerations that will help you make an informed decision. Here, we will explore the popular shed sizes and their common uses. Keep reading!
Assessing Your Needs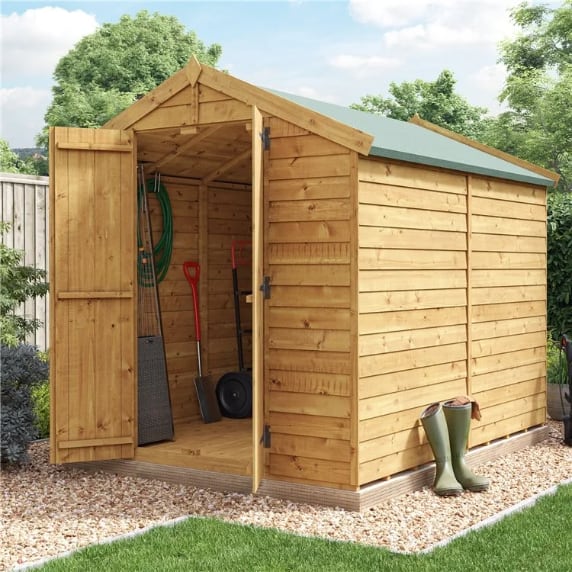 When considering what shed size to buy, think about its primary purpose. Are you looking for extra storage space to declutter your home and organise tools? Do you dream of having a dedicated garden workshop for your DIY endeavours? Or do you envision a green thumb sanctuary, a greenhouse alternative, for your pots and other items?
Before finalising your choice, identify specific items you plan to store. Plus, the activities you intend to carry out in the shed. Top tip: Take stock of your current belongings. Consider any potential future needs that might arise.
Accurate assessment ensures your shed won't be too small to fit everything you need. Or too large, leading to wasted space and unnecessary expenses.
Measuring Your Space
Measuring the available space for your shed is a crucial step in finding the perfect fit. Follow these step-by-step instructions to ensure accuracy:
Remove any obstacles, plants, or debris from the chosen location to get a clear view of the space.

Use a tape measure to determine the length and width of the area. Measure from the outer edges to get precise dimensions.

Is the ground uneven? If so, measure from the highest and lowest points to understand the terrain better.

Is your shed comes with roof overhangs or eaves? If yes, include them in the width and length measurements.
Tips for dealing with irregular spaces:
Divide the space into smaller, regular shapes and measure each section separately.

Create a scale drawing of the area. Make sure to include all measurements and features for a clear visual representation.
Importance of leaving extra space:
Allow a few feet of clearance around the shed. This will give you easy access during installation, maintenance, and in and out.

Plan for potential future expansion needs to avoid outgrowing the shed quickly.
Popular Shed Sizes and Their Uses
Each shed size caters to specific needs. Below are the commonly available storage shed sizes and their uses: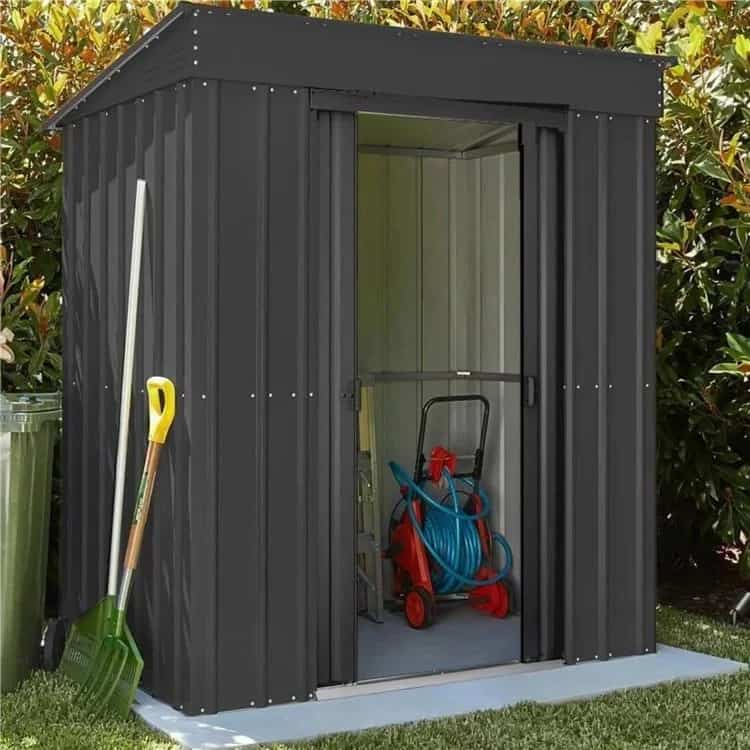 Ideal for compact gardens or limited spaces. These sizes are perfect for storing gardening tools, small lawnmowers, and potting supplies.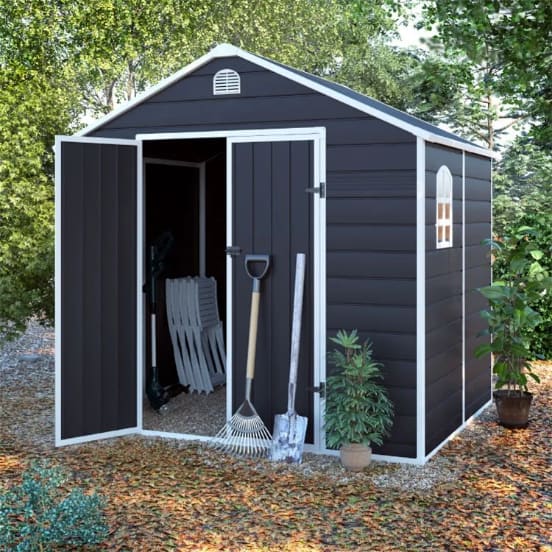 Suitable for a modest garden workshop. The dimension offers enough space for a workbench and storage of tools and materials.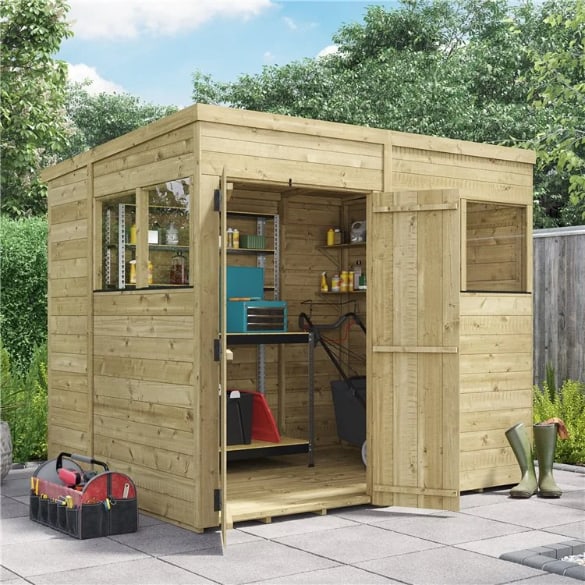 A versatile option that works well for both storage and light workshop activities.
It provides ample room for storage and can serve as a more functional workshop. The size can accommodate larger tools and workspaces.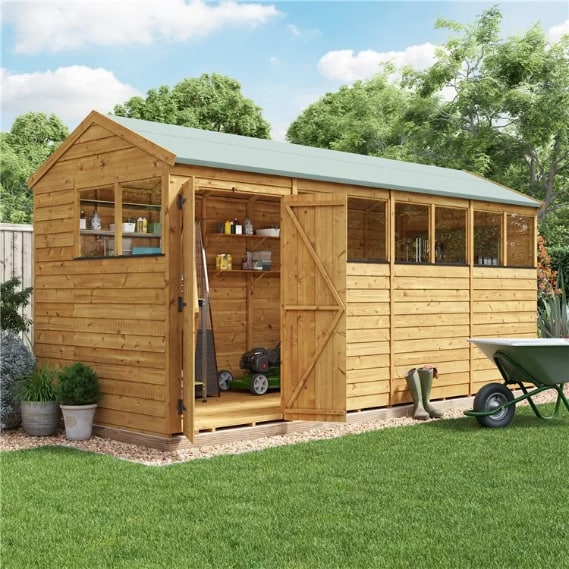 Great for medium-sized gardens, offering enough space for storage. There's enough space to house gardening equipment and a work area at the same time.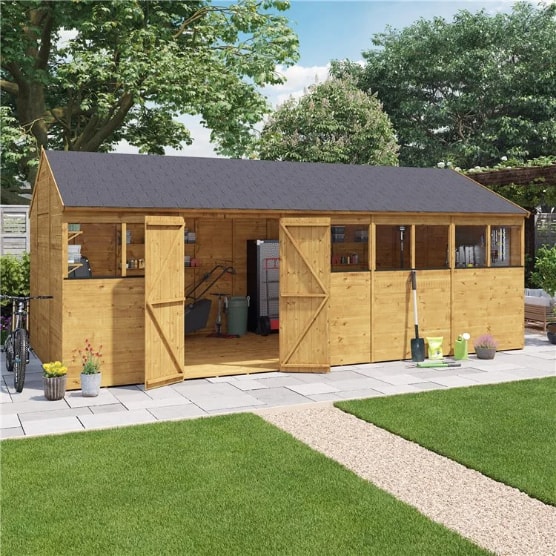 Ideal for larger gardens or those with substantial storage needs. Suitable for storing bicycles and ride-on mowers and serving as a spacious workshop.
For a passionate gardener with limited space, the 6×3 ft shed proves enough. With one, they can store essential gardening tools and seasonal supplies.
A DIY enthusiast finds the 8×8 ft shed to be the perfect size. It offers ample space for storing power tools, lumber, and project materials. Plus, sufficient workspace to tackle creative projects comfortably.
In a medium-sized backyard, a 10×6 ft shed serves as a dual-purpose storage unit. It can serve as a home for garden equipment and a cosy potting area to nurture plants and start seedlings.
The 12×10 ft shed is the best bet for a family with multiple outdoor hobbies. From housing sports equipment to serving as a hobbyist's dream workshop, you name it!
Local Building Regulations and Restrictions
Before purchasing a shed, check local building codes to avoid potential setbacks. Regulations concerning shed size, height, and placement can vary depending on location. Some areas may have restrictions on shed dimensions. Others have maximum heights or distances from property lines.
To ensure a hassle-free experience, contact your local building department. You may inquire about specific shed regulations. Get any necessary permits or approvals before installation. Also, engage in open communication with your homeowner association, if applicable. Doing so will give you insights into their guidelines.
Round-up
Choosing the right shed size is crucial for a functional and enjoyable experience. And to get the perfect dimension, make sure to:
assess your needs thoroughly

measure your available space accurately
Remember to check local regulations. Leave room for easy access and potential expansion. Overall, finding the ideal fit will enhance and cater to your unique lifestyle.
Discover the perfect garden shed size at Garden Buildings Direct! With a wide range of sizes, styles, and materials, including pressure-treated sheds, you'll find the ideal fit for your needs. Get a quote today, and our Customer Care Team will gladly assist with any queries. Happy shed hunting!
Shop Garden Sheds