Picture this: a tranquil garden bathed in sunlight. There exists a humble yet versatile furniture that can offer more ways than one. Cue the garden storage bench. In this blog, we'll explore the myriad ways you can harness the potential of this multi-purpose piece. Ready to make your outdoor haven more enchanting?
Selecting the Right Garden Storage Bench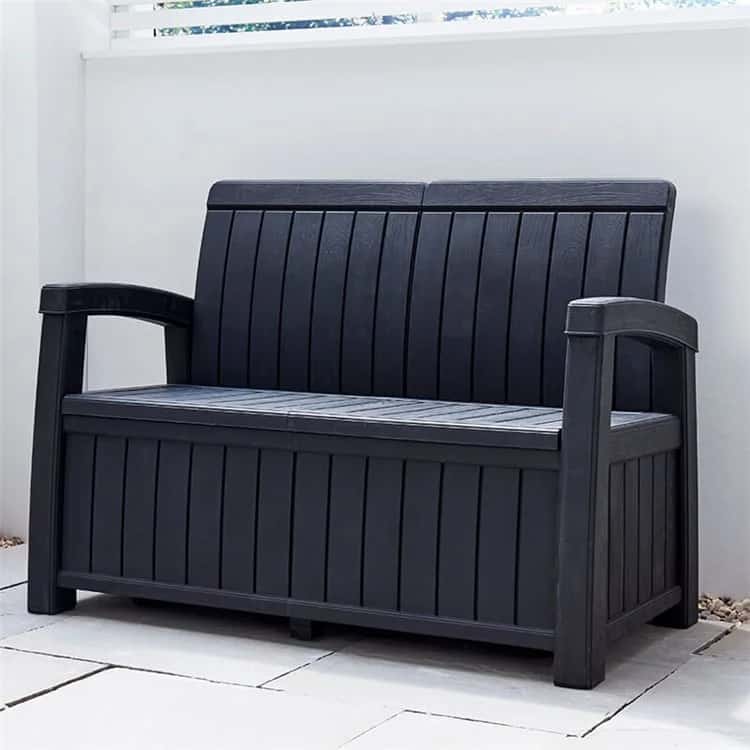 Size matters; it should fit seamlessly into your outdoor space without overwhelming it. The choice of material impacts durability and style, too. The options range from wood's natural charm to the resilience of plastic. Design should complement your garden's theme and your personal taste. Moreover, consider features like a hinged lid for easy access to storage. Or opt for built-in seating with backrests for comfort.
These factors determine how well your outdoor storage bench integrates into your space. Now, onto the ways you can maximise the use of your investment:
1. Functional garden seating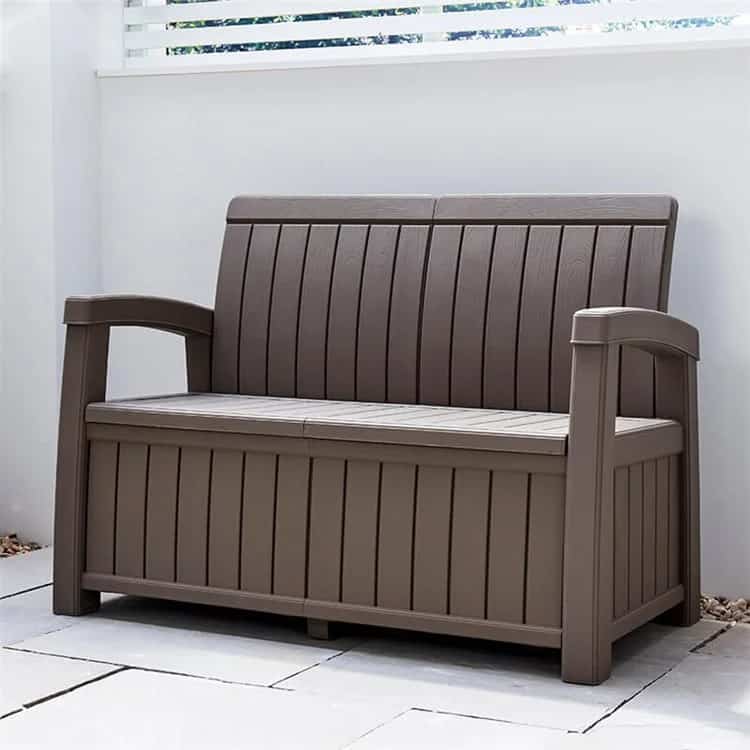 The primary purpose of a garden bench is, undoubtedly, seating. It offers an inviting spot for relaxation, such as seeking solace amidst your garden's beauty. Paired with storage, you can keep the bench cushion and some pillows. These soft accents not only infuse comfort but also add a touch of style.
Opt for weather-resistant materials for garden seat cushions to ensure longevity. With the right setup, your storage bench becomes a cosy oasis for hours of blissful reprieve.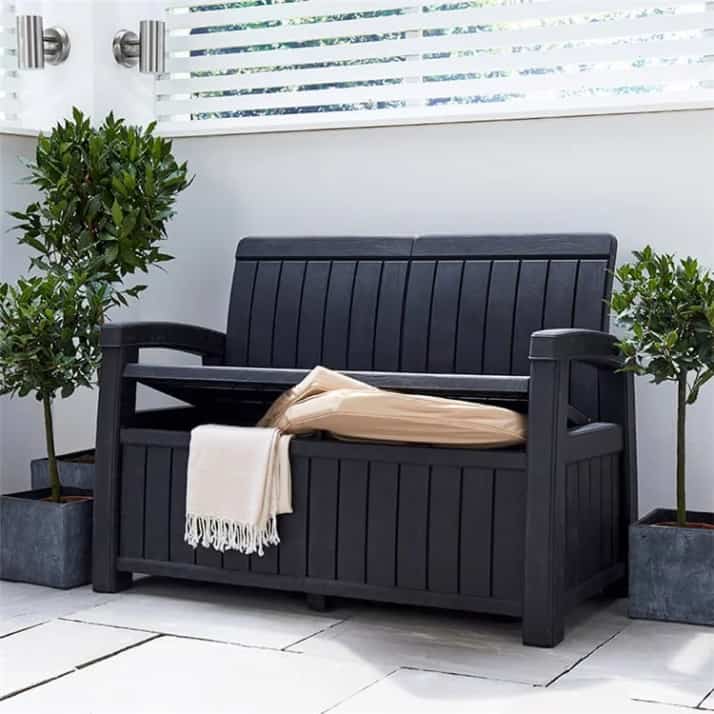 The storage aspect provides a concealed compartment beneath the seating surface. It offers a discreet and practical solution for stashing various items. Consider utilising this space for gardening tools. It will ensure that trowels, pruners, and gloves are within easy reach when you're tending to your garden. Outdoor toys, like soccer balls or frisbees, can also find a tidy home here when not in use.
Emphasising the value of a clutter-free garden is paramount. A well-organised outdoor space creates a serene atmosphere for relaxation and enjoyment. With a storage bench garden, you can maintain the charm of your garden while keeping it welcoming.
3. Decorative garden accent
Garden storage benches can effortlessly enhance the overall ambience of your outdoor haven. To amplify this effect, consider adding decorative elements. Potted plants, strategically placed on or around the bench, infuse a burst of colour. Choose plant varieties that thrive in the available sunlight.
Decorative outdoor chair cushions are another powerful tool. Opt for ones with vibrant patterns or soothing colours. They not only enhance comfort but also add a touch of personal style.
For a more artistic touch, adorn your bench with sculptures, wind chimes, or mosaic tiles. These accents make the seat a focal point and contribute to the visual charm of your outdoor oasis.
4. Entertainment hub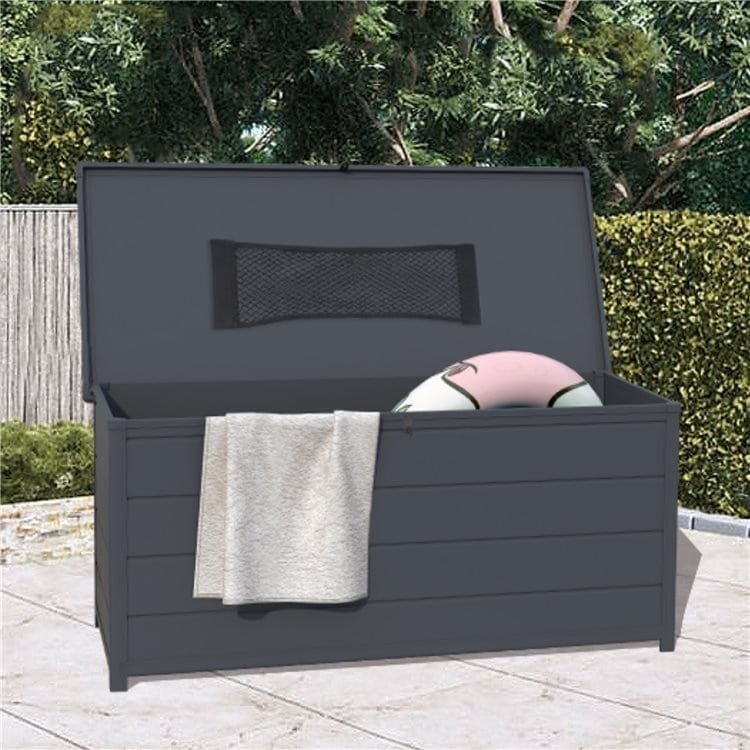 Your storage garden bench can do more than offer a quiet retreat. It can also become a versatile hub for outdoor entertainment. For instance, a mini bar station, complete with a cooler for beverages and a serving tray for snacks. This setup ensures refreshments are always at hand during your outdoor gatherings. An excellent addition to these garden bar ideas!
Additionally, it can be a delightful spot for board games. This can provide a central location for family or friends to gather around. The bench's seating capacity makes it ideal for creating memories during game nights.
5. Personalised and DIY projects
This approach is a fantastic way to make it uniquely yours. Get creative and let your imagination run wild! Consider painting it with vibrant colours that resonate with your garden's palette. Or use stencils to add intricate patterns and designs.
Custom cushions are another excellent choice. Pick fabrics that align with your style and preferences. These DIY projects transform your bench into a one-of-a-kind statement piece. It's a chance to showcase your creativity while elevating the outdoor bench's appeal.
Round-up
A garden storage bench is more than just a piece of outdoor furniture. It's a versatile and valuable addition to your garden oasis. From providing comfortable seating to offering storage solutions, its potential knows no bounds. And regardless, this multifunctional bench stands ready to meet your needs!
At Garden Buildings Direct, we offer functional storage boxes that double as benches. Take the Duramax storage box and plastic storage compartment boxes, for instance. They save you space and money by having two functions in one!
Your next reading list: What Can I Keep in a Garden Storage Bench?
Shop Storage Benches