When buying a garden building, when focusing on the overall design, quality, and price of the structure, it's also important to consider your chosen cladding type, whether this be tongue and groove, shiplap, or another type of cladding.
Cladding may seem a minor aspect of your outbuilding, but it can actually affect its strength and durability. High quality cladding will help to keep your garden building weatherproof and secure. 
This is why it's crucial to have an understanding of different building styles when making a choice. But what exactly are these outdoor building styles?
Different Types of Cladding
Garden buildings, such as sheds, have various styles of cladding. The three most common kinds are:
Overlap

Shiplap

Tongue & Groove
Keep in mind that different building styles mean different levels of structural and integral strength, including how the walls are built.
Overlap focuses more on a basic kind of build and is the perfect choice for those with a limited budget. With this type of building style, you'll notice the wooden panels overlapping each other, which allows for rain and precipitation to run-off.
Shiplap cladding on the other hand, consists of horizontal wooden panels that interlock into each other like a jigsaw. This kind of style is the same as tongue & groove, offering enhanced protection against the weather.
Speaking of tongue & groove, in this article, we're going to discuss its fantastic advantages, including the ideal garden buildings which utilise tongue and groove construction that you can opt for.
Tongue & Groove Construction (T&G)
Truth to be told, tongue and groove is considered to be the ideal type of cladding used in most wooden garden buildings such as sheds and summer houses. This construction technique is commonly used in larger wooden outdoor buildings.
Its cladding boards slot into each other, interlocking and leaving no gaps. This makes the overall structure of the building stronger,  more durable and more aesthetically pleasing, thanks to its clean and appealing finish.
Other Advantages
Tongue and groove construction is the most secure and weather-resistant of the three construction/cladding types mentioned above. Thanks to its interlocking design, you won't have to worry about moisture and draughts getting into your garden building.
T&G is a popular construction technique. Not only that, but it also adds valuable protection against the elements, with the joints being well protected against any long term rot issues.
When factoring in strength, durability and weather-resistant properties, this type of cladding will likely be at a higher price, due to the general quality of the product being superior to its counterparts.
Garden Buildings Direct Tongue & Groove Outbuildings
1. BillyOh Expert Tongue and Groove Apex Workshop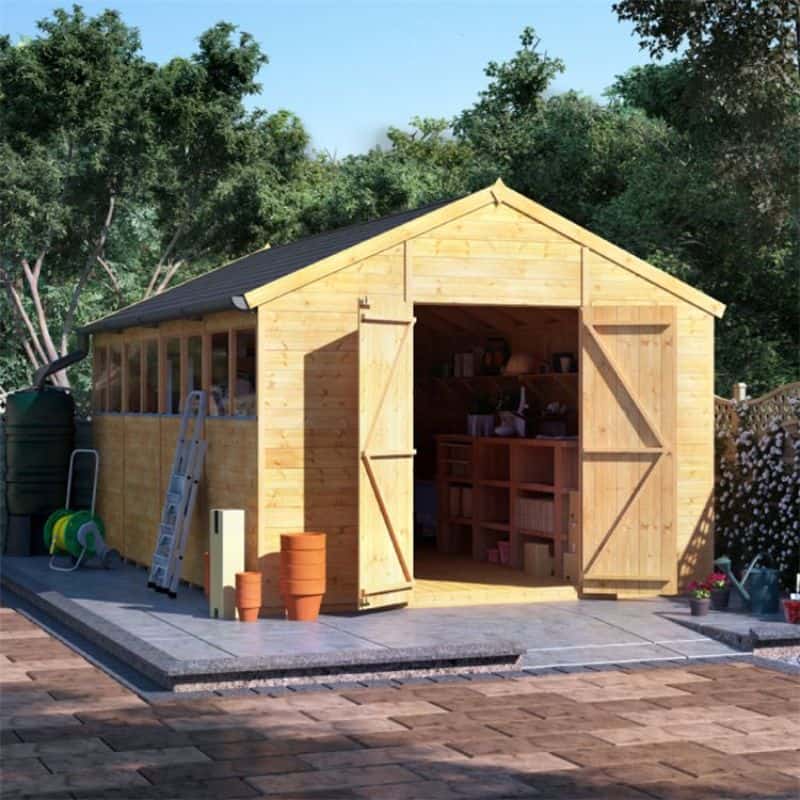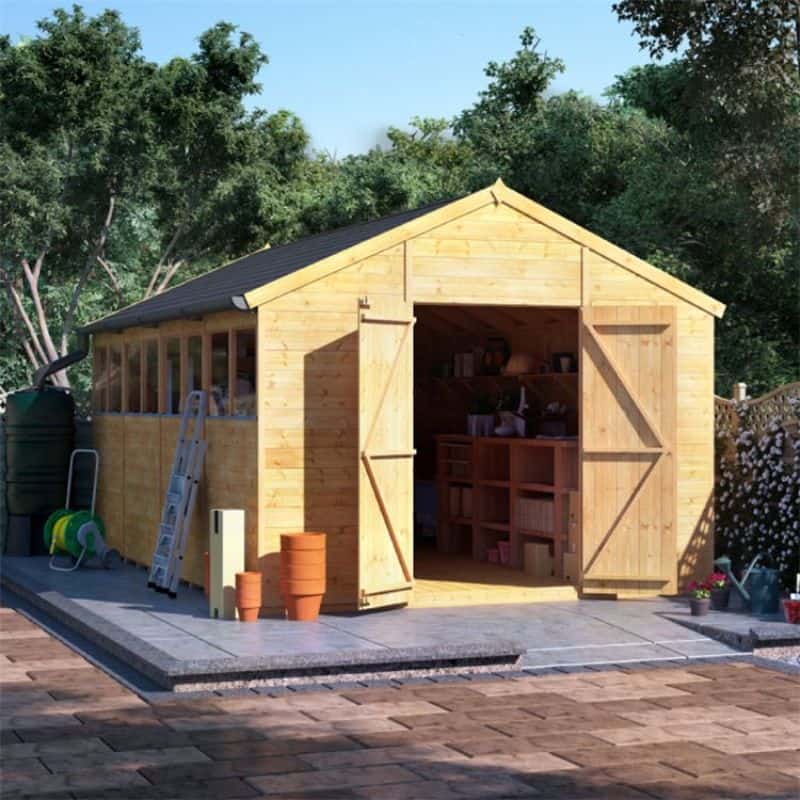 The Expert takes pride in its T&G construction, where the timber used has been formed to allow the panels to interlock. Because of this, the Expert will remain free from water penetration and weather damage.
A pressure-treated tongue and groove building is excellent for anyone who is looking for a low maintenance shed or workshop. It will also maintain a fantastic aesthetic all-year-round.
If you're planning to use your shed as storage for sizeable tools and other garden implements, or perhaps you intend to use it as your official DIY work-space, then the Expert Apex is the perfect choice!
2. BillyOh Bella Tongue and Groove Pent Summerhouse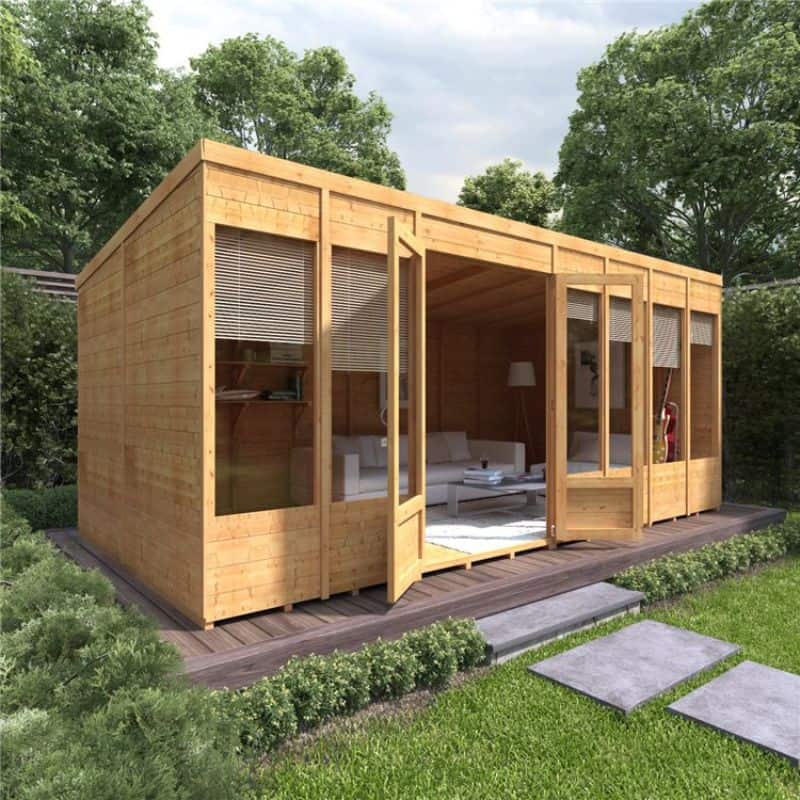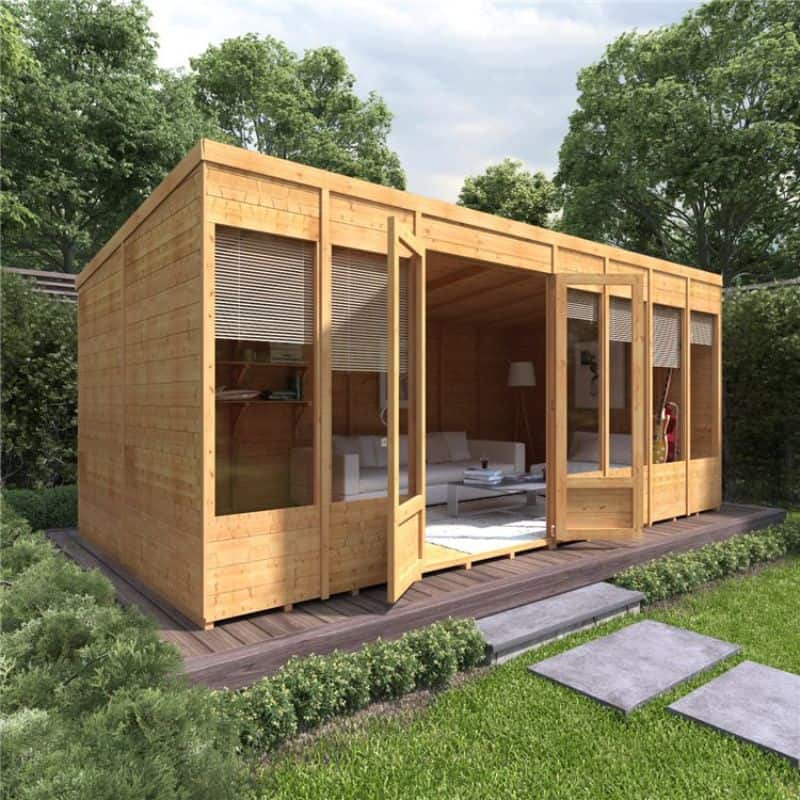 Built using tongue & groove panels, the Bella has a secure and stable structure which is built to last. The panels interlock, creating a smooth finish which enhances the style of the summer house. The interlocking tongue and groove panels form a strong connection which create a high degree of structural strength.
3. BillyOh Mini Master Tongue and Groove Pent Store Shed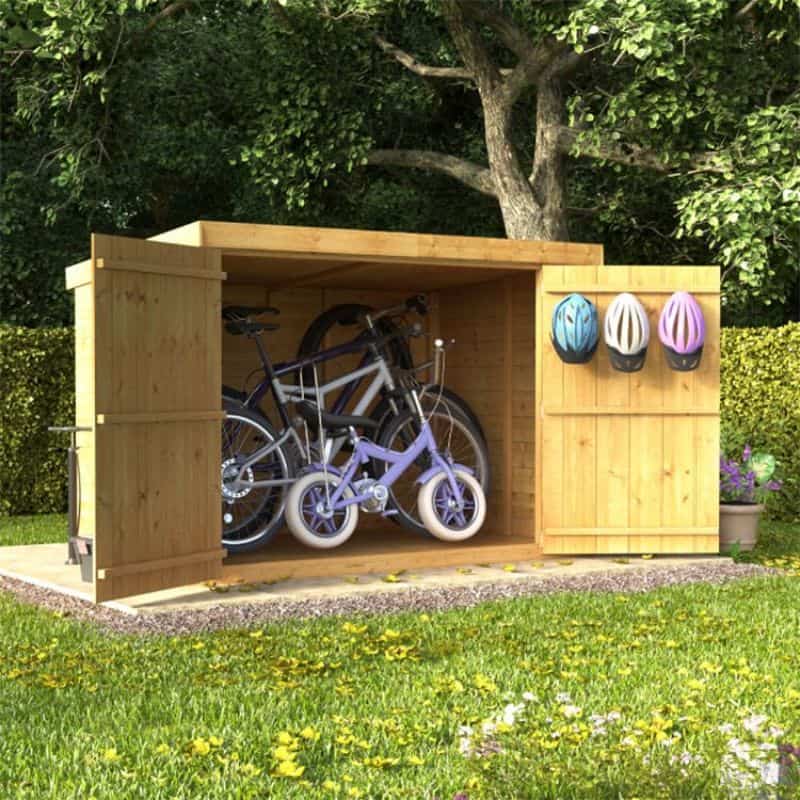 Built using T&G panels, the Mini Master has a secure and stable structure which is built to last. The panels interlock, creating a smooth finish which enhances the style of the storage unit. 
This finish can be complemented by the additional flooring options, which we offer as a solid sheet, 11mm or 19mm T&G.
4. BillyOh Renna Tongue and Groove Corner Summerhouse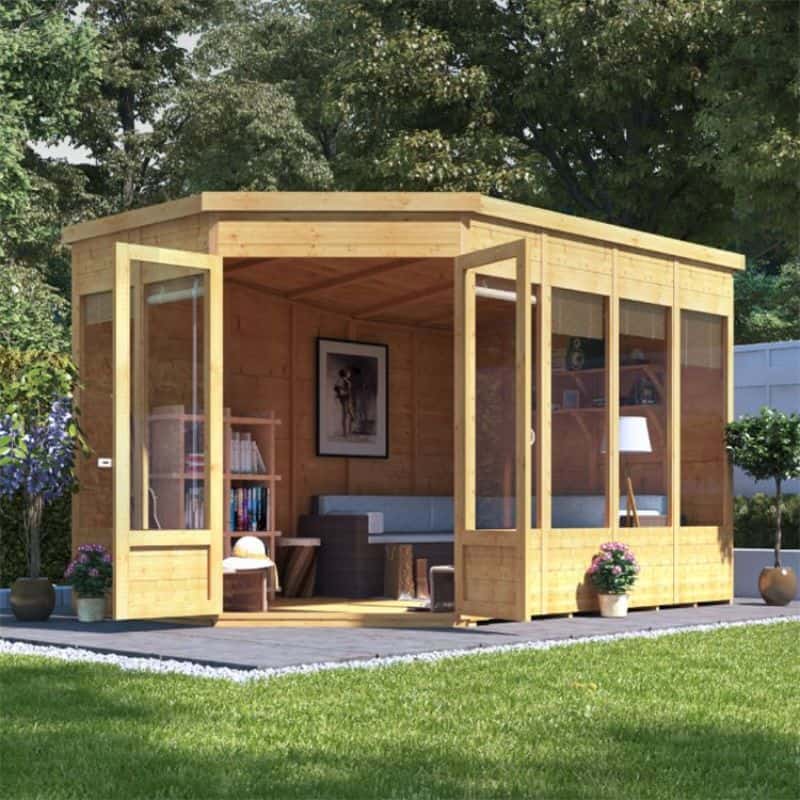 The Renna Summerhouse is also constructed using an interlocking tongue and groove method. The T&G boards provide a smooth engineered finish, which complements the modern style of the building. Each panel is 11mm thick and provides the summerhouse with its excellent strength.
Pressure Treated Options
For ultimate protection and longevity of your shed, we recommend opting for a pressure treated garden building. Pressure treatment is an extra step in the construction process, where the wood is treated in a pressurised tank, and chemical preservatives are forced deep into the wood's fibres to resist rot, weathering and pests.
This protects the wood inside and out, and is better than regular treatment which involves spraying or using rollers, as this only coats the surface of the wood. By pressure treating the wood, you're left with a building that is low maintenance and cost-effective. You may even save money in the long run thanks to freeing yourself of maintenance worries.
To find the garden building that will suit your needs, head over to our website and shop for your dream outdoor structure!