Gone are the days when a log cabin meant a singular outdoor garden room. Square is out of fashion anyway!
We're pleased to introduce our newest garden building – the BillyOh Cove.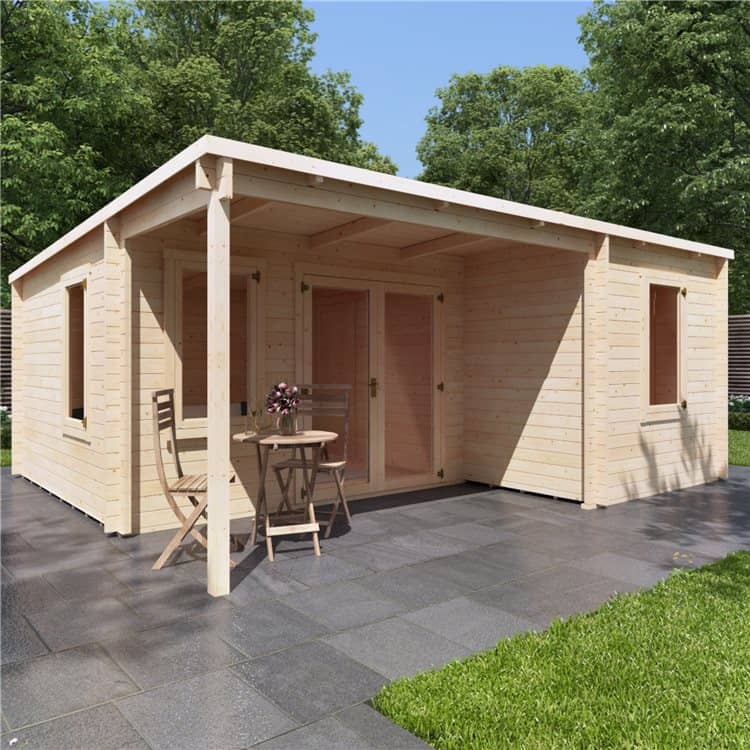 Acres of space
The Cove is not our first multi-room cabin – but it is the first to make use of two different room shapes. As you can see on the diagram below, the Cove is one thinner room connected to one wider room. This presents the ability to use the rooms entirely separately – and to really feel like you've got two cabins for the price of one.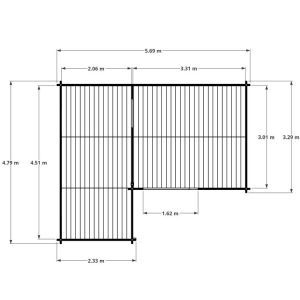 With almost 20 square metres of usable floor space, the spacious design will free up all sorts of possibilities for your cabin. You no longer have to confine yourself to one idea. It could be a lounge area with a music studio on the side – or a gym and an office. Got two people with contrasting ventures? Never fear – the Cove will sort you out.
Customise the Cove
Here's our favourite bit about the Cove – you can customise it to your exact needs. The front doors can be installed on the left or right hand side, and we don't need to send you anything extra either way. Make it suit your garden in style – and don't settle for anything less.
You also have options when it comes to your roof, floor and windows. Our 11mm standard tongue and groove flooring and roofing provides a solid framework for your cabin. But if you are looking for extra support, upgrading to our 19mm option for both may provide more reassurance. While the roof won't be bothered by any human interaction, the floor will be trodden on regularly. This might mean you need to consider which thickness suits you best.
The windows come in either single glazed styrene or double glazed glass. The upgrade provides added insulation and a real homely feel to the building. The styrene, alternatively, is flexible, and while still shatterproof, will not be as resilient to harsh weather conditions.
Main features
The Cove features a couple of concepts which aren't seen on most of our other buildings. It is modern and unique – which is why it is already one of favourite designs ever.
The main one is the stunning porched canopy at the front of the building. It provides a big enough sheltered space for a table and four chairs. That makes it perfect for summer days when you might like to eat outside – but are worried about the heavens opening!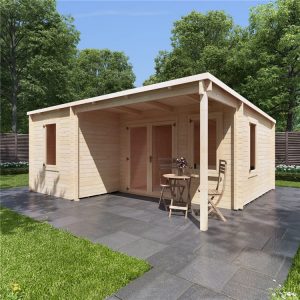 The second is the reversible design. We've opened up a million garden opportunities by allowing you to choose which side of the cabin the door is on. This is ideal if one side of your garden is obstructed, or even if you're just particular about your favourite design!
The third is the varying size of the two compartments in the cabin. One room is more evenly sized, at 3×3.3m. The other is a spacious 4.5m on the length side, and approximately 2m in the other direction.
What can I use it for?
Literally anything. Some of our past customers have used multiroom cabins as hair salons. They've put the main floor in the big portion of the room, and split the admin section off to the back. Alternatively, with whatever business you might run from the cabin, you could use the back room to store coats, as a waiting room, or just as a lobby. Install a coffee machine or a TV to keep customers occupied. Put a shoe rack in to make people feel at home. Decorate the area however you fancy. That's the beauty of it – it's entirely up to you.
Other business ideas we can think of include a massage parlour, a personal training gym, a recording studio and a dog groomers. The possibilities are endless. Let your imagination run wild!
If you're not certain on the best use of your log cabin, take a look at some of our other blog posts for some extravagant ideas.
Other points
You can ensure your Cove lasts longer with our pressure treatment (PT) option. When you're on the product page on our website, you'll be able to select whether you want PT or not. PT involves submerging the timber in liquid preservatives, which soak into the wood to give it long-lasting protection. The chances of rot, decay and insect infestation are all significantly reduced with PT. Otherwise, you will have to treat your building with preservative manually upon installation and annually after that.
All of the building's ironmongery is galvanised as standard, which involves coating the parts in a layer of zinc. This gives them extra resilience against harsh weather. All the bolts, the latches and the handles are treated in this way.
The pent roof allows the free flow of water off the top of the building, and green mineral felt is included in the package. All fixtures and fittings are also thrown in, meaning you won't need to purchase anything externally. With free U.K. delivery to most mainland locations, you'll be ready to build upon the cabin's arrival.
With a ten-year anti-rot guarantee included and our 20 years of experience in the industry, you won't go wrong with a Cove Cabin from BillyOh.
Prices start at £5,899. Shop today!