Greenhouses have always been popular, especially amongst those who love their garden. The choice between a glass greenhouse and a polycarbonate greenhouse doesn't need to be difficult. Below are the benefits of buying a polycarbonate greenhouse over a traditional glass greenhouse.
Keep reading below to find out more about why the polycarbonate greenhouse is one of the better greenhouse designs. As well as why this is the way to go for greenhouse glazings!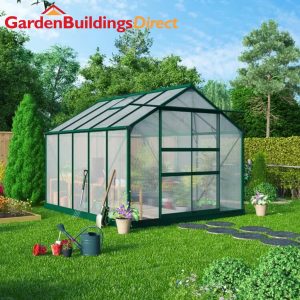 1. Better Insulation
A polycarbonate greenhouse will provide you with better insulation than a classic greenhouse.
Plastic lets out less heat compared to glass, as it has better heat retention properties. Polycarbonate greenhouses are also more cost-effective, generally coming out at a cheaper price. It'll be keeping in the heat and costing less overall. Heat retention is important for an effective greenhouse performance!
Polycarbonate is also a great noise insulator alongside heat. So if you're looking for a quiet building then a polycarbonate greenhouse is the way to go.
2. Longer Lasting
Polycarbonate materials last longer over time and are more durable than glass. This means they can take more pressure before the polycarbonate windows break. For example, if a football were kicked into the window, you're unlikely to see any damage whilst a glass window would shatter.
You'll also find these windows easier to fit and handle. The polycarbonate material is much lighter compared to standard greenhouse glass. So if you were to drop your polycarbonate glazing, it's far less likely to break or get damaged.
Constructing a glass greenhouse can be a difficult and tedious job. It needs to be done with precision and concentration. This is when a contractor will be brought in to get the job done. A polycarbonate greenhouse has a lightweight nature and strong durability. You'll be able to build and repair your greenhouse yourself.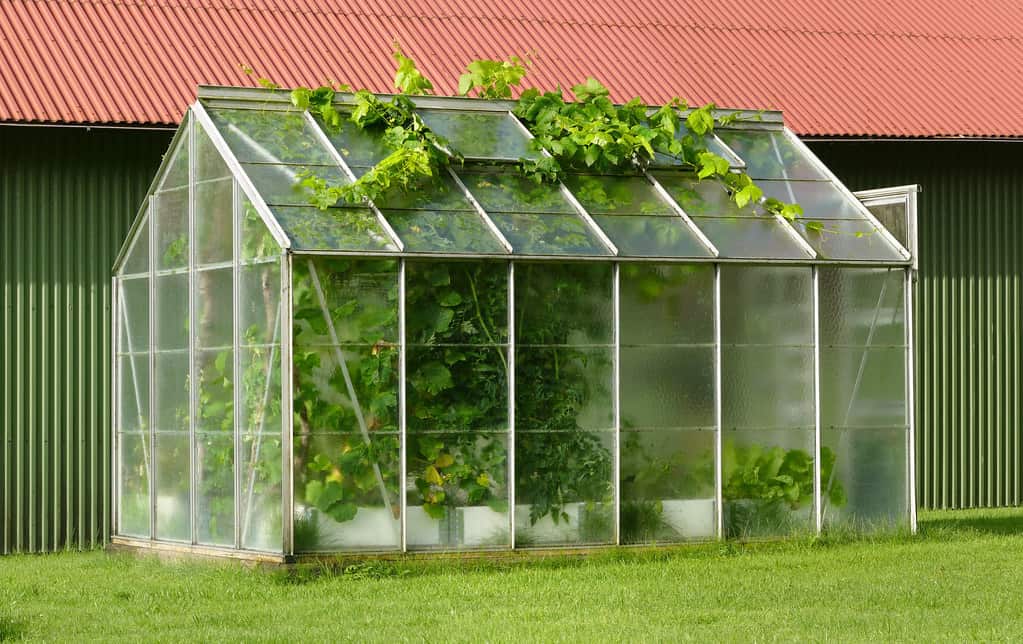 3. Shatter-resistant
As briefly mentioned above, polycarbonate panels are more durable compared to glass glazing. Damage will be less likely with any breaks or shattering almost non-existent. 
Polycarbonate glazing is a great solution if you want a toughened glass. This is because of its strong nature and durability. You won't find a broken panel with this type of greenhouse!
Standard greenhouse
glass is generally a lot thinner. It
can become damaged or break
easily
. This is one of the many cons of glass greenhouses. Often, even
bad weather conditions can cause the standard glass to shatter.
Ensuring you have a strong material for the windows of your greenhouse is important as strong glazing can bring down the element of risk in everyday use.
A big advantage of buying a greenhouse without glass is that polycarbonate is the cheapest greenhouse glazing!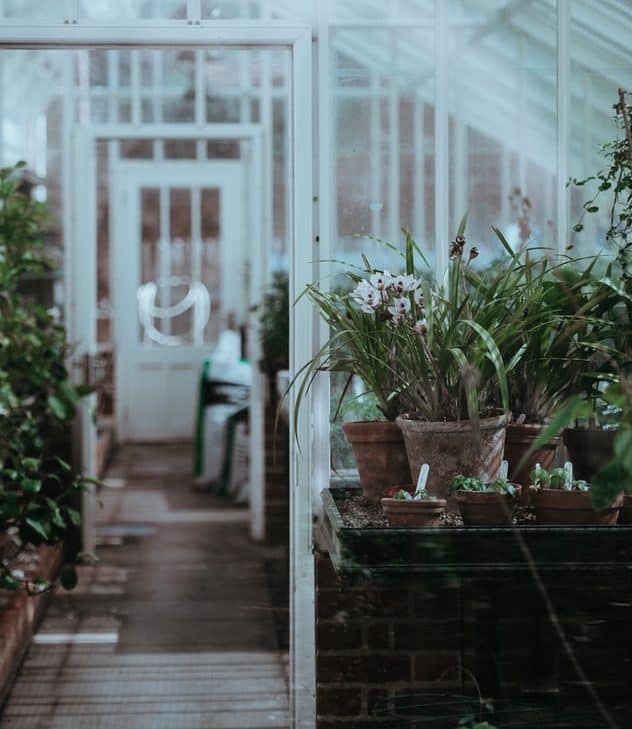 4. Extended Growing Season
This material is perfect for you if you're looking to grow plants and vegetables long term. This is because of the light being spread out evenly throughout the building. You'll have plenty of time to get everything right!
This will save you time and money on any electricity and heating you might need for your garden. Light transmission can be a key factor in growing the perfect plants so lots of direct light is essential.
5. Better Light Diffusion and UV Protection
The
light transmission is going to be far better.
Plastic
overall
is far thicker than glass. Meaning the natural light will
be spread
evenly with polycarbonate windows. This gives
all of
your plants the same advantage. The natural light will extend to every corner of your outdoor garden building.
Alongside this, polycarbonate materials better protect your plants against UV sun radiation. This is because as a material, polycarbonate has a natural ultraviolet filter. So if a UV protectant roof is something you need, a polycarbonate greenhouse is perfect!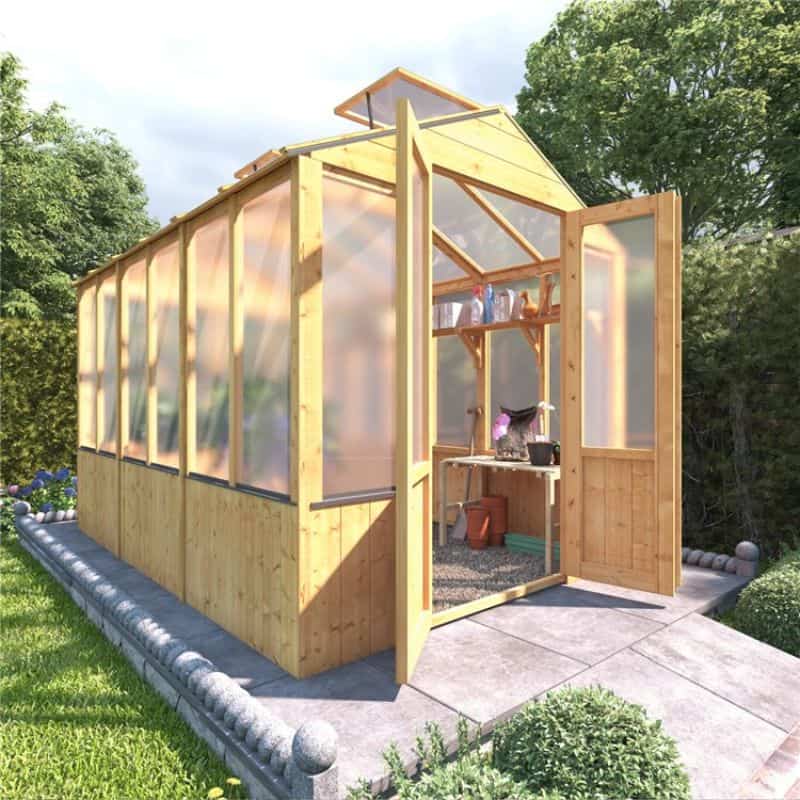 6. More Shapes and Sizes Available
Greenhouses made out of polycarbonate materials are much easier to find. With a range of styles and sizes available, you'll never find yourself short of options.
Many greenhouses come in a modular design. This would allow you to fit your new greenhouse anywhere in your garden.
If you're still unsure of what greenhouse is best for you, take a look at our BillyOh Wooden Polycarbonate Greenhouse. You can get this greenhouse in a range of sizes to fit your needs. This is a great option if you're looking for a greenhouse with vents at an affordable cost!
7. Quicker Installation
You won't need to be as precise handling polycarbonate windows. This is because they're more durable and would allow for quicker installation.
Many greenhouses which
are made
of
glass would
require
professional assembly.
This would often take much longer than a polycarbonate greenhouse would. P
olycarbonate is shatter resistant and longer-lasting. This means t
he installation could most likely
be done by
yourself and with ease! This will save you that extra cost of hiring a builder! Unlike you would have to with glass panels.
One advantage of polycarbonate glazing in a greenhouse is quicker installation. You don't need to hire anybody!
This is a great advantage of polycarbonate glazing! 

8. Cheaper to Buy
In recent years, the process in which plastic is made has advanced. This means that now when you buy a polycarbonate greenhouse, the price will be much lower.
Before they became popular, polycarbonate greenhouses used to be much more expensive. Often they would cost far more than a traditional greenhouse would be, made from glass. The cost of glass is now much higher than the cost of polycarbonate. Now is the perfect time to buy a cheap polycarbonate greenhouse that's still of high quality.
9. More Customisable Frame
More often than not, a polycarbonate greenhouse would have a wooden frame. This allows you much more freedom with the overall design. This is a great additional benefit!
A glass greenhouse would generally have a metal frame. A wooden frame on a polycarbonate greenhouse would allow for you to paint it, treat yourself and generally customise and maintain it. Meaning you can give your greenhouse a beautiful appearance, the perfect way for you!
TIP: If you're looking for a DIY project, paint the inside of your wooden greenhouse with your family! Paint their hands and press them against the wood. You'll have a lifelong mural! 
Finding the right greenhouse for you is simple! Find yourself a wooden greenhouse with polycarbonate glazing. These are better than the traditional glass greenhouse. It's the perfect type of greenhouse for all green thumbs out there. If you're unsure of what to grow, take a look at what plants you can grow in your brand new greenhouse!
With plenty of opportunities for direct light to flow in, you can now make an informed decision. Choose a wooden greenhouse frame with polycarbonate windows. Many will come with a frosty appearance meaning you can even get some private time away from the world!