Garden greenhouses have always been popular. Throughout the years, various materials have made their way into the market. Among the popular types is polycarbonate.
Polycarbonate greenhouses are often in comparison to glass. Although both have outstanding benefits, polycarbonate outshines its counterpart in some aspects. It also costs less with promising durability, making it more favourable.
Keep reading to see how a polycarbonate greenhouse design can benefit you. Spoiler: It surely will!
Polycarbonate Greenhouses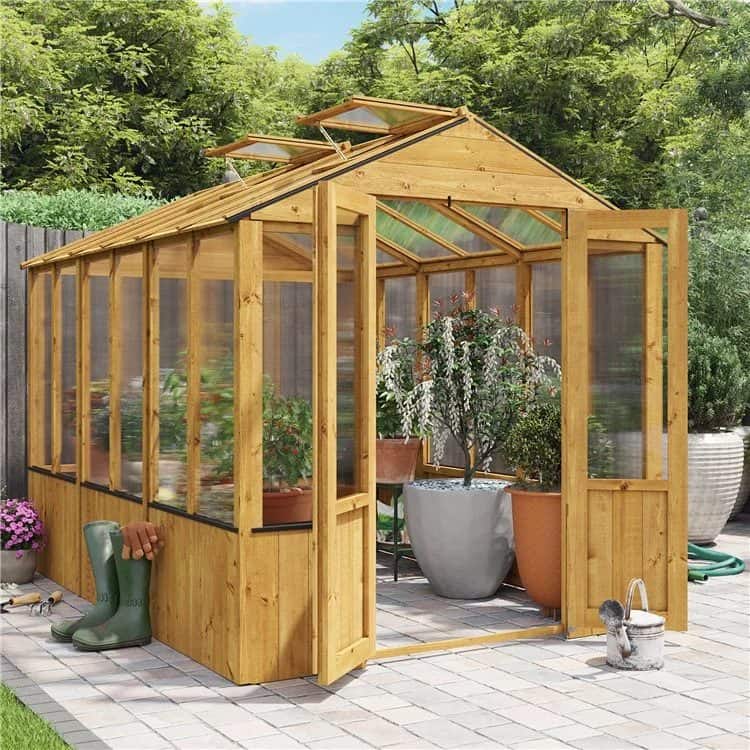 Traditionally, greenhouses have used glass panels. But there have been advancements made in the past few years. Enter polycarbonate that has become equal to or even better than glass in many ways.
Glazing is another factor, as this plays a part in creating the perfect condition for a range of plants. The better the glazing, the more light will enter the structure, and the happier the greens can get, too!
Now, what makes polycarbonate better than glass greenhouses? Check out the major benefits below:
1. Better insulation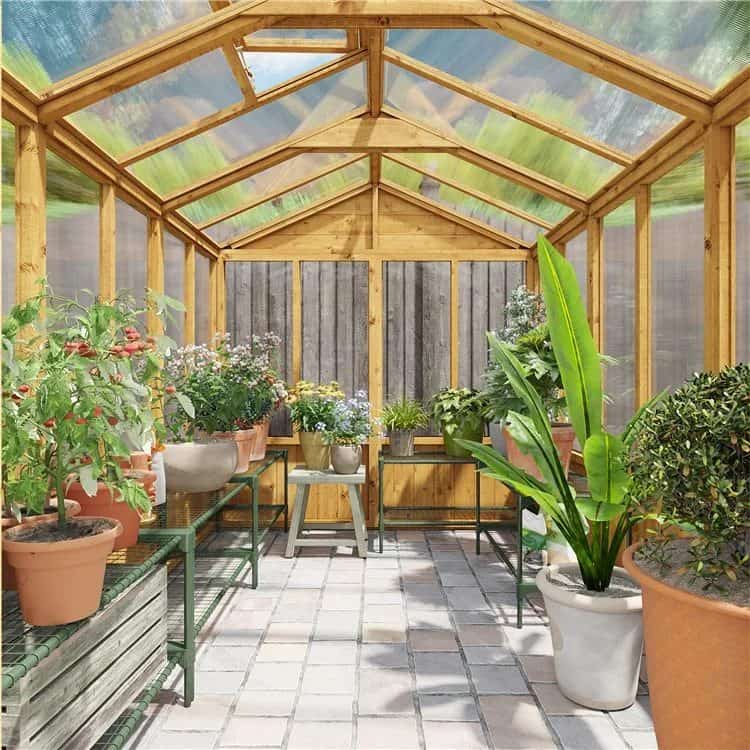 Greenhouse structures use the power of the sun to heat the room and allow for the growing season. If one doesn't maintain heat, then it's pretty much useless. For one, heat retention is important for an effective performance and controlled environment.
Although glass is quick to heat up and cool down, it doesn't hold heat for long. As a result, this can be fatal for plants, such as tropical plants, during the colder months.
Polycarbonate doesn't accept beating in this category. Most Polycarbonate greenhouses are made of double-walled material. In design, two sheets of film are put together with space between them. This internal buffer space makes them a much better heat retainer and insulator.
Polycarbonate material is also more cost-effective. Alongside heat, it's also a great noise insulator. So, if you're looking for a quiet environment for plants, polycarbonate is the way to go!
2. Longer lasting
Polycarbonate is almost unbreakable. Its durability gives it a very clear advantage over a glass in safety. It can withstand extreme force during harsh weather, adding up to longevity.
This means they can take more pressure before the polycarbonate windows break. The material is also much lighter than glass. If you were to drop the polycarbonate glazing, it's far less likely to break. Or, for instance, a football was kicked into the window. You're unlikely to see any damage, whereas a glass window has a higher chance of shattering.
3. Shatter-resistant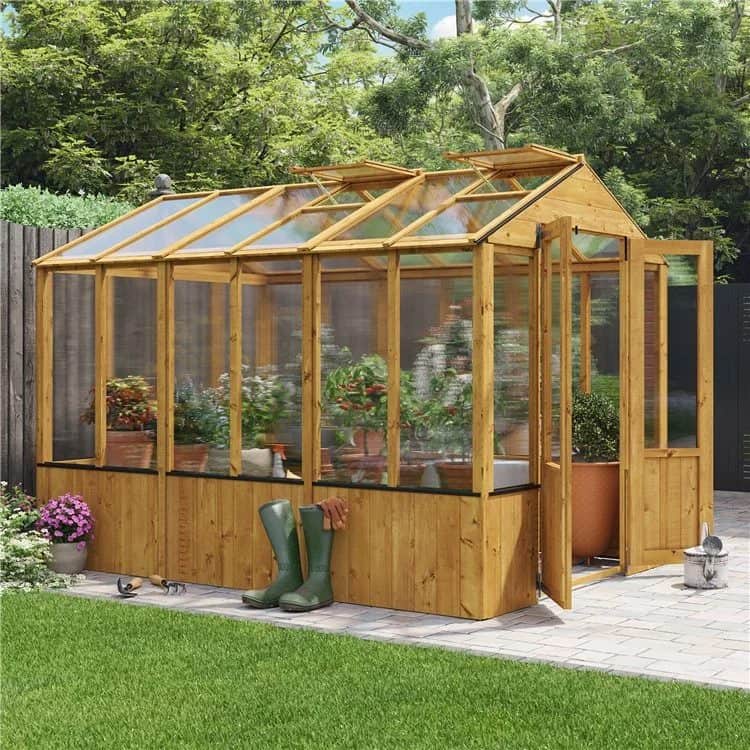 Accidents happen. Thus, having a structure with hard plastic roofing and walls is crucial. Weather conditions and elements like hail and wind can simply damage glass.
Polycarbonate stands up to the most stringent tests. This allows the garden building to hold up under intense pressure. Corrugated polycarbonate panels, for one, are virtually indestructible.
Strong polycarbonate glazing can bring down the element of risk in everyday use.
4. Low maintenance
Polycarbonate structures need little to no maintenance, unlike glass, with a different story. But this doesn't mean upkeep is no longer necessary. It does, except you don't have to do it from time to time. Clean it only when necessary while still achieving that classic greenhouse look.
For glass structures, a shading system is a must to protect plants from harsh UV rays. You'll also need to be more diligent with venting and airflow in case it gets too hot inside.
5. Better light diffusion and UV protection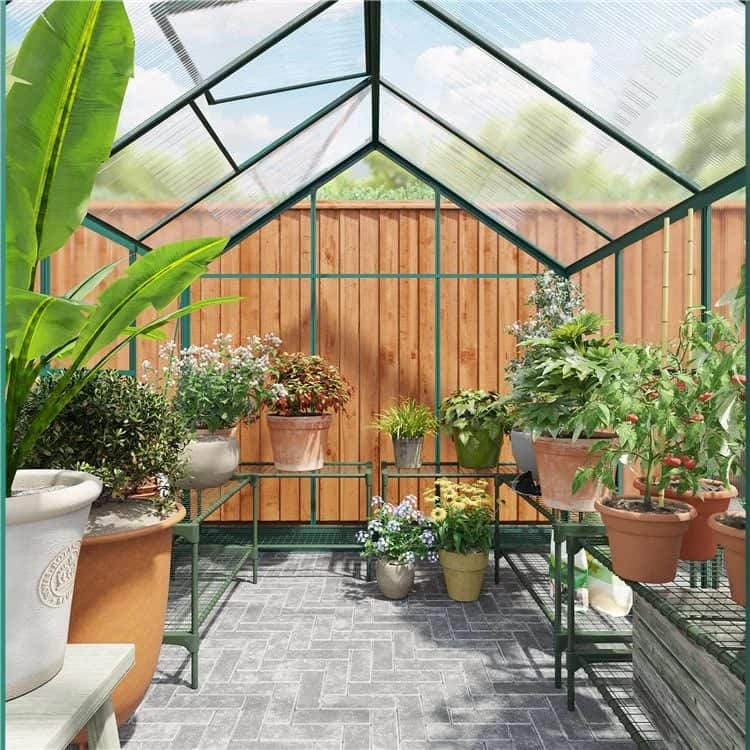 Plastic overall is far thicker than glass, resulting in better light diffusion. Meaning more natural light will spread through, especially provided the windows are polycarbonate. This gives your beautiful plants all the sun exposure they need.
Polycarbonate also has a better way of plant protection against UV sun radiation. This is because of the natural ultraviolet filter properties of the material.
6. Easier installation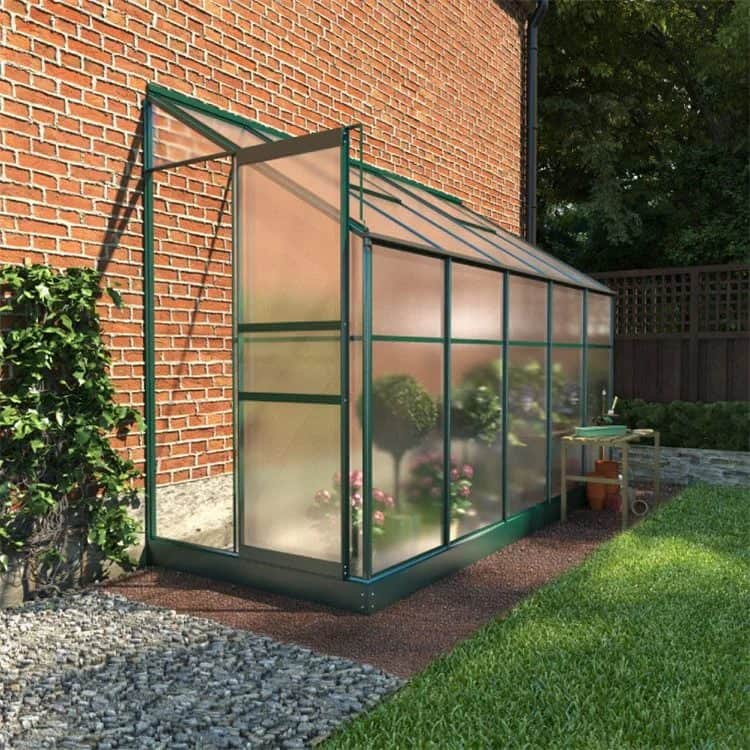 Glass is a bit more fragile and heavier than Polycarbonate. Handling larger glass panes may be difficult due to their size and weight. Most glass greenhouses also require professional assembly and often take much longer.
Polycarbonate, in contrast, can be installed in bigger sections and is more lightweight. When doing so, extra care is essential, though, to prevent damage to the sheet, especially the edges. It also needs to be sealed well along any edge that has been cut. Otherwise, moisture, mould, and bugs can get into the void.
With a Polycarbonate unit, the installation could be done by yourself and a friend with ease. This will save you the extra cost of hiring a builder or extra free, unlike you'd have with glass panels. What's more, most come prefab in modular designs that'll have you up and growing in no time.
7. Customisable wooden frame
Glass greenhouses would generally have a metal frame. The wooden frames on polycarbonate structures, meanwhile, welcome the possibilities of painting!
You can paint and customise the wooden frame and give it an aesthetic appearance. This gives you more freedom on how you want to add colour and breathe more life into your unit. 
Polycarbonate units with tough aluminium framing are also available. The aluminium frame, paired with a galvanised steel base, ensures a stronger structure. As for the look, some come in green and grey colours, adding a greater expression of modern style. (The BillyOh Harvester Walk-In Aluminium Polycarbonate Greenhouse makes a great example!)
Such a wonderful perk if you're a green thumb fond of art!
8. Cost-effective
The cost for both designs can vary depending on the source and quality of the material. Sure, you can save a good deal of money by building your own greenhouse from reclaimed glass panels. Yet, this can be difficult and requires expertise.
Lucky for you, a Polycarbonate unit is much cheaper, and there are plenty of options out there. Invest in a quality product from a reliable store to guarantee a longer lifespan. Garden Buildings Direct can be your one-stop shop for polycarbonate greenhouses for sale!
9. Extended growing season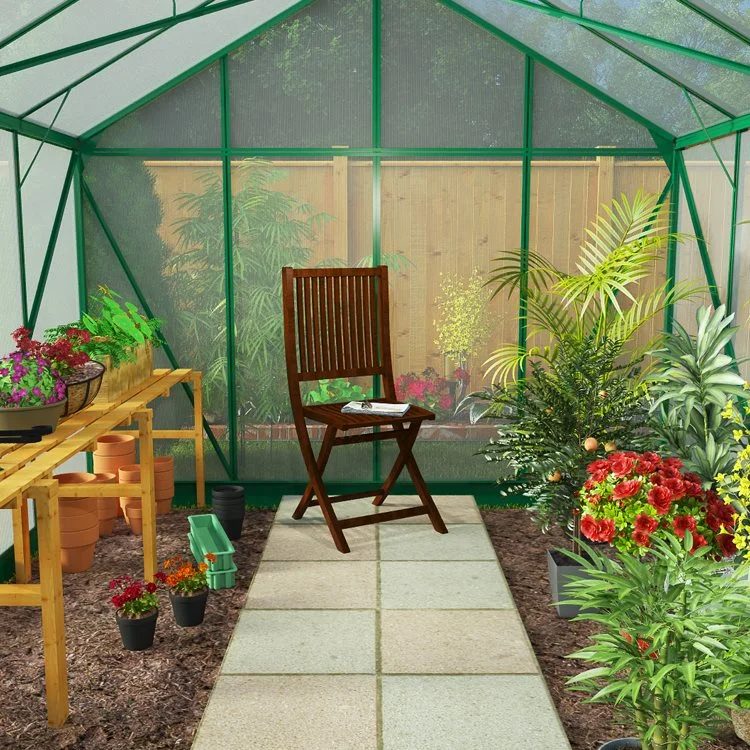 This material is perfect for you if you're looking to grow fresh vegetables long-term. Light transmission distribution plays a major role in this matter.
With that warm, diffused light, plants, e.g. bulb plants, stay green and grow longer. At the same time, this will save you time and money on heating you might need for your greenhouse gardening. This is a big advantage over traditional horticultural glass buildings.
Polycarbonate Models
By now you're probably just as convinced as we of the benefits and strengths of polycarbonate greenhouses. But what if you're looking to get one of our own? That's where our range of polycarbonate models comes into play. If you want to equip your garden with one of these fantastic greenhouses, then we have a range of options for you to choose from including metal and wooden frames.
The Lincoln 4000 Polycarbonate Greenhouse is our renowned wooden polycarbonate model, featuring a wooden frame with plastic polycarbonate panelling. If you want all the benefits of a wooden greenhouse combined with the great features of a polycarbonate model, this is for you!
Alternatively, if you're looking for a greenhouse with a metal frame, then the Harvester P0lycarbonate Greenhouse will tick all your boxes. Featuring a strong and attractive green metal frame and, of course, those great polycarbonate sheets, the Harvester is a metal greenhouse that can help you achieve your growing aspirations.
Round-up
Both Polycarbonate and glass are good enough to make functional greenhouses. But if you're a novice grower, Polycarbonate may be the better choice. For one, it performs the ideal function of good lighting and heat retention better.
Polycarbonate greenhouses may be a bit more expensive upfront but are low-maintenance. This allows you to focus more on your actual growth instead of the upkeep in the long run.
If you're unsure of what to grow, take a look at what plants you can cultivate in your new greenhouse!
FAQs