High-quality garden sheds can serve a variety of purposes, and of them is creating a great outdoor workshop environment.
Woodwork and other forms of crafts done at home tend to mess up the kitchen and garage big time! Hence, purchasing a garden workshop means you'll have the perfect spot where getting messy is without problems.
Just by adding in a workbench and a tool rack, you can have the perfect place to carry out everything DIY, whether it be house chores or anything hobby-related.
Purchasing a Workshop
With so many designs, sizes and styles available, it's can be a bit challenging when choosing the right workshop that's guaranteed to suit your needs. But if you use our guide, rest assured that you'll find the perfect garden building for you!
Let's get started!
How Will You Be Using the Workshop?
Whether you need a workshop for small DIY jobs or fancy creating a home business from your garden, how you plan on using your workshop will reflect which is the right one for you.
1. DIY Workshops
Looking for a small to a medium-sized workshop to do your crafts? A traditional apex roof workshop will do the job perfectly!
If you spend most of your time working in the garden, why not check out our one of the best selling workshop buildings – the BillyOh Expert Tongue and Groove Apex? This is an excellent choice if you're planning on becoming more serious about working in your garden.
It makes the ideal outdoor building for you to get more productive in as it delivers the utmost working space, all-out storage and a potential recreational room! If you own a small garden, a compact building acts as the perfect workshop!
2. Large Workshops
---

---
A large workshop is excellent if you need a space to manoeuvre large items, or if plan on adding plenty of DIY equipment to the building. Double doors are essential too for easy accessibility.
If you're looking for a large, high-grade building where you can use it as your workshop or as traditional garden storage, the BillyOh Expert Reverse Apex Workshop is all you need!
Available in a range of large sizes, the reverse apex design also features double doors, making it a great space to work and store for long or bulky items. The building offers maximum space inside and the durable Tongue & Groove build guarantees a reliable and strong structure.
3. Heavy-Duty Workshops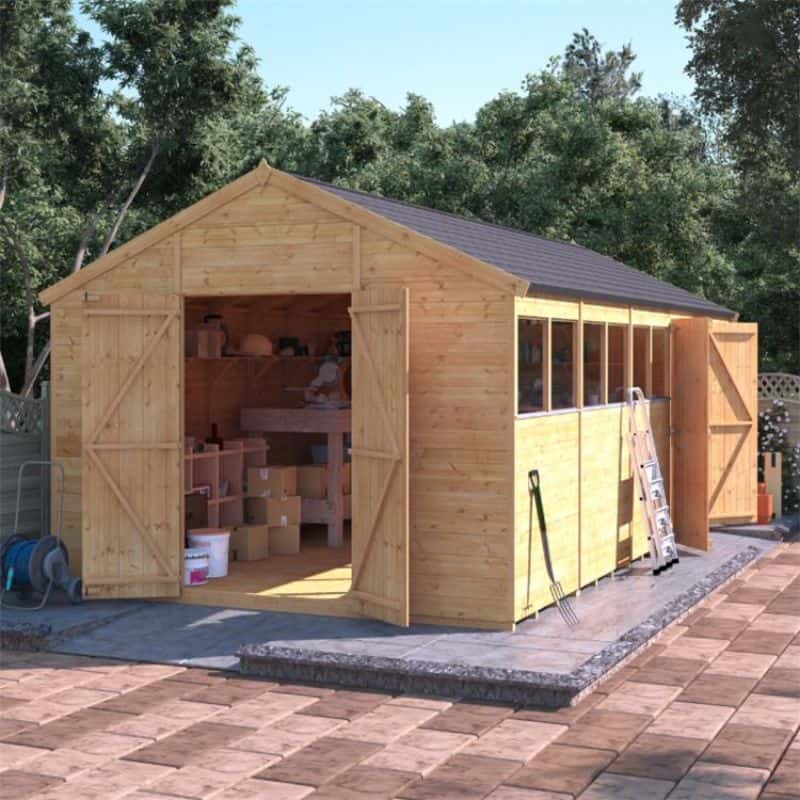 If you intend on using your workshop all year round, you should consider a workshop that has stronger construction, such as a log cabin. For extra storage, you can even add a lean-to on the side of the building.
Built using Tongue & groove panels, this BillyOh Expert Tongue and Workshop has two sets of double doors that offer excellent access in and out of the building. The braced double doors are also constructed with T&G panels, providing sturdy and solid construction at all access points.
The panels interlock, creating a smooth finish that enhances the style of the workshop. The interlocking Tongue and Grooves form strong panels which create structural strength.
Purchasing a Workshop: Finding the Right Style
1. Traditional
Apex and reverse apex are the most traditional style workshops. These look great in any garden and will complement a traditional setting.
2. Modern
If you prefer more contemporary units, you might want to opt for a pent workshop with modern windows, or even a corner unit.
---

---
Metal or Wooden?
1. Wooden
Timber is considered the most traditional material used for garden buildings. Unlike other sheds, wooden sheds can be easily customised or painted to suit your garden style. If you want to add windows or shelves (great for storing DIY tools), it's easy to do this with a wooden building.
However, without wood treatment, they can be vulnerable to rot, rust, and mildew, so it's essential to apply wood preservatives when purchasing a new wooden shed. Although reasonably durable, the elements can take their toll on timber.
If you don't have enough time and resources to treat your wooden shed, we also offer a pressure-treated option for most designs. 
Pressure-treated – Where timber is treated with chemicals and preservatives in a vacuum to allow them to penetrate the surface deeper than dip or painted treatments. This offers longer-lasting and more comprehensive protection.

2. Metal
The strongest and most durable material for sheds is arguably metal. Made from galvanised steel, our range of metal sheds are a great choice if you want a secure unit for storage.
Although some may say they aren't as traditionally aesthetic as their wooden counterparts, they still make a fantastic choice due to their resistance to rot and fire features. They are more lightweight than wood sheds so that they can be moved more easily.
Moreover, metal workshops are incredibly secure and weather resistant. They require little maintenance as they don't need annual treatment.
Wooden Construction
1. Heavy Duty Construction
If you need a wooden workshop for heavy-duty use, you'll need a strong building with solid construction. It would be best if you considered a log cabin or a T&G build with a large panel thickness. Anything from 19mm upwards is recommended and log cabin workshops are available in up to 44mm log thickness.
2. Standard Workshops
The construction of a standard workshop will vary depending on your requirements. 11mm interlocking T&G buildings are great for a standard DIY workshop in your garden.
Consider Access to the Building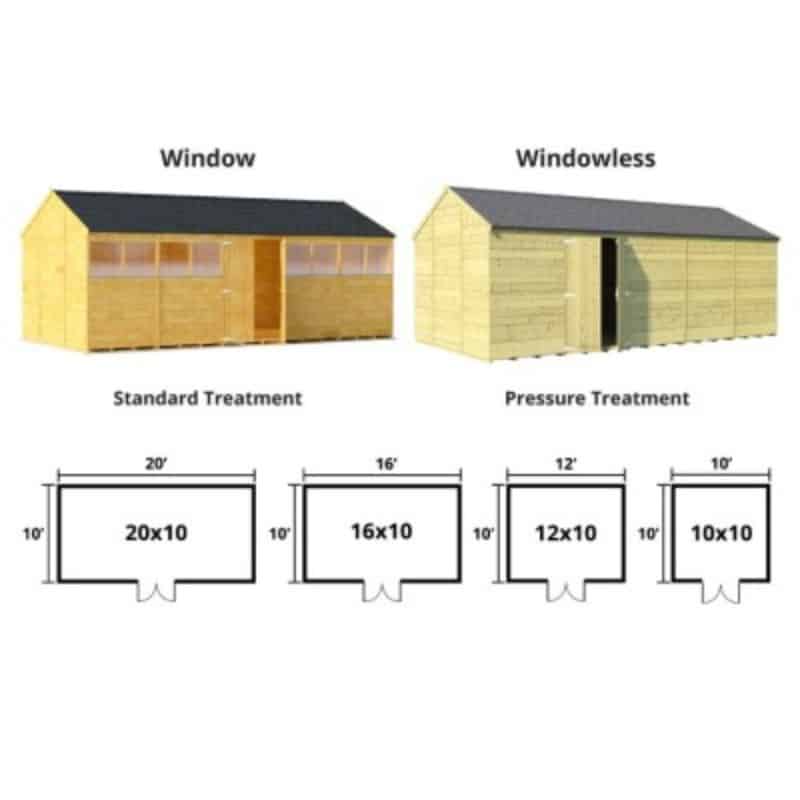 1. Security
What kind of locking system does your workshop need? Will you need to add a padlock? If valuable items will be stored inside the workshop, security is a factor you should consider when purchasing a workshop.
You can add a padlock or latch with a key for extra protection. A siren can also be perfect if your shed is near your home or a movement sensor security that you can attach outside of your shed will do—this way, you'd know if an intruder is trying to break in.
2. Windowed or Windowless
Workshops with windows offer light into the building and a comfortable environment to work in. However, for maximum security, you may prefer to have a windowless garden workshop.
Here at Garden Buildings Direct, we provide both windowed and windowless options. The windowless options provide you with maximum privacy, both for when you're working and storing items inside. The windowed option, on the other hand, offers natural sunlight to the building, a benefit if you're working inside.
3. Doors
Will you be moving large objects in and out? Double doors make accessing the unit as easy as possible, and this is featured in workshops generally. Double-braced doors add strength to a workshop.
You can consider your shed's access options with these two types of shed door:
Single door

– if you're storing small items, you may opt for this one.

Double door -if you have a hefty item to store, double doors can be your best bet.
Purchasing Workshop: Choosing a Floor and Roof
1. Heavy-duty
19mm T&G floors are great for heavy-duty use. In terms of roofing, you should consider an 11mm T&G roof with trusses or a 19mm T&G roof. These are both suitable for the job. For ultimate roof protection, consider shingles, offering the look for a tiled roof and great cover.
2. Standard Use
Durelis solid sheet floors and roofs are well equipped for standard domestic use. It's recommended to have roof cover on a workshop, mineral felt, or sand felt will protect it from the worst of the weather.
3. Budget Options
OSB flooring is a budget option that is suitable for lightweight use only. If you are using the workshop regularly, consider investing in a thicker roofing option such as the Durelis solid sheet.
Note: When looking for a wooden shed, there are two available flooring options you can choose from:
Oriented Strand Board (OSB)

– this type of flooring is an engineered wood flooring made from compressed layers of wood strands stuck together.

Tongue and Groove Flooring – if you're looking for stronger flooring, opt for this one as they are made from separate, wooden boards designed to interlock. This is also ideal for storing bulky items.
If you're looking for an online store that offers a great range of garden buildings, Garden Buildings Direct can be your one-stop shop! Shop via the button below to find awesome deals on sheds  and workshops!
Shop Workshops