High-quality garden sheds can serve a variety of purposes. Among the plethora of ideas is creating a functional outdoor workshop space.
Woodwork and other forms of crafts done at home tend to mess up the kitchen and garage big time! Cue garden workshops, offering the perfect spot where getting messy is not a problem. Just by adding a workbench and a tool rack, you can have the perfect place to carry out everything DIY.
With many designs and sizes to choose from, finding the right workshop can be challenging. Lucky for you, our guide will help you find what you're looking for! Here, we'll cover the following points:
The right style selection

Wooden vs metal material

Access to the building

Flooring and roofing
Let's dive in!
Finding the Right Style
Selecting the right style is the first step in creating the ideal workshop. You can choose from the following:
1. Traditional charm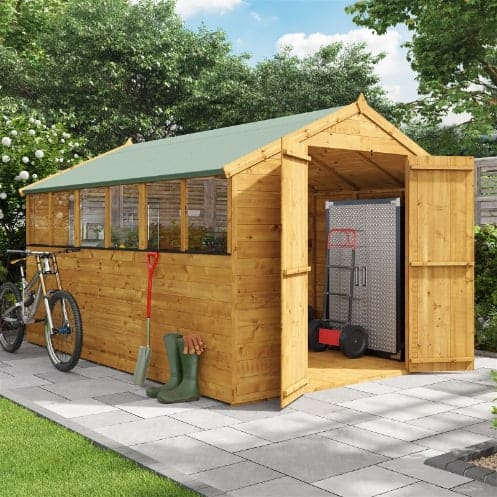 For a timeless look, consider the classic apex or reverse apex style workshops. These designs exude traditional elegance. They suit a more conventional garden setting.
2. Sleek and modern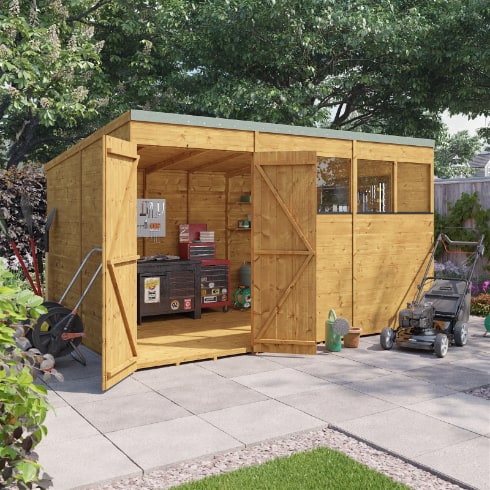 If your taste leans toward modern aesthetics, explore options like a pent workshop. This choice provides a contemporary touch. Moreover, it offers practicality and style for a more modern garden vibe.
Whatever style you lean towards, aim to make your workshop functional and stylish.
Choosing Between Wood and Metal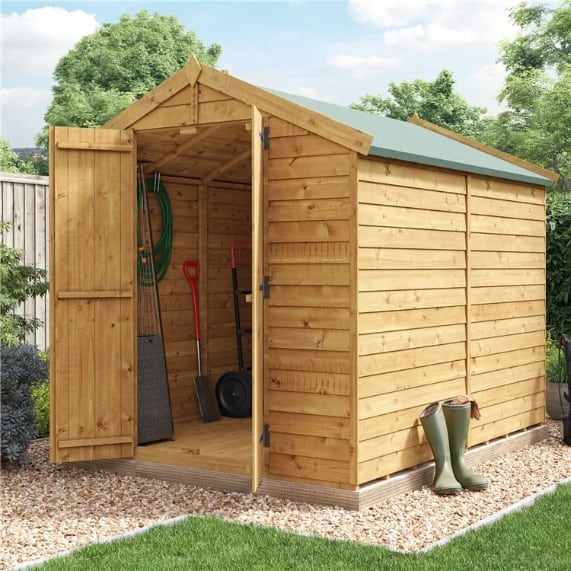 Wood is the classic choice for garden buildings. Timber sheds can be easily adapted to match your garden's style. Most come equipped with the flexibility to add windows or shelves for your DIY tools.
However, they need a regular shed wood stain or treatment to protect against rot, rust, and mildew. Without this maintenance, exposure to the elements can take a toll on the structure.
To simplify upkeep, we offer pressure treated sheds. Pressure treatment involves deep penetration of chemicals and preservatives. The overall process ensures long-lasting and comprehensive protection.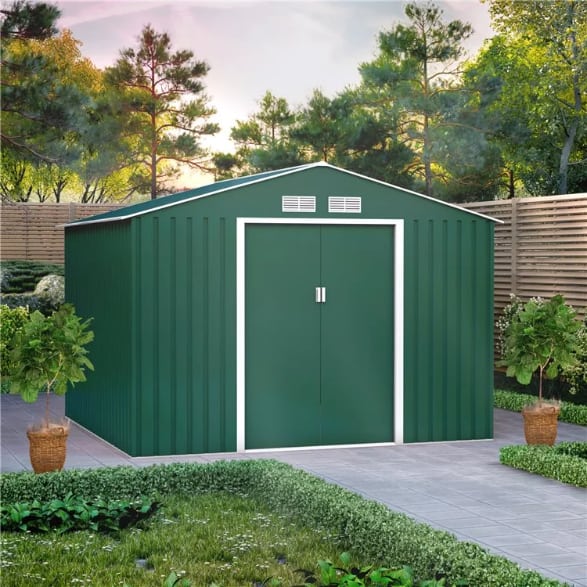 If durability and security are your priorities, metal sheds are the top choice. Note that they may not have the traditional aesthetics of wooden sheds. However, they excel in resisting rot and are fire-resistant. Steel sheds are also lightweight and easily movable, making them a practical option.
Additionally, metal workshops demand minimal maintenance, eliminating the need for annual treatments. Their robustness and resistance to adverse weather conditions ensure your belongings stay secure.
Consider Access to the Building
1. Security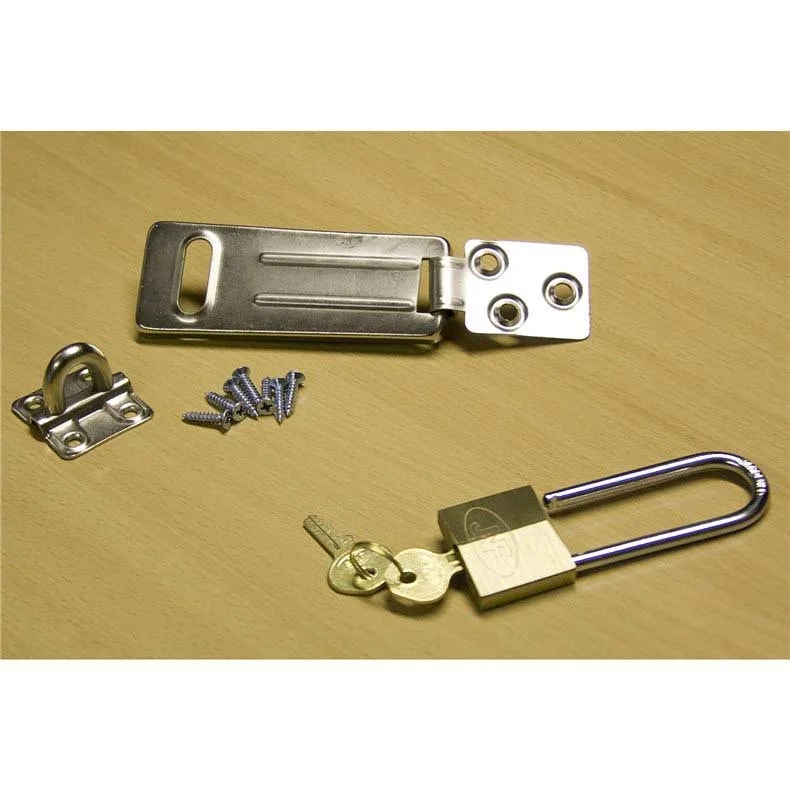 What kind of locking system does your workshop need? Will you need to add a padlock? If valuable items will be stored inside the workshop, security is a crucial factor.
Consider investing in shed door locks for extra protection. A siren can also be perfect if your shed is near your home. Or opt for a movement sensor security that you can attach outside your garden room. This way, you'd know if an intruder is trying to break in.
2. Windowed or windowless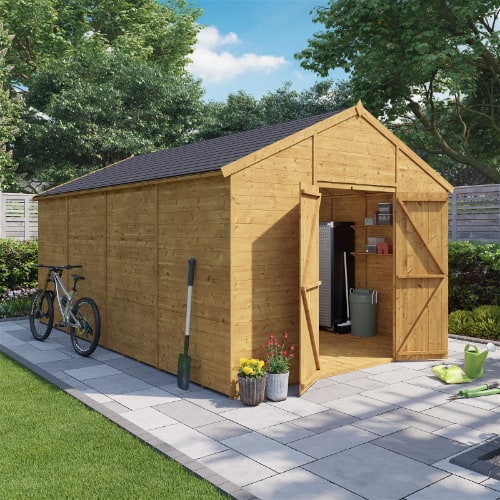 Workshops with windows offer light into the building. Such features can promise a comfortable environment to work in. However, for maximum security, you may prefer to have a windowless unit.
At Garden Buildings Direct, we offer windowed and windowless options. Windowless designs prioritise privacy, while windowed ones invite natural light. The former is great for storage purposes, while the latter is ideal for indoor workspaces.
3. Doors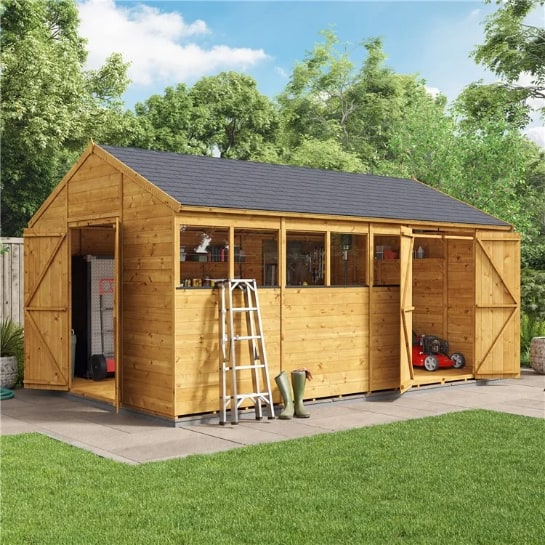 Will you be moving large objects in and out? Double doors make accessing the unit as easy as possible and add strength to the structure. You can consider your garden workshop's access options with these options:
Single door:

if you're storing small items, you may opt for this one.

Double doors:

if you have a hefty item to store, double it up.
Selecting Flooring and Roofing
1. Heavy-duty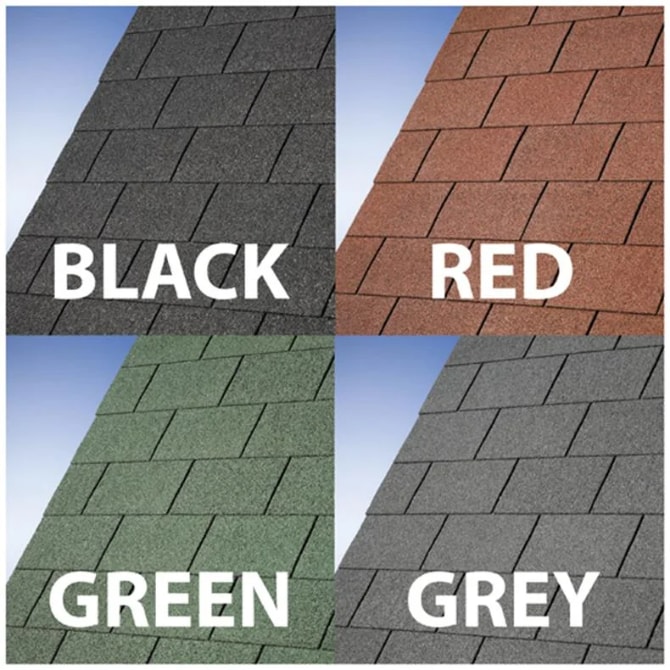 Opt for 19mm tongue and groove floors for robust performance in heavy-duty applications. When it comes to roofing, choose between an 11mm T&G roof with trusses or a 19mm T&G roof, both up to the task. For superior roof protection and a tiled roof appearance, consider shingles. Going for this option can guarantee both style and excellent coverage.
2. Standard use
Durelis solid sheet floors and roofs are ideal for typical home applications. To safeguard your workshop from varying weather conditions, provide roof covering. You can choose from sand or mineral roofing felt, ensuring lasting protection.
3. Budget options
For budget-conscious options, consider OSB flooring, suitable for lightweight usage. However, if your workshop sees regular use, it's wise to invest in a thicker roofing option.
When selecting a shed workshop, you'll encounter two flooring choices:
Oriented Strand Board (OSB):

Engineered wood flooring made from compressed wood strands. Suited for basic needs.

Tongue and Groove flooring:

Provides robust flooring with interlocking wooden boards. Ideal for storing heavy or bulky items.
Round-up
Finding the perfect garden workshop requires thoughtful consideration. At Garden Buildings Direct, we offer a diverse range of workshops to suit every need. Embark on your DIY projects or hobbies with confidence with our heavy duty workshops. Transform your outdoor space into a functional workshop with the Telluria Eleganto.
Happy building with this helpful guide to 'How to Create a Garden Workshop'
Shop Workshops