We love to catch up with our customers to see how they're getting on with their garden buildings. This time around we're hearing from Gemma, who brought one of our great Devon Log Cabins and transformed it into an amazing Garden Lash Cabin!
Gemma has worked hard to set up her personalised lash business. But it was becoming so successful that she couldn't run it out of the dining room any longer!
She needed a dedicated workspace to do her lash business justice and decided that a garden log cabin would be the ideal place to rehome her salon.
She needed her modern log cabin to be big enough to move all her equipment in without being too expensive. A quick internet browse led her to our website, which Gemma recognised as being competitively priced and great value for money.
She browsed our great range of quality, affordable log cabins for one that would fit the bill for a salon. We couldn't be prouder to reveal that she found it in the Devon Log Cabin!
"I chose the Devon Log Cabin because it best suited my needs and was competitively priced."
With a wide, adaptable space inside, easy-opening double doors, and wide windows that let in natural light, the Devon was a perfect fit. Gemma's new cabin had all the extra space she required to make a salon that had the style and individuality her home-grown business deserves.
We were super impressed by how she took the cabin up a notch with some unique additions. She added insulation to the floor and roof, caulked between the wood slats, and varnished the floor. Then, she painted it inside and out with bright, contrasting colours to really brings the outdoors in!
Take a look at the result of all her handiwork below!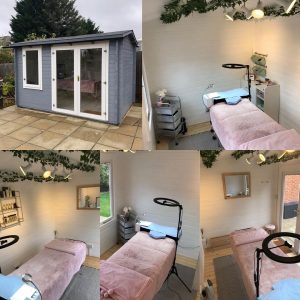 Gemma couldn't be happier with the space it gives her and her business.
"It's allowed me to have a separate work area where all my equipment can be set up and left up. This is far better than working from my dining room having to put it all away every day!"
On top of this, she was also super impressed with our customer service – from effortless ordering to easy assembly. She described the whole process as simply great! You're very welcome Gemma!
If she was going to give any tips to people wanting to create their own beauty cabin or move their business into one, Gemma says that she would recommend insulating the cabin and buying a portable space heater so that it remains snug and warm throughout the winter months.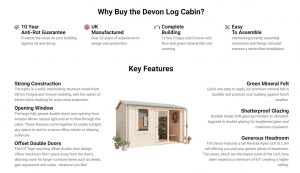 We couldn't be happier that our Devon Log Cabin has made Gemma's business dreams come true. If you're thinking about doing the same, then don't hesitate to browse our fantastic selection of Garden Log Cabins using the button below.
You can also take a look at some of our other inspiring customer stories by following this link.
Shop Log Cabins