When it comes to toys, a children's playhouse offers a whimsical and fun space for any child. Gone are the days of the lacklustre and basic wooden structure.
Now, children can get all sorts of playhouses to suit their imagination and make their dreams come true! Here are 7 fantastic playhouse decoration ideas, which will allow you to create the perfect children's playhouse to suit your family. The following designs are ones which would go perfectly with the versatile Bunny Playhouse.
1. Fairytale Castle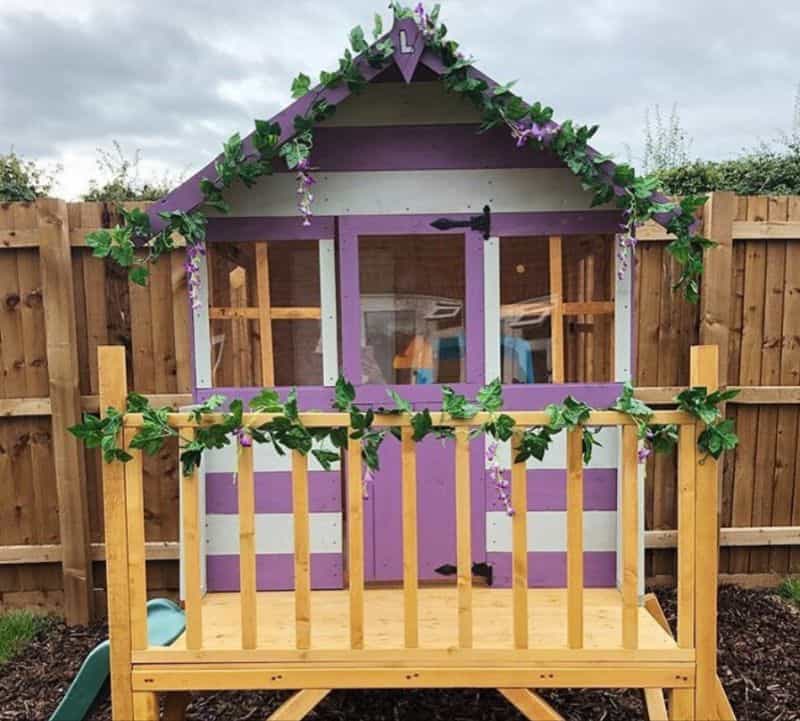 A fairytale castle can be the ultimate princess hideaway for any little girl. Let your fairytale imagination run wild decorating this kids playhouse. 
Think pink, girly and fairytale. All your child's Christmas's will come at once with this one!
You don't necessarily have to rebuild the overall building structure and add some castle details to make it look like an actual castle. Instead, you can decorate the playhouse with plants around, a flag, and even hang some toys like sword and shield on the wall.
Or add some cute stuff toy animals on the floor to make it look more magical. You are free to put anything that will make the playhouse look like one! Might as well ask your kids so they can help you with decorating.
2. Beach Hut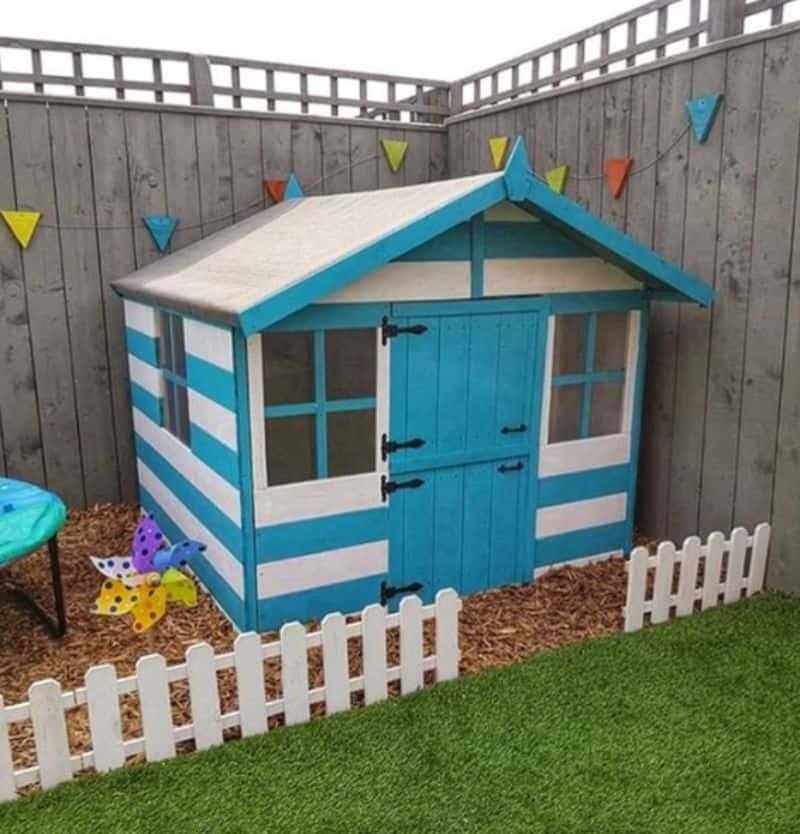 This one-of-a-kind play space is a refreshing addition to any garden. Add some climbing nets, surf accessories, and you could paint it blue for a total beachside feel.
If your kids own some surfing boards, they could also be a great addition as finishing touches to the outdoor building. Add beach ball on the ground, display doughnut lifesaver on the wall, and much many more! 
This setting is perfect for kids who love the beach or summer in general. Surfs up!
3. Magical Woodland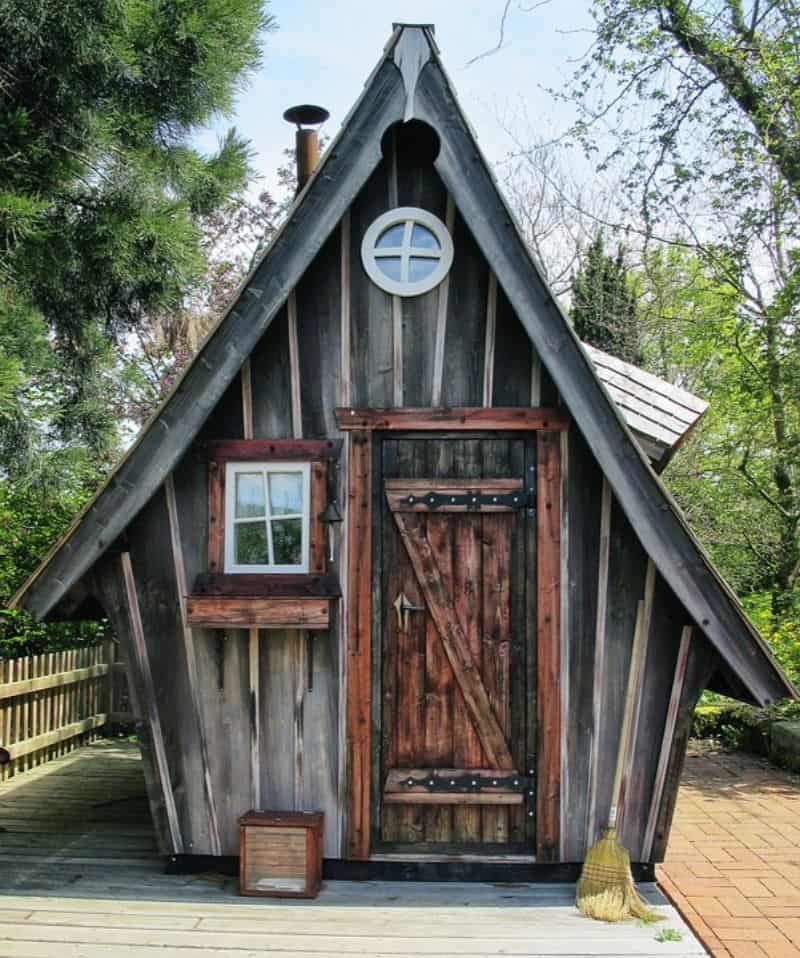 Set amongst wildflowers and tall trees, this little slice of woodland magic will captivate the imagination of any child. Think Harry Potter meets a woodland fairy, and you are on the right track when it comes to magical decorating ideas. 
If you want the outcome to be more extra, add some witch's broom and display it outside! Perhaps a big cauldron near the door will also do the trick. Add some dream catcher and hang it on the door, too!
Reclaimed wood works perfectly as, and the small windows make it really unique. Don't forget to remind your kids to bring their wands with them before entering the playhouse!
4. Rainbow Themed Playhouse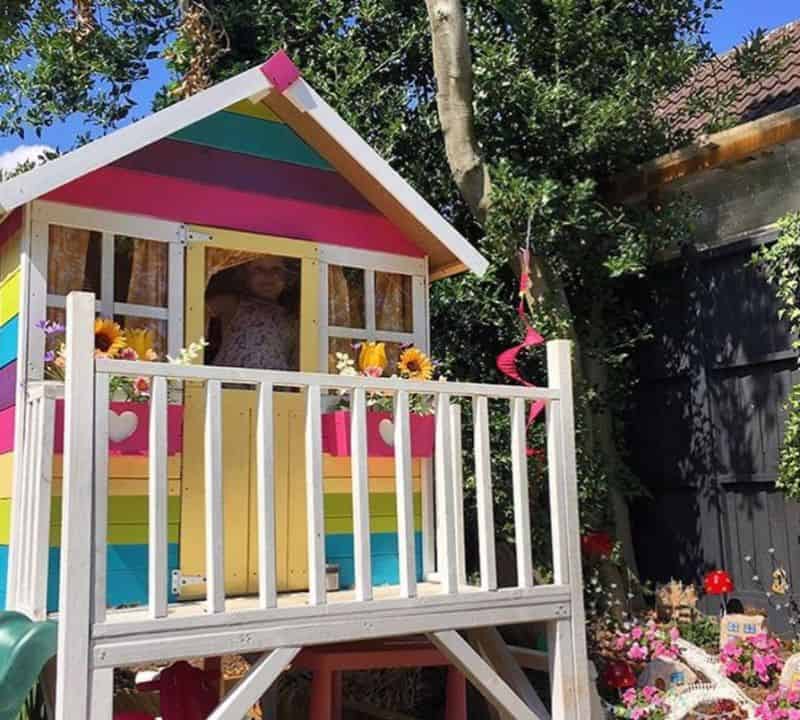 Ideal for a wooden playhouse, you can transform a plain playhouse from blah blah to ooh-la-la by painting it with rainbow colours! Give that plain, old playhouse a new life with colourful and fun playhouse for the kiddos!
Once you painted the building with bright colours, it's time for you to decorate them with colourful plants, as well! Sunflowers can be your best bet when it comes to floral decorations.
5. Pastel Colour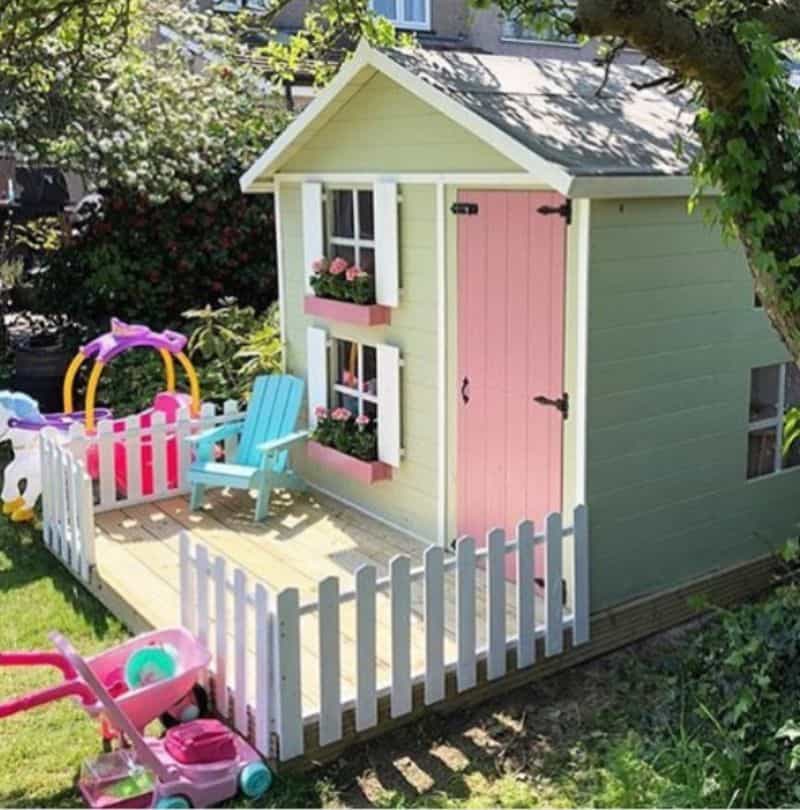 A pastel coloured playhouse can be the ultimate dream house dream for your kids! Pink and green are a great combination to customize the outdoor building gender-neutral.
Now, to achieve a gender-neutral playhouse, also consider the stuff you will put in the building. In terms of wall decoration, it is safe just to put your children painting collection, or even they're favourite cartoon characters!
For blankets and cushions, make sure to get one pink and one blue for each.
6. Mini House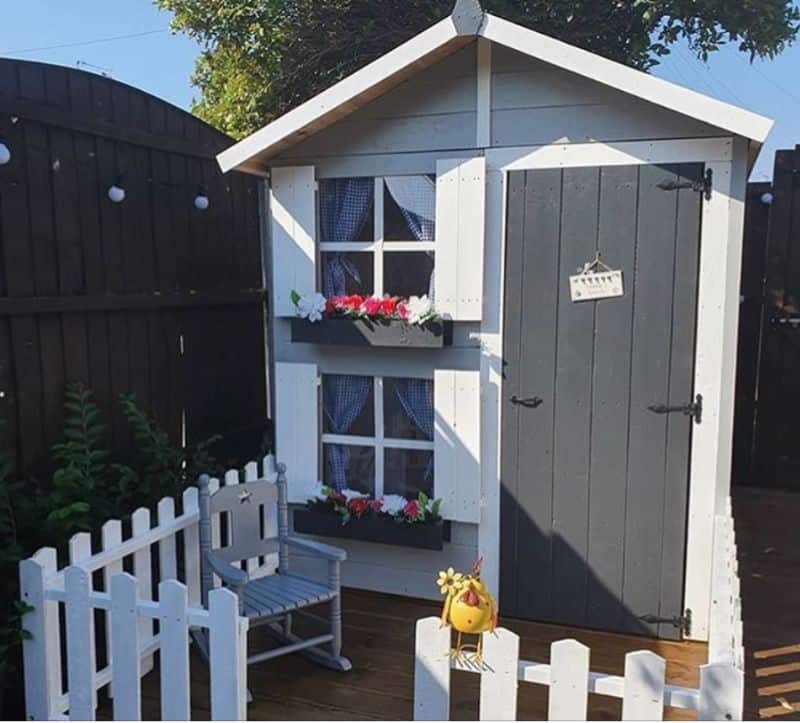 A playhouse, whether it's small or big, also acts as a mini version of home for kids to have fun and let their imagination run wild in the own world. To make it feel more homely, make sure to add some pieces that will remind them home, such as picture frames, blankets and cushions as an alternative for furniture, and more!
If the kids want a short vacation, their mini house playhouse can be their go-to place.
7. DIY Cafe Playhouse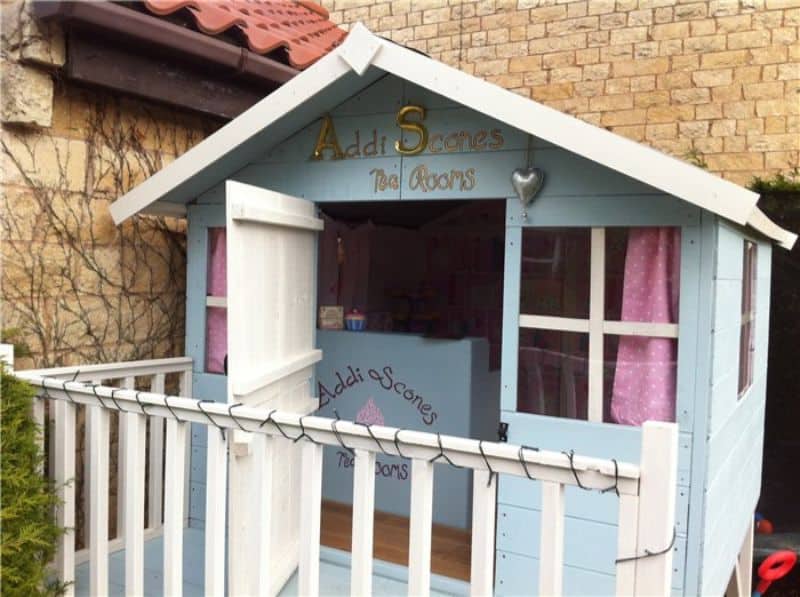 To make your child's dream mini Cafe, upgrade the playhouse with white paint and loads of creativity! Chalkboard signs and stools painted with a fresh coat of pastel paint are recommended to bring the playhouse cafe into life.
Of course, don't forget their coffee and ice cream toy set around. Play with your little ones, ensuring that their small business is going well.
If you want to take inspiration from our customers, have a look of our customer playhouse stories:
The BillyOh Bunny Max Playhouse Stories
BillyOh Bunny Max Tower Stories
The BillyOh Lollipop Junior Stories
BillyOh Lollipop Max Stories
The BillyOh Gingerbead Junior Stories
BillyOh Bunny Tower Stories
The BillyOh Lollipop Max Tower Stories
BillyOh Peardrop Stories