Whether or not you're a keen gardener, owning a weatherproof garden shed where you can store your tools and equipment is a great advantage.
But what type of shed is best suited to your: budget, space, needs, and garden? Well, we've rounded up our most popular garden sheds for sale, across the three major categories: wooden, metal, and plastic, so you can find the one that works best for you. 
Scroll down to see our list. Or, visit our comprehensive garden sheds buying guide.

Types of Garden Shed: Metal Sheds
While wood, plastic, and metal sheds all have categories that they excel or falter in – we think it's only right to give you an overview of all of them. That way you can see which style, size, and material suits you best. Let's start with metal.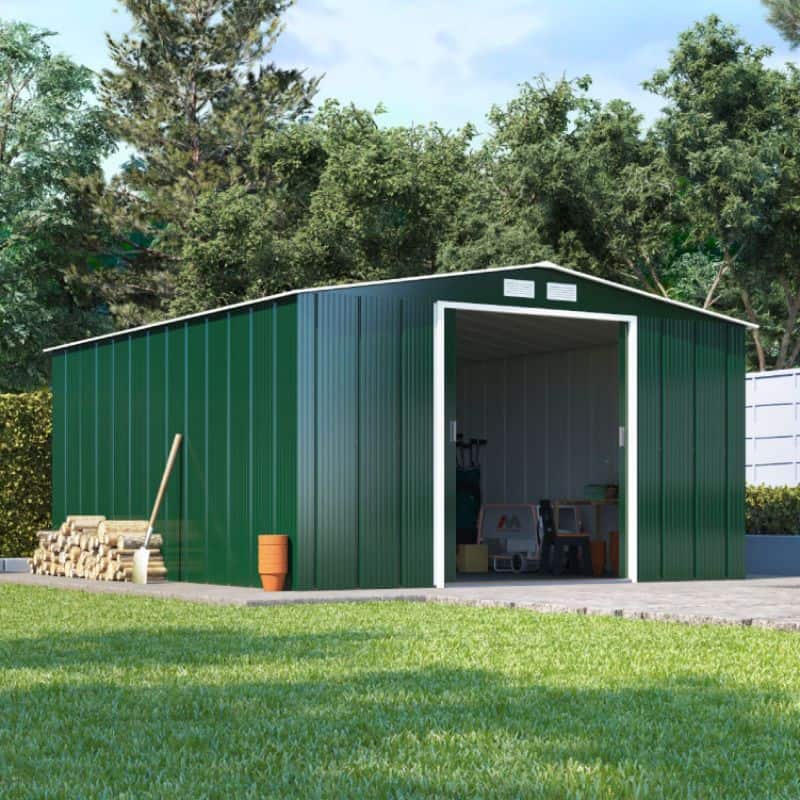 Pros
Metal sheds are known for their durability and robust quality, making them an ideal choice if you want somewhere secure to store your valuable items.
As metal is a slightly cheaper material than wood, metal sheds also make for excellent value for money. In fact, they're one of the popular choices for not only most households in the UK but also worldwide!
They're designed to withstand the harsh elements and won't suffer from things like rot or decay – offering long-lasting garden storage all year round. In fact, metal sheds are so low-maintenance these days that our BillyOh metal sheds are even rust and corrosion-resistant.
They don't require painting, sanding or even really pest control. Moreover, metal shed installation is relatively easy.
Cons
Not too long ago, metal sheds were regarded as less attractive than their wooden counterparts. And, to be fair, in those days, we wouldn't blame you for thinking so – they were. Nowadays, most metal sheds are designed to complement a garden with a modern look.
That's why some of our models feature colours options and why we even do a woodgrain metal shed. So if you settle on a metal shed for its security and attractive price, you don't even have to compromise on style!
They do have their flaws, though. Metal sheds (though not impossible to) are obviously harder to modify than wooden sheds. If you were to do anything more than adding a bit of shelving, it might require some heavy-duty drills and bits, a welder, sheet folders, or an angle grinder.
Metal sheds may also 'sweat' or have condensation form in them if not properly ventilated or insulated. That's why our BillyOh metal sheds come with built-in ventilation. And for more info on how to stop condensation in metal sheds, you can always read our quick guide.
And, although they make for excellent outdoor storage, cheaper metal sheds can suffer from rust or corrosion. Tip: So when purchasing one, make sure it's rust- and corrosion-resistant. 
For high-quality metal sheds at reasonable prices, check out our great range of metal sheds.
PROS
Budget-friendly

Durable and robust

(Good quality metal sheds are) Rust- and corrosion-resistant

Easy to assemble

Low maintenance

CONS
(Cheaper, low quality metal sheds can) Rust and corrode

Not very traditional looking (Although wood grain options are available)

Harder to customise than wooden sheds

May experience condensation if not properly ventilated or insulated
Types of Garden Shed: Wooden Sheds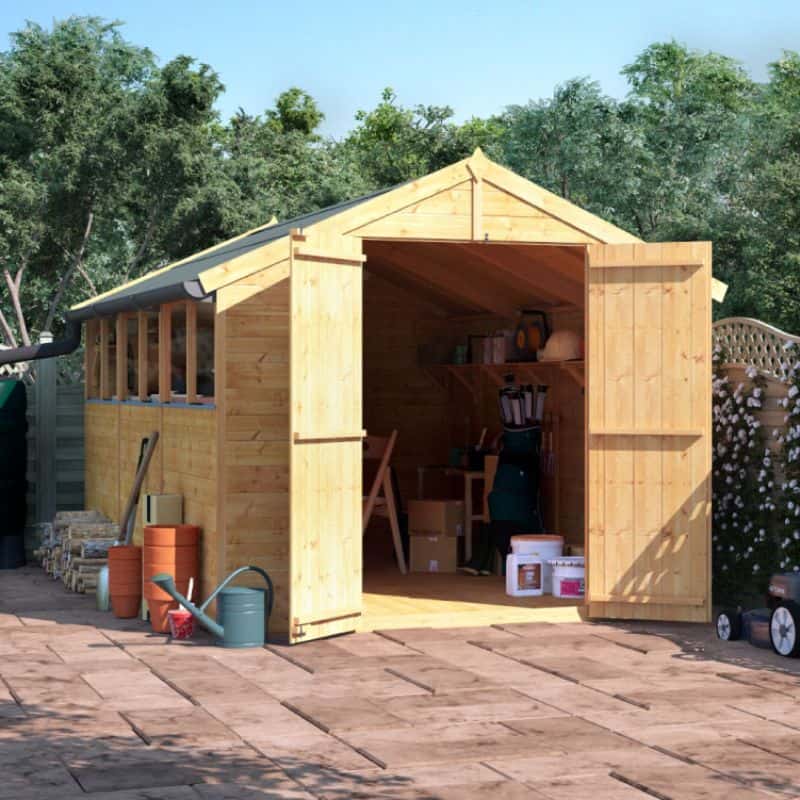 Pros
Arguably the most popular type of garden shed, wooden sheds come in contemporary or traditional designs to suit most gardens and can be easily modified to add shelving or more storage. 
Wooden sheds are generally much easier to work with than metal sheds and are easy to assemble. Another advantage is that timber is a natural insulator. So whilst tongue and groove cladding will give you a tight seal against water ingress, natural air pockets in the timber will also help insulate your shed. 
This means that wooden sheds, and wooden summerhouses and log cabins are more likely to be warmer in winter and cooler in summer.
So if you're looking for a garden shed that you can spend a lot of time in, especially during the colder months, then a wooden shed might be your best bet. Depending on the thickness of the timber cladding you choose, you can even opt for domestic or heavy-duty use. The latter perfect for extra security or use as a workshop.
Compared to metal and plastic sheds, although they're sturdy, wooden sheds are obviously a lot heavier and more solid. With robust frames featuring double framing, they can withstand even the harshest of UK weather. And, with options to pressure treat timber, you can extend your shed's life.
Cons
Wooden sheds (unless pressure-treated) will require regular treatment at least once every couple of years. Pressure-treated timber is where chemicals and preservatives have been introduced to the wood in a vacuum. This allows them to penetrate much deeper than dip treatment and protect the wood for longer.
Depending on what treatment, stain, and paint you use, this can be costly. But if not treated, wooden sheds can become susceptible to the elements.
This can result in:
Rot
Decay
Insect infestation
All things which BillyOh garden sheds have a 10-year guarantee against. (15 years on pressure-treated models).
Another common problem with timber garden sheds is being prone to moisture, which can lead to warping and twisting, leaving the overall structure unstable and even unsafe. When it rains it pours with timber, because damp wood will also attract pests like termites, inducing rot and even rodents. 
The good news is, you can either:
PROS
Very popular - Availble in contemporary and traditional styles

Easy to assemble and easy to work with

Customisable

Naturally insulated (warm in winter and cool in summer)

Weater-resistant

Hard-wearing and sturdy

Usable year-round
CONS
Untreated wood can lead to rot, decay, and insect infestation

Higher maintenance than metal and plastic sheds

Can be more expensive than metal and plastic sheds
Types of Garden Shed: Plastic Sheds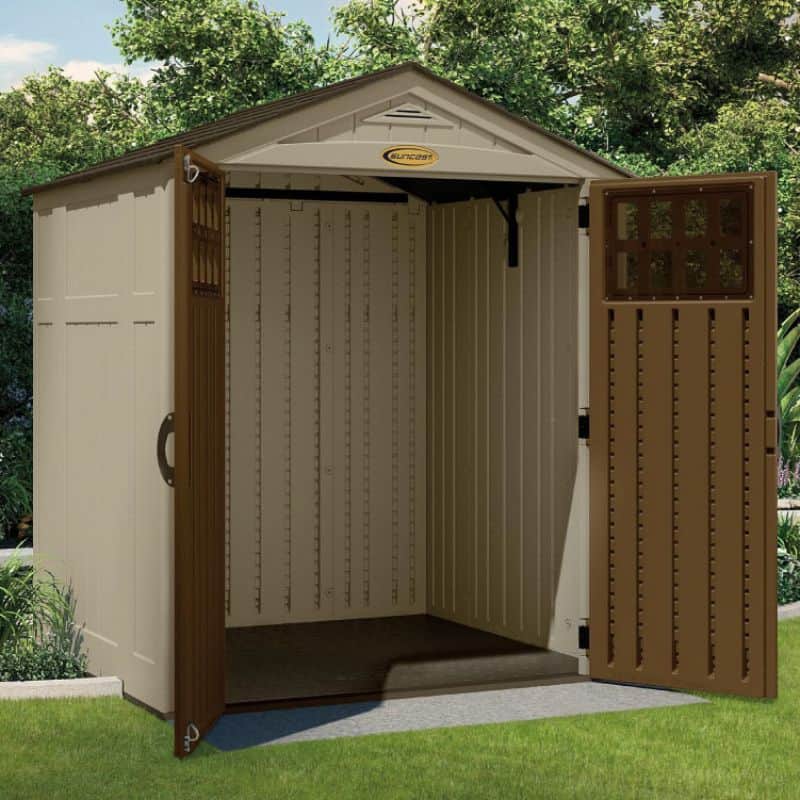 Pros
Often less expensive than metal sheds, plastic sheds are an excellent choice for anyone who wants a low maintenance garden building. Strong but also lightweight, they can be easily moved around the garden into your preferred position (or even dismantled if you move house).
Most plastic sheds will also be UV-resistant, just like our BillyOh plastic sheds, which means they won't fade in the sun. Made from durable vinyl plastic, they'll provide the perfect storage solution whilst remaining weather-resistant.
Plastic is impermeable, with panels forming a tight seal and this type of shed is great at keeping out rain and snow whilst being strong enough to withstand winds. They're long-lasting and require practically no maintenance – simply hose them down.
Unlike wooden sheds, you'll have no issues with rot or moisture and they're easy to assemble. Higher-end models even come with internal metal framing for a sturdier build.
Cons
People still ask us: 'are plastic sheds any good?' The short answer is – of course, otherwise we wouldn't sell them.
But they do face some issues that metal and wooden sheds may not. For example, even with a heavy-duty padlock, they may not be as secure as wood and metal sheds. Plastic sheds can also be affected by extreme temperatures. This means that some lower-end models may become brittle in extreme cold or even buckle in extreme heat. 
And while they are designed to provide protection even in harsh weather, they may not be as hard-wearing in strong winds. This is because it's trickier to, say, bolt a plastic shed into a slab (like a metal shed), and because they're not as heavy as wooden sheds. 
Customising plastic sheds may also be trickier. It'll be hard to secure anything like shelving or to drill into plastic.
PROS
Cheaper than wooden and even some metal sheds

Strong and lightweight

Low maintenance

Can be moved

UV-resistant


CONS
Not as secure as wood and metal sheds

Don't like extreme temperatures

May not be as secure of sturdy as wood or metal

Hard to manually customise
Now that we've walked you through an overview of the 3 different types of sheds, let's check our best and most popular sheds from a range of sizes, styles, and materials.
The Best Garden Sheds
Garden sheds offer a space to store your tools, gardening equipment, and garden furniture. And though we offer a range of log cabins and summerhouses, we're here for the 'humble' garden shed. Take a closer look at our most popular sheds in detail below.

The BillyOh Partner Apex Metal Shed is a popular choice due to its durability and modern design. The shed offers simple, easy storage for any garden and requires no treatment at home. If you're looking for a low maintenance building that'll keep your tools and equipment safe, dry, and secure, the Partner Apex is an ideal choice.
A traditional apex roof and green exterior complement most gardens. You can also add a steel foundation kit.
Other product features include:
Galvanised steel construction
Fire retardant and rust- and corrosion-resistant
(Optional) steel foundation kit
Windowless design for security
No treatment required
Sliding doors
Built-in air vents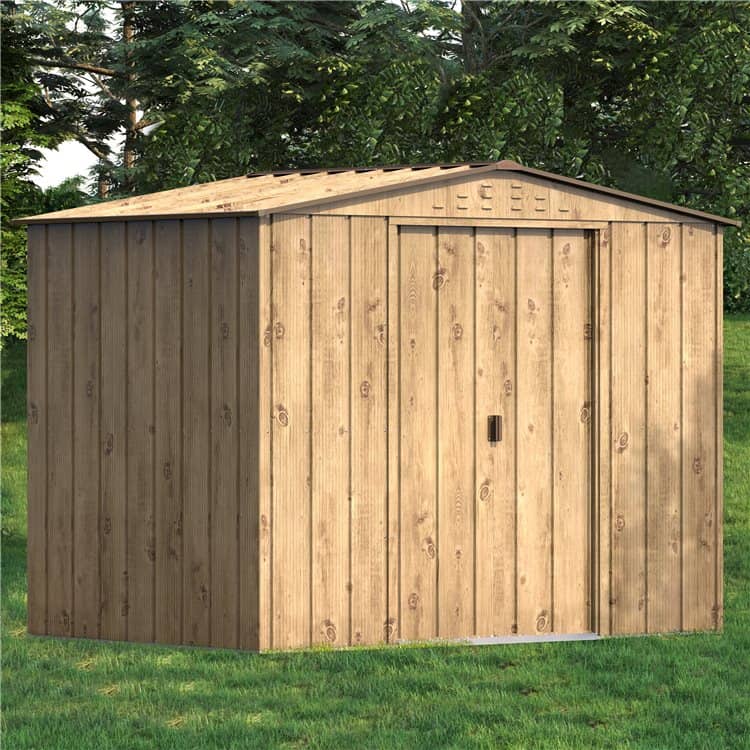 If you're looking for compact garden storage for a modern garden, the BillyOh Top Woodgrain Apex Metal Shed comes up trumps. Constructed from strong 0.33 mm hot-dipped galvanized steel, this shed offers great weather protection and is easy to assemble.
Wide double doors and a generous amount of space inside make this perfect for making the most out of any garden.
Other product features include:
Modern Pent Roof Design
Fire retardant, wind and snow resistant
Easy Installation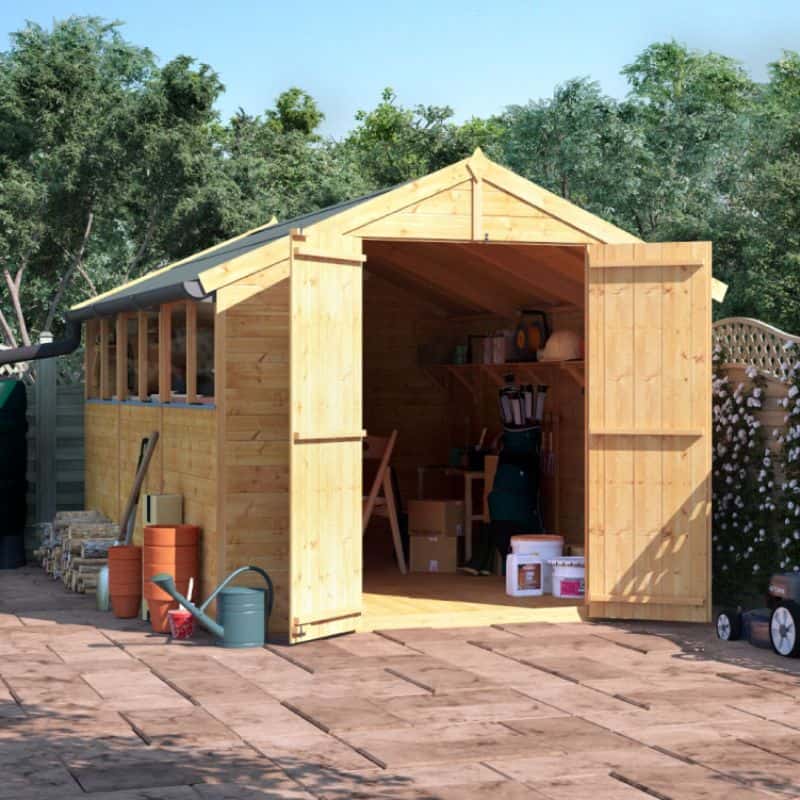 This wooden shed has a traditional, apex design which complements the look of any garden. If you want a reliable, budget-friendly shed for garden storage, the BillyOh Master Tongue and Groove Apex Shed could be a perfect choice.
The T&G double doors allow easy access in and out of the shed and make it simple to manoeuvre large or bulky items.
Other product features include:
Traditional apex Design
Strong 11mm T&G roof and flooring
SAN shatterproof glazing in windowed models
Galvanised ironmongery on fittings for weather-resistance
BillyOh Master Tongue and Groove Pent Shed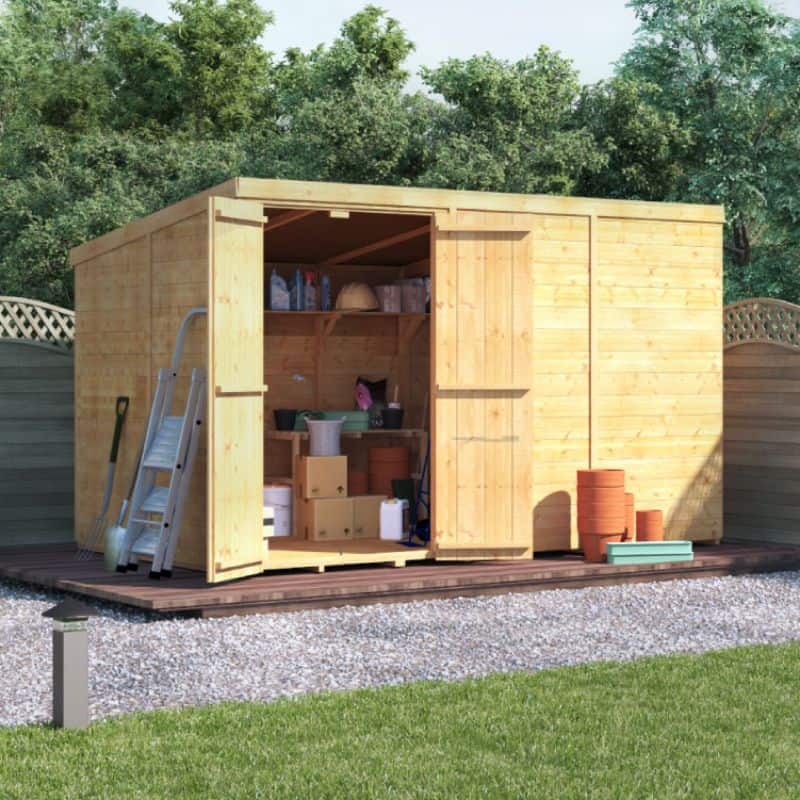 The BillyOh Master Tongue and Groove Pent Shed combines a modern design with reliable construction. The T&G cladding offers fantastic durability for this garden, while its double doors allow you to access the shed easily.
You can upgrade the shed floor to various thicknesses suitable for anything from domestic to heavy-duty use.
Other product features include:
Strong 11mm Tongue and Groove Shiplap Cladding
Base Coat Treated
Double Doors
Heavy Duty Floor Options
Windowless
BillyOh StoreMax Plastic Shed

This BillyOh StoreMax is a reliable plastic shed suitable for any garden. The classic design means it will complement most gardens and the long-lasting vinyl cladding adds complete weather protection for your garden storage.
The wide double doors make accessing your tools easy. So if you're looking for a garden shed that'll look after itself for years and years, the StoreMax is a great choice.
Other product features include:
Traditional apex Style
Galvanised steel structure
Wide, lockable double doors
Foundation kit Included
Fire, rot and rust-resistant
Top-Selling Heavy Duty Sheds
And if you've got valuable bikes or garden tools to store away, and security or insulation is a priority for you, then you might want a shed from our heavy-duty range. Check out your options, below.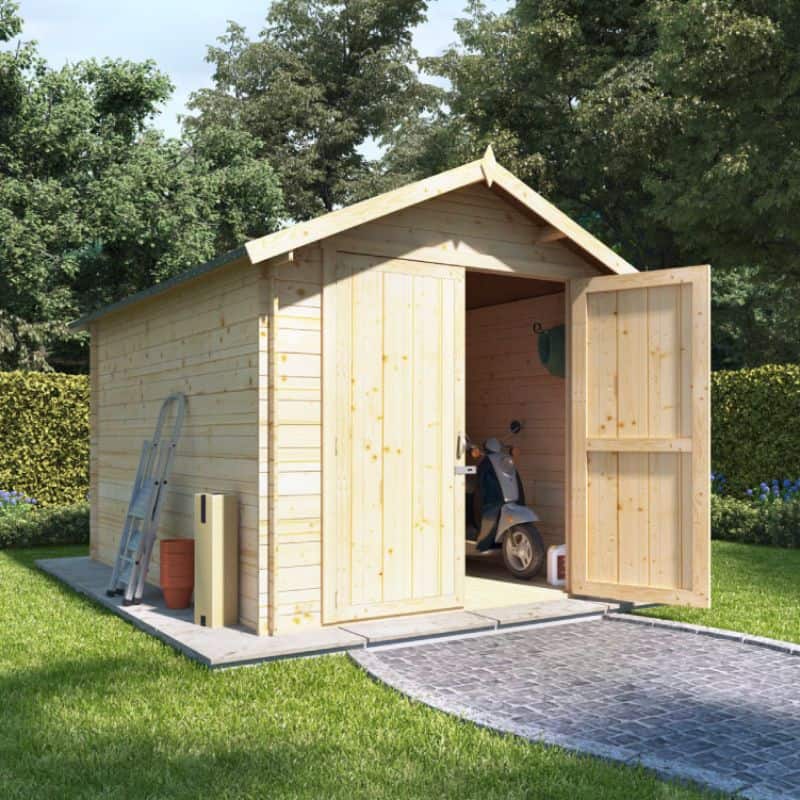 If you're looking for a heavy-duty shed to store your valuable gardening tools and equipment, this shed is a great choice. The 19mm interlocking boards give the shed great weather protection, and a windowless design provides security for the building, keeping items out of sight.
The BillyOh Apex Log Cabin Windowless Heavy Duty Shed is available in a range of sizes to suit all gardens. And you can even opt for thicker 28mm cladding.
Other product features include:
Strong interlocking 19mm (28mm optional) log thickness
Windowless design for added security
Traditional apex roof
Sizes to suit all gardens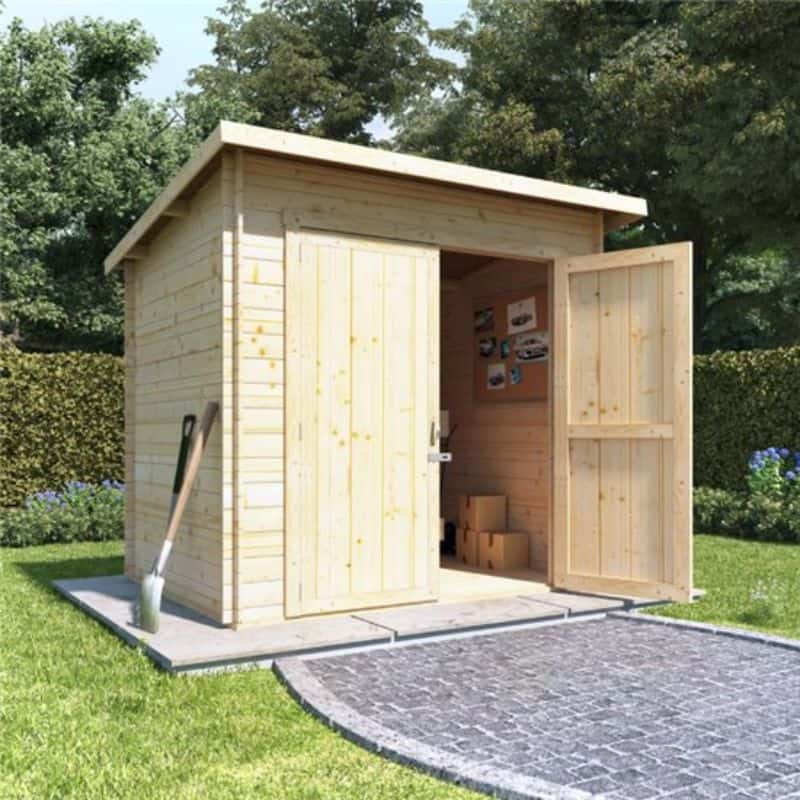 This shed is a more modern alternative to the Apex version above. The 19mm interlocking boards provide you with a weather-resistant shed that is long-lasting.
A windowless design provides security for the building, keeping items safely out of sight. The BillyOh Pent Log Cabin Windowless Heavy Duty Shed also comes in varied sizes to suit most gardens.
Other product features include:
Modern pent roof
Strong interlocking 19mm log thickness
Windowless design for added security
Sizes to suit all gardens
The Best Type of Garden Shed to Buy
Every type of shed has something different to offer, so it's important to compare them in order to find the right one for you before you buy a garden shed.
These are just some of the wide range of sheds we sell, so have a look around for more high-quality garden sheds. Whether it's a metal shed that's more budget-friendly or a thick-clad wooden shed for use year-round, you'll find it all here at Garden Buildings Direct.
Take a look at a few of our customer stories to find out how much they are enjoying their new sheds:
BillyOh Master T&G Pent Shed Stories
BillyOh Master Apex Stories
BO Master Apex Shed Stories
BO Storer Overlap Shed Stories
Or shop for our top garden sheds via the button below!
Shop The Expert Pent Workshop
FAQs