If you have children, you may be familiar with outdoor playhouses. These outdoor structures give kids space for imagination, creative play, and fun. But have you ever heard of a garden tower playhouse?
Tower playhouses are built on raised platforms and can be several feet off the ground. They've been increasingly popular in recent years, and for good reasons. This blog will delve into the world of wooden tower playhouses, so read on to learn more!
What Makes a Tower Playhouse Different?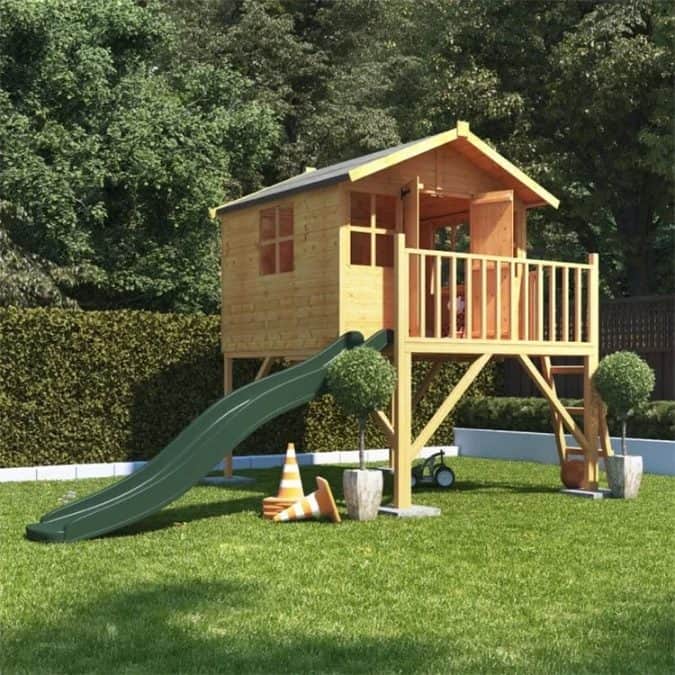 You may be wondering what sets a tower playhouse apart from other outdoor playhouses. One of the most obvious differences is their unique elevated design.
In tower playhouses, children must climb up ladders or stairs to reach their playpen. This creates a more exciting and adventurous atmosphere for them to play in. The bird's eye view of the surrounding area is a bonus!
Another unique feature of tower playhouses is their customisable design. As they are built on a raised platform, a variety of add-ons are available, such as swings, slides, and even zip lines.
Unlike traditional playhouses, a tower model allows children to develop physical attributes. For one, their balance, coordination, and spatial awareness as they navigate the platforms.
Overall, a tower playhouse isn't much different from a standard Wendy house. Both serve the same purpose. But what makes the former 'greater' is the raised platform and the optional extras it comes with.
The Benefits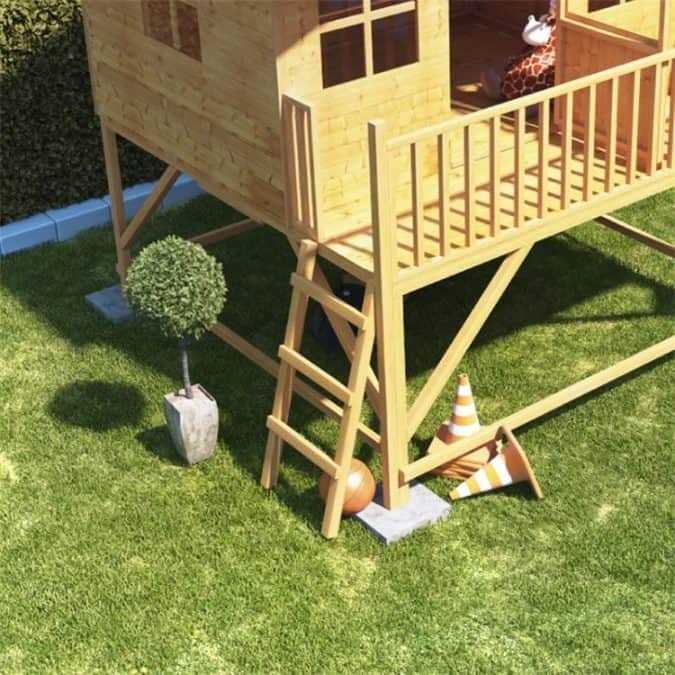 Tower playhouses offer a range of advantages, from physical development to imaginative play. Let's explore some of the key benefits below:
1. Physical development
Climbing up ladders, stairs, and platforms requires the use of muscle groups. This simple activity can help children build strength and improve their overall fitness. What's more, it helps them burn off excess energy and improve their sleep quality.
2. Outdoor play
Tower playhouses allow kids to enjoy the benefits of being out and about. Outdoor active play has been found to have many for children's mental health.
Fresh air, for instance, is a natural way to reduce anxiety-inducing hormones. It replaces them with serotonin and oxytocin, which can promote calmness and happiness.
Moreover, spending time outdoors in nature can help reduce a child's response to stress. This enables them to recover from stressful situations more quickly. Exposure to natural sunlight can also regulate circadian rhythms. In return, this promotes healthy sleep habits.
3. Imaginative play
One of the most exciting aspects of tower playhouses is the room for imaginative play. Kids can use the playhouse as a stage for make-believe scenarios, such as being on a pirate ship or in a castle. And over time, they can develop important social and emotional skills for themselves. This includes empathy, creativity, and problem-solving.
4. Customisable features
The extensive range of features and add-ons can include an optional slide for added hours of fun. Or, if your garden is quite expansive, why not attach zip lines to take your children's play to the next level?
Parents can also work with their little ones to customise the playhouse. Add decorations or accessories that reflect their interest and personality.
Choosing the Right Tower Playhouse
When selecting a unit, there are several factors to consider, including:
Size.

Consider the size and available space of your garden. This will ensure the tower playhouse you bought fits comfortably within the area.

Material.

Tower playhouses can be made from wood, plastic, and metal. Think of the durability, maintenance, and aesthetic of each before making a decision.

Safety features.

Look for non-slip steps, secure railings, and sturdy construction.

Customisation.

Consider whether the tower playhouse can be customised with swings or climbing walls. Otherwise, it may not be the best fit for your children's play needs.

Price.

Determine your budget and choose a tower playhouse unit that fits within it.
Types of tower playhouses
Wooden.

Usually made from cedar or redwood, and offer a natural and rustic aesthetic. A wooden tower playhouse is durable and can last many years with proper maintenance.

Plastic.

This type of playhouse is lightweight and easy to assemble. In most cases, it's more affordable than timber but may not be as durable.

Metal.

These playhouses are strong and durable but may not have the same aesthetic appeal as wood.
A wooden playhouse, in general, won't crack, fade, or rust, unlike plastic or metal units. It also has a natural look and feel, blending seamlessly into the outdoor setting. With the right TLC, it can provide a long-lasting investment for families. Take a look at the BillyOh Bunny Max Tower Playhouse for reference.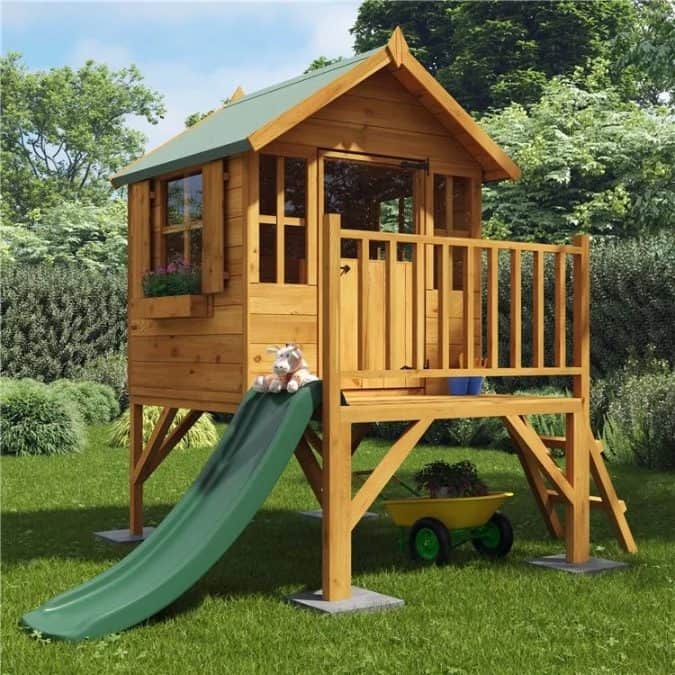 The 4×4 footprint offers a spacious interior for children to play in and enjoy. The tower design and ladder let their imaginations soar while the slide brings out the fun. The apex-style roof also allows for increased headroom when inside, creating more space.
All safety aspects have been carefully considered:
the raised platform is complete with a safety rail, rounded edges and smooth framing

air holes on the rear of the playhouse for safety and increased air circulation

a 12mm gap around the door to protect little fingers from being trapped

SAN-glazed shatterproof glazed windows

anti-slip step ladder on tower playhouses
The optional colours can turn it into superhero hideouts, pirate ships, or castles!
Safety Considerations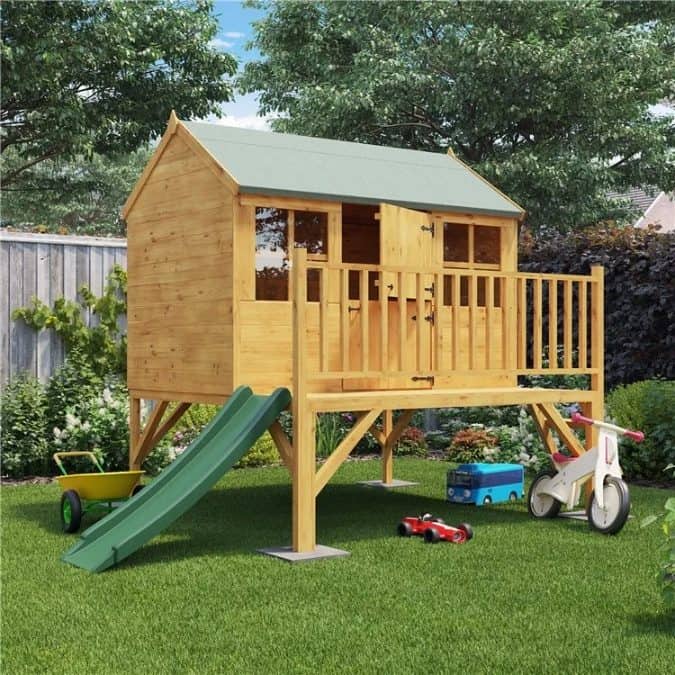 Ensure the tower playhouse is structurally sound. The structure should be built with sturdy materials. All screws, bolts, and brackets must be tightly secured, and the unit must be level and stable.
Monitor children while they play. Adult supervision is necessary when children are playing in the tower playhouse. Make sure kids aren't engaging in dangerous activities such as jumping off the platform.
Regularly inspect the playhouse to ensure that it remains in good condition. Check for any signs of wear and tear. This can be loose screws, cracks, or rotting wood, and address any issues immediately.
Install safety features. These include railings, safety nets, and soft padding to prevent falls and injuries. Also, establish safety rules and make sure children understand them. Rules could include not jumping from the platform, not playing too roughly, and so on.
Round-up
Tower playhouses can provide the best of both worlds: fun and adventure! The raised platforms, customisability, and natural look and feel are added to the boon. If you're looking for a more enjoyable outdoor play experience for kids, it's time to invest in one!