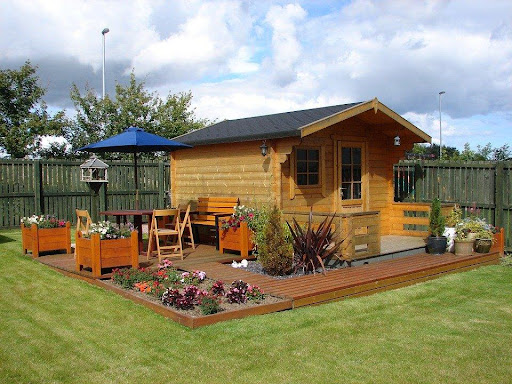 Image Credit: deemur / Pixabay
What is a Wendy House?
A Wendy house is a small structure usually placed in a garden for children to play in. They provide a great sense of independence for children of all ages.

With the structure of a Wendy house varying from simplistic design to a tower style playhouse (with additional add ons such as a slide), there are many interesting options on the market. 
Wendy houses are usually built out of wood so they last a long time. With additional care and love, they can live beyond 10 years. 
Where does the term Wendy House come from?
If you're curious to find out where the term Wendy house actually came from you may be surprised. The concept of a Wendy house came from the world-famous children's story, Peter Pan. 
The magical story involves Wendy Darling becoming injured and in order to keep her safe, Peter Pan and the Lost Boys build her a small house to stay in whilst she recovers. 
What is a Wendy house used for?
A Wendy house is used for playtime. It's great for children of all ages as it encourages the imagination, allowing your children to play and create their own space to enjoy. 
Asking your children how they'd like their playhouse themed is a great place to start. Another great part of having a wooden playhouse is you are easily able to change the theme as your kids grow, e.g. by simply mixing up the colours and changing the inside. 
Photo by Chris Cooper on Unsplash
What should I put in my Wendy house? 
There are so many amazing ideas of what to put in your Wendy house, and with so many amazing Pinterest boards full to the brim with ideas, you'll be inspired in no time. 
If you are struggling to get started, here are some awesome decor ideas to include which your child will love:
Mini chairs and tables

Blankets and pillows 

Books and board games 

Posters and signage 

Garden tools 

A play kitchen 

Desk for homework 
Will I need planning permission for my Wendy house? 
It is unlikely you will require planning permission for your Wendy house in the UK. However, if you are building a tall playhouse it's best to mention this to your neighbours if it may obstruct their view in any way. 
What type of Wendy house should I build?
With so many different Wendy houses to choose from, deciding what to make one out of can be a difficult decision. The two main types of playhouses are made from wood or plastic. 
If you're looking to create a playhouse which will last for years to come, wood is ideal for this. However, wood can require a lot more maintenance and time to build. 
For a quicker build which is easier to move, plastic is a great option. However, both materials have pros and cons, so taking the time to consider what the needs of your playhouse are is a great place to start. 
The benefits a wooden playhouse
Wood is a great material option for making a playhouse. Here are the pros of using wood:
Durable 

Customisable  

Weather-resistant 

Long-lasting

Available variety of designs, sizes and styles
With wood there are a few downsides too, though, such as it requiring regular maintenance.
The benefits of a plastic playhouse 
Alternatively, plastic playhouses work well, especially for younger kids. They are easy to keep clean, simpler to put together and easy to move. 
However, plastic playhouses fade a lot quicker than wooden ones. They can also crack a lot easier when exposed to weather conditions such as heat and wind. 
Where should I put my Wendy House?
If you've decided to build a Wendy house, the next thing to consider is where to put it. If you plan on purchasing a Wendy house you may not have considered these important factors when choosing a site for your playhouse:
Pick a site that is level and firm, ideally on concentrate 

If you are putting it on grass, make it raised from the floor

Place in a location where it is easy to access all sides to allow cleaning 

Away from overhanging trees, due to the possibility of branches falling

Make sure there is enough space for your

playhouse

Be sure to choose a location that is easy to see from the house in order to be able to keep an eye on your children.

Pick a spot that doesn't flood easily
How to build a Wendy house?
Now you've found the perfect location for your Wendy house, we've created a guide below on how to build a wooden wendy house. This includes the materials required, tools needed and of course, how to build your wooden wendy house.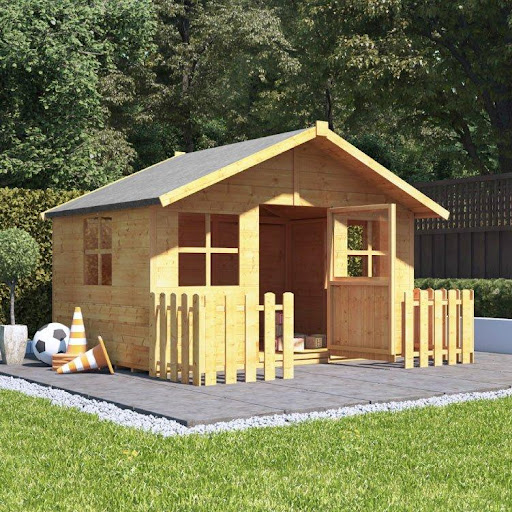 Image Credit: Garden Buildings Direct Playhouse
How much does a Wendy house cost? 
The price of a Wendy house can vary, with plastic playhouses costing considerably less than wooden ones. 
If you are looking to purchase a wooden Wendy house, prices for these tend to start around £400-500. 
Alternatively, if you're looking at building your own from scratch, these can work out cheaper. However, factoring in the cost of materials is something to consider before you get started. 
Choosing a base
Once you've decided where you'll put your playhouse, it's time to consider what to put it on. You may already have a location suitable in your garden for your wendy house. If you have a paved space already, you can get straight on to the building part. 
Putting a wooden playhouse straight onto grass will not create a sturdy base and is more likely to collapse. 
Another base material to avoid is gravel, placing it on gravel can make it less sturdy. But using a gravel-filled base can rectify this.
If you're unsure of what to put your Wendy house on, here are some ideal materials to use:
Paving

is a great choice for building a playhouse and ideal for creating a new and improved garden space

Concrete

if you are looking to place your Wendy house on to grass, creating a concrete base first provides security but also longevity

Wooden decking

is perfect for building your playhouse onto, however, making sure the wooden decking is bigger than the playhouse is a must. 
Build your own from scratch or buy a flatpack? 
When choosing your Wendy house, it's important to consider whether you want to build your own from scratch or if you want to go from a flatpack. 
Garden Buildings Direct have a wide variety of choices. Whether you're looking for a simple playhouse or something much more extravagant. 
If you are looking to create your playhouse from scratch, we'd recommend following a plan, as this will provide you with the measurements, and an image of how you'd expect your build to look once finished.
For building a playhouse you will require materials for the:  
Frame

Walls 

Floor Boards

Roof 

Trusses 
Tools required to build a Wendy house from scratch 
When building a Wendy house you will require a range of tools. Below, we've compiled a list of the tools you'll need during this building project:
A circular saw 

Electric drill

Spirit level 

Framing square

Hammer

Utility knife 

Tape measure 
What do I need to build my flatpack Wendy house?
If you are purchasing a flatpack Wendy house, you will require a lot less equipment as the pieces are already cut to size. However, you will still require some tools. Here's a list of the tools you will need when building a flatpack Wendy house:
An electric drill 

Hammer

Knife or cutting tool  

Pencil 

Spirit level 

Step ladder 
How to build a Wendy house?
When building a Wendy house it's important to consider the number of people required to do so – it's recommended at least 2 people are involved. 
Once you've got your tools ready, a base set up and you're ready to get going with the structure, here's how to get your playhouse assembled with ease: 
To start, make sure you have all of the bits and pieces laid out in front of you alongside your tools. Separate the screws into individual piles to make it easier to follow each step. 

Before starting the assembly, be sure to predrill any holes which are required to put together the playhouse. 

Attach the panels together with the gable apex, then it's time to put the structure together. 

Next, attach the rear panels together using screws. Repeat this step with both side panels attaching them to each other before connecting them to the base. 

Place the front door gable in place between the two front window panels. Fix the panels on either side of the door gable by screwing them together. Once this step is complete the structure of your playhouse should be screwed together. 

Next, you need to put the roofing on your playhouse frame. You will need to line up the roofing panels along the gable. 

Once your roof panels are in place, next move on to the roofing material. This is done via nailing the roofing onto the top of the panels. When doing this make sure there is an overhang, so you can fold this over. 

Insert the premade door, and attach it to the hinges. Make sure to put this so the door comes outwards rather than in as it will take up play space. 

Finally, install the windows, and the build of your Wendy house is complete. 
Although you've finished building, decorating is just as important. 
What is a Wendy House called around the world?
Depending on where you are from, you may not have heard of a Wendy house. In countries such as America and Canada, a Wendy house is called a Playhouse. 
The term Wendy house is used in other parts of the world such as South Africa, however, their version of a Wendy house is different. 
Whether you're building your first playhouse or giving yours a revamp, we hope you have found this post helpful. 
For further inspiration on Wendy houses, check out what one of our customers, Daniel did with his Lollipop Max playhouse .