In recent years, steel garden buildings have surged in popularity. These structures inherit the strength of steel with the artistry of outdoor design. They merge functionality with elegance, making them an attractive choice for modern gardens.
What's more, metal garden rooms aren't for storage solutions alone. Thanks to their versatility and exquisite design, one could be your dream retreat! Read on to unlock the potential of your outdoor space with steel garden buildings.
Embrace the Power of Steel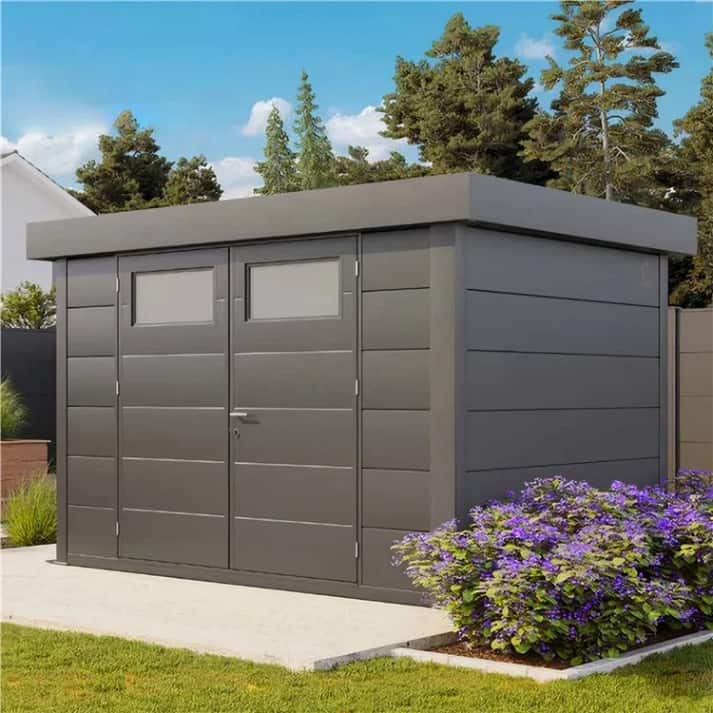 Steel garden buildings are outdoor structures made primarily of steel. They share the same purpose as other types of garden rooms: to provide additional space. Depending on your needs, it can serve as a storage, workshop, or leisure oasis.
Steel frame garden rooms offer unparalleled durability and longevity. Constructed with sturdy steel frames, they are built to withstand adverse weather conditions. This robustness ensures the structure remains intact and functional year-round.
Moreover, steel-made outdoor buildings are low maintenance. They won't rot, warp, or succumb to termites, eliminating the need for frequent upkeep. This convenience appeals to homeowners seeking hassle-free solutions for their outdoor spaces.
Their versatility is another asset which has also contributed to their increased demand. They can be customised to suit individual preferences and garden aesthetics. With a range of sizes, styles, and optional features, you can find the perfect unit that suits your needs.
Architectural details also play a crucial role in steel garden buildings' aesthetics. While the steel frame provides a strong foundation, it can be adorned to create a unique look. These details may include:
decorative trims

ornate window frames

intricate scrollwork

architectural motifs
By incorporating such features, they can showcase a touch of elegance and individuality. This sets them apart from standard garden buildings made from other materials.
Another key advantage is the range of colours, finishes, and architectural details available. From classic neutral tones like white, grey, and black to bolder shades like red, green, or blue. Additionally, finishes such as matte, gloss, or textured coatings can also be applied. Such visual appeal enhancers give off depth and character to the structure.
Introducing the Telluria Range
The Telluria range perfectly exemplifies the rise of modern steel garden buildings. Designed to enhance outdoor living spaces, Telluria stands out as an exceptional choice.
Crafted from premium-grade steel, the range ensures exceptional durability and longevity. With various sizes and configurations, it accommodates different garden space requirements.
In addition to their strength, the models also prioritise functionality. Whether you envision a tranquil home office or a hobby room, the blank canvas is all yours to play with.
To showcase the blend of strength and style in the Telluria range, browse through the units below: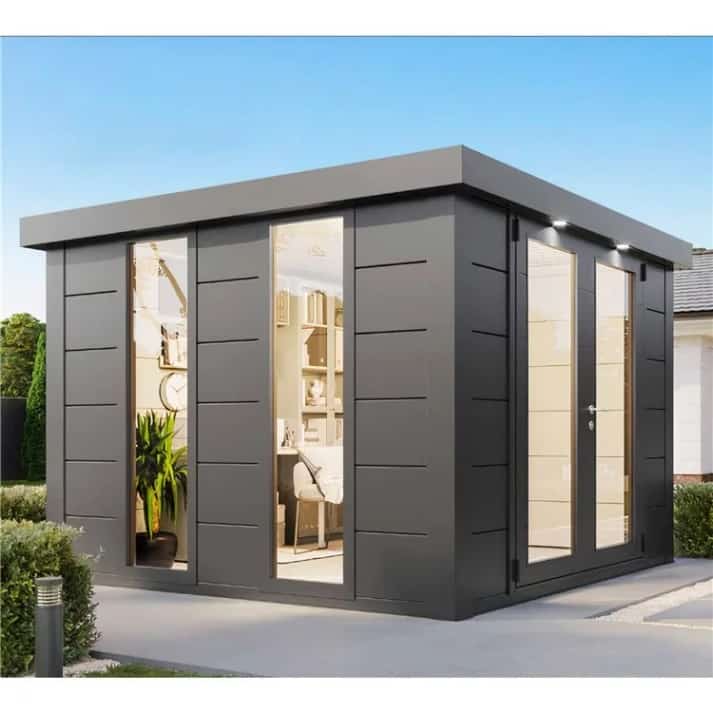 The Luminato Steel Garden Room is not just practical but stylish too. The sleek graphite grey finish contributed to its modern silhouette.
The pre-insulated roof and in-built ventilation ensure a comfortable interior for year-round use. And thanks to the floor-to-ceiling windows, it provides an airy and bright space.
Made from weather-resistant and maintenance-free steel panels designed to last for years. This unit also comes with a 20-year warranty provided by the manufacturer, Telluria.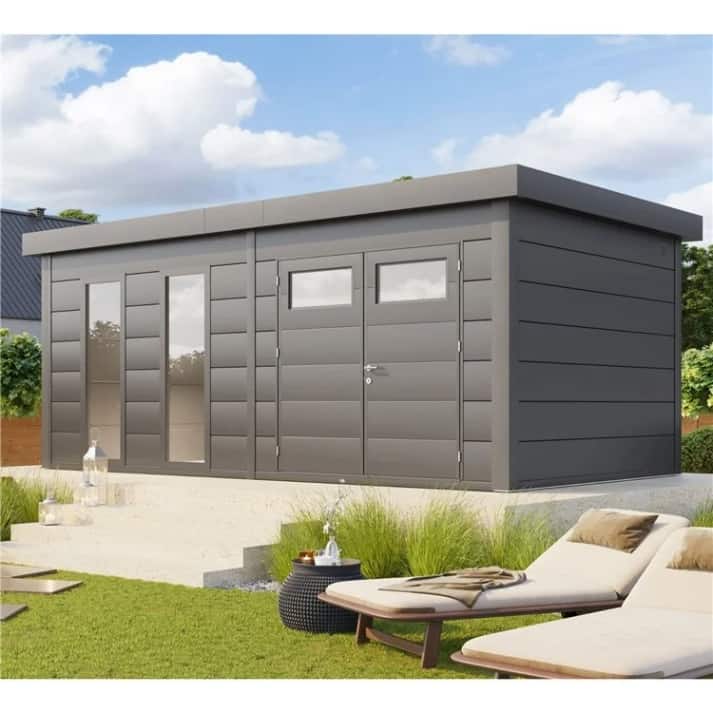 The Premier provides a unique blend of a storage shed and garden building and has a variety of uses! It's also easily accessible through its double doors with inset windows. Made from attractive and robust steel, which effortlessly stands up to the elements.
The steel exterior is one-of-a-kind, with fire, wind, and UV-resistant qualities. This means it can repel even the most determined of intruders. Plus, the cylinder security lock keeps the interior safe and sound.
With a huge interior space, this unit is suitable for all kinds of uses – or many at once. Create a workspace or divide the area and add a location to store your tools or furniture.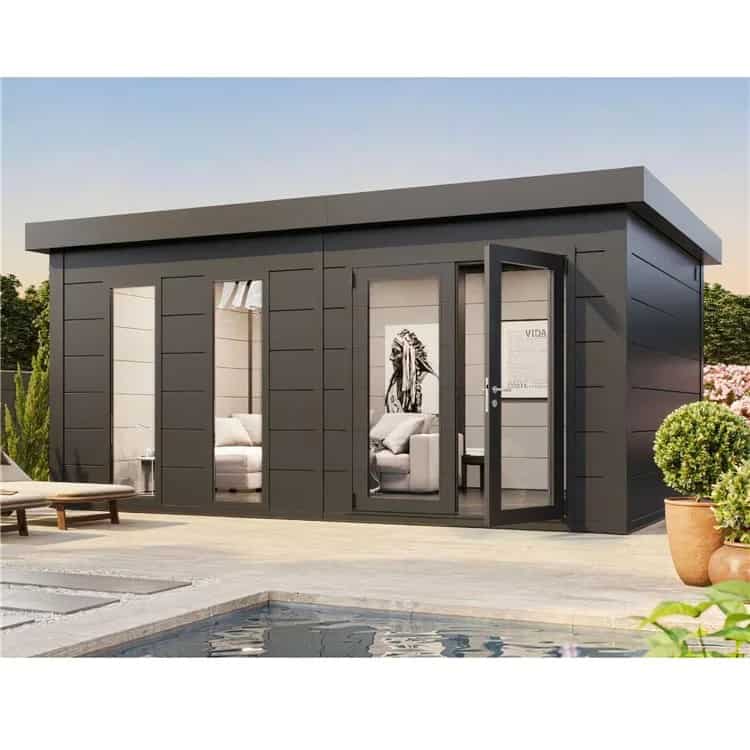 Ever fancied a whole extra room to give your life an extra bit of space? The Luminato Premier pushes out those boundaries! It's a roomy, versatile space with a sleek graphite exterior that looks fancier!
If you're looking for a windowless option for storage use, look no further than this steel shed! Here, we present to you the Telluria Eleganto Heavy Duty Steel Shed.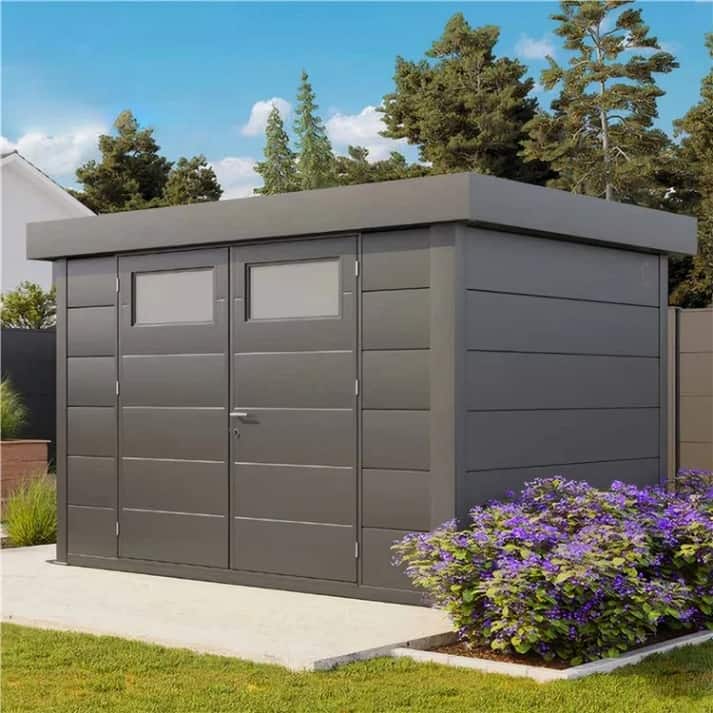 Get the best of modern garden storage with this one! Built from robust and weather-resistant steel and fashioned into a contemporary design. The Eleganto provides secure and practical storage, all in a super-sleek design. Insulated roof included as standard, available in three different sizes.
With the Telluria range, you can transform your garden into a captivating haven that strikes the perfect balance between strength and style!
How to Choose the Right Steel Garden Building
Before making a purchase, make sure to consider your specific requirements and preferences. Here are some practical tips and considerations to keep in mind:
Determine the purpose.

Start by clarifying the intended use of your steel garden building. Will it be used for storage, as a workshop, home office, or recreational space?

Assess the size.

Evaluate the available space in your garden and the dimensions of the unit that would best fit. Think about how much floor area and height you need to accommodate your intended use.

Additional features.

These can be windows for natural light or insulation for year-round use. Such features can enhance the functionality and convenience of your metal garden room.

Consider location.

Assess where you plan to install the steel garden building. Consider factors such as accessibility, visibility, and proximity to utilities (if required). Ensure that the chosen spot provides a suitable foundation and proper drainage.

Legal and planning requirements.

Check if there are any permits, building codes, or restrictions you need to adhere to. It's crucial to ensure compliance with local regulations to avoid any future issues.
Take your time and explore different options – the Telluria range is a great starting point!
Round-up
Steel garden buildings truly embody the perfect blend of strength and style. With their robust steel frames and durable construction, they offer longevity and resilience. Their sleek designs also allow for seamless integration into any garden aesthetic. Unlock the potential of your outdoor space and create a stylish oasis with Telluria!