Storage sheds have become increasingly popular in the UK. While wood sheds have the upper hand, metal shed models have emerged as a top contender.
In this guide, we'll highlight the main advantages of purchasing a metal building for your garden. Read on, so you can save valuable time and money when searching for the perfect storage solution!
1. More affordable for the budget-conscious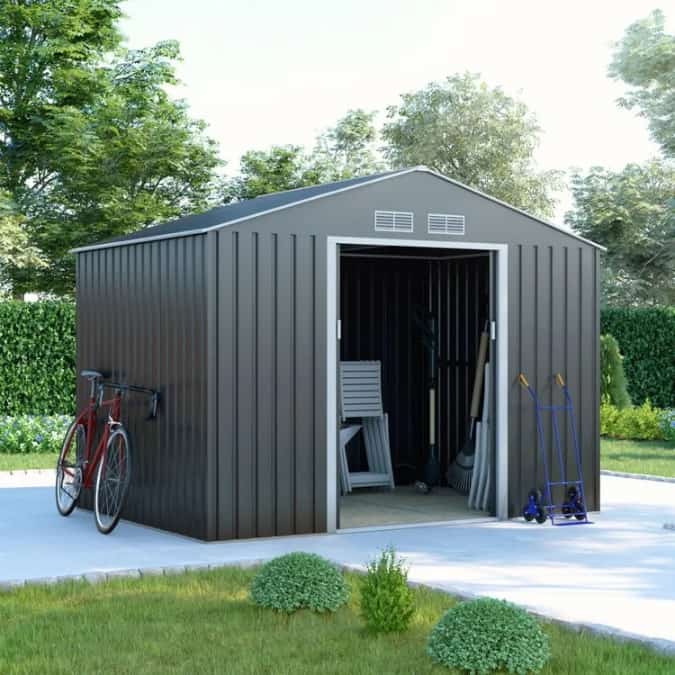 Metal sheds offer a cost-effective storage solution for those who are budget-conscious. Compared to wooden sheds, metal sheds are often more affordable. This means you can get a larger storage unit for the same price as a smaller wooden shed. You can never go wrong with this type if you need ample storage but don't want to break the bank.
Metal sheds are also known for their durability and low maintenance requirements. They won't rot or warp, unlike timber, and they're more robust than plastic ones. What's more, they're easy to clean and maintain, making them a practical choice for busy homeowners.
2. Lighter to carry and move around
The lightweight construction of metal sheds allows for easy transport. Their trivial packaging can easily be carried and fit through a standard door opening. Furthermore, most suppliers provide flat-packed metal sheds. This lets you move the unit around even in a cramped garden without the help of a pro.
If you decide to change the layout of your yard or want to move the unit to a new location, there shouldn't be a problem. This flexibility and ease of movement add up to the overall great qualities of metal sheds.
3. No-sweat assembly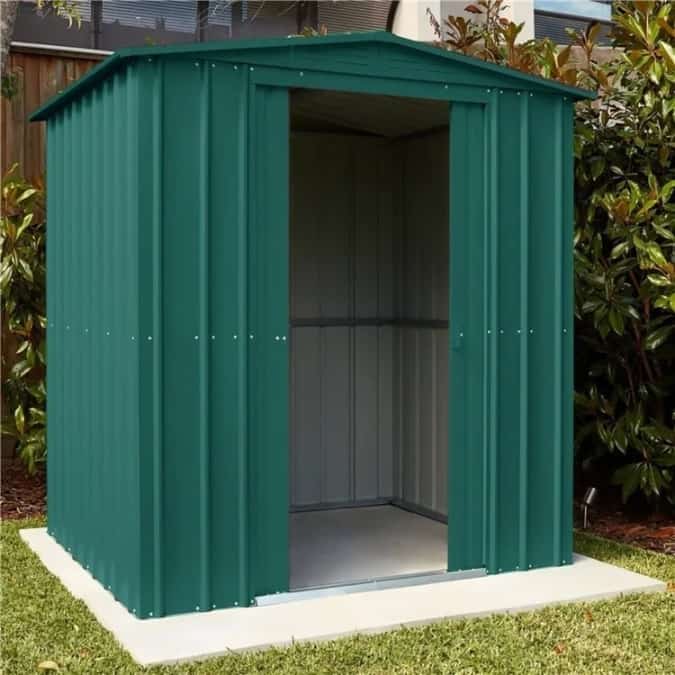 Because of the lightweight material, a metal shed is much easier to put together. You don't need an experienced builder or handyman to assemble one. All you need is some basic tools and the instructional leaflet that comes with the package.
Most metal sheds also come with the necessary equipment and fixtures needed for assembly. You don't have to lift a hand for additional preparation or open your wallet for extra costs. You can have your shed up and running in no time, with minimal hassle and stress.
4. Unmatched durability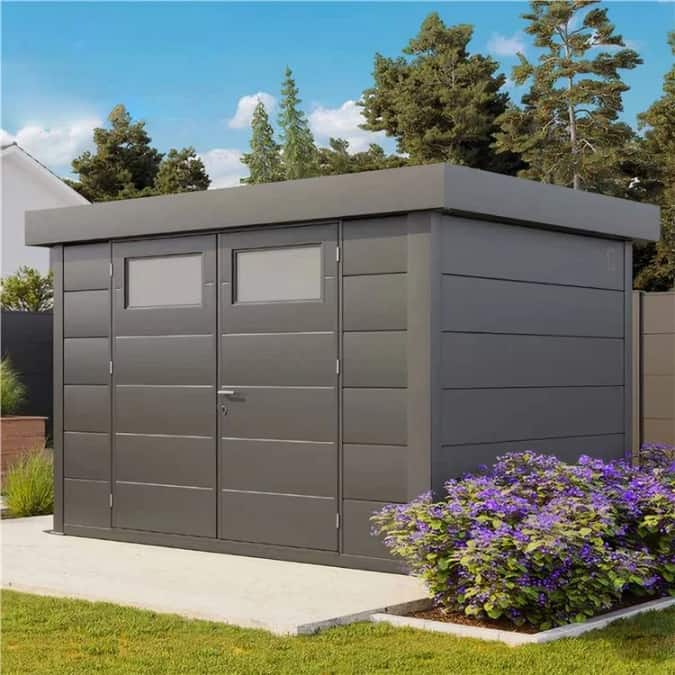 Despite being lightweight, metal sheds are incredibly solid. They can provide long-lasting protection for your storage items. The material also tends to be more resistant to the elements than wood or plastic.
Worried about rust and corrosion? Painting with weather-resistant paints or finishes solves the issue! With regular upkeep, you can enjoy your for years without the need for major repairs.
5. Comes with a longer warranty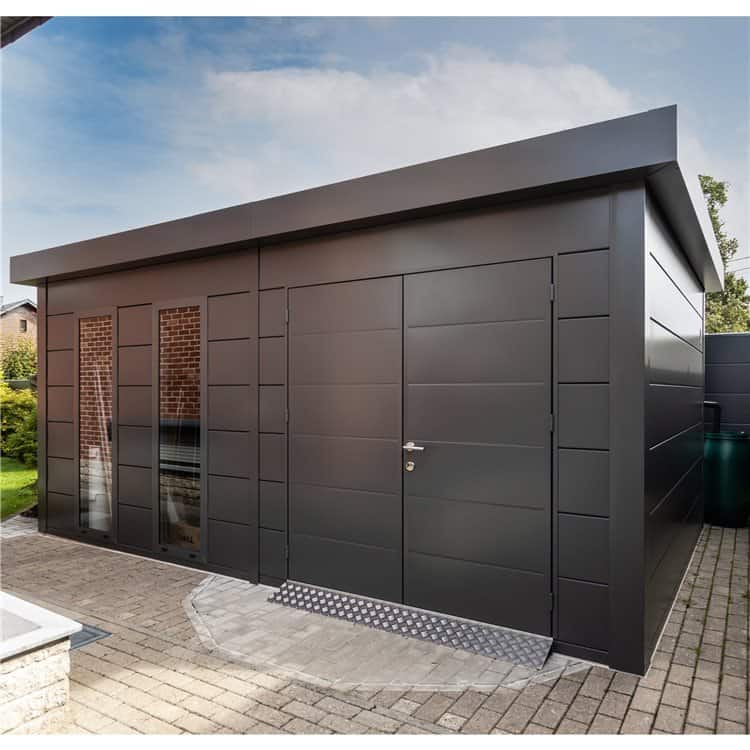 The robustness allows manufacturers to offer consumers peace of mind in their purchases. In the UK, it's common to find metal sheds that come with warranties ranging from ten to twenty years. Garden Buildings Direct is a great example.
This extended warranty is a testament to the quality and durability of metal sheds. It's also an added benefit to save you money in the long run!
6. Maintenance-free
Metal sheds require minimal upkeep. The galvanised layer of zinc provides an effective barrier against the elements. This helps prevent rust and corrosion from taking hold. As a result, the unit will maintain its appearance and structural integrity over time.
The only required maintenance is an occasional hosing down to get rid of built-up dirt or debris. Every five years or so, it's recommended to repaint the shed to keep it looking pristine.
7. No foundation is needed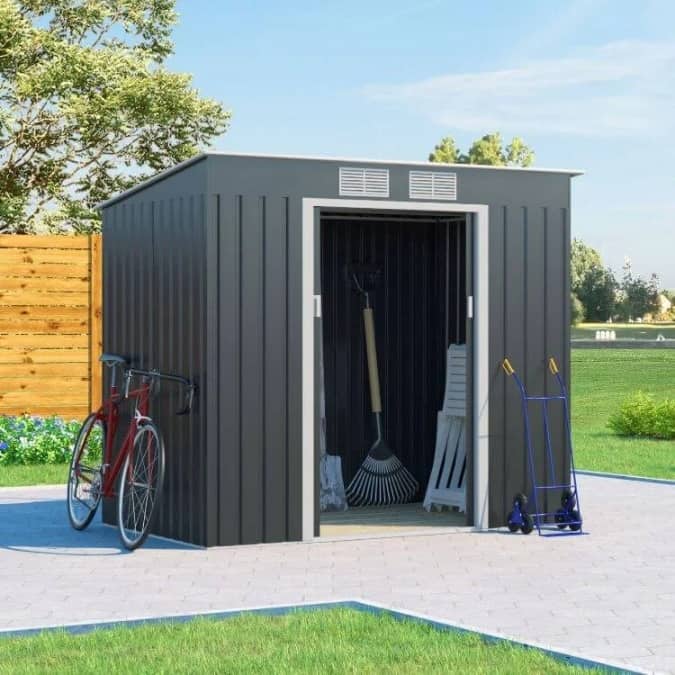 It turns out that metal sheds don't necessarily require a foundation. This not only saves you money but also time and effort. Building one can be a tedious and expensive process, often requiring professional help.
You can place the unit on any flat surface, making installation much easier. All you need to do is find a level spot in your yard and assemble the shed on top of it. It's that simple!
Note: Some larger steel sheds may require a foundation to provide additional support.
8. If you need foundation, a metal base saves the day
As mentioned, larger models may need a more stable base for support. In such cases, choosing a metal shed with a metal base is a wise decision. The metal base often comes with fixings to attach the structure to the foundation.
This is particularly useful in areas prone to high winds. For one, lighter garden buildings can be susceptible to lifting off the ground.
By anchoring your metal shed to a concrete foundation, you won't have to worry about it getting swept away in a storm. Plus, a metal base can also provide additional support and stability to your shed.
9. Fire-hazard free
Metal sheds are a safe option for homeowners concerned about fire hazards. They have excellent fire-retardant properties and do not easily melt or catch fire. This is because metals have a much higher melting point, making them resistant to heat and flames.
Moreover, metal sheds are less likely to become a fire hazard in the first place. For one reason, they don't have the same flammable properties as wood. This makes them a much safer alternative in areas prone to wildfires or other types of fires.
With one, you can keep your belongings safe without worrying about the risk of fire damage.
10. In-built ventilation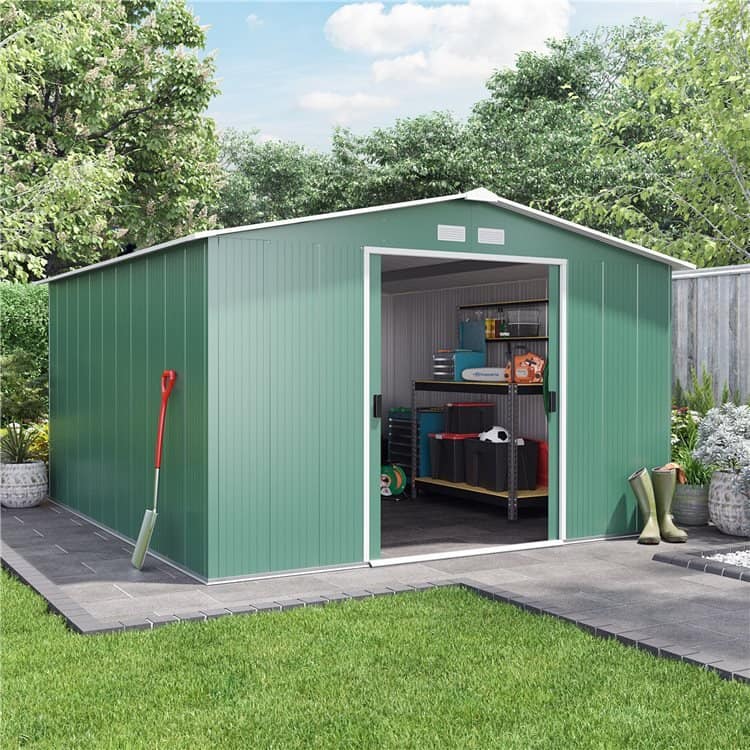 To add to the point, proper ventilation in metal sheds also helps to prevent the growth of mould and mildew. If overlooked, these issues can be harmful to both the shed and the items stored inside.
Active ventilation systems, e.g. fans or vents, are notably useful in areas with high humidity. As well as where the shed is being used for activities that produce moisture. This includes drying clothes or storing damp gardening tools.
Additionally, good air circulation can also help to keep the shed cooler in hot weather. If you use it as a workshop or an office, this ensures a more comfortable place for you to work in.
11. Provides better security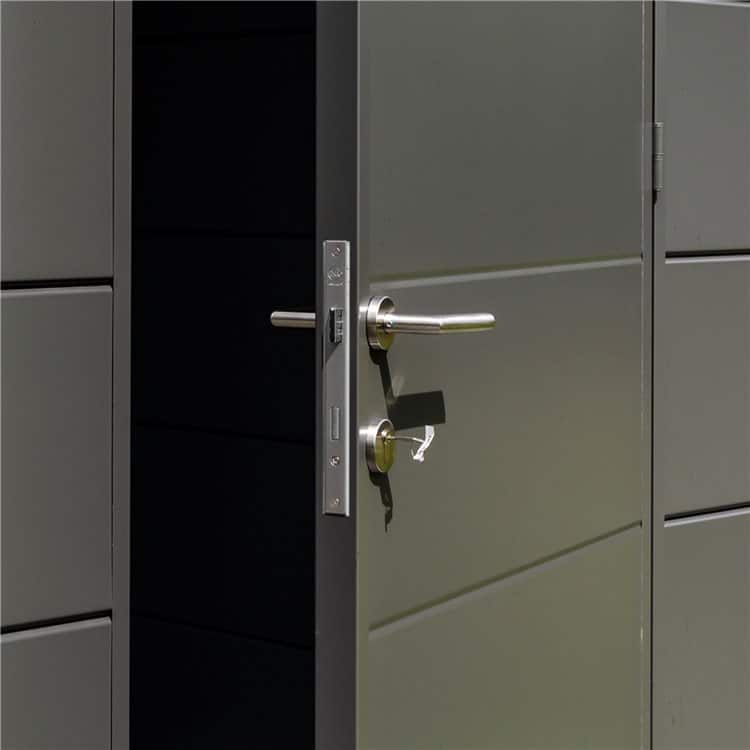 One of the biggest concerns for anyone owning a garden building is security. Fortunately, steel sheds offer better protection against potential break-ins than other materials. Most units come with reinforced hinges, which makes it much harder for a thief to force their way inside.
Moreover, the doors and walls of metal sheds are thicker and more robust than those made of wood or plastic. The thicker the steel, the more difficult it is to break into the shed.
12. Easy makeover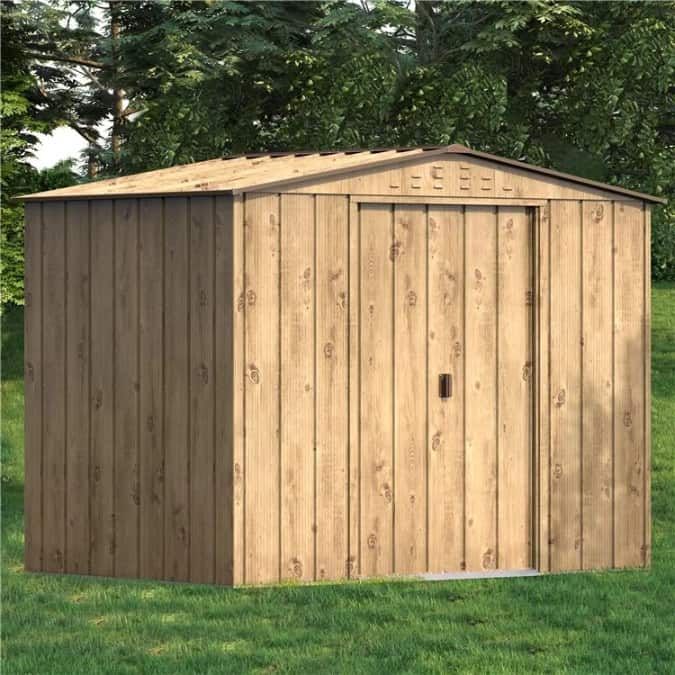 If you purchase a metal shed online, you may have the option to select a colour scheme. For your existing one that needs an uplift, you can paint it easily with any colour of your choice.
Paint coatings tend to be far more durable on metals than wood. Steel units only need to be treated and repainted every five years or so. You can save both time and money in the long run.
Environmentally Friendly Option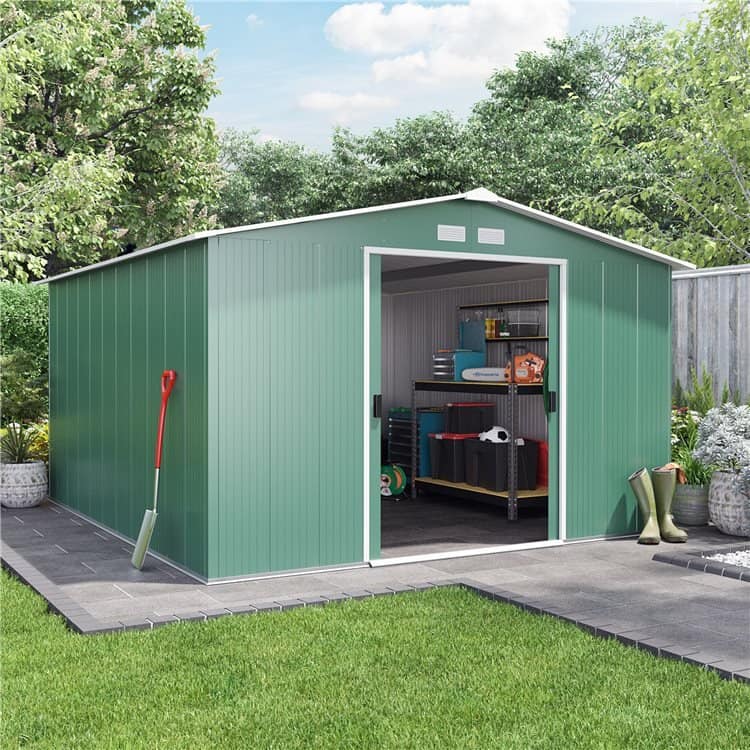 Metal garden sheds can be a smart choice for those looking to reduce their carbon footprint. Here are a few reasons why they make an environmentally friendly option:
Recyclability
Metal sheds are typically made from materials like steel and aluminium. Both of these are highly recyclable; a great example is the BillyOh Partner Apex Metal Shed.
When a metal outside storage reaches the end of its lifespan, it can be recycled and repurposed. This, in turn, reduces the need for new raw materials.
Energy efficiency
Manufacturing metal sheds are often more energy-efficient than wooden sheds or plastic sheds. This results in a lower overall environmental impact.
Reduced wood usage
Opting for a metal shed helps reduce the demand for wood. And this can be a crucial step in conserving forests and protecting natural habitats. It's a more sustainable choice for those concerned about deforestation.
Longevity
Metal sheds have a longer lifespan due to their durability. This means they won't need to be replaced as frequently as sheds made from other materials. This longevity contributes to a more sustainable lifestyle by reducing waste.
Reduced chemical usage
Building and maintaining a metal shed often involves fewer chemicals, paints, and treatments. This means fewer potentially harmful substances are released into the environment.
By choosing a metal shed, you're not only making a practical choice for your storage needs. You're also a responsible choice for the planet. You can minimise your environmental impact while enjoying the benefits it offers.
Round-up
Metal sheds provide excellent value for your money, packed with fantastic advantages. Whether you're looking for a small unit for storage or a larger one for work, they're a reliable and practical choice!
Explore Garden Buildings Direct for a range of metal sheds for sale. You also wouldn't want to miss out on our metal-made insulated garden rooms.
Next on your reading list: Your Guide to Telluria Garden Buildings