Wooden garden storage solutions have an enduring appeal that transcends trends and time. But beyond their aesthetic allure, they offer a world of functionality and versatility. From practical organisation to creative displays, the possibilities are endless.
In this blog, we'll uncover the many treasures that can find their new home within these structures. Read on to discover what you can keep in wooden storage!
Maximising Storage with Wooden Solutions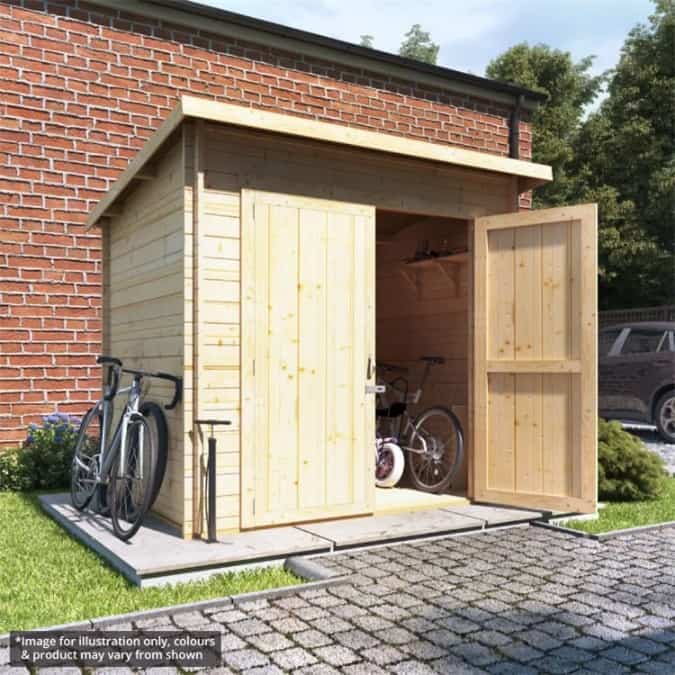 Wooden storage is designed to store and organise various items in an outdoor setting. These storage units offer several key benefits to homeowners.
First, they provide dedicated space for tools, equipment, and other items, preventing clutter. This helps the garden or backyard area be tidy and organised. Additionally, they protect valuable belongings from the elements, prolonging their lifespan.
Garden storage also enhances the overall aesthetic of the garden. For one, it can seamlessly blend with the natural surroundings, adding a touch of charm.
Overall, wooden garden storage serves as a practical and visually pleasing solution. It allows homeowners to maximise their outdoor space while keeping their belongings:
safe

organised

easily accessible
But there's more! Wooden storage solutions can house a variety of items, which are highlighted below:
1. Gardening tools and equipment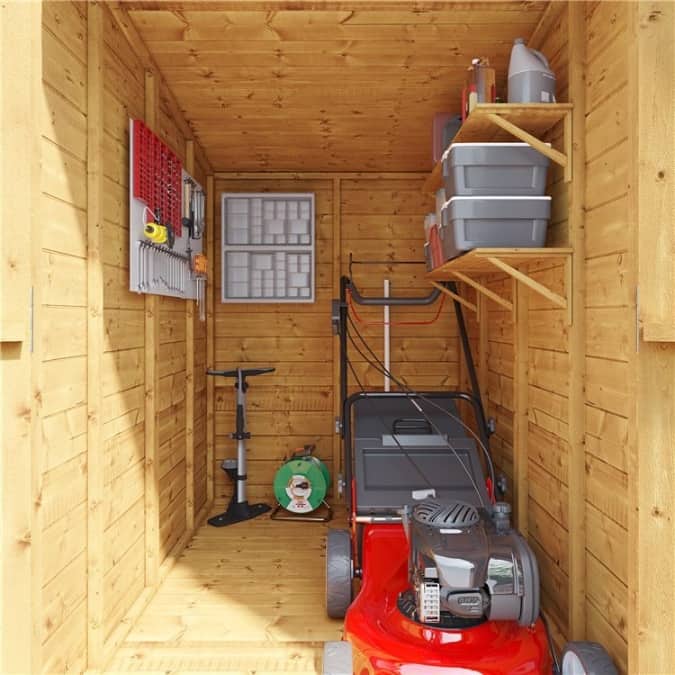 Wooden storage units shield your gardening tools from harsh outdoor elements. This helps prevent rusting or damage to your equipment. Designating specific spaces for them within the unit also keeps everything organised. What's more, they are easily accessible whenever you need them.
Some common gardening tools that can be stored inside include:
Shovels

Rakes

Pruning shears

Hoes

Garden gloves

Trowels

Watering cans

Wheelbarrows

(if space allows)
Top tip: To optimise organisation, utilise shelves and incorporate hooks or pegboards.
2. Outdoor furniture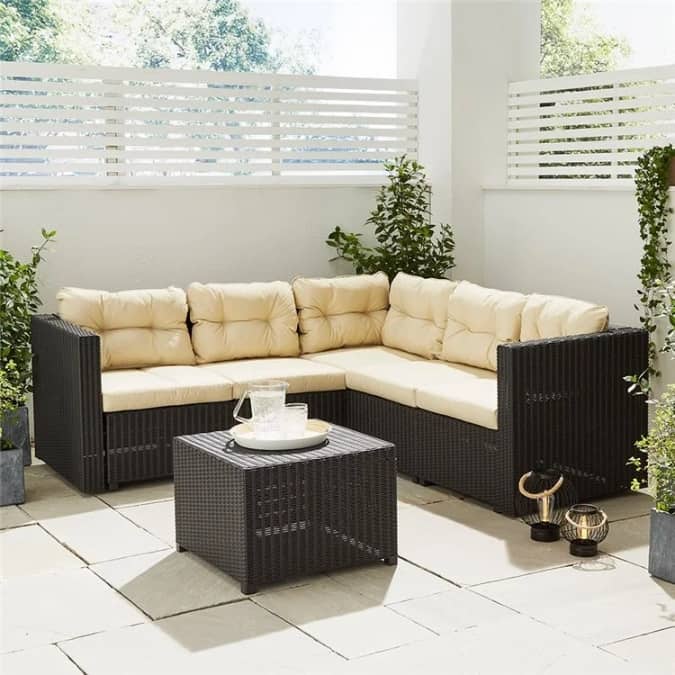 Garden furniture faces too much outdoor exposure. Although designed to withstand such conditions, they can't dodge the consequences. These can include fading, moisture damage, and mould growth. This is where wooden storage units come in!
Storing your sets inside, especially when not in use, encourages longevity. Minimising their risk to harsh elements means reducing wear and tear.
Investing in furniture covers also works wonders! Weather-resistant furniture covers, for one, offer added protection against dust, dirt, and moisture.
Note: Consider the size of your storage and plan fitly to optimise the available space.
3. BBQ and grilling accessories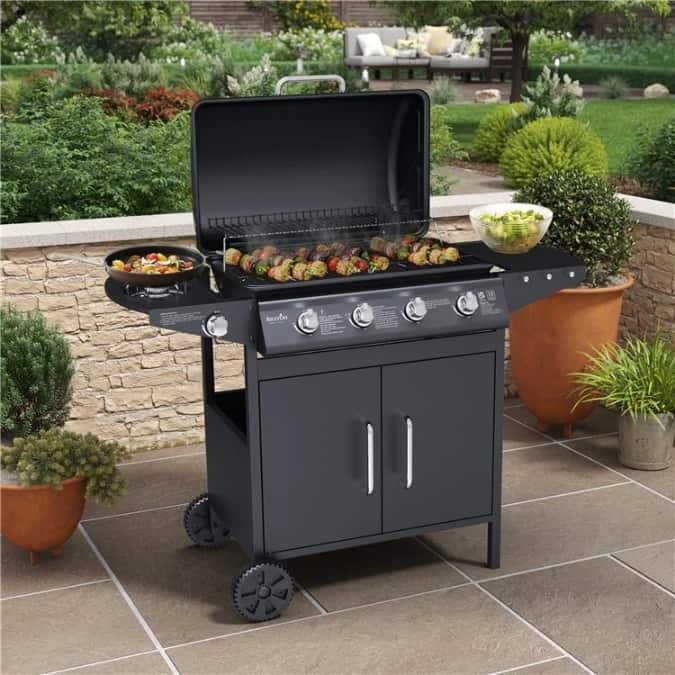 To ensure you always throw the best BBQ backyard bash, you'll want the main star sheltered and protected – a.k.a. your grill. Depending on the size of your storage unit, you can maximise the space by storing the accessories as well.
By utilising shelves, you can create an efficient and visually pleasing setup for the BBQ. This ensures the grill is protected and ready for your next outdoor cookouts!
4. Sports equipment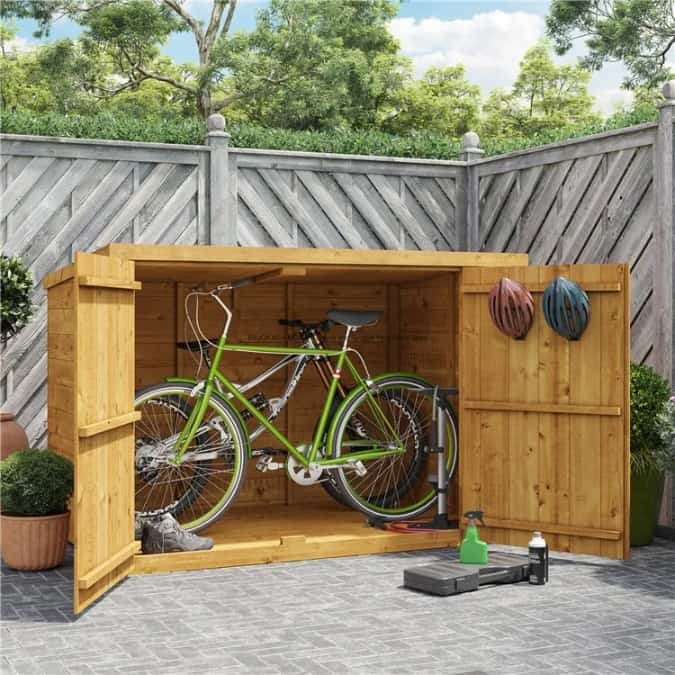 No more searching for misplaced soccer balls or bike helmets or dealing with clutter. The answer is here! Wooden storage units are sturdy and secure. They provide a reliable storage solution for your valuable sports equipment. This, in return, minimises the risk of theft or damage.
Examples of sports equipment that can be stored inside include:
Soccer balls, footballs, basketballs

Baseball or softball equipment: Bats, gloves, helmets

Tennis racquets and balls

Golf clubs and bags

Hockey sticks and pucks

Cycling helmets, knee pads, and other protective gear

Volleyballs, badminton racquets, and shuttlecocks
Top tip: Group similar sports equipment together, such as balls and bats or other gear. Allocate separate sections or containers for each category.
5. Potting soil and fertilisers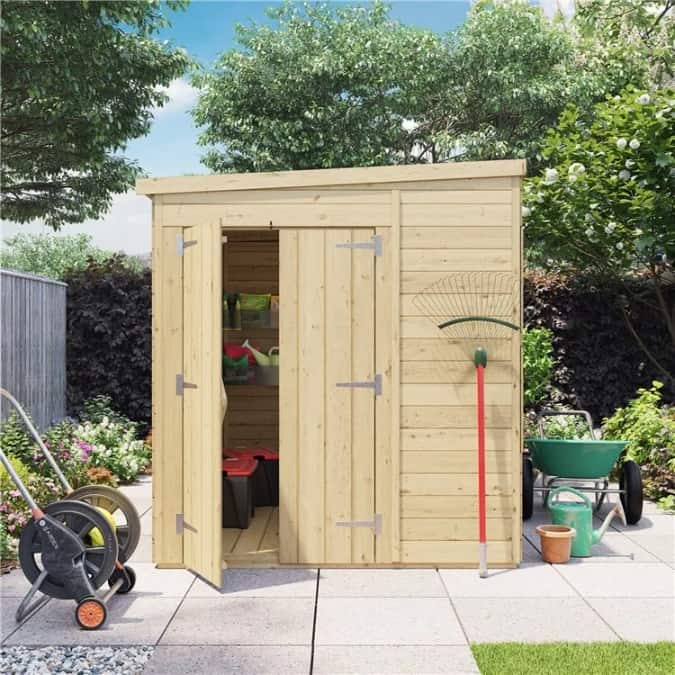 Keep your gardening supplies neatly organised and easily accessible. Storing potting soil and fertilisers can keep them dry and in optimal condition. This can also help deter pests, such as rodents or insects, from accessing and damaging the items. The sturdy construction provides a barrier of protection against unwanted critters.
6. Outdoor toys
Tired of your children's toys taking over your patio, garden, or outdoor space? Free those areas from clutter with wooden storage! Besides organisation and weather protection, it can shield the toys from damage (and your kids will thank you for that!).
Moreover, it ensures they are easily accessible when the little ones want to play. This saves time and effort in searching for scattered toys. It could be their frisbees, a variety of balls, water guns, scooters, or their DIY cornhole.
With one, children can enjoy their playtime while maintaining a tidy outdoor space.
7. Seasonal decorations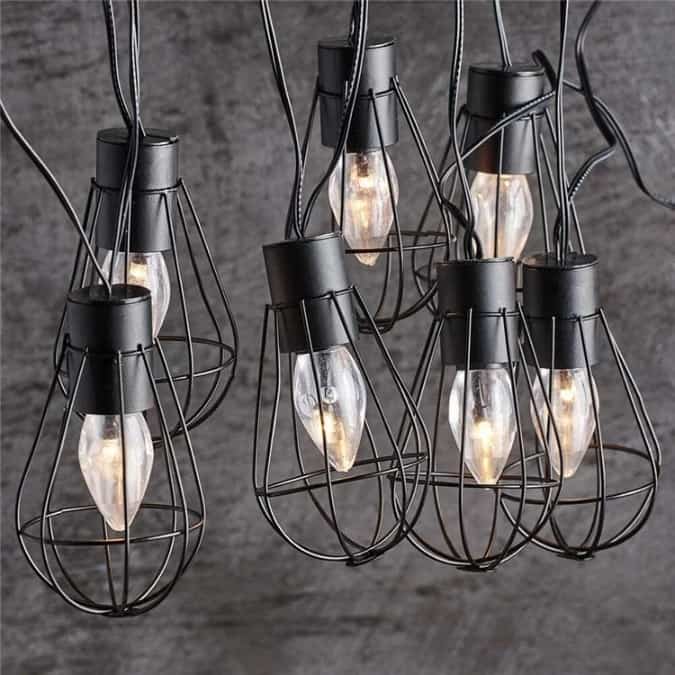 Seasonal decorations can maintain their quality and longevity when stored in one. The enclosed environment helps prevent fading, discolouration, or deterioration. It also shields from potential damage caused by moisture or extreme temperatures.
Even better, it frees up space in your home, attic, or garage. This allows you to use these areas more efficiently for other storage purposes.
Here's a list of seasonal items that can be stored in a wooden storage unit:
Holiday decorations:

Wreaths, ornaments,

lights

, garlands, tree toppers, and other festive decor.

Seasonal clothing:

Winter coats, boots, scarves, hats, gloves, summer dresses and swimwear.

Camping gear:

Tents, sleeping bags, camping chairs, lanterns, and other camping essentials.

Seasonal hobby or craft supplies:

Items like Halloween or Easter crafting materials.
8. Outdoor cleaning supplies
Storing helps to preserve the quality and effectiveness of the cleaning products. It also ensures easy access when you need them, reduces clutter, and imposes safety.
To effectively organise outdoor cleaning supplies, categories and separate. Use labelled containers for easy identification. Take advantage of the wall space and install shelves and hooks.
Examples of outdoor cleaning supplies that can be stored inside include:
Window and glass cleaners

All-purpose cleaners

Surface disinfectants

Outdoor brooms and brushes

Garden hoses and sprayers

Pressure washers

Leafblowers or vacuums

Outdoor stain removers or solvents
9. Miscellaneous items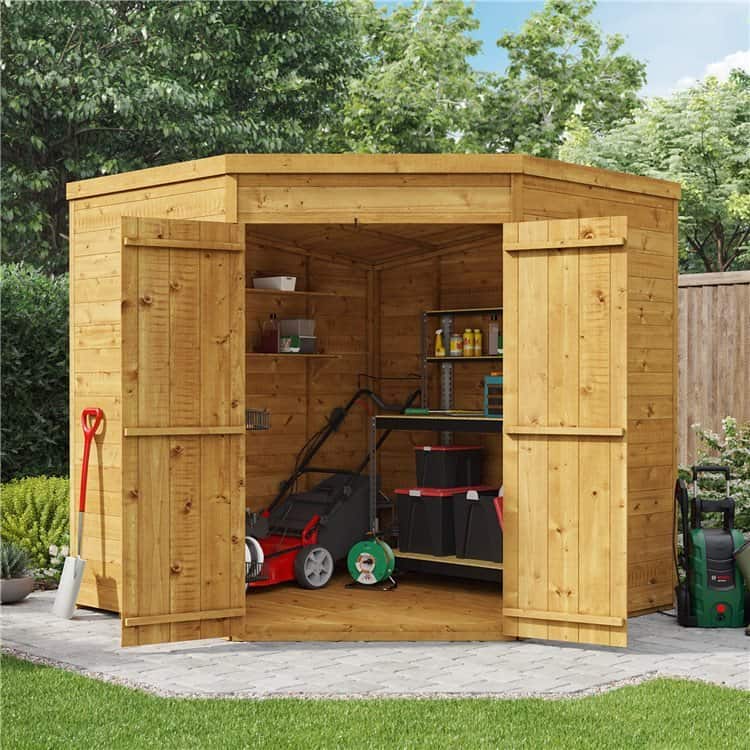 What misc items are we talking about?
Pet supplies:

Leashes, toys, or outdoor pet gear like dog coats or booties.

Picnic or camping supplies:

Blankets, portable grills, foldable chairs, or outdoor tableware.

Maintenance tools:

Extension cords, screwdrivers, hammers, or wrenches for outdoor repairs or maintenance.

Outdoor decor:

Lanterns, decorative pots, wind chimes, or bird feeders.
With wooden storage, you can keep these items protected and organised. You can keep them within reach while keeping your garden clutter-free and functional.
Round-up
Wooden storage units offer versatile and practical solutions for outdoor storage needs. Whether it's tools, furniture, or miscellaneous items, the benefits of using one are clear. Protecting items from the elements and keeping them organised, this functionality is invaluable.
Embrace the convenience and efficiency that it provides to keep your garden clutter-free!