When you know how to prune, you can keep your plants healthy. Pruning can involve various garden tools to get rid of certain plant parts. This may include the roots, buds and branches.
Whether you're a beginner or need a refresher, you'll find our guide helpful. Below is our experts' pick of garden pruning tool ideas and tips.
---
Tools
---
1. Pruning shears
Pruning shears are heavy-duty scissors specifically designed for cutting plant stems. They make clean and close cuts, ideal for pruning flowers, shrubs, and small trees.
As for the branches, those with diameters up to ¾ inch thick are suitable.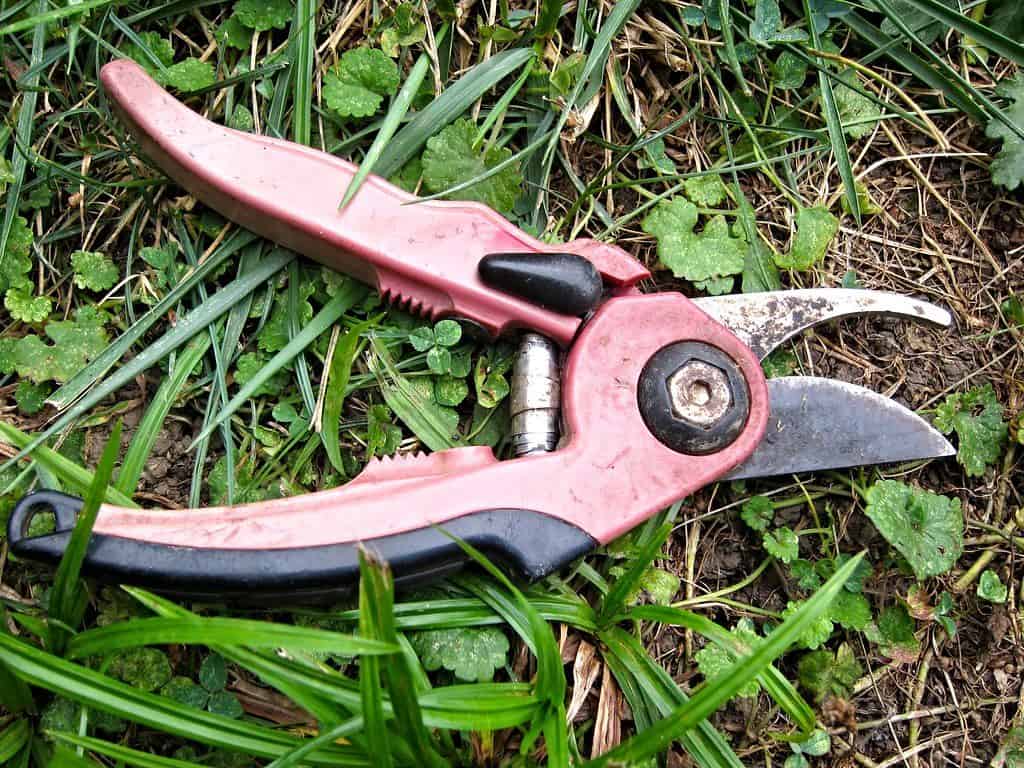 2. Bypass secateurs
Bypass pruners use two blades that glide past each other, allowing for a sharp, clean cut close to the stem or root. They're best suited for cutting living plant tissue.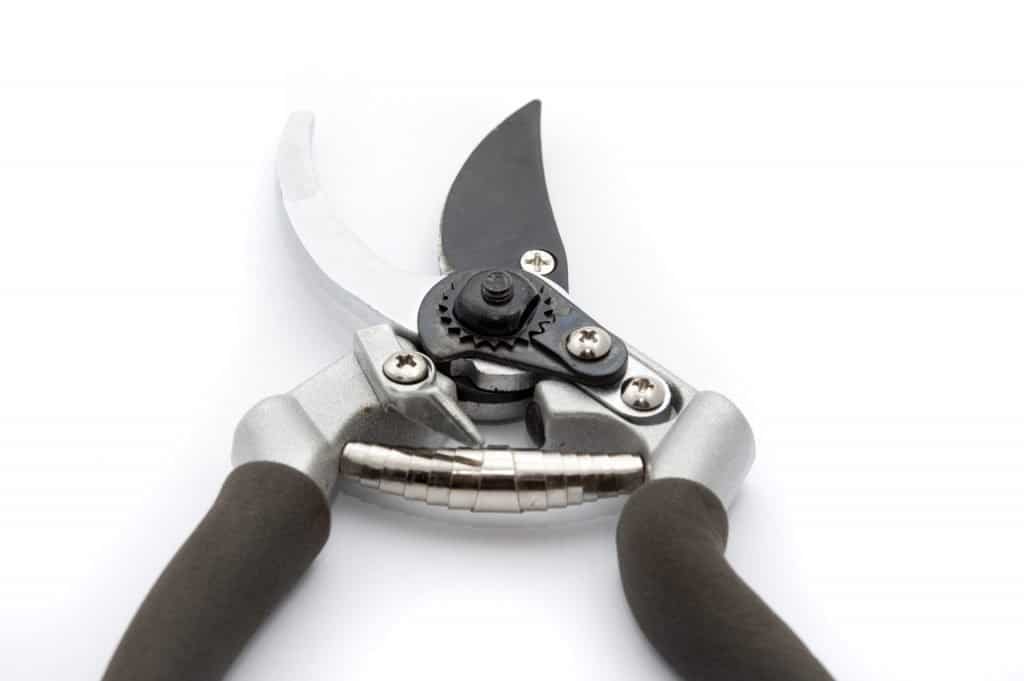 3. Anvil pruners
Anvil pruners trap branches and plants between their anvil-shaped metal and sharp blade. Unlike traditional pruning shears, they don't always deliver a smooth cut. Instead, they crush the branch between its sides.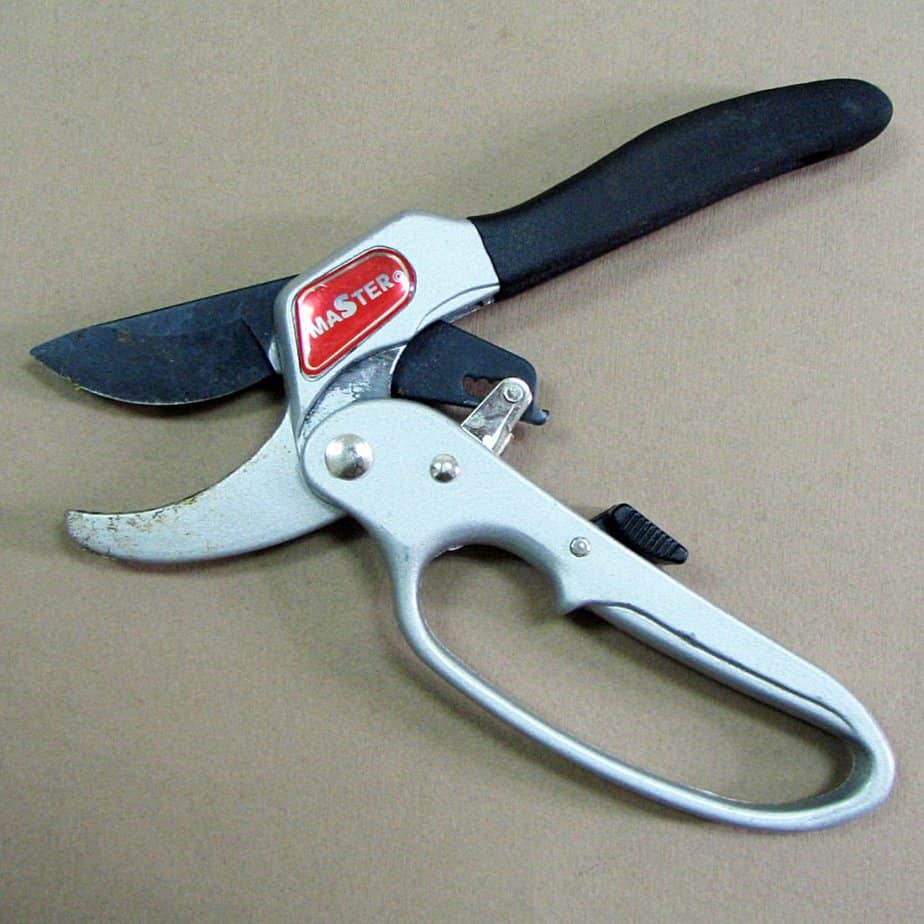 4. Hedge shears
Hedge shears are another tool that allow you to trim your hedges easily. These shears are like scissors but larger and designed for hedges.
Pruning the hedges will help encourage flowers or fruits to blossom.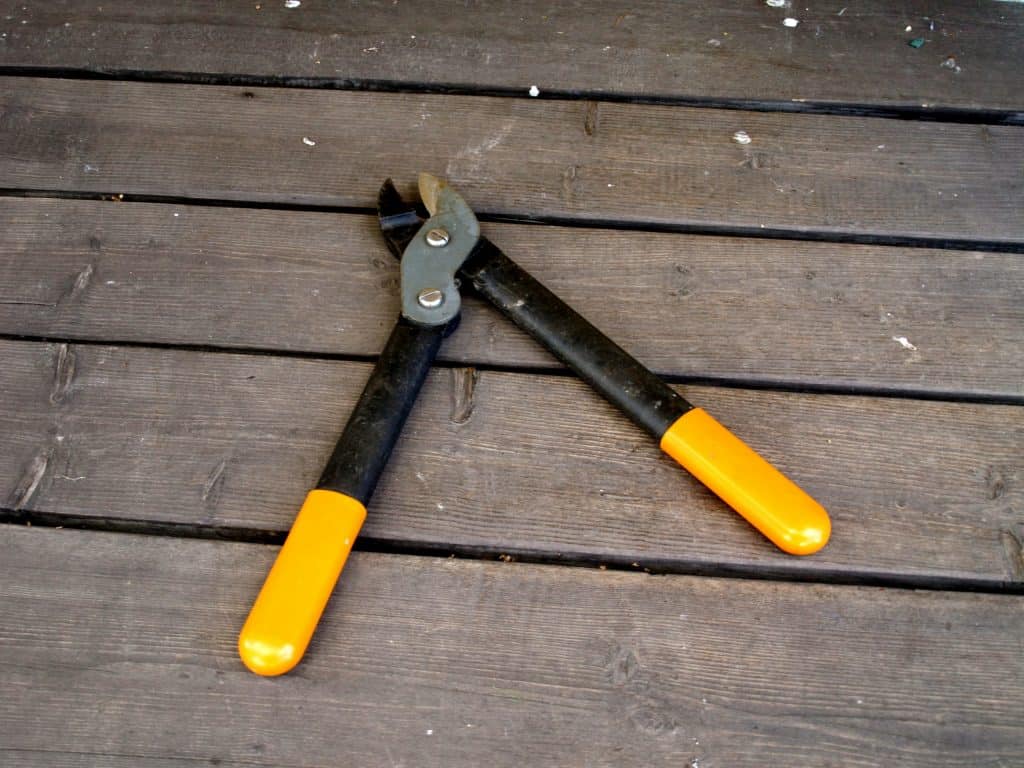 5. Loppers
Loppers are essentially pruners with long handles. They are commonly used for pruning twigs and smaller branches.
The long handles let you reach further and give you the leverage for cutting thick branches.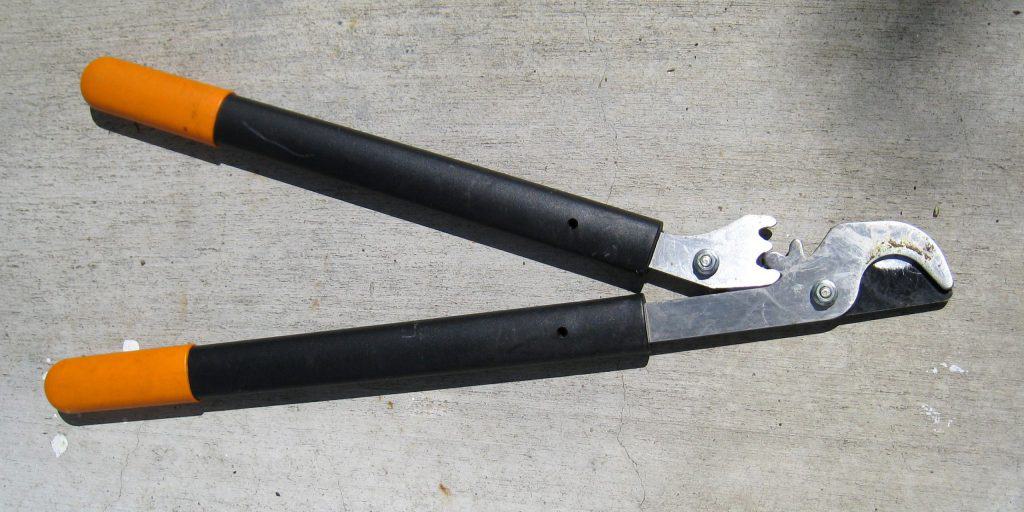 6. Pruning saw
A pruning saw is your best choice for a branch or dry wood about 1.5 inches thick or more. It features a long blade, usually with a curved handle.
For pruning trees, a petrol pruner chainsaw makes a great alternative.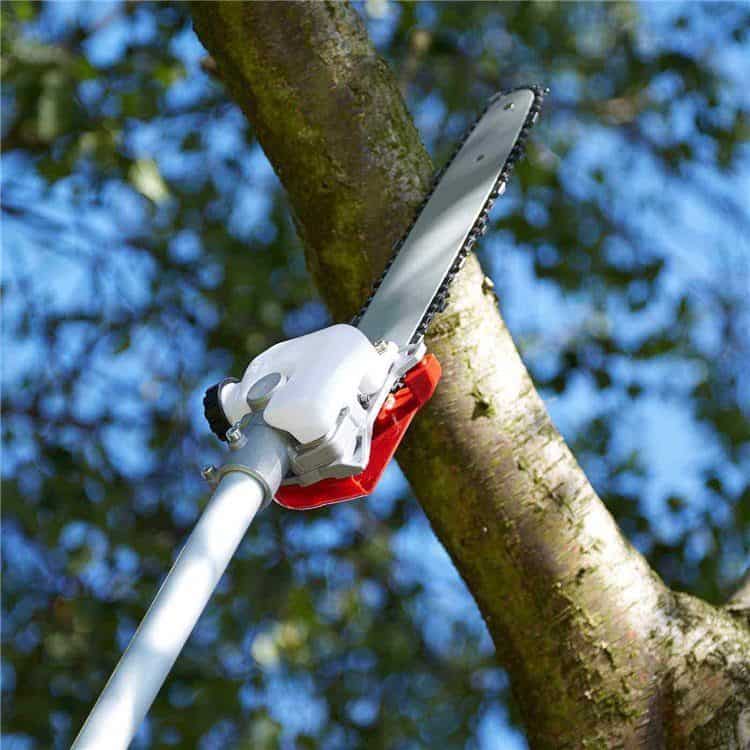 7. Pole pruners
Pole pruners are just the same as hand pruners but are longer. One can easily reach over eight to twelve feet without any problems. Ideal for cutting down limbs and branches from a tree.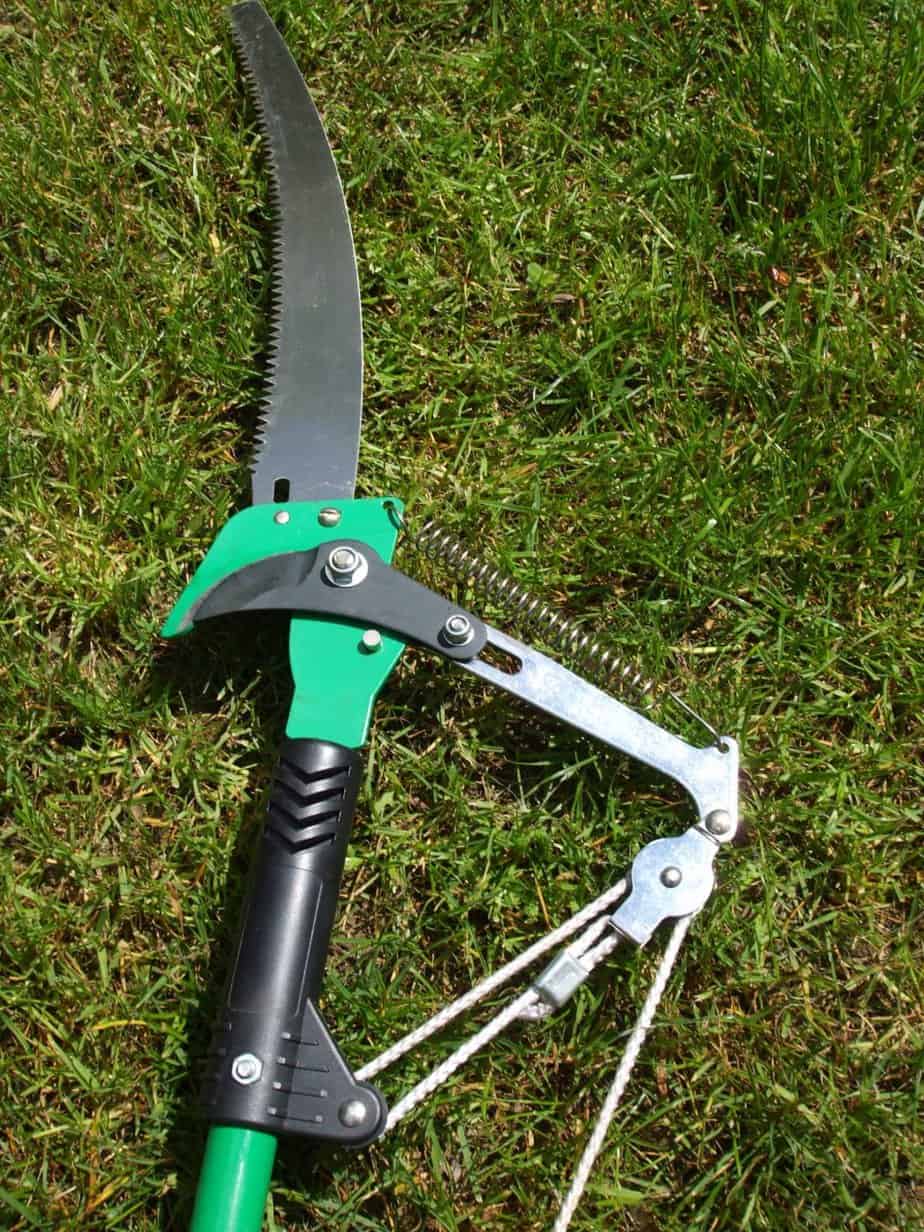 8. Floral scissors
Floral scissors are designed for deadheading flowers, snipping herbs, and trimming soft stems. These snips can also cut through fruit stems, making them an excellent addition to your tool kit.
9. Grass shears
After mowing the lawn with a mower, trim hard-to-reach areas with a grass shear to ensure the height is levelled. This large pair of scissor blades are great for clipping grass neatly in awkward spots, like the edges.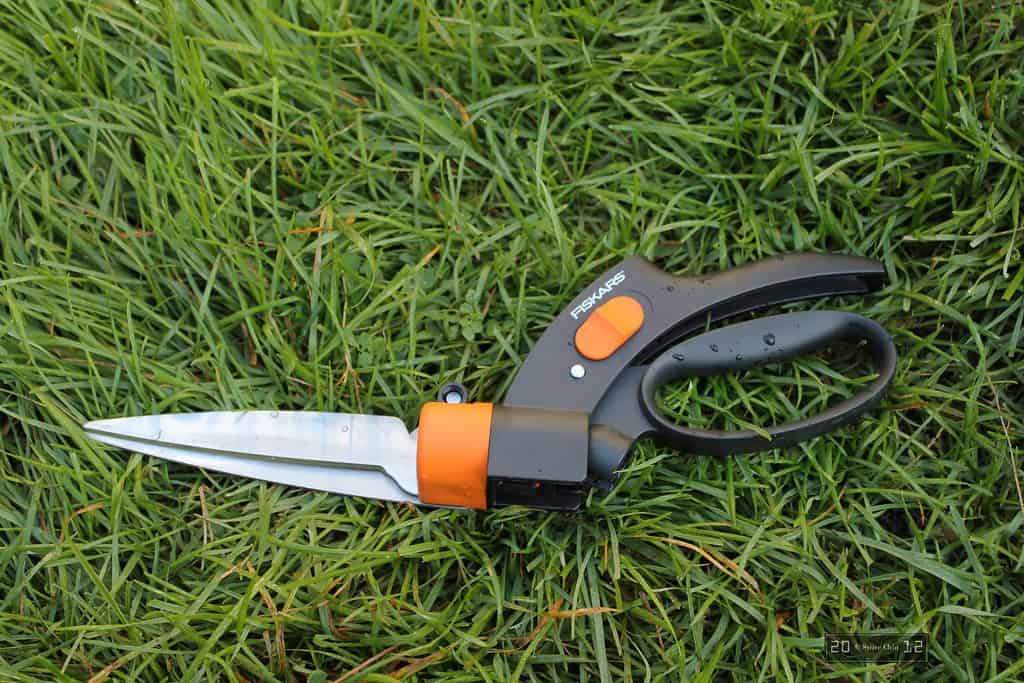 10. Topiary trimming shears
A topiary shear is great for trimming hedges and cutting through soft foliage. If you want to create a row of ball of topiary, this trimming tool is a must-have.
11. Brush cutters
Brush cutters are more powerful than strimmers. They work well in clearing grasses and weeds, especially along walkways and edging.
But they are designed for denser types of brush and undergrowth and can even cut exposed small tree roots. A great item to have for your trimming and cutting routine.
12. Curved pruning shears
Gardeners often use this type of pruning shear to maintain hedges, bushes, and trees. The curved blade enhances the cutting motion without damaging the branches. It also helps prevent injury to yourself.
13. Pruning knife
A pruning knife allows you to trim and bevel the edges of your pruning cut. It helps give your pruning task a professional look. The knife is also ideal for taking off unwanted lateral growth.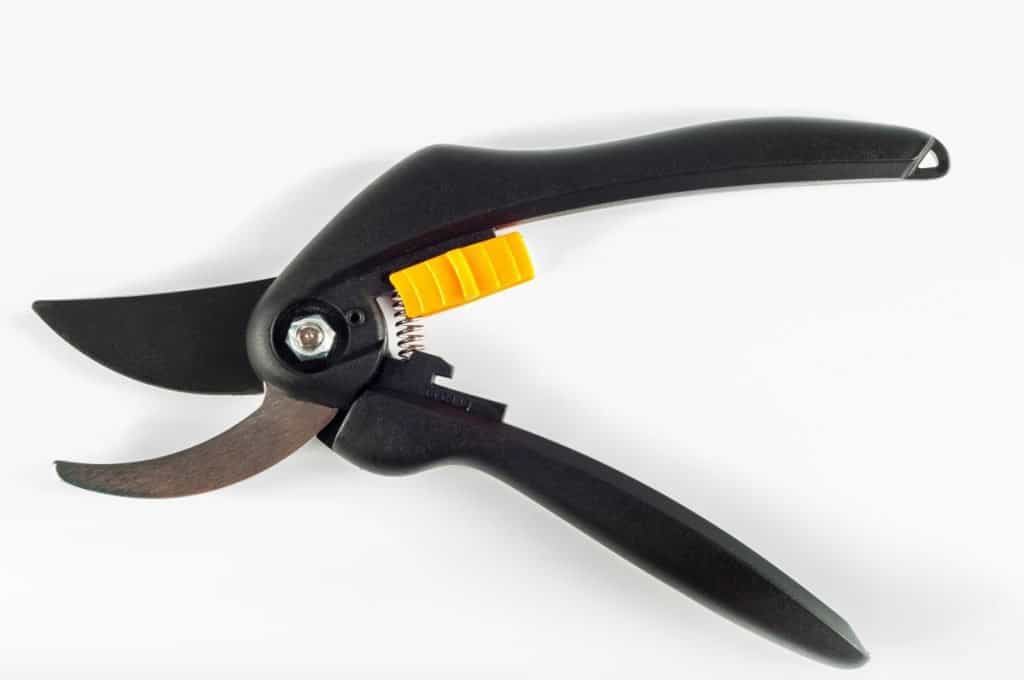 14. Needle-nose pruners
Needle-nose pruners are made explicitly for cutting buds and pruning vegetables and fruits. They feature a long blade ideal for harvesting.
It's also great for pruning tender new growth, harvesting herbs or deadheading flowers.
15. Sharpening stones
Whatever pruning or cutting tools you own, you must ensure they have fine cutting blades. Cleaning after use is a good starting point, but using a flat, sharpening stone can make all the difference.
It's designed to reach all areas for blade sharpening. This means your shears will stay sharp, and your cuts will stay precise.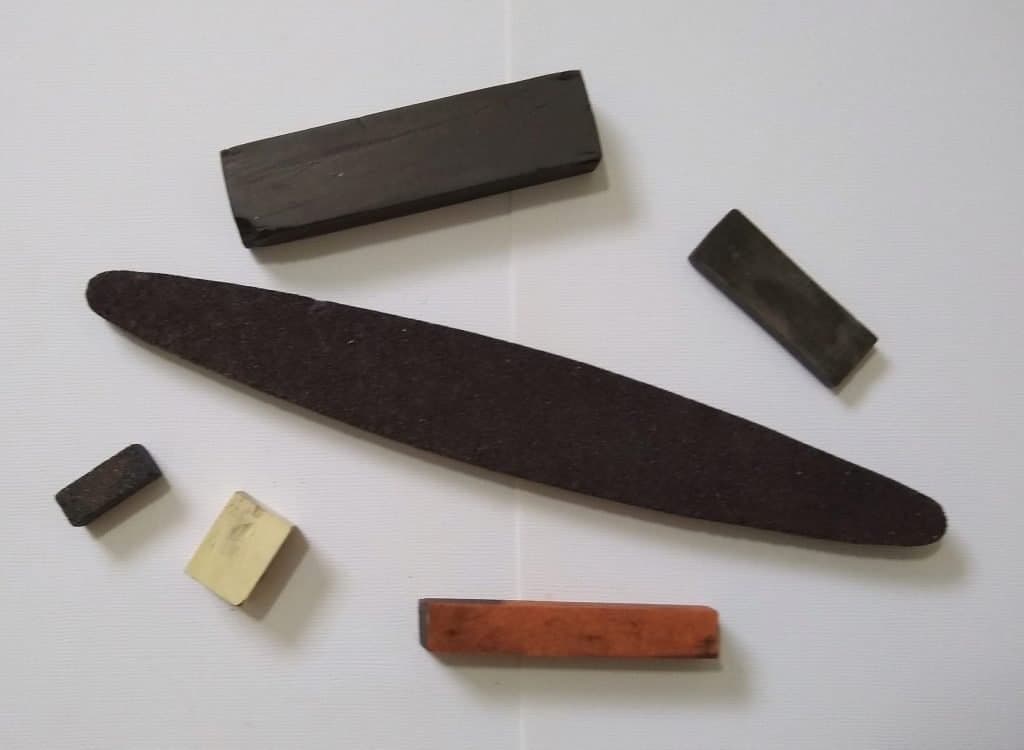 ---
Features to Look For
---
16. Ergonomic design
Pruning can be a tough job, but this is nothing when you have an ergonomic pruner. Foam, gel, or easy-grip handles, for one, will help prevent hand fatigue. Choose a grip that is suitable for your hand size.
17. Non-slip grip qualities
This feature is especially worth noting if you're looking for loppers, but it applies to all types. After all, non-slip features contribute a lot to providing a good grip.
This also ensures a long-handled tool won't slip out of your hand.
18. Rust and corrosion resistant
The best pruners come with blades that are rust- and corrosion-resistant. Look for one with titanium-coated blades for durable rust resistance. Note: Some coating may impart a gold colour.
19. Heavy-duty models
Heavy-duty gardening tools are built to last, and it's something you'll want for your pruner. It may cost you a few, but you're investing in a tool made to stand up to a lot of use without damage.
Most professionals usually go for this one and are well-recommended by them.
20. With interchangeable blades
If you're thinking of getting a pruner saw, go for one that comes with interchangeable blades. This will allow you to tackle different types of branches, easy to switch out. 
You also don't have to worry about storing more tools in the future.
21. Consider power shears
Opting for power shears, such as petrol trimmers, means no more cutting manually. You can benefit from the increased power, making the job faster and easier.
This 5-in-1 tool features a hedge and grass trimmer, brush cutter, and saw pruner. Plus, free extension pole functionality. Petrol powered.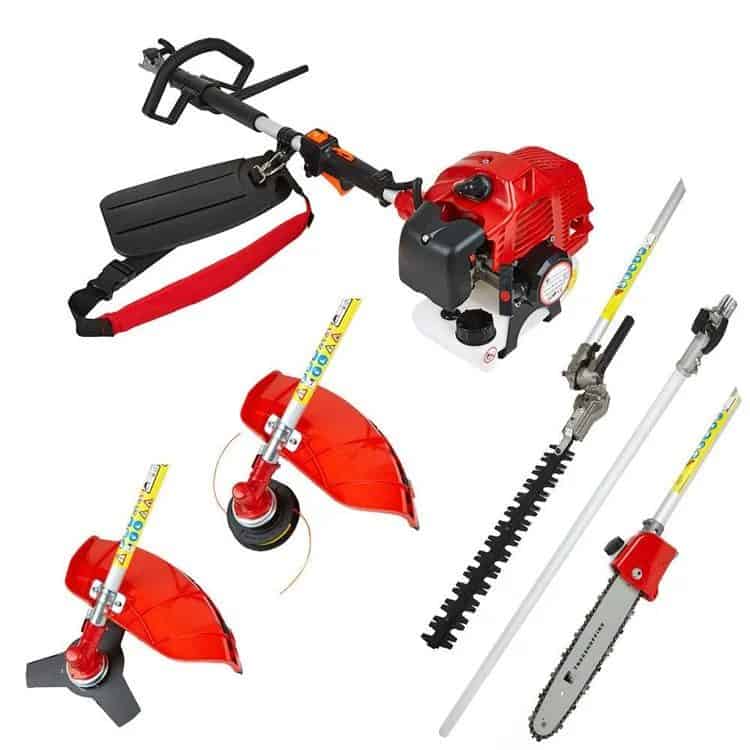 22. Folding design
Not all pruning tools can fold, but many saw pruners can. This design is a great way to ensure the tool is safe when not in use. It also adds to portability and safety.
23. Cushioned grip
A cushioned, soft grip offers the ultimate protection. Not only does it protect your hands from cramping, but it also gives you a little more to hold on to. It helps you maintain control of the tool, too.
24. Plastic material
Plastic handles are very common on pruning tools, and they often come in bright colours. These plastic handles last for years and can keep the tool from becoming too hot to touch in summer use.
25. Steel structure
Steel pruners are heavy-duty, but they tend to be a bit heavier than other designs. The material can also stand hard pruning tasks, including thicker branches.
26. Aluminium counterpart
In contrast, aluminium is way lighter yet isn't as strong as steel pruning tools. If you suffer from hand problems, a hand tool with an aluminium structure or handle is your best bet.
27. Wooden handles
Wood is sturdy and built to last material as long as it's taken care of. Like aluminium, wooden handles are lighter, but splinters may occur over time. It's best to pair it with cushioned grips or gloves.
28. Rubber type
Rubber grips on handles allow for easy wielding, and most have anti-slip properties. Even if the tool is wet or your hands are, you're unlikely to drop it.
29. Fibreglass design
Fibreglass handles are as strong as steel and light as aluminium. In short, they offer the best of both worlds! They're a bit expensive but worth investing in as they're reliable enough.
Pruning Tips
---
30. Basic pruning
Prune any dead, dying, or diseased branches from a plant or tree. If you're dealing with a disease, cut well below any affected areas.
Also, don't prune when it's wet outside, as water can spread harmful elements.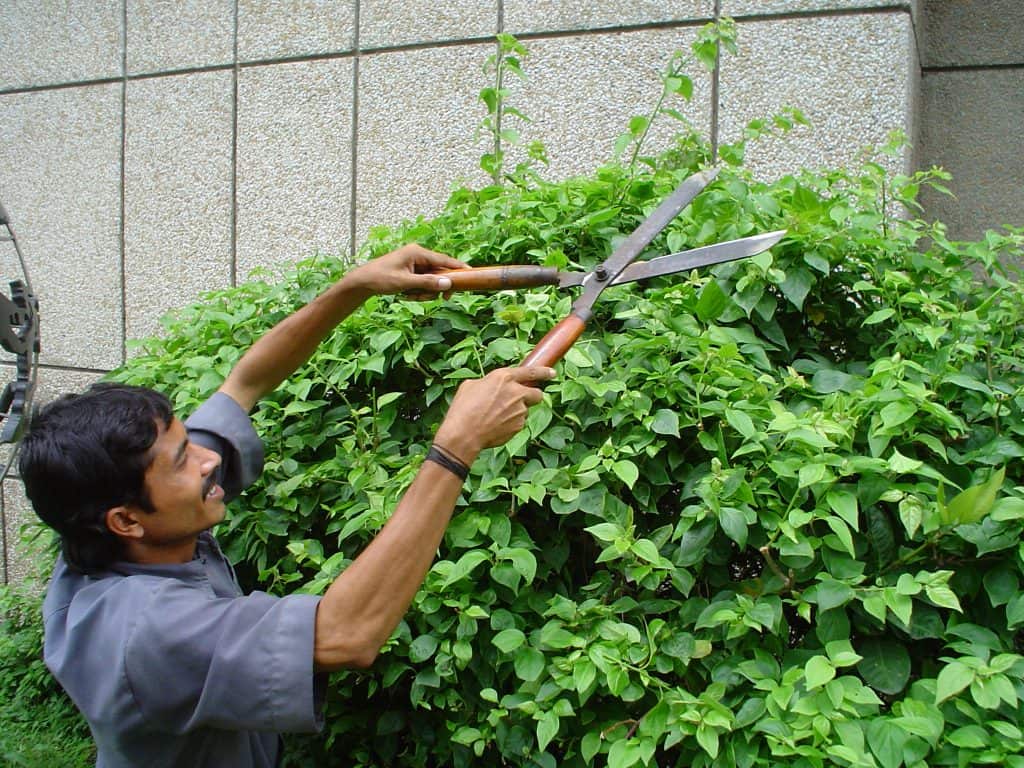 31. Tackling ornamental grasses
Tying the tops of the grass allows for quick and easy cutting, so start with that. Then snip as close to the ground as possible. Use a pruning shear or knife.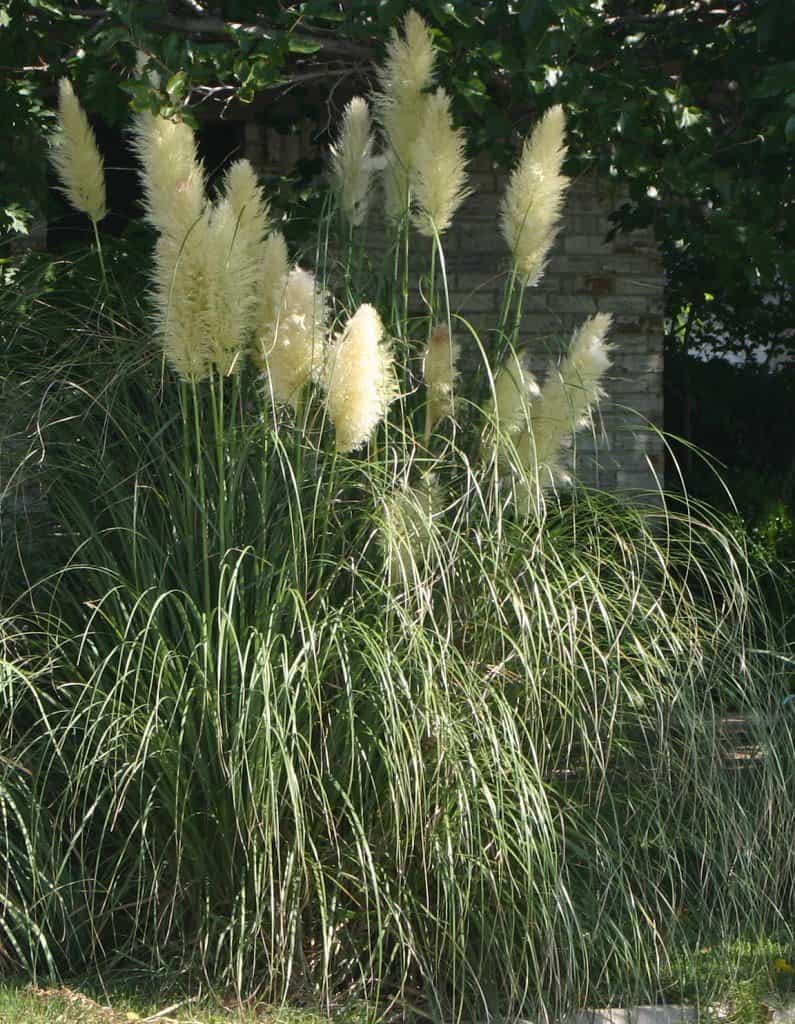 32. Semi-woody perennials
The best time to prune is during the dormant season when the plant's shape and form are visible. For butterfly bushes and Russian sage, cut about 4 inches tall.
This will help produce strong, new stems and the best flower display.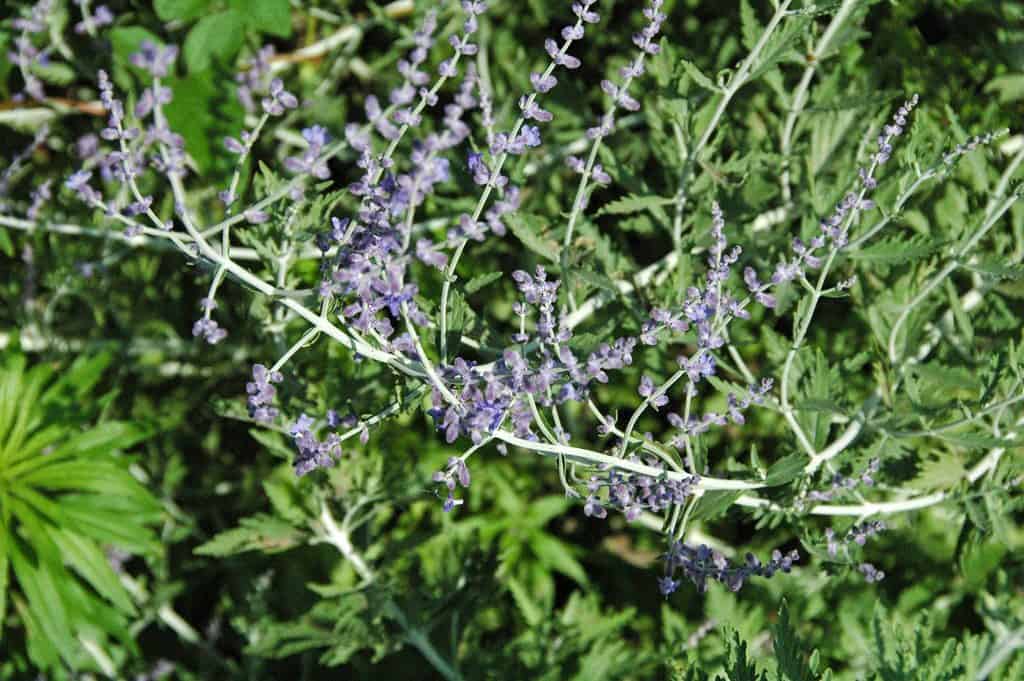 33. Trees and shrubs
The best time to prune is after flowering. This will give them the rest of the growing season to develop new buds and branches.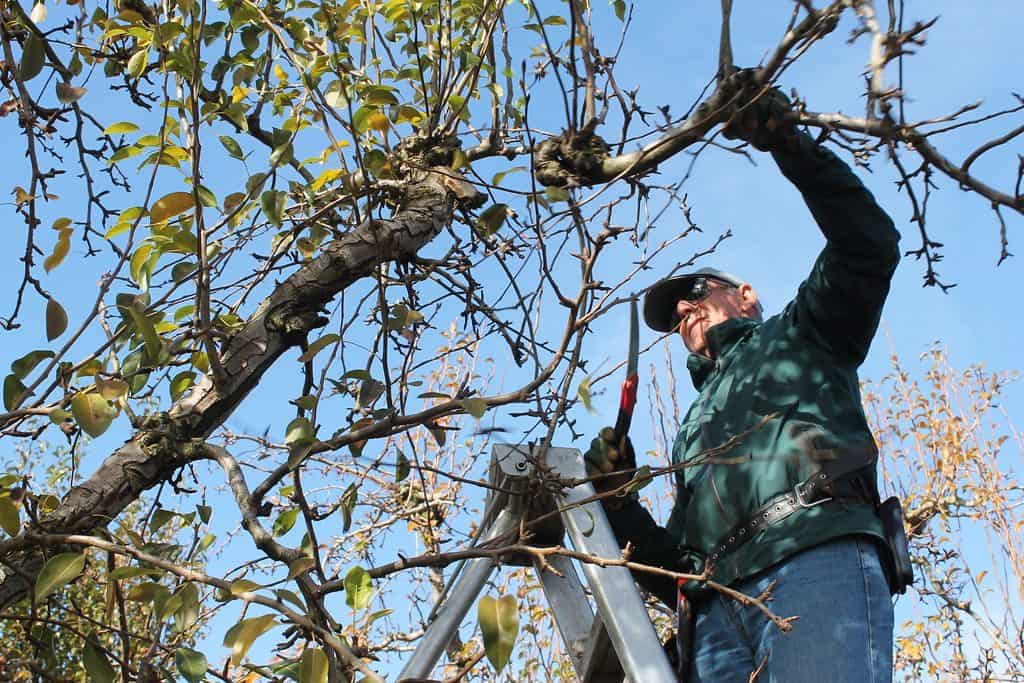 34. House plant and potted flowers
Remove dead matter from houseplants and prune potted flowers after their blooms fade. A simple pruning routine will keep them neat and presentable.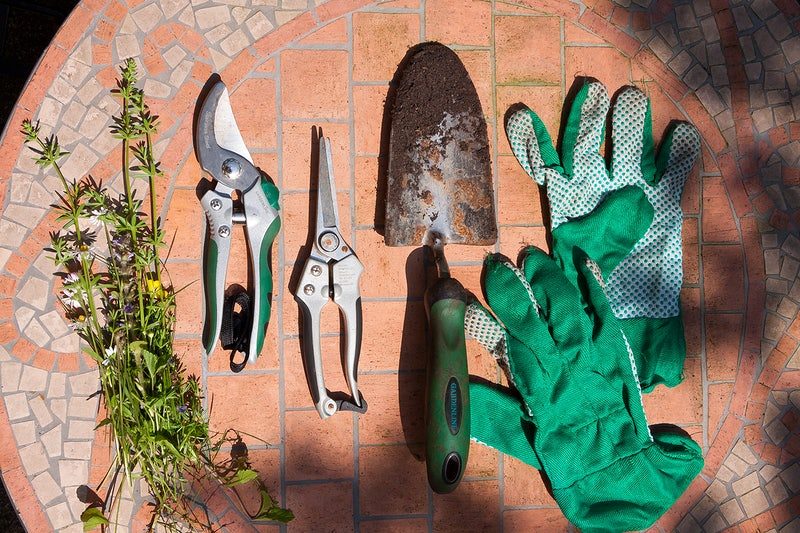 35. Sappy trees
Do it in early summer after the leaves have hardened or turned dark green. The sap will still come out, but it doesn't dry up the tree without water and sugar.
If you prune in late winter, some may bleed or ooze sap excessively in the early spring.
Pruning Tool Ideas: Round-up
Pruning is a vital gardening skill and the secret to wonderful-looking plants and shrubs. When done correctly, it will encourage healthy growth and flowering, as well as good looks.
With our garden pruning tool ideas and tips, you can ensure your plants and shrubs will flourish.