Regular and proper maintenance for your summerhouse is so important. Especially during the cold, harsh weather conditions the winter months can bring. Neglecting to care can result in damage and wear, which can quickly add up to bigger problems!
Long story short, a lack of upkeep means you're risking its integrity and your relaxation. Fortunately, the alternative is simple and easy, and these are:
To keep your investment in good condition year-round, there are some key steps to follow. Check them out below!
1. Regular treatment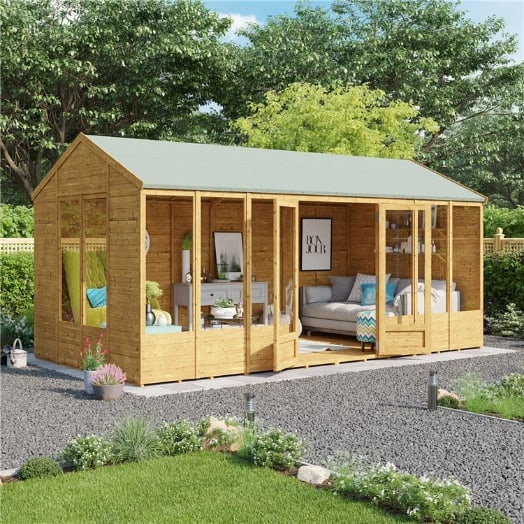 Wood will absorb water during a spell of damp weather. This occurs even more so when the wood is left untreated. Moisture can cause rot and mould to take over your garden building.
This can leave damage to the walls, roof and floor. Water can also cause the wood to expand, causing your apex summer house to swell. This could also put undue strain on the door and window frames and, even worse, split or shatter the glass.
Although warping will happen over time, you can still prevent these through treatment. Use wood stain, wood oils or timber treatment at least once a year.
Note:
Some sections of your structure will also need to be treated more than others. Parts that are more exposed to the weather are overhangs, joints and fascia boards.
2. Filling wood contractions
Besides expanding, wood can also contract when it dries out. Contraction of wood can lead to splits, cracks and holes in your summerhouse. Although this can be a natural occurrence in wooden buildings, it can be prevented.
To resolve this, a wood filler can be used to close the cracks and holes that might be showing. Simply fill the holes and cracks with wood filler. It really is that simple!
3. Roof maintenance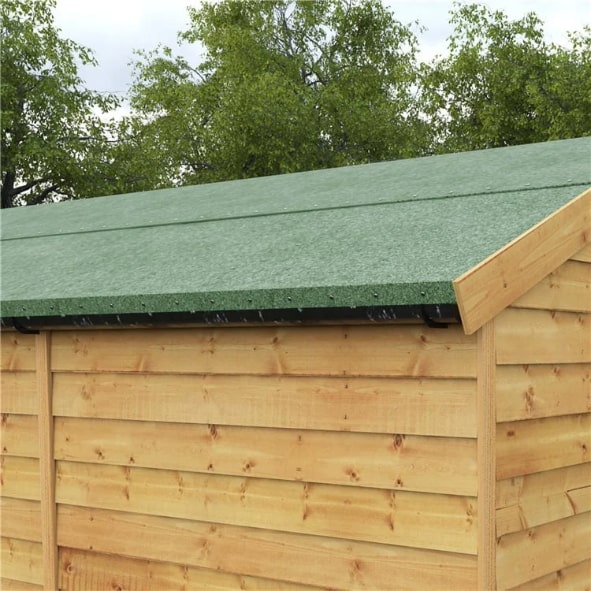 Regularly checking your roof is a crucial step. Even a pent roof summerhouse can be vulnerable to various weather types. Timely repairs help prevent any further damage and extensive repairs in the long run.
Otherwise, here are some important signs to look out for:
Tears and splits

Damaged wood

Fallen debris
If you notice any of these, repair them as soon as possible. Repair adhesives, for one, are available for felting. These come in a tub and help the felt to be re-stuck onto your wooden roof.
Alternatively, replacements can be easily found if repairs aren't possible. You can buy a whole new roof cover if your old one is damaged beyond repair. A great example is our premium roofing felt colours. Overall, keeping on top of your outdoor building's maintenance can add up to its longevity!
4. Airing
Condensation can build up over time on your windows and doors. This is caused by the rise and fall in temperature during each season (and even daily) change. With no built-in insulation for many buildings, airing is needed.
Leaving the windows and doors open can help to combat natural moisture buildup. This applies to all types of garden rooms, including log cabins. Do so around once or twice a week, more if you're able to, especially during the summertime. The colder months will actually need more airing, too.
By airing out your summerhouse, you're also preventing the moisture's ability to get into the timber. It helps to stop rot and mould from damaging the structure.
5. Painting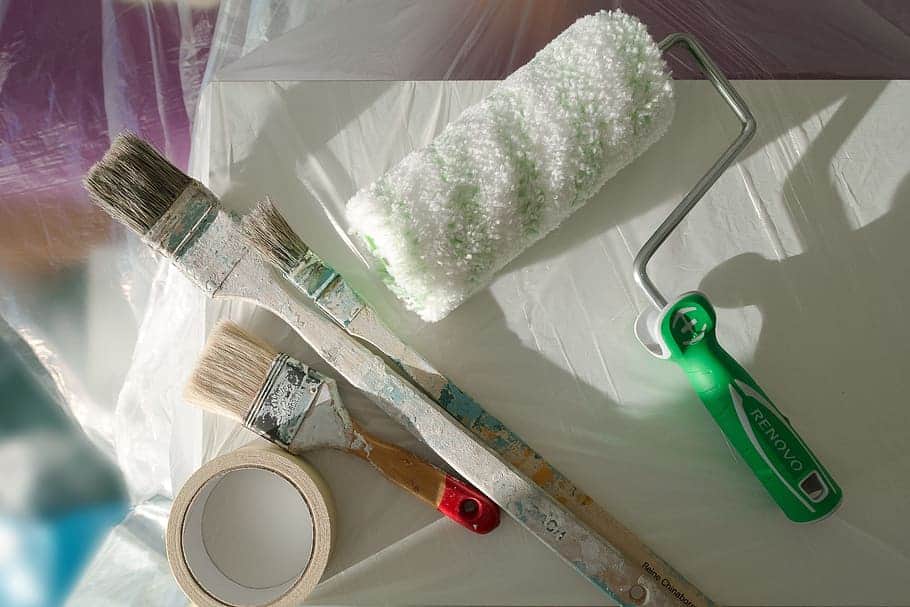 Your summerhouse doors will also contract due to fluctuations in weather conditions. To prevent this, coat them in paint, keeping the moisture out. Make sure to paint the sides of the doors as well.
A water-based paint is your best bet, as it can reduce the moisture build-up. Both an exterior wood preservative and an exterior wood paint are also great for the walls. Any oil-based paints should be avoided, particularly if you have pressure treated sheds.
6. Exterior maintenance
Maintaining the exterior of your garden summerhouse is vital for aesthetic and protection. Tasks like power washing, repainting, and mending damaged siding or roofing are key. Equally important is landscaping and lawn care, which greatly elevate the overall appearance.
Proper attention to these aspects enhances curb appeal. It also ensures your summer retreat remains resilient and inviting against the elements.
7. Interior upkeep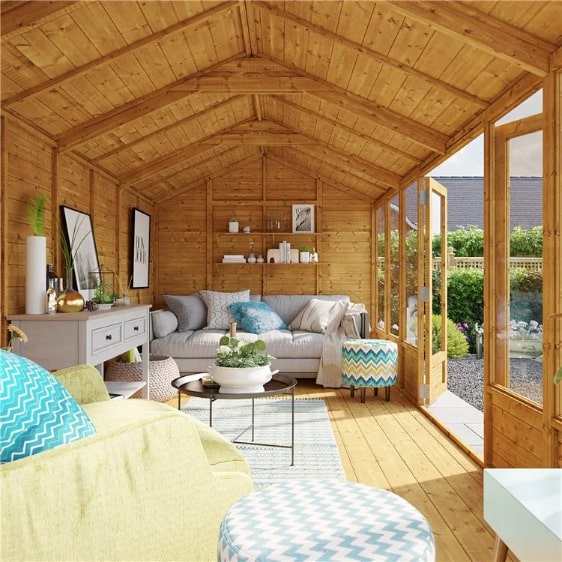 Emphasising interior upkeep is essential to uphold comfort and functionality. Effective maintenance involves regular cleaning, thorough dusting, and ensuring proper ventilation. Additionally, be vigilant in checking for any signs of mould or pest infestations. As mentioned, swift action can prevent further issues. By doing so, you guarantee a welcoming and problem-free interior space.
8. HVAC and plumbing systems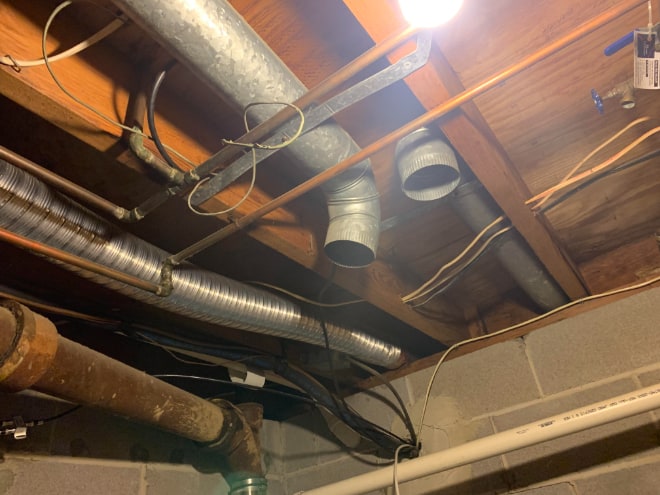 Understanding the essential role of HVAC and plumbing systems maintenance is crucial. Regular inspections and servicing ensure optimal performance. Keep filters clean or replace them as needed. Moreover, monitor for leaks and ensure proper ventilation.
For intricate repairs or tasks, consider seeking professionals with expertise in these domains. By adhering to these, you safeguard the functionality of the unit's critical systems.
9. Seasonal closing and opening
Properly closing your summer house post-season is pivotal to its longevity. Ensure a smooth transition by following a comprehensive checklist:
drain pipes to prevent freezing

store

BillyOh garden furniture

to shield it from the elements

implement security measures for peace of mind
When opening the summer house for the next season, reverse the process:
restore the outdoor pieces

inspect and reactivate systems, and assess for any necessary repairs
This approach guarantees your summer house is well-preserved during off-season periods. Best of all, it'll be ready for your next retreat!
10. Safety measures
Ensure safety within your summerhouse with side shed, particularly during unattended periods. Safeguard your haven by considering the following:
security systems

smoke detectors

carbon monoxide alarms
Additionally, when enjoying outdoor amenities like a gas BBQ sale, prioritise safety. Maintain proper distance from structures and have a fire extinguisher on hand. Most importantly, adhere to usage guidelines. By valuing safety at all times, you can protect your property and create a safe environment.
The Benefits of Regular Maintenance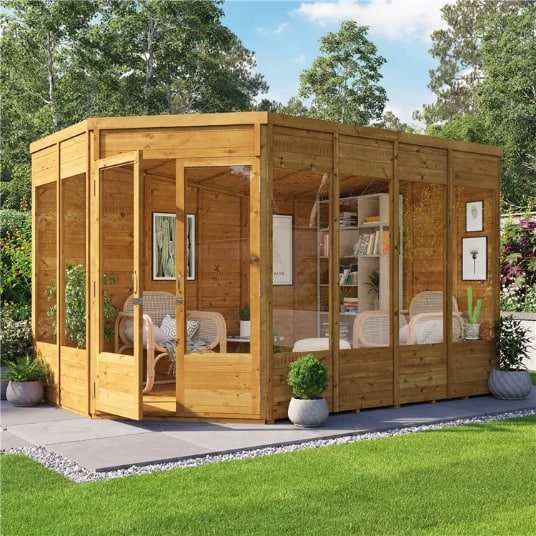 Sticking to regular maintenance helps keep your summerhouse in great shape. But it doesn't stop there! Check out how a proper TLC can do its wonders for your outbuilding below:
Regular maintenance expands the lifespan of your

garden summer house

. The more care and maintenance you give your building, the longer it will last. There may be some costs to maintaining the building. But it will give you far greater value for money in the long run.

It also keeps the structure looking good and feeling good to be in. If you allow the wood to rot or decay, chances are the building will look worse and feel less comfortable to be in.

Maintenance prevents bigger, more expensive damage. Dealing with a small problem now will stop big issues from developing in the future. These include structural or roof integrity damage.
With upkeep, you can prevent early signs of damage and keep your summer house long-lasting. Knowing the different types of summer house ideas can also help you find the perfect routine for it.
Take a look at our range of insulated summer houses via the button below and find the perfect one for you! Garden Buildings Direct also offer various outdoor structures, from sheds to childrens playhouses.
What you should read next: How to Insulate a Summer House
Shop Summerhouses