As the temperature rises and the days grow longer, our thoughts turn to the joys of summer. And what better way to embrace the season than by retreating to your very own summer house?
But before you embark on a summer filled with relaxation and rejuvenation, is it ready for the season? Is your garden building clean, fresh, and ready to welcome you? If not, get ready to roll up your sleeves and let this guide help you transform it into a sparkling retreat!
Sweep Away the Winter Blues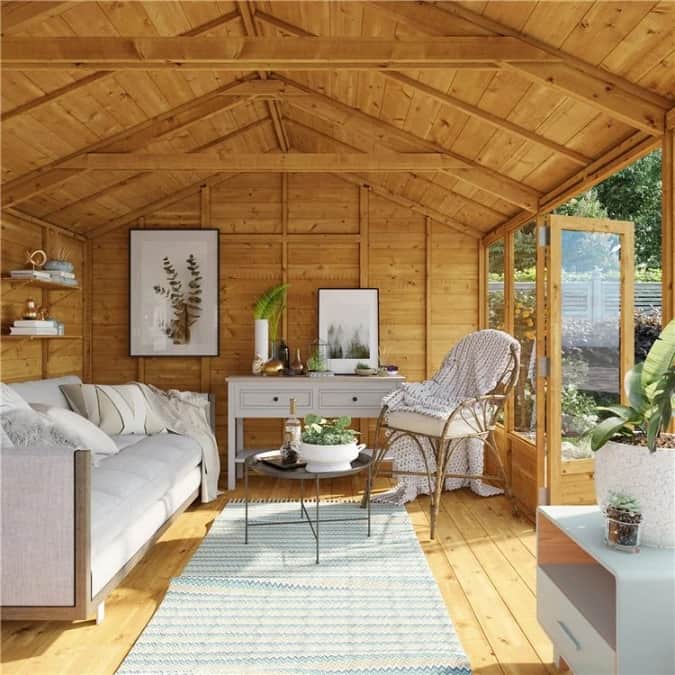 The winter frost fades away, and the days begin to stretch longer. It's time to embrace the vibrant energy of the upcoming summer season.
But just like nature undergoes a transformation, so should your summerhouse. A thorough cleaning can ensure your retreat is a haven of freshness and tranquillity. And to create an effective routine, assess the 'cleaning needs' of your garden room.
Get your garden summer house summer-ready with this step-by-step guide:
1. Declutter
Start by removing any clutter that has accumulated over the past seasons. Sort your belongings and decide what you want to keep, donate, or discard.
2. Dusting and vacuuming
Dust all surfaces, including furniture, shelves, windowsills, and light fixtures. Use a vacuum cleaner or a dusting cloth to remove dust and dirt from upholstery, cushions, and carpets. Pay attention to corners and hard-to-reach areas.
3. Windows and doors
Clean the windows both inside and outside using a glass cleaner or a mixture of vinegar and water. Wipe down window frames, sills, and door frames. Check for any damaged or torn screens and repair or replace them if necessary.
4. Appliances, Storage and Fixtures
If your summer house has appliances or storage, clean all countertops, cabinets, and drawers. Dust and dirt have likely been amassed during winter, particularly if the unit was vacated. Remove anything that has expired from the storage units.
5. Floors
Sweep or vacuum the floors to remove dust and debris. Depending on the type of flooring, mop or scrub it using a suitable cleaner. For hardwood floors, use a cleaner recommended for wood surfaces. For tiled floors, utilise a tile cleaner. Allow the floors to dry completely.
6. Outdoor areas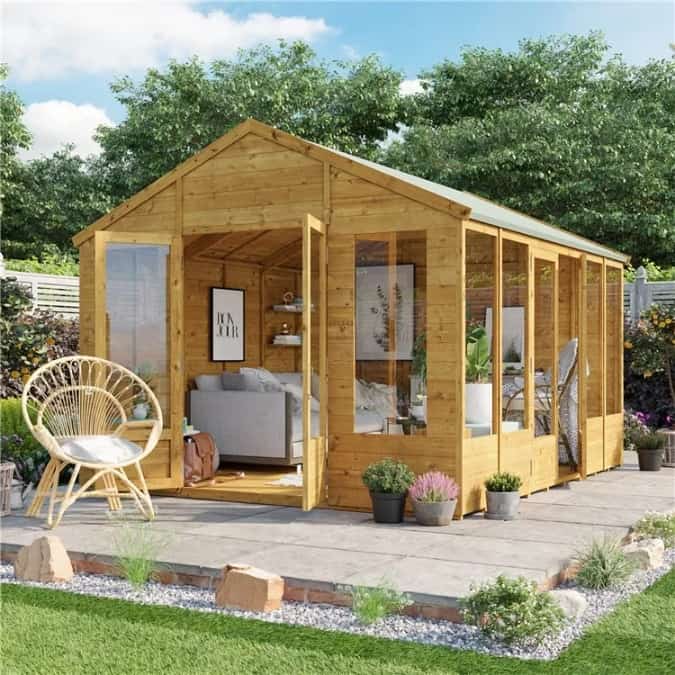 If your summer house has a patio, deck, or outdoor furniture, clean them thoroughly. Sweep away leaves and debris, and wash the furniture with soap and water. Consider staining or treating wooden surfaces to protect them from the elements.
7. Pest control
Inspect your summer house for signs of pests such as insects or rodents. Use appropriate pest control methods to eliminate any infestations. Seal any gaps or cracks where pests can enter.
8. Final touches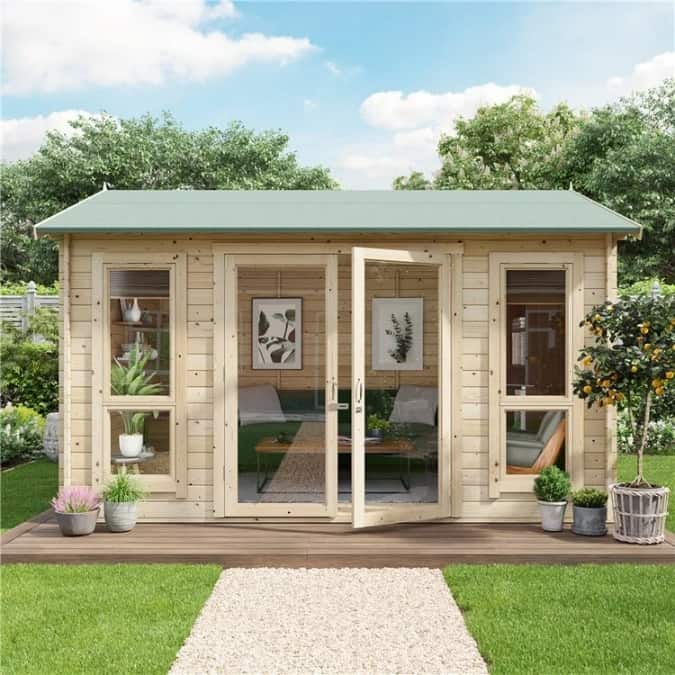 Add some final touches to make your summer house inviting. Place fresh flowers, scented candles, or potpourri to create a pleasant aroma. Arrange furniture and decor in an appealing way to make the garden room feel cosy and welcoming.
Have a clean and refreshing summer house ready to enjoy the sunny season ahead!
Creating Your Checklist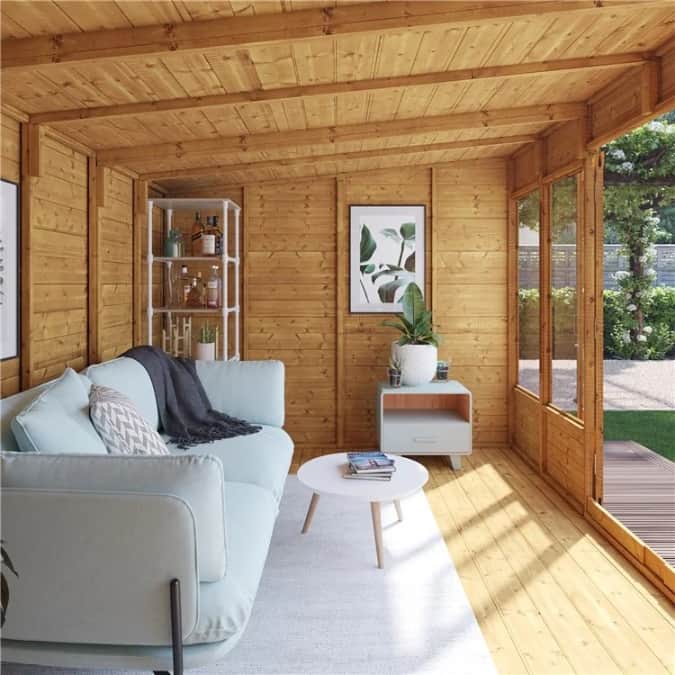 Creating a checklist and inspecting every area, both indoors and outdoors, also helps. Doing so ensures no area is overlooked and the unit is inviting enough for the season ahead. For reference:
Indoor cleaning
Vacuum or sweep and mop all floors, including carpets and rugs.

Launder or dry-clean curtains, linens, and pillow covers for a fresh start.

Keep the windows and window sills sparkling clean to let the summer sunlight in.

Wipe down and disinfect light switches, doorknobs, and other frequently touched surfaces.

Dust and wipe down all surfaces on the table, shelve, ceiling fans, air vents, and light fixtures.
Outdoor cleaning
Check and clean gutters to ensure proper drainage.

Clean and inspect windows and doors for dirt, grime, or damage.

Clear leaves, debris, and cobwebs, such as on the deck and gutter.

Inspect and clean the outdoor HVAC unit or air conditioning system.

Sweep or pressure wash the exterior walls and remove any dirt or mildew.

Trim nearby overgrown plants and bushes to maintain a neat and tidy appearance.

Clean and organise the BBQ or the grilling area, removing any built-up grease or residue.

Scrub and clean garden furniture, including tables, outdoor lighting fixtures, chairs, and cushions.
General maintenance
Check windows and doors for proper sealing and functionality.

Inspect the exterior walls, roof, and foundation for any signs of damage. Don't forget the gutters and downspouts.

Go over to electrical systems and safety devices. Replace batteries in safety devices as needed.

Look for any signs of pest infestation, including termites or rodents. Take appropriate measures for eradication if necessary.

Maintain outdoor spaces. This includes the water feature and seasonal equipment and storage.

If your summer house has a water supply system, check for plumbing-related problems.
Note: Adapt the checklist to suit the specific features and needs of your summer house.
Round-up
The preparation doesn't have to be daunting. With a little time and effort, you can transform your space into a clean and inviting summer oasis. So, roll up your sleeves and get started – and soon, you'll be able to welcome the warmer weather with open arms. Happy cleaning!