Log cabins are well-known for the nature-feel-like environment they offer. Built with logs and interlocking construction, the rustic charm and natural living features of our cabins are unmatched.
And when it comes to versatility, there's no doubt about it. With great potential for various uses, cabin buildings have gained increasing interest over the years.
The BillyOh Devon Max, as a garden office, is a great example and makes a strong case for why investing in one is worth the money.
If you're thinking of buying one soon but don't know exactly what to use it for, a blank canvas unit helps. The bigger, the better – especially for long-term use and investment.
This is where the BillyOh Fraya Max Pent Log Cabin comes in. The perfect year-round outdoor companion for you and your family to enjoy.
Why Choose Fraya Max?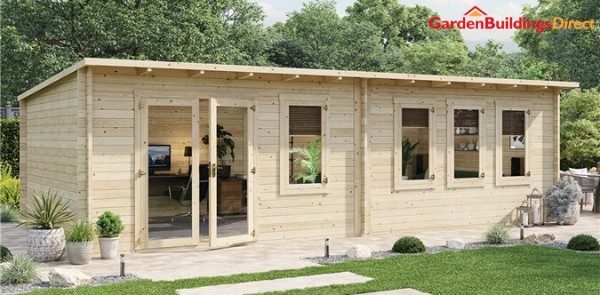 The Fraya Max is the upgraded version of our customer favourite, the Fraya Log Cabin. 
On top of its enhanced size, it's available in a range of sizes, making it one of our larger garden buildings. It features a long and spacious design, and you can use this cabin unit however you see fit.
The sleek modern, and minimalist design still recreates a warm and rustic feel, though. And like the rest of our log cabins, it's built with tongue and groove cladding where panels also interlock in the corner for added stability.
The 44mm T&G boards also help to thermoregulate this unit. This means it'll stay cooler in summer and warmer in the winter months when you need it to be.
The design also features high-quality green roofing felt that protects the building in bad weather and prevents water ingress. This keeps the Fraya Max water-resistant even in poor weather conditions. But to ensure it'll last the test of time, why not have the unit pressure treated?
With a pent roof and raised eaves, there's also plenty of headroom. Not only that, but the Styrene glazed windows and glass-inset double doors allow lots of natural light to flood the interior.
The generous and airy space the Fraya Max offers makes it the perfect spot for whatever use you can think of!
What Can the Fraya Max Be Used For?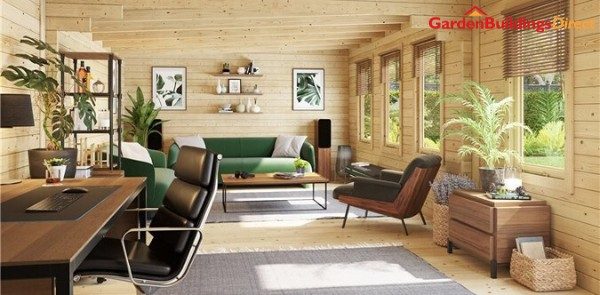 As mentioned, the Fraya Max is versatile and can be transformed into a variety of garden room ideas.
It could be an extended living and dining room, spacious enough to host dinner parties. Or a combination of a garden office and gym to achieve that work-life balance.
A garden spa and a hobby room also sound fantastic for a 'She Shed' cabin makeover. The same goes for man caves and gaming room combinations for gentlemen.
The offset design of the doors offers maximum floor space away from the doors. This feature allows room for larger furniture items without blocking the entrance.
Plus, two roof thickness options are available prior to check out. So depending on how you plan to use the Fraya Max, you can choose the best option to suit your lifestyle and budget.
Below, we've put together a list of our favourite Fraya Max uses you can take inspiration from!
Different Ways to Use Fraya Max
You'd be surprised how many cabin makeover ideas you're missing out on! The possibilities are endless, but we've compiled a short list of our favourite ones.
The spacious room that the Fraya Max offers enables you to come up with a multi-room scheme. Whether it be a lounging area or a temporary guest room (or both), you can utilise the space to suit your needs.
1. Man cave and garden pub
Like with she sheds, every guy needs his own space to unwind from the day. (A man cave is a metaphor describing a room where a gentleman can do whatever takes his flight of fancy – like woodwork or shoot pool.)
Most have theirs in garages or old basements, but others have taken the cabin route for a rustic vibe. The Fraya Max offers a generous space to fit the 'man cave essentials'.
This could include a pool table, an entertainment area with gaming consoles, a TV, and a couch. A cabinet can also fit to display your collections.
The other side of the cabin can be your dream garden pub set-up. You can esily fit the BillyOh Nightjar, a classic L-shaped bar countertop, to seat 3-4 people.
A mix of man cave and garden bar lets you and your friends relax in style while sitting back watching a big game!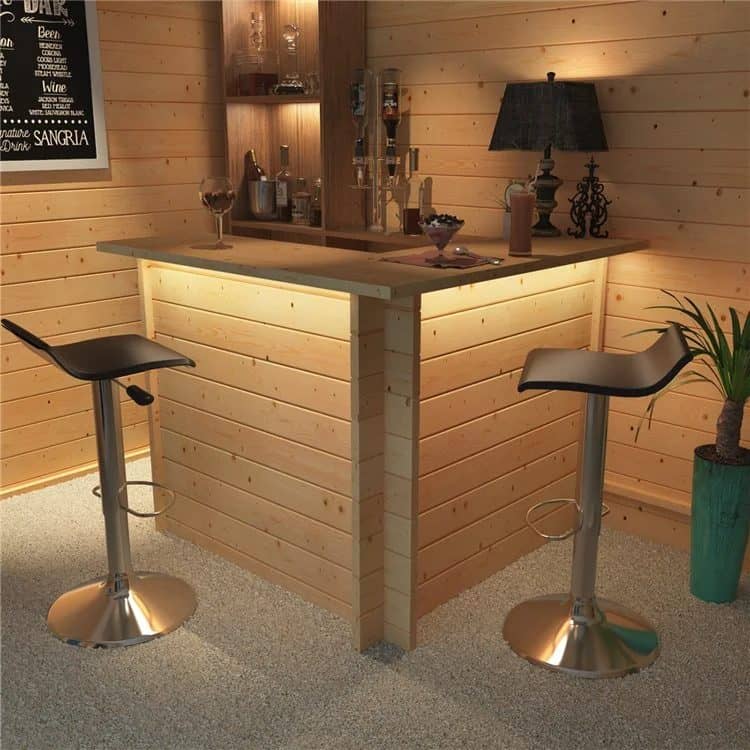 2. Home office and a living room
Large log cabin units are brilliant for creating a perfect environment to work in. At the same time, they can be thingsomewhere you can retreat to and relax during break time or after work.
The Fraya Max can be an all-in-one cabin haven with a home office, living room, and even a reading nook. Like the Devon Max, you can create a dynamic and flexible home-working arrangement.
Remember, having a dedicated home office helps you achieve a balanced work-life. Once safely installed, the next thing is to think of creative Garden Office Ideas for your dream WFH space!
And as the space allows for it, why not make it a multi-purpose space with a living area? This will allow you to take a break from the desk at lunchtime.
Or change your seat to make phone calls or have a comfy spot for an in-person meeting with the team.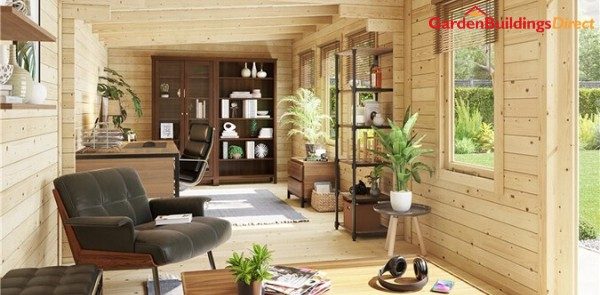 3. Dining and kitchen room
An outdoor kitchen and a dining room in one log cabin sound like a perfect plan if you often host dinner parties. An effective way to reclaim your small dining area at home!
Take a small detour to the garden and enjoy al fresco dining, depending on the cabin model. For an alfresco get-together with friends, extend the space with a pergola on the side. Check our garden pergola ideas for design inspiration!
4. The ultimate garden cinema
You can now fulfil your long-time dream of creating a log cabin cinema in your garden! Bring it to life by utilising your outbuilding with a fully kitted-out cinema room.
Complete the look with a big screen, projector, surround sound, and seating – the more, the merrier. You can even put popcorn and hotdog stands in the corner to spoil your guests with treats.
This might be your best option if you want somewhere fully enclosed and private. It's confined, so you don't have to worry about the weather, such as the harsh sun or slight rain, unlike an open setup.
Here's a complete guide on how you can turn your log cabin into the perfect home cinema.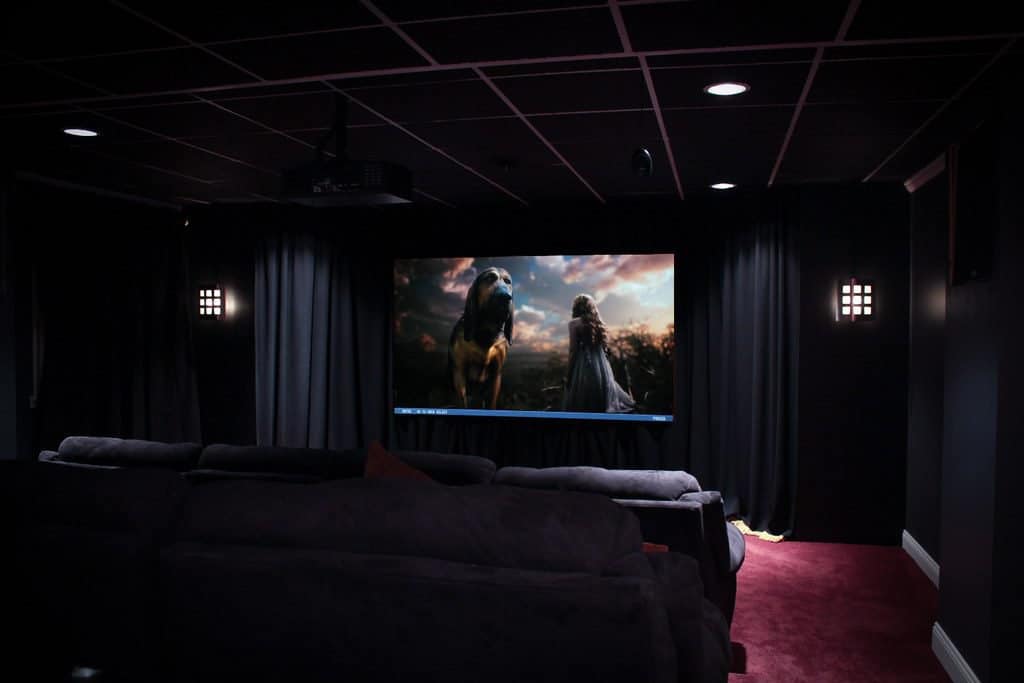 5. Home gym and a yoga studio
There are tons of options to stay active besides hopping on a stationary bike or treadmill at the gym. The best solution is to have your own garden gym set up, especially if you don't have enough space to work out at home.
A cabin gym can offer you the perfect place to do your exercise routine without any distractions. Paired with a mini yoga studio, you can maximise the use of Fraya Max all year round.
This is also a good and valid reason to invest, particularly if you want to get serious on your fitness journey. The best part? You won't have to worry about the expensive gym membership.
Plus, you can work out and meditate without necessarily leaving your home premises. You'll save more money and time in the long run.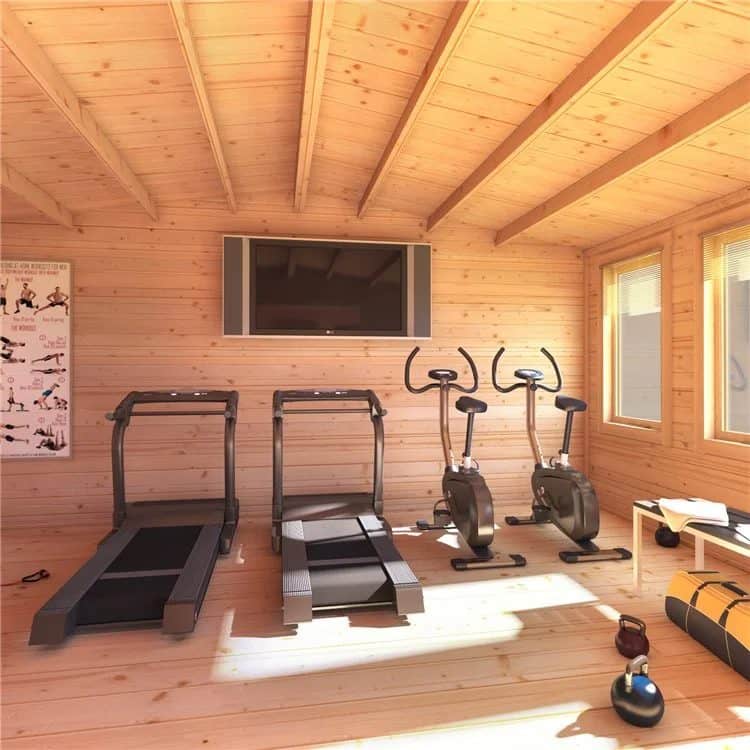 Round-up
The lifestyle that comes with 'living' or staying in a cabin can't be found in other units. The BillyOh Fraya Max Log Cabin is living proof.
And as log cabins come in various shapes and sizes, many take advantage of that and use them for different uses. Pressure treatment is also available, which can increase the 10-year warranty to 15. You'll be provided with comprehensive assembly instructions via email upon purchase.
Shop The Fraya Max