Why should you invest in an arbour for your garden?
Homes with adorned front doors create an inviting feel. And garden entrances can also give you and your guests that initial impression. A backyard with a 'front entrance' adds a structural element and a distinctive feel.
A great example of this is by using garden arbours. Through the combination of pillars and cross-beams, an arbour makes an interesting structure.
They break up a narrow space and look great when offset with lower beds and garden paths. Check out our garden arbour ideas!
Read on and browse through our great selection of wooden arbours.
Why You Need an Arbour in Your Backyard
Arbours were originally used to provide a cool and shaded passageway in early Renaissance gardens. Today, they serve many functions: to anchor paths, add height and privacy, or act as an accent, to name a few.
An arbour is a combination of an arch and a trellis. It's an upright structure, forming a bridge arch with trellis sides. It can also have a latching door or small seats to relax under – perfect as garden entryways.
Arbours and pergolas are often used interchangeably (if wrongly!i) to describe two similar outdoor structures. For one, both are built with posts that can support an open roof and vines. 
Pergolas are mainly used as shades for patios or concrete patios. They usually have a roof and are designed to provide more cover. In contrast, arbours are more of an accent piece,a quiet spot for one or something that forms an entranceway.
The Perfect Garden Arbour For You, From Us!
Arbours come in various sizes, styles, and materials. Let's take a closer look at some of the options!
1. Metal
Metal arbours are rust proofed and long-lasting. They hold up well in various weather conditions and are low maintenance, although a bit heavy.
As for appearance, most have a simple, clean and elegant look. The design tends to be airier, which is ideal for showcasing plants.
2. Vinyl
Vinyl arbours make an excellent option for those who live in hot regions. They can withstand extreme weather conditions, and like metal, they're virtually maintenance-free.
Most designs are in white colours, but they clean up very easily – and are lightweight and easy to install. However, they can lack the elegant appearance of metal and the natural look that wood can provide.
3. Wood
Speaking of wood, wooden arbours offer that rustic look in gardens. As they're produced from natural materials, they effortlessly blend into the backdrop.
You may also paint it to utilise different colour schemes. Cedar, treated pine, and Fir are your best bets when it comes to picking materials.
They can be a bit more expensive, though, as regular upkeep may be needed, such as varnishing yearly. But considering the overall quality – if maintained well, a wooden arbour is worth investing in.
We have a great selection of wooden garden arbours made from pressure treated timber. The lattice panels make them ideal for vines and create a lovely focal point in your garden.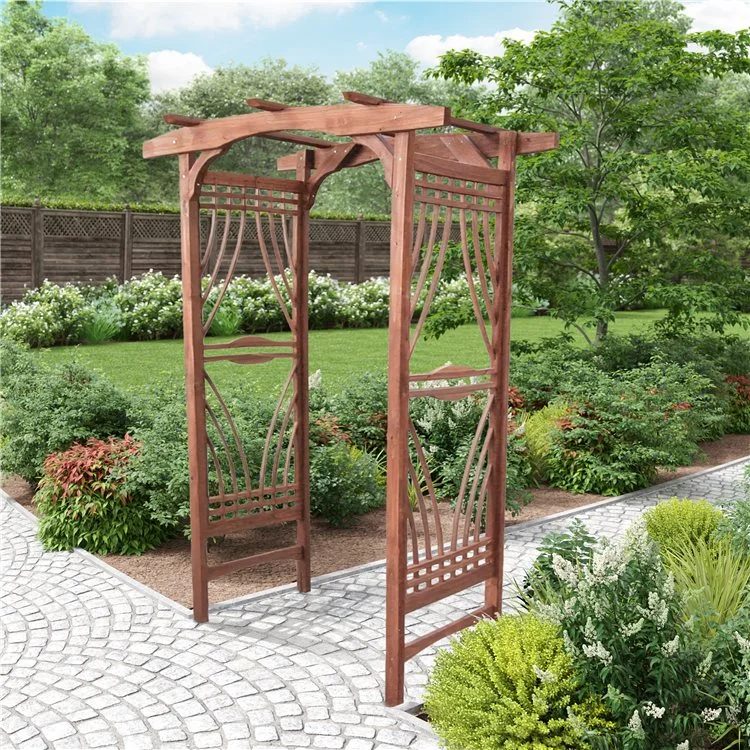 BillyOh Orchid 83″ Fir Wooden Garden Arch
Price: £194
The BillyOh Orchid offers you a gorgeous point of interest and a place for your garden to flourish. It uses a unique design, constructed into a stylish pattern ideal for your plants to climb.
Built from Fir wood, it makes an attractive outdoor centrepiece. It's strong, lightweight, and naturally resistant to water damage and insects. 
Plus, it's FSC approved, meaning the wooden material is replenished. Making this purchase environmentally guilt-free!
What's more, the arch is designed as more than an attractive garden feature. The pattern is constructed to allow plants to climb and wrap around and grow upwards. It's perfect for showing off your climbers and vine plants.
The structure from top to bottom is stable; whatever the weather, it won't topple. It's also built for the outdoors, all year round. You don't have to worry about a bit of rain, wind, or sun damaging your arch.
The Orchid arbour is a show-stopping garden feature with a strong structure that's built to last! Add it to any corner of your garden to transform it into your personal outdoor retreat.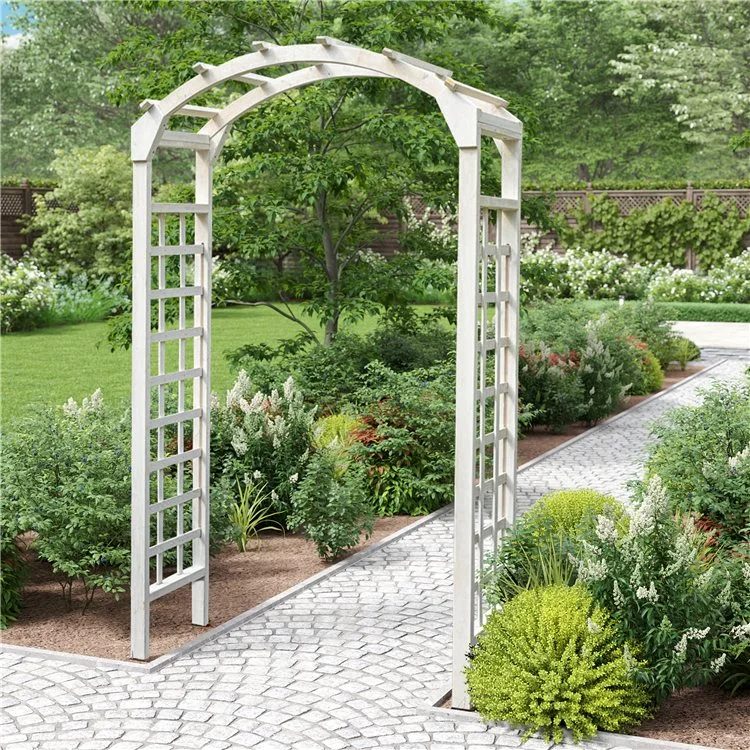 BillyOh Primrose 84.5" Fir Wooden Garden Arch
Price: £174
The BillyOh Primrose adds a touch of elegance to anywhere it's placed. It's a sophisticated addition to any garden, with lattice trellis features.
The trellis is not just an attractive feature; it also supports climbing plants. This allows your garden to grow plants in beautiful and unique ways around the arch.
The arch also uses a water-based stain and white paint to create its gorgeous sleek finish. On top of aesthetics, it also forms a protective layer against harsh weather.
Like the Orchid, Primrose is built from FSC approved Fir wood material. Strong and durable, it allows the arch to continue looking gorgeous for years to come.
The process of setting up your arch couldn't be simpler. This model comes with handy instructions to get your arch garden-ready in just 45 minutes.
With a trellis arch painted in stunning white, reminiscent of picket fences, it's sure to wow your guests!
You might also like…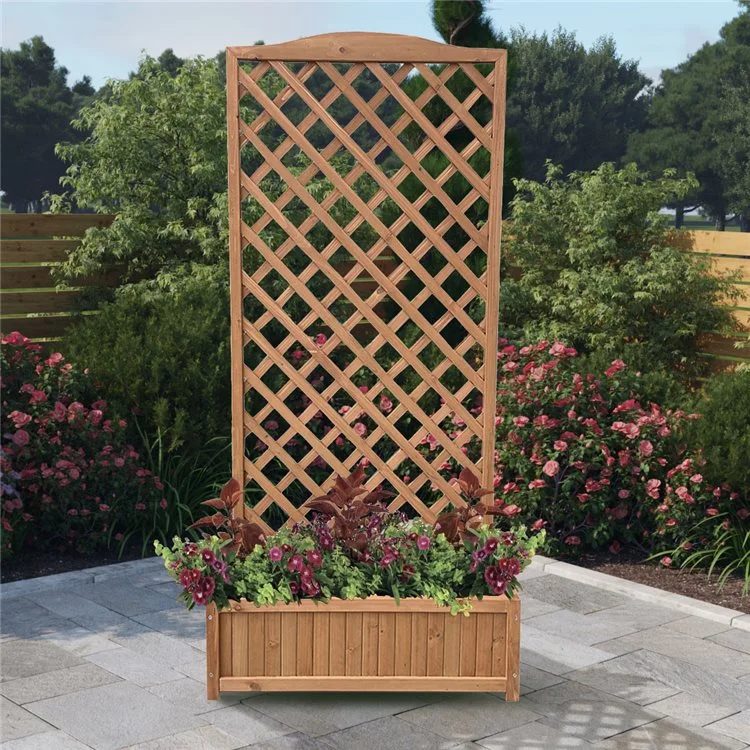 BillyOh Flora Pair of Fir Wooden Planter Boxes with Lattice Trellis
Price: £144
The BillyOh Flora would look amazing along with your chosen wooden arbour! It offers the picture-perfect place for growing your prized plants.
Thanks to the planter box, it allows your plants to climb vertically. This also helps your greenery to reach further than ever before naturally.
The water-based stain gives this planter its beautiful rosewood colour. It matches the Orchid well, featuring a criss-cross wooden structure at the back.
It can be used purely decoratively or to support your climbing plants' growth. The choice of fir wood, a protective stain, and the inclusion of pre-drilled holes for drainage make this the perfect planter for fuss-free growing!
What Are You Waiting For?
Add a new interesting feature to your outdoor space with an elegant garden wooden arbour! Here at Garden Buildings Direct, we aim to cater for our customers' needs.
Guaranteed these arches will make your garden more attractive and increase its value. And we'll leave the arbour design ideas to you!