Homes with adorned front doors create an inviting feel. The same goes for garden entrances, where a garden arch can give you and your guests that initial impression.
Also known as 'gates', these structural elements are viewed as focal point enhancers. The right design can be more than that; it can elevate a pathway, seating area, and more!
One of the few possibilities of doing this is through garden arches or arbours. Through the combination of pillars and cross beams, they make an interesting outdoor structure.
Here's a list of decorative garden arch ideas to get you inspired!
1. Wooden arch for rustic charm
Wooden arbours effortlessly blend into the backdrop while offering a rustic charm. They may be expensive but, considering their robust quality, they're worth investing in.
The BillyOh Orchid has a unique design, featuring a stylish pattern for your plants to climb. Built from Fir wood, it makes an attractive and waterproof outdoor centrepiece or entrance.
2. Metal adds a modern flair
Metal arbours are rust proofed and long-lasting. They hold up well in various weather conditions and are low maintenance, although a bit heavy.
Most have a simple, clean and elegant look and an airy design, which is ideal for showcasing or providing a platform for plants.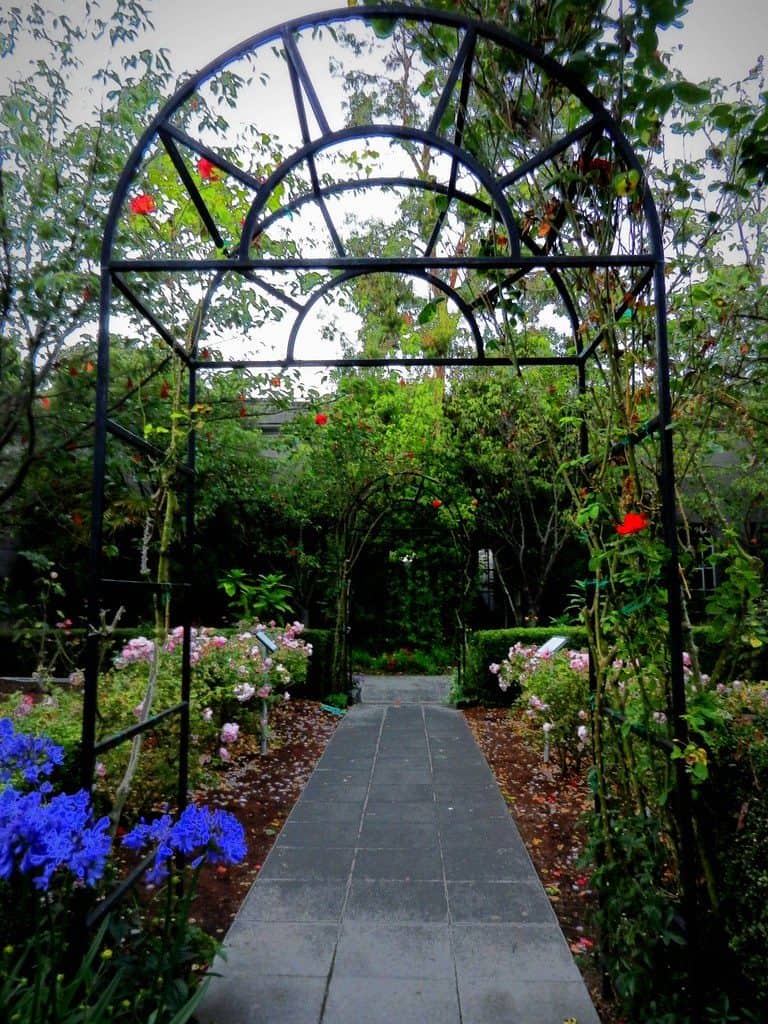 3. Stick to vinyl for low maintenance
If you live in a hot region, opting for a vinyl material is your best bet. It can withstand extreme weather conditions, and like metal, it's virtually maintenance-free.
Most designs are in white colours, but they clean up well if you're worried about dirt sticking to them.
4. Designed with fencing for privacy
Combined with a functional fence, this garden arch creates a more sophisticated look. At the same time, it offers a sense of privacy. The combination also makes the tall & dark arbour structure especially striking.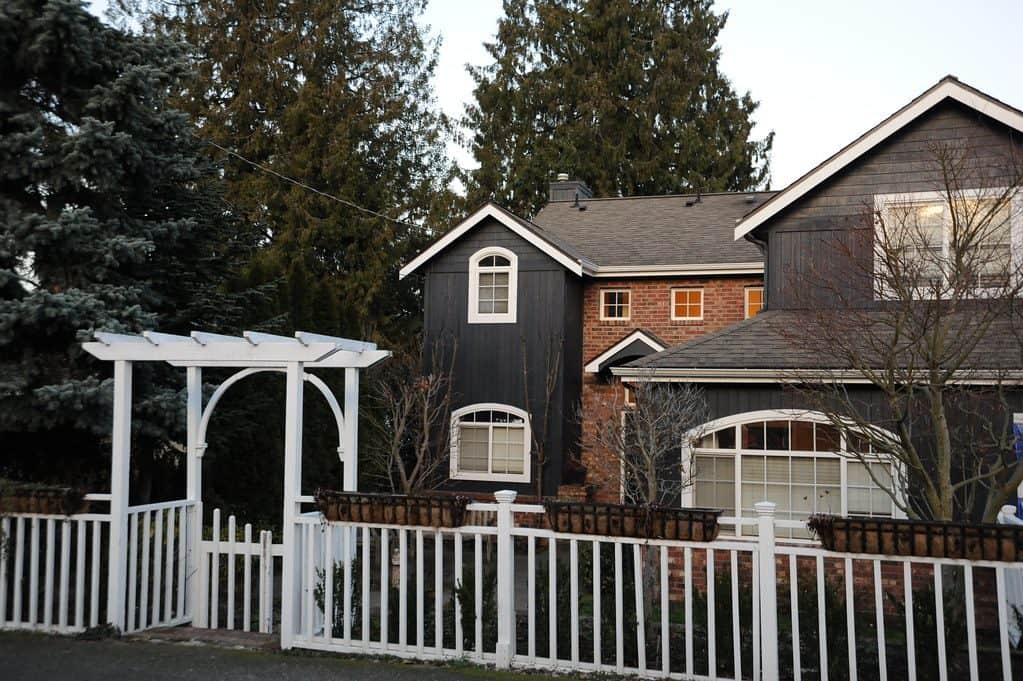 5. A hint of pergola
Pergola-style arches give off a Grecian-inspired elegance. The design showcases their dual-column design, topped off with a flat cross-beam top which is ideal for climbing plants.
Like pergolas, they produce natural shade, making them a great solution for a seating area.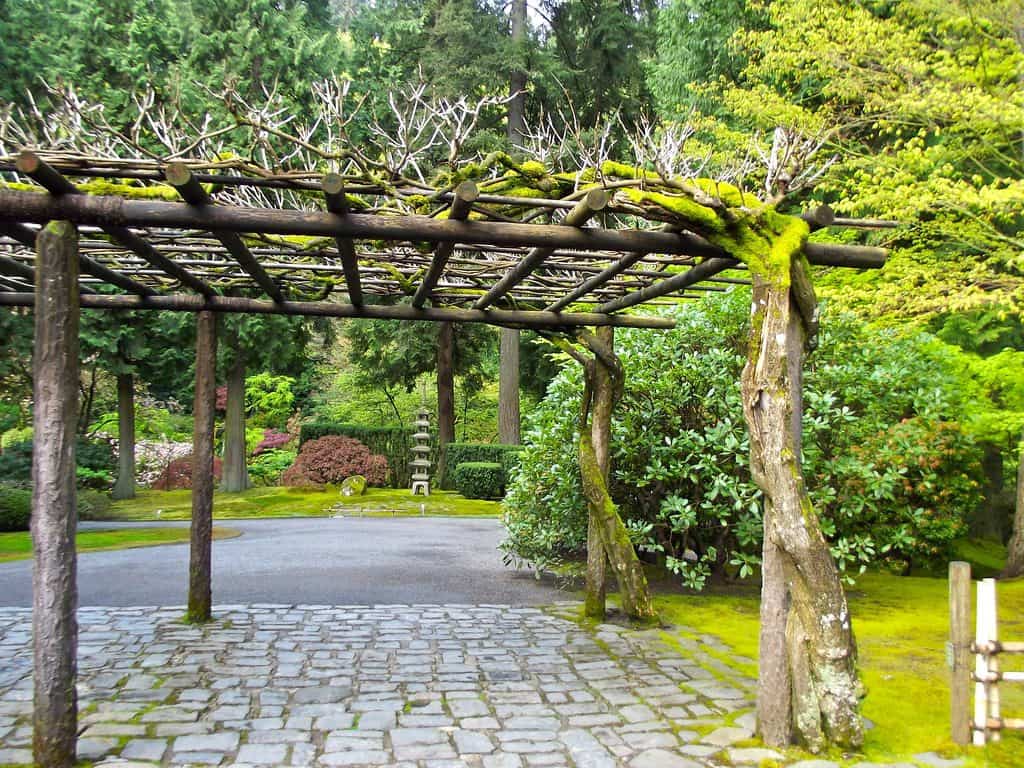 6. Covered with foliage for a curve of blooms
You don't have to go for lush flowers when picking plants to adorn your arch. This red foliage wrapped around a metal arbour is a case in point.
It injects more colour into a patio with a dark palette and amongst the surrounding greenery, without the maintenance and setup of a flowery arch.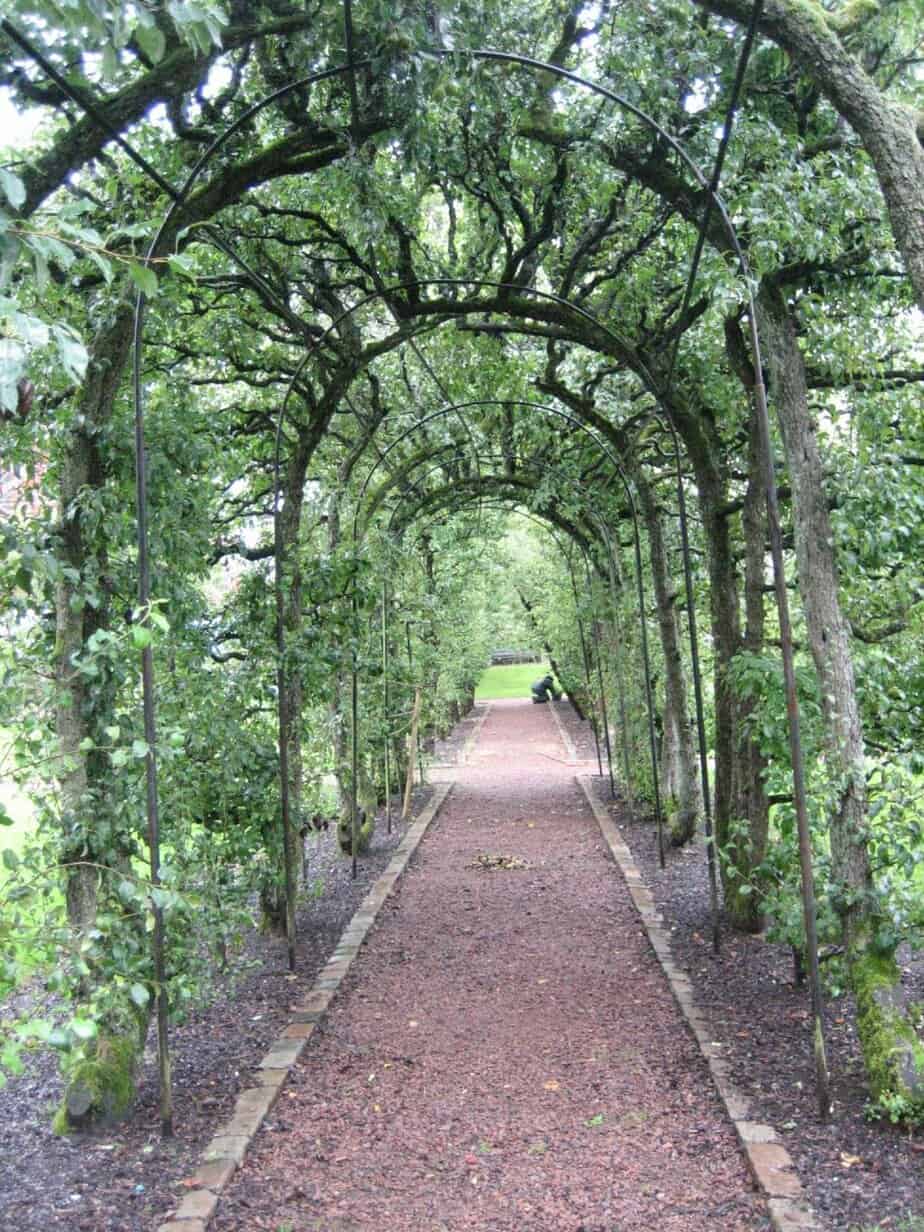 7. Filled with enchanting climbing roses
Complete your cottage-inspired backyard with a charming arbour that spills over with roses! This rose arch makes an entryway that links to a flower garden.
For a dramatic touch, line a few arbours with different species of climbing roses along your garden pathway.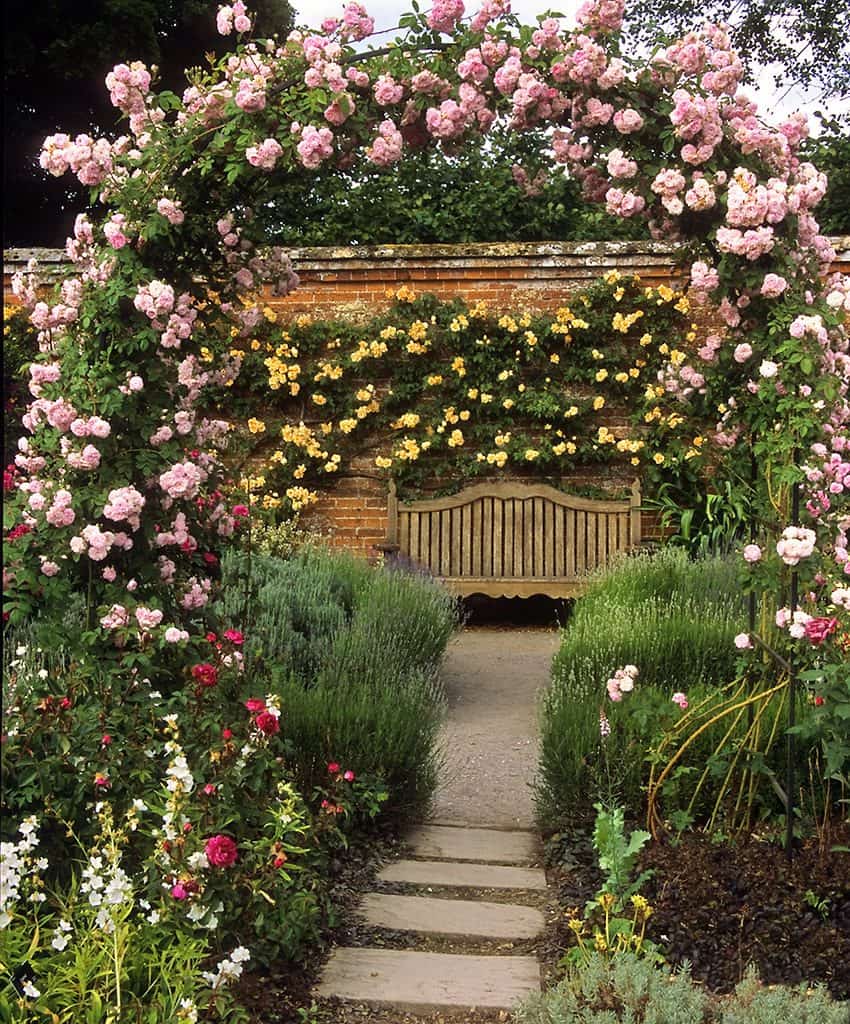 8. As an impactful entranceway
A simple, lush arbour like this can create an impact on your front yard and a wow impression from your guests. The design is humble yet magical thanks to its lush greenery.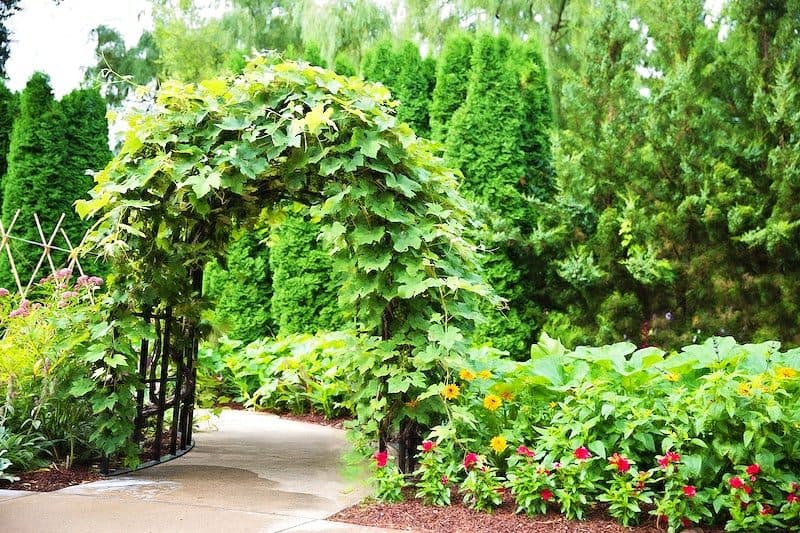 9. With a trellis for added functionality
Grow plants, add privacy and provide overhead shade with an arch and trellis in one design. The lattice pattern of the trellis can support climbing and hanging plants. For shade, attach a piece of fabric on top of the arbour.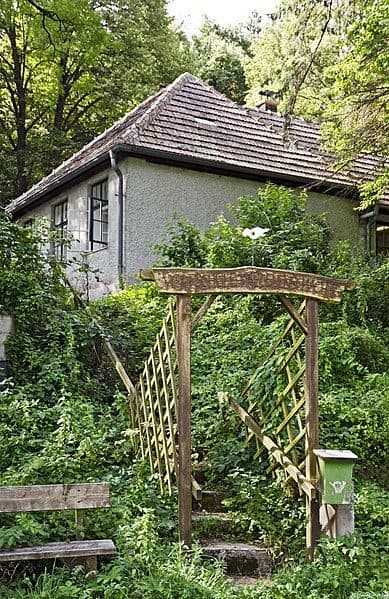 10. Introduce natural elements
Besides its rustic charm, a twig or branch arch costs little or nothing to build. Yet the style still thrives due to its resourcefulness and natural look.
Limbs, branches and found wood make an excellent and cheap choice of material. All you need to worry about is fitting them all together!
11. A series of classical archways
The classical architecture of Rome inspires this arch design. The archways blend industrial and romantic tones, offering different views of the scene.
It frames a seating area and a pond while subtly dividing the space.
12. Shelter a seating area
This steel garden arch transforms a simple bench into a focal point. The climbers creeping around it add an element of shelter and privacy.
The design gives you the perfect spot to take in the view of your outdoor space.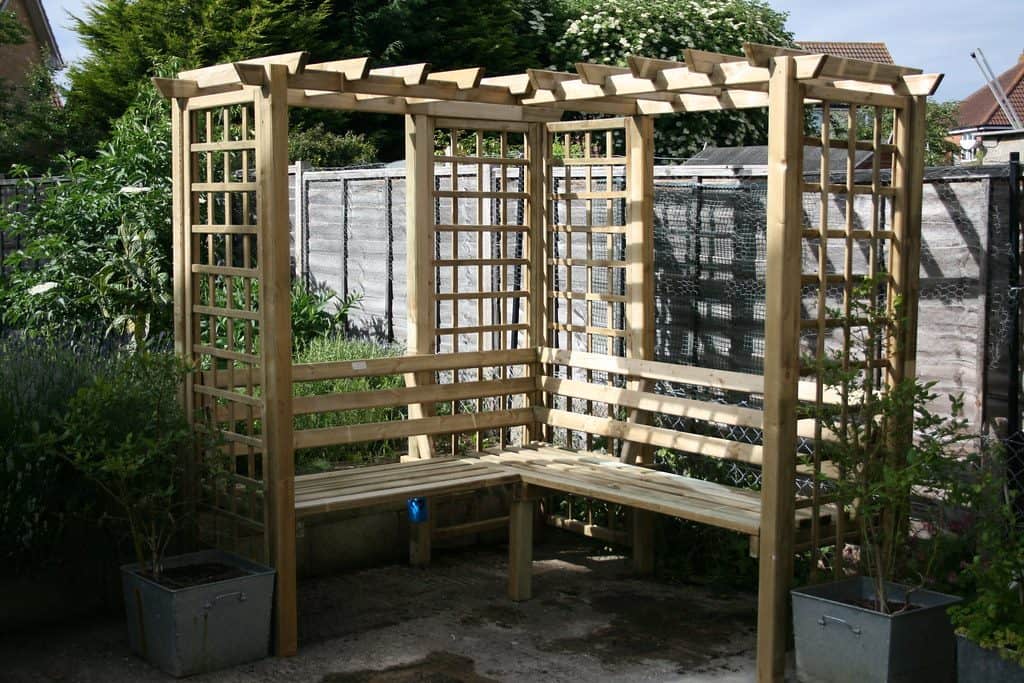 13. An arch-style water feature
This idea is a bit different to usual garden arch ideas. Instead of an actual structure, the concept refers to incorporating a water feature instead of an arch.
Not just an ordinary fountain, but one that forms curves, mimicking an arch – like this one seen here!
14. Straight-line design to make a statement
Here, a wide archway is set in a Mediterranean-style garden made from rammed earth walling. It frames two trees beyond and, at the same time, divides the lush space.
Opt for drought-tolerant plants, use a terracotta tone, and incorporate layered patina.
15. Minimalistic stone concept
A sleek, straight-edged stone structure design that contrasts those more classical approaches. It embraces simplicity and sophistication, allowing the verdant foliage to stand out more.
Ideal for contemporary and minimal garden settings.
16. A narrow arch for framing views
This narrow archway is yet another sculptural impact. It adds pockets of interest for planting and frames a stunning view of the plot. The brickwork also adds a bit of shelter and screening to the space.
17. Gothic arch ruins to add intrigue
The ruins and Gothic-inspired arch add a sense of mystery. The stonework is reminiscent of Medieval architecture. Upon entering, the path leads to a pebbled path beyond.
Replicate this design or add a gothic arch of your own. The beautiful appearance of gothic architecture will entice any gardengoer!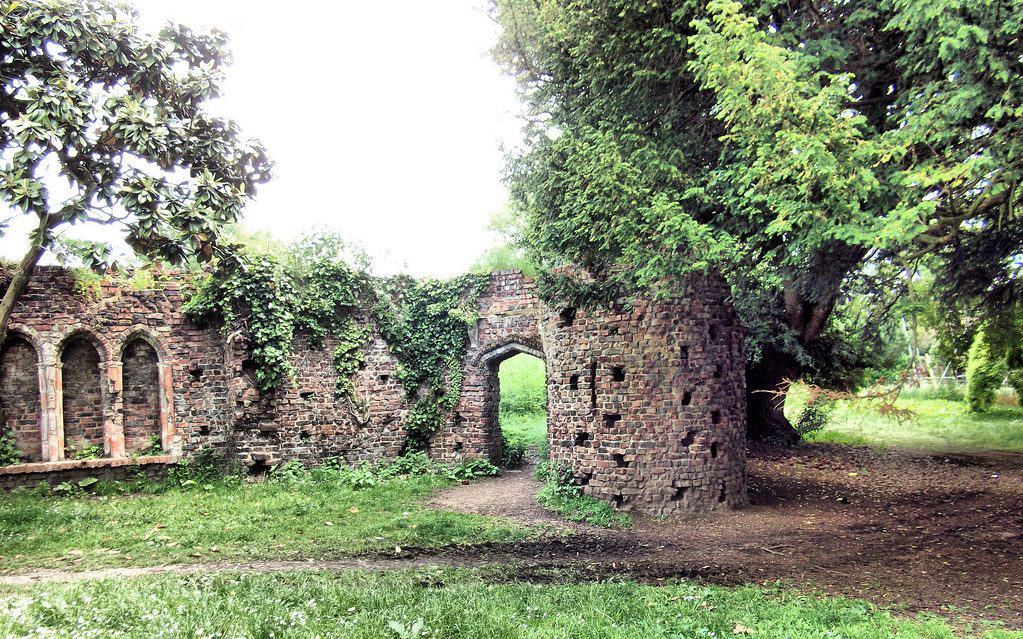 18. Arch trellis and raised beds in one
A stunning and functional duo of an arbour and raised beds add an extra dimension to the garden. The moon-arch trellis ties the design together and creates support for the budding veggies.
Concrete stepping stones and gravel can provide a great accompaniment, providing a clean aesthetic.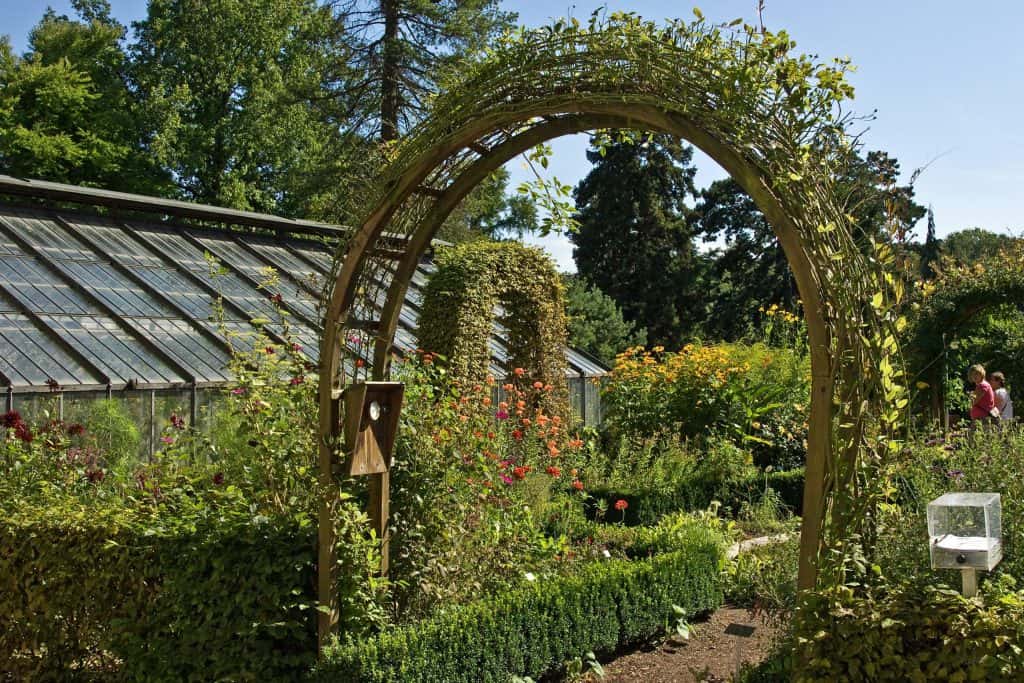 19. Along a pathway
Here, the paving slabs become an inviting entrance thanks to the arbours lining the path. The archways' weathered grey finishes let the surrounding blooms take centre stage. An antique stone fountain awaits at the end.
20. Position the arbour on the deck
Keep the style consistent with the rest of your patio deck for a unified look. If the decking is wood stain, match the arbour to the finish so it doesn't look out of place. Train climbing plants up the arbour to add shade and privacy.
21. Painted or covered in red
Arbours are traditionally left with their natural wood colour or painted in white. Painting yours in a bold, bright colour can be more eye-catching than the standard look.
A vivid shade of red will stand out against the greenery. Alternatively, train red climbing plants, such as a Virginia creeper, for a more natural approach.
22. Create a portal through sheared hedges
The classic whitewashed wooden arbour transitions between two outdoor garden spaces. It creates a distinct architectural portal through a sheared hedgerow.
This garden arch idea would fit well in any traditional garden setting, but requires time and gardening expertise!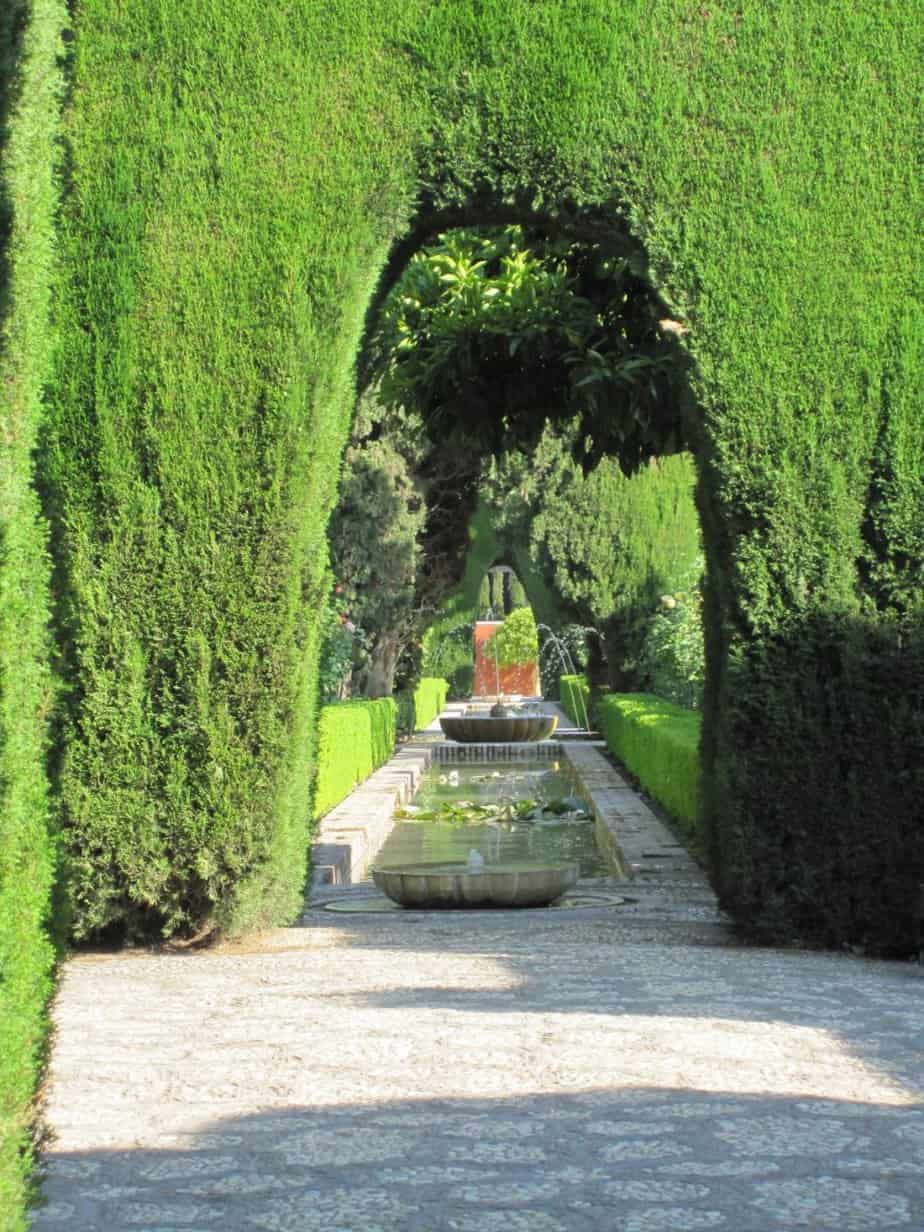 23. How about six sides?
An arbour doesn't have to be always rectangular. Take a cue from this ornate steel lattice with six sides. The rustic feel of the metal arch fits well within an English or Mediterranean landscape.
However you do it, joining arbours together to create an individualistic structure is a great way to add inventiveness to your garden.
24. Zen garden moon-shaped entryway
The elegant arc of a moon gate creates tranquillity and a hint of mystery in Zen gardens. This circular archway is often seen in Chinese-inspired outdoor spaces.
Here the design creates an enticing feature, arching over a path and framing the garden beyond.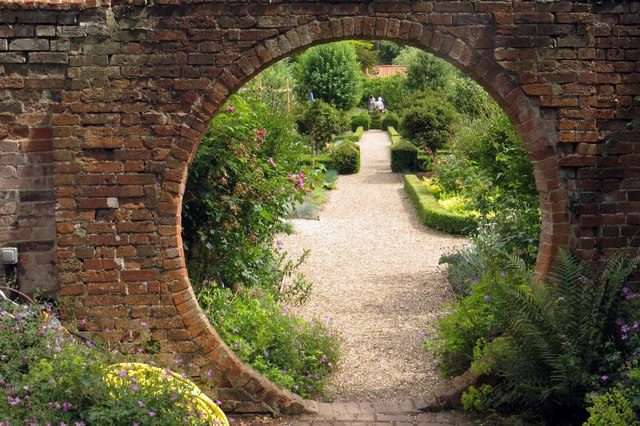 25. Create a tunnel of pears
The pear tunnel in this garden is made possible thanks to the arches. Made from iron frames with enough room for two people to walk side-by-side.
The shady tunnel bears 13 varieties of pear, with bare-rooted maiden trees planted 6 ft. and 6 inches apart. Opt for something similar or create your own peary design!
26. DIY birdhouse arbour
Garden arch ideas can look as attractive as standing alone or with a birdhouse on top! Secure a few birdhouses at the top to create an inviting perch for your feathered visitors.
27. A living arch with Weeping trees
Weeping conifers look stunning when they carpet the ground. But they're especially enchanting when supported by an arch and allowed to dangle.
Here, a weeping tree covers a sturdy arbour with elegantly draping branches.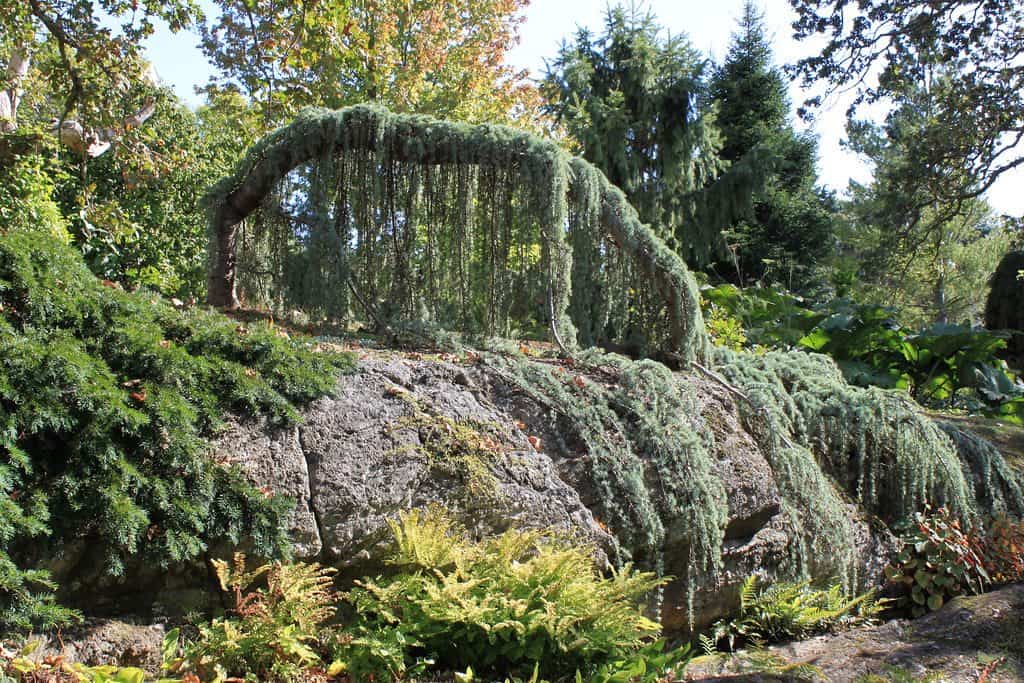 28. Asian-inspired arbours
This Asian-style arbour has a traditional look perfect for a Japanese-style garden. Stick to wood so the structure blends into the formal and natural elements seamlessly. Add rock walls or steps for a cohesive look.
29. Chic blooming Clematis archways
Clematis are such a lovely flowering vine, especially when planted under an arbour. The photo below shows a long, winding archway that has Clematis growing all over it. Expect a beautiful display of a palette of blue-flowering cultivars every year!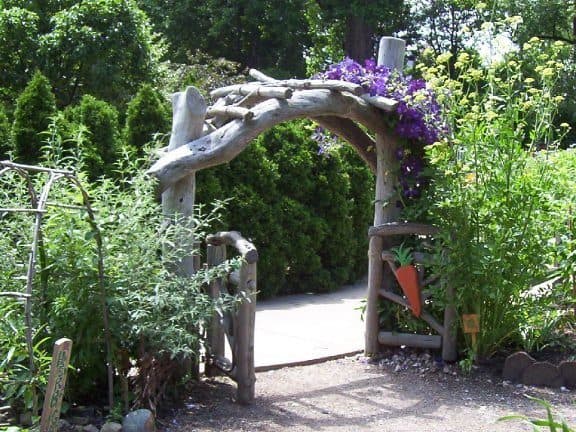 30. Custom made with a swing bench
If you're thinking of creating a DIY arbour for your patio, you might as well complete the look with a swing bench! Position it on the patio, near the fire pit ground, or at the poolside to have a spot to relax and unwind.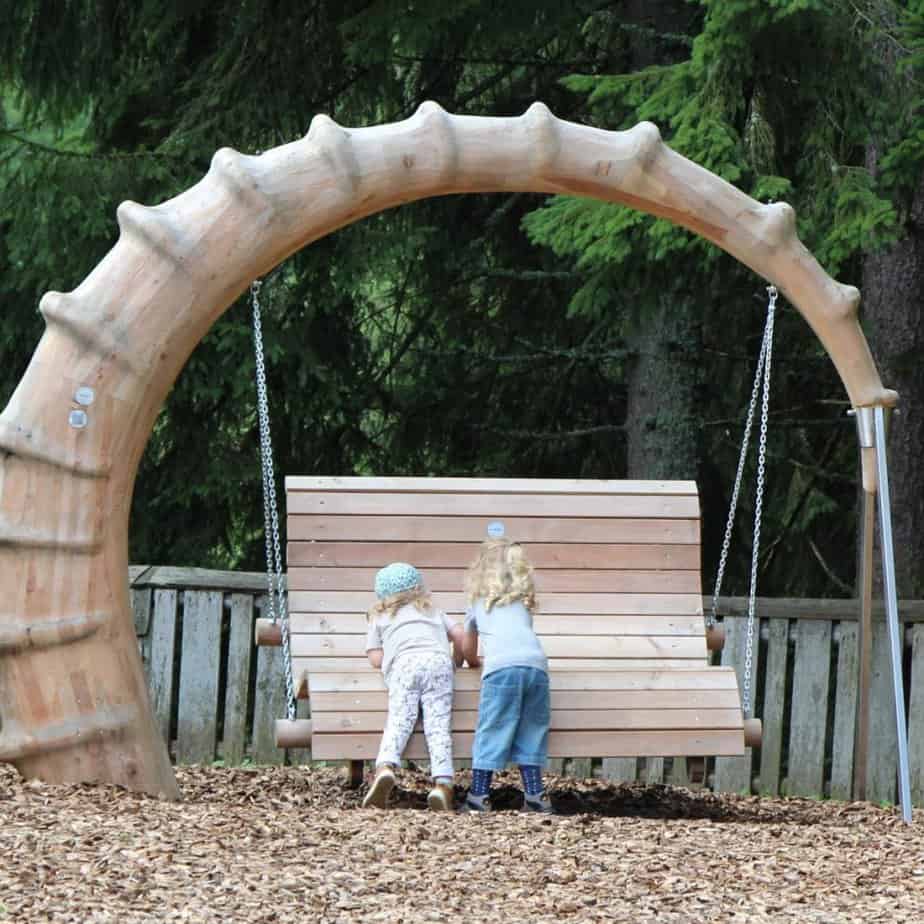 Round-up
On top of vertical visual interest, a garden arch also breaks up a narrow space. It looks great when offset with lower beds and garden paths, too. In short, arbours are useful in dividing zones.
Placed at the start of a path or to break up fencing, arches make an entrance – or even exit – somewhat of an occasion. No one's stopping you from putting one above a seating area for an extra boost of ambience and shelter.
This rounded-up list of garden arch ideas has shown you different designs and looks you can go with. Let us know in the comments below your favourites, or browse our great arbours – like the primrose garden arch – using the button below!
Shop Arbours & Arches