The right paint colour can transform your humble garden shed into a centrepiece. So, in this blog, we'll walk you through the process of selecting the perfect shade. From earthy tones to pastels, learn how wood paint can breathe life into your structure. Ready to enhance the visual appeal of your outdoor oasis?
How Can Paint Make a Difference?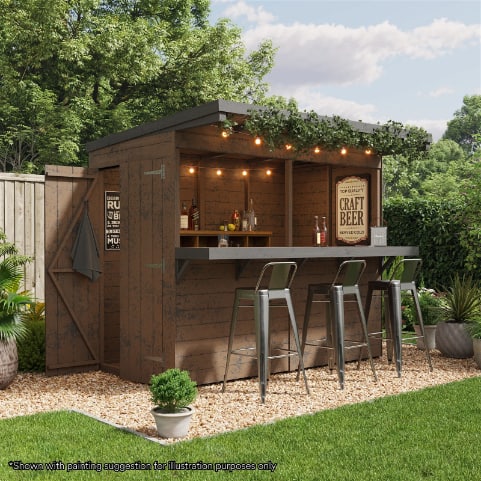 Shed paints aren't merely a choice of aesthetics but a way to elevate your outdoor space. A well-chosen colour can metamorphose a lacklustre shed into a captivating garden feature. With the stroke of a brush, you can add character and a touch of whimsy to your wooden shed.
Colours wield a psychological impact in a garden setting. Earthy tones like greens and browns create a harmonious connection with nature. Pastels introduce a sense of playfulness and warmth. Classic neutrals offer timeless elegance. The right paint colour can influence your mood, evoke emotions, and set the tone for your garden.
What are the Best Paint Colours for Sheds?
Three distinct palettes stand out: Earthy and Natural tones, Pastels, and Classic Neutrals. These colour families each offer a unique charm. Let's explore their characteristics and where they shine in garden settings, shall we?
Earthy and Natural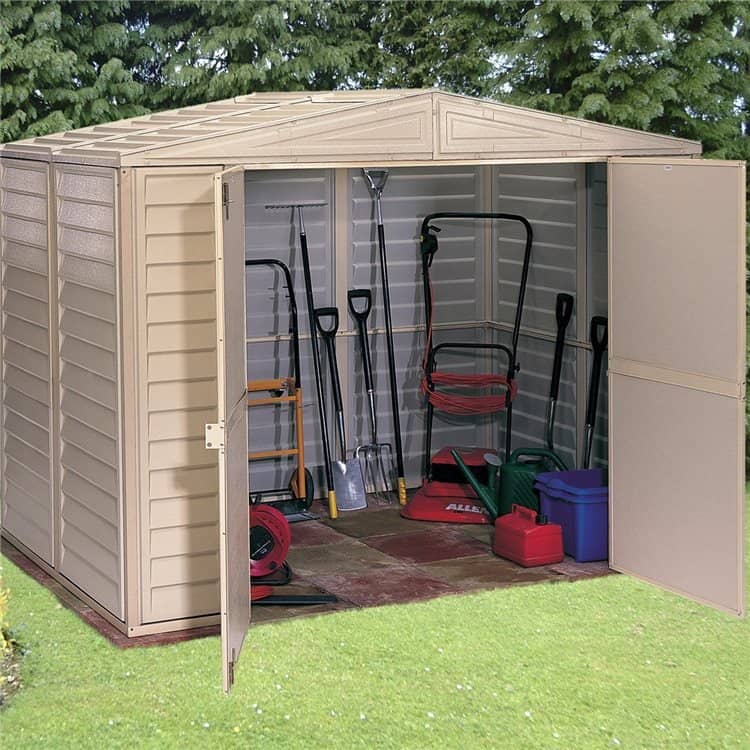 Earthy colours have an innate ability to blend with a garden's natural surroundings. Take olive green and warm terracotta shades, for instance. These hues evoke the beauty of the outdoors! Other shades that work exceptionally well for timber and vinyl sheds include:
These colours mimic the earth, trees, and elements. They create a harmonious connection with nature.
Overall, these tones are perfect for garden sheds tucked amidst lush greenery. A rustic timber shed or even a metal shed adorned with ivy can be enhanced by these earthy colours. They make them appear as though they've always been a part of the outdoor landscape.
Earthy and natural tones are a perfect choice if you want to create a tranquil atmosphere. This colour palette fosters a sense of relaxation and peace in your outdoor haven.
Pastels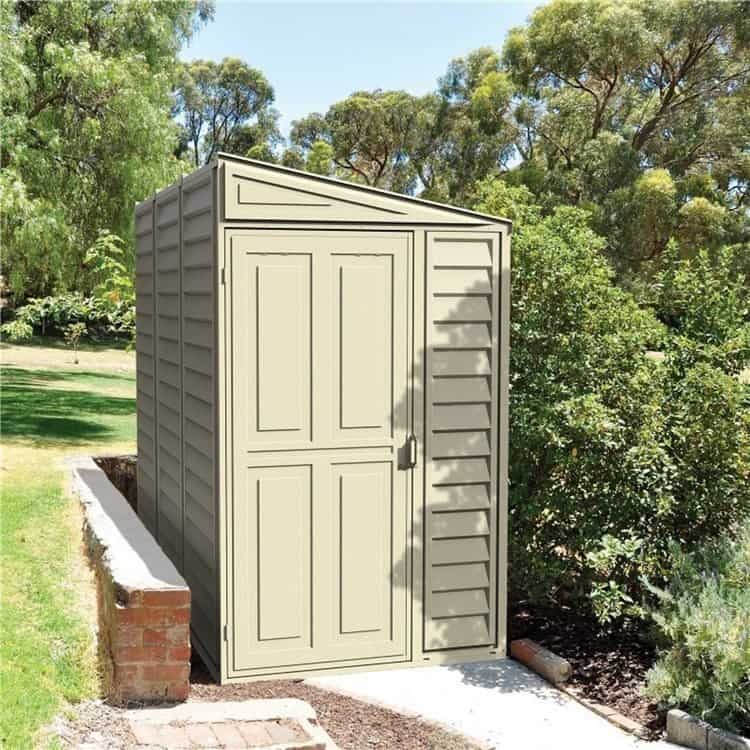 Pastel colours infuse a garden storage shed with a playful and welcoming atmosphere. Light blue and soft pink, for one, evoke a sense of nostalgia and whimsy. Mint green, lavender, and pale yellow can also work wonders. These colours exude a sense of freshness and serenity. They create a delightful contrast with the natural surroundings.
Imagine a quaint apex switch shed painted soft pink nestled among blooming roses. Or a light blue shed with white trim surrounded by a lush, green garden. These pastel shades can turn it into a welcoming haven. Ideal for tea parties, art studios, or simply a cosy retreat in the midst of your vibrant garden.
The whimsical appeal of pastels is sure to make your shed a focal point in outdoor sanctuaries. If you want to add a touch of charm to your garden, these gentle hues are your best bet!
Classic Neutrals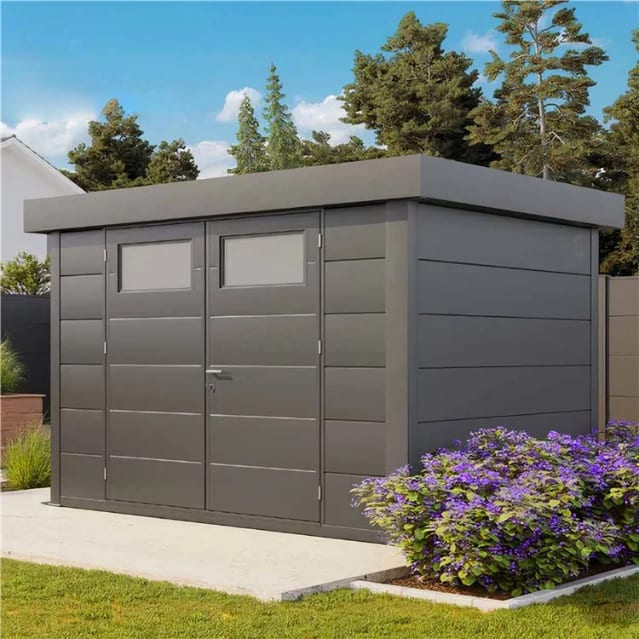 Classic neutral shades hold an enduring appeal for shed buildings, including potting sheds. Great examples are timeless white and versatile grey. These understated hues effortlessly blend into the natural canvas of your backyard retreat. They offer a clean and elegant look that suits a variety of garden styles.
A white corner shed can evoke a cottage-like charm that pairs well with a garden full of colourful blooms. Grey, in contrast, can provide a modern and sleek contrast to a contemporary garden design. Have a look at these metal garden rooms – the Telluria Eleganto Heavy Duty Steel Shed, in particular.
You can never go wrong with shades like soft height, taupe, and light cream, too. These colours give off simplicity and sophistication at the same time.
Classic neutrals are versatile, making them a great choice for any style of shed. They not only enhance the shed's visual but also allow the surrounding garden elements to shine. This, in turn, helps create a balanced and inviting atmosphere in your outdoor haven.
Choosing the Right Paint Colour
Consider the following factor below when selecting the ideal shed paint colour:
Shed size:

For smaller sheds, lighter colours can create an illusion of more space. Meanwhile, larger units can carry bolder shades gracefully.

Architectural style:

Match the colour to your shed's style. Earthy tones complement rustic sheds. Pastels enhance charming cottages, and classic neutrals suit modern designs.

Personal preferences:

Ultimately, choose colours that resonate with your taste. Also, consider the atmosphere you want to create in your garden.
Remember that the right shed paint colour can turn your garden shed into a visual masterpiece!
Round-up
Whether you seek a connection with nature, a touch of whimsy, or timeless elegance, your choice of colour matters. Consider shed size, style, and your own preferences as you embark on this creative journey, too. With the right paint colour, you can elevate the entire atmosphere of your garden!
What if you've found the perfect paint but not the ideal shed? That's where Garden Buildings Direct comes in! Explore our extensive collection of garden sheds for sale. Available in various sizes and materials, including metal and plastic sheds.
Next on your reading list: How to Maintain Your Shed Paint
Shop Shed Paints & Treatments