Garden buildings like sheds and log cabins are popular in the UK, due to their contemporary appearance and the versatility they offer. This is evident from the number of outbuildings we offer at Garden Buildings Direct. But, for your outdoor structure to remain in excellent shape all-year-round, maintenance is key.
When it comes to treating your garden building, pressure-treatment can be your best option. In this article, we've compiled everything you need to know about treated wood and the numerous benefits it provides.
How Does Pressure Treatment Work?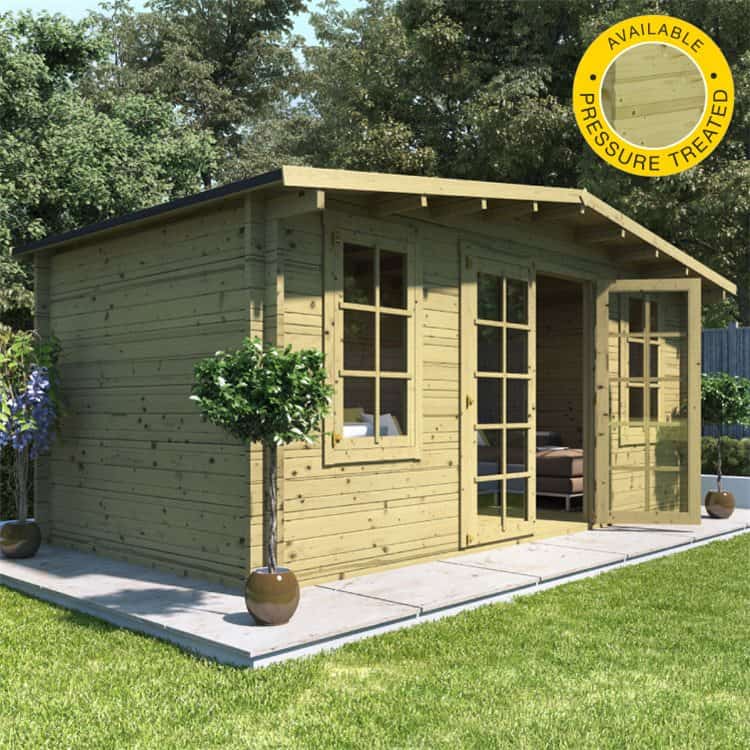 The pressure treatment process works by dipping timber into tanks full of chemical preservatives to penetrate them – so the wood is situated in a vessel full of wood preservatives. The process consists of drying the wood out naturally using a kiln or airflow. This procedure sure is a tedious one as it includes multiple steps, but the finished product will be rewarding. This is also carried out by most professionals and is not something you can do yourself.
A pressure-treated wood/garden building can stand up firmly against any harsh weather conditions whilst simultaneously extending its lifespan compared to the untreated alternative. Thus, it can offer you tons of amazing benefits!
What are the Benefits of Pressure-Treatment?
Owning a wooden shed comes with a lot of perks. Included in its unique advantages are natural insulation, a reduced likelihood of planning permission being required, as well as the multitude of applications to which a garden shed can be used for. Many of these perks can be further enhanced by having your timber pressure-treated!
1. Weather-proof
One of the reasons why shed owners opt for pressure-treated outbuildings is because of their ability to withstand any weather conditions, making them more than capable of resisting the UK's consistent rain and wind. No matter what type of beating nature throws at it, your shed is guaranteed to last for many years to come.
Placing your garden building on uneven or sodden ground is not a problem at all! This is because the preservative will act as a form of protection against rot and decay in damp places, such as the base.
2. Longevity
As we mentioned earlier, an excellent pressure-treated garden building, such as a shed, log cabin or summer house, can last longer than the untreated alternative.
A pressure-treated shed will be able to comfortably house and protect your valuable items for years to come – keeping your garden tools and equipment safe and sound throughout all four seasons. Isn't that great? If what you need is a garden building that will cover, protect, and store your gardening supplies with no fear of the issues which often plague natural products such as timber — then pressure treatment is almost certainly the best way to do it!
3. Cost-effective
When it comes to purchasing decisions, don't forget to be cost-efficient. Buying something that guarantees good value, where the benefits and usage are worth what's paid for, makes perfect financial sense.
Buying temporary surface protection for your shed, log cabin or summer house, will likely end up costing you more money than simply buying a pressure treated garden building outright. This is because you will likely end up making this having to buy temporary protection on multiple occasions, as opposed to making one single purchase for pressure-treated timber. Although opting for a pressure-treated building requires an additional initial outlay, the amount of protection it provides – including its high-quality wood preservatives, inside and out – is sure worth to be worth it in the long run.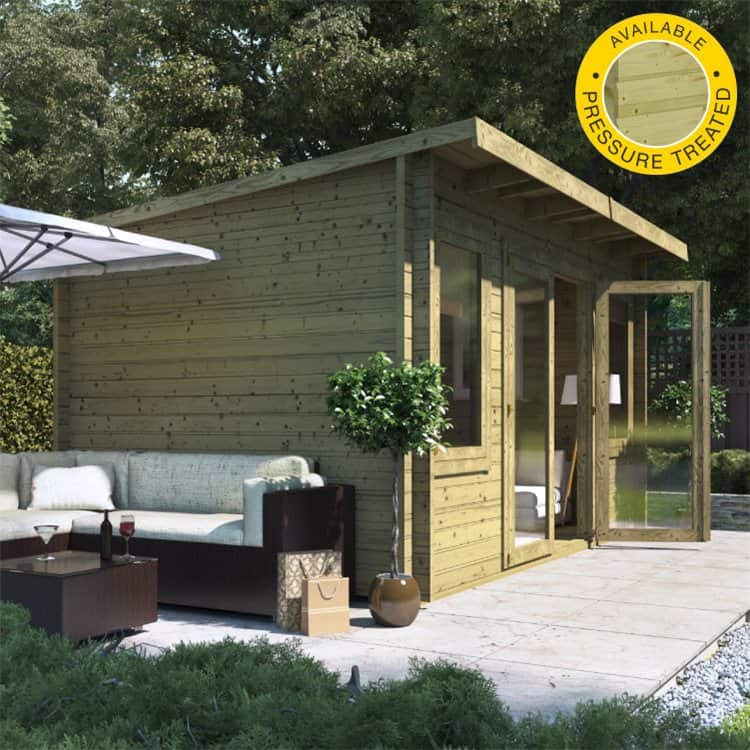 4. Environmentally-friendly
The chemicals used in the process of pressure treatment are, in fact, beneficial to the environment. Preserving wood uses less energy than other methods of producing the supplies that we normally use to construct buildings, such as concrete and steel—which are considered non-friendly to the environment.
The primary chemical used in the pressure-treating process is copper. This is a byproduct of recycling and would be otherwise discarded if it weren't used for pressure treating timber, according to Project Timber.
5. Low-maintenance
An advantage of a low-maintenance garden building is that they only require a little work to keep in superb condition. So, if you own a pressure treated shed or any other kind of garden building, then maintenance will be much less of an issue for you. Thanks to all the preservatives infiltrating the wood, your shed will be especially resistant to any weather conditions and pests, meaning you don't have to worry about it anywhere near as much, once it's been installed. 
Conclusion
It's recommended that your outbuilding is treated before use, as this will prolong its lifespan and make it more durable and hardy against the elements. For ultimate protection, pressure treatment is your best bet! Here at Garden Buildings Direct, we offer a wide range of garden buildings, such as garden sheds, log cabins, garden offices, summer houses and workshops. Many of these are available for pressure-treatment so don't hesitate to check out our pressure-treated products now!