Whether you use your garden shed for storage purposes or as an outdoor retreat, it's crucial to keep your shed in good condition. When it comes to shed maintenance, you'll want to make sure your shed's roof is not being overlooked.
Not only will shed roof maintenance keep everything you're storing inside dry, safe and sound, but will also keep the overall outbuilding structure running smoothly all-year-round. If you want to know how you can sustain your shed's roof, we've curated some helpful tips for maintaining your garden shed roof.
Let's get started!
Inspecting Your Shed Roof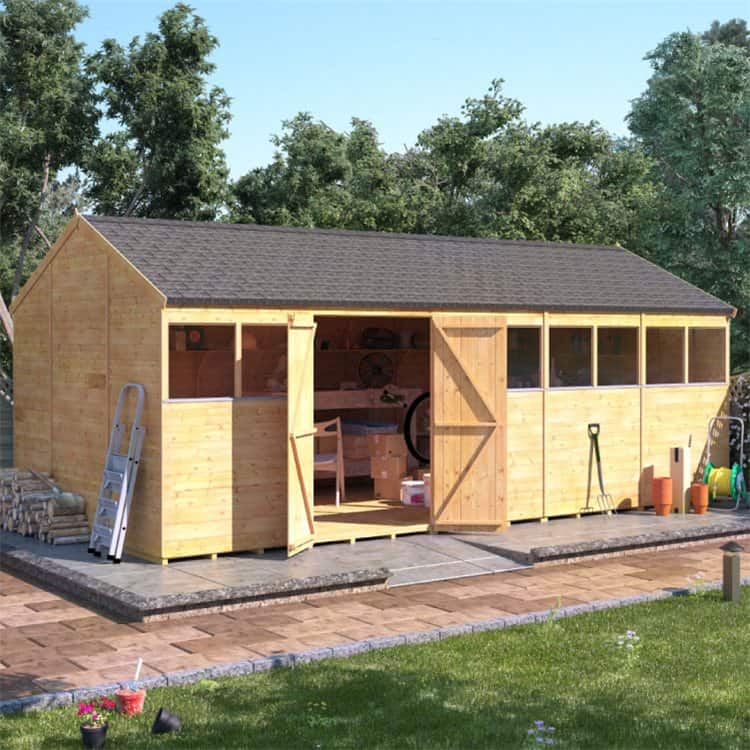 The first step you should take to check your shed roof's condition is to get a good and clear look at it first. Doing this at least twice a year allows you to take swift action and decide whether or not your outbuilding roof needs maintenance – avoiding costly wear, tear and any other major repairs in the long run.
We've listed some tips down below that you can follow for inspecting your garden shed roof.
1. Examine Your Roof From the Ground
Before you get on your shed roof and get an up-close look at its current condition, our experts recommend to check it first from the ground. By this, we mean look for any holes, dents, or separation between pieces.
2. Look Out for Rust
For metal-type shed roofs, make sure there is no exposed metal, in order to prevent rust. If you spot any, it's best to call for an expert's help or a roofing company, and have them wire brush, prime and repaint the metal roof to restore its condition.
3. Ensure There Are No Loose Pieces
Whether your roof is metal or shingle-type, be sure all of its components are fastened down correctly. If you spot any loose shingles, contact a professional roofer to apply roof cement or replace the part that needs to be replaced as soon as possible.
As for the metal roofs, there's nothing to worry about if all the metal is nailed or screwed down properly. Otherwise, you better call a pro immediately to amend the issue.
4. Check Out for Leaks
Just because you can't spot any holes in your shed's roof from the outside, it doesn't mean there can't be any hidden damages inside. What you can do is to check for pooling water on the floor of your shed, including wet spots on the interior of your roof.
Check out for discoloured wood, too, and see if any items stored in your shed are wet.
5. Monitor Your Roof After Major Weather Events
As much as we want to keep our shed roof looking great – and our garden sheds in general – they can still be damaged when severe weather strikes. So, after experiencing a big snowstorm or stormy/windy weather, make sure to check and monitor your roof for anything out of the ordinary.
If you identified the issue or damage with your roof after the weather event, this could help you save your garden building, including the things stored and the roof itself.
Here are some other things to look for when inspecting your shed roof:
Rusted, bent, or puncture flashing. The flashing is the metal part which covers the seam and surrounding areas of two connecting parts of your shed roof.

Cracked caulking and sealant.

Signs of small animals living in your shed roof, such as small holes, nests, etc.

Signs of insects and pests, e.g. termites.

Missing, broken, curled, or warped shingles.
Keeping Your Roof Free of Debris
Did you know that a pile of leaves, a branch and any other falling debris can still damage your roof if they're left sitting for too long? To prevent any dent, you can check out these handy tips.
1. Trim Overhanging Branch
Friction between your shed roof and tree branches can wear down your roof. There's also a possibility that a strong storm could break heavy limbs off the tree, causing major damage, not only to your roof but to the overall structure of your garden building.
If you spot any branches leaning on or hanging around over your shed's roof, you have to get rid of them as soon as possible to prevent the damage it can cause if left intact or untrimmed.
Tip: If the branches are thin and light, you can trim them yourself. But be mindful of any substantial brush—if possible, let a professional handle it.
2. Remove Moss and Algae
There will always be some parts of your roof that receive less sunlight and more moisture, making them prone to moss and algae. If they're left untreated for extended periods, they can weaken your roof.
You can ask for a professional roofing contractor to install zinc control strips near the hips, hedges and under shingles on your roof to prevent moss or algae for growing.
Metal Shed Roof Maintenance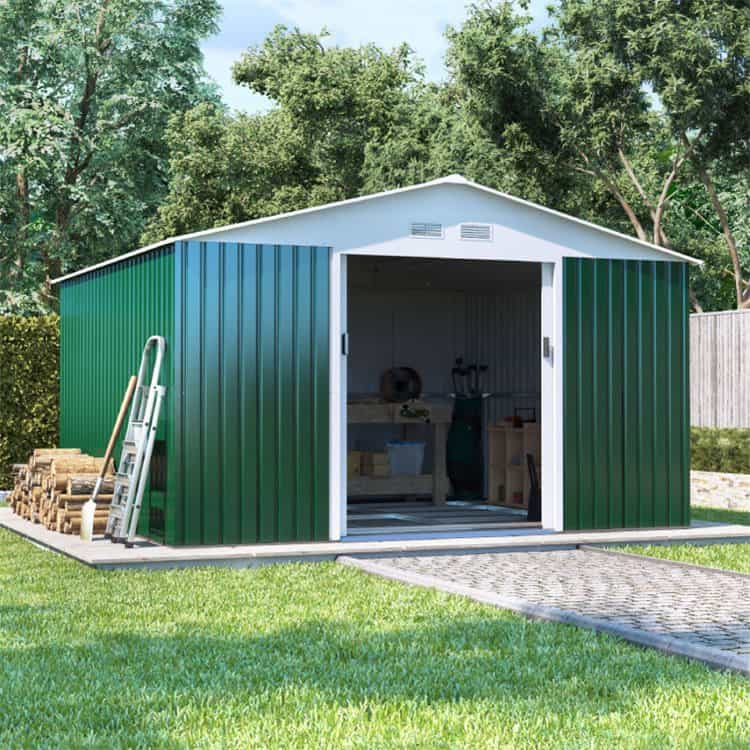 Although metal sheds are known for their durability, metal shed roofs are not impervious to damage. Both natural and human factors can still cause damage to metal structures, especially if no effort is made to maintain them.
If you buy any of the garden building units from Garden Buildings Direct – particularly garden sheds – we offer a double Tongue & Groove roof option which is designed to make your shed roof hard-wearing and long-lasting. We also provide mineral felt roofing options, protecting your shed roof from harsh weather conditions and any potential water damage.