Known for its destructive capabilities, the Japanese knotweed is an invasive plant which can severely damage buildings and construction sites if left unchecked. With its red stems and deep green leaves, it's not deemed an unattractive plant. However, as the Japanese knotweed spreads rapidly, it can be a severe problem for homeowners.
Where Does It Come From?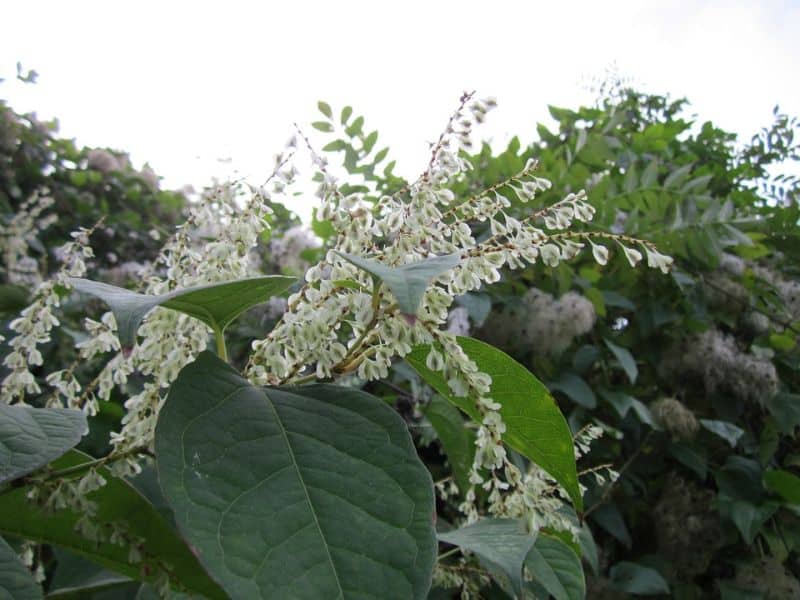 Originating in Japan, in the 1840s a Dutch doctor called Phillipe von Siebold brought the Japanese knotweed over to Britain. He began selling the plant to botanical gardens and high society figures. By 1869, it became available for public sale, and farmers started using it as feed for their animals.
In the late 19th century, Japanese knotweed was unleashed on our gardens. Encouraged to buy at the time, it was described as "a capital plant for small-town gardeners." However, perceptions soon changed.
In 1981, the Wildlife and Country Act made it an offence to introduce Japanese Knotweed into wild spaces, and a survey in 1998 showed that in the Swansea area alone, the weed-covered an area of 99 hectares. In 2011, aphids were released in Swansea to try and combat the crazed plant, without much luck.
How Did It Spread in Britain?
This aggressive knotweed has plagued British countryside, striking fear into homeowners and causing devastating impacts on a property. But what makes Japanese Knotweed so unusual from other garden weeds?
This knotweed takes first place as the UK's most invasive and destructive plant. Known to have ravaged through tarmacked drives and trespass homes, it can creep underneath houses, as well as garden buildings such as sheds and greenhouses, and reach up through your floorboards.
In an attempt to control its growth, it costs the government thousands of pounds every year.
Although it produces seeds, it's extremely rare for the seeds to germinate. The most common method of dispersal is the spreading of rhizome fragments (shoot-like-roots).
The crown can survive drying or composting and will produce new canes when it comes into contact with soil or water.
To dispose of knotweed canes, it is crucial the stems are cut above the crown, rather than pulling as this will dislodge the crown. Living crowns usually have growth buds which are obvious in late spring and which have a characteristic pink colour.
Did You Know You Could Be Breaking the Law?
In the UK, there are two main pieces of legislation surrounding Japanese Knotweed.  
The Wildlife and Countryside Act 1981 states that it is an offence to plant or let Japanese Knotweed growing in the wild. 
Section 14(2) of the Wildlife and Countryside Act 1981 also states, "If any person plants or otherwise cause to grow in the wild any plant which is included in Part 2 of Schedule 9, he shall be guilty of an offence". (Japanese knotweed is a Schedule 9 listed plant).
An offence under the Wildlife and Countryside Act can result in criminal prosecution.
Environmental Protection Act 1990 classifies the weed as 'controlled waste.' This means by law; you must dispose of it safely at a licensed landfill site.
Soil containing rhizome, the root-like stems of the plant, is regarded as contaminated. It must be disposed of an official landfill site and buried to a depth of at least 5 metres.
According to the Environmental Protection Act (EPA) 1990, any controlled waste, must be disposed of at appropriately licensed landfills. If you deposit, treat or keep controlled waste without a licence it is an offence under Section 33 of the EPA.
A violation of the Environmental Protection Act can result in an unlimited fine. You can also be held liable for costs incurred from the spread of Knotweed into adjacent properties.
The Control of Pesticides Regulations 1986 requires any person who uses pesticides, "…to take all reasonable precautions to protect the health of human beings, creatures and plants to safeguard the environment and to avoid contaminating the water."
If you plan on using pesticides near water, seek approval from the Environment Agency first. Allowing it to spread from your land can make you liable to third-party litigation and/or civil prosecution.
Not disposing of Japanese knotweed under the Environmental Agency Regulatory Position Statement 'Treatment and disposal of invasive non-native plants: RPS 178' could easily result in spreading the knotweed and therefore breaking the law.
How Do I Know If I've Got It?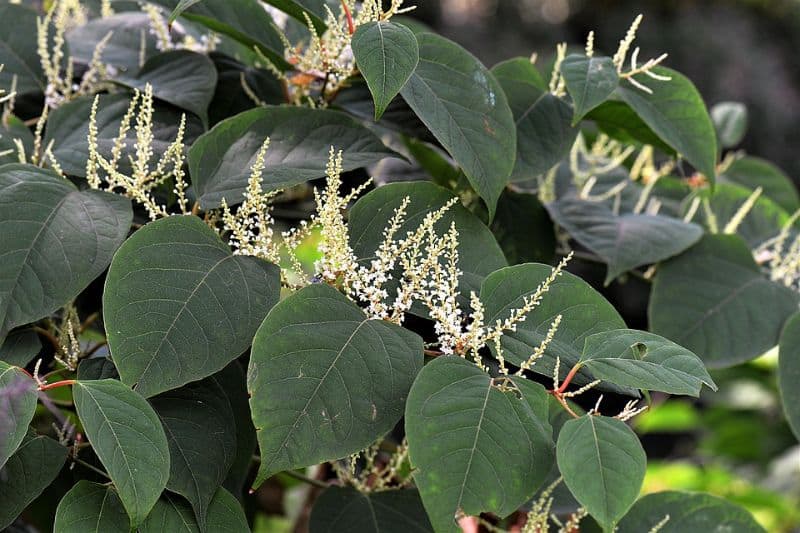 Japanese knotweed starts growing from early spring and can reach 1.5m by May and 3m by June, before dying back between September and November. The best time to spot Japanese knotweed is during mid-summer and early autumn. What you need to look out for;
Fleshy red tinged shoots when it first breaks through the ground

Large heart or spade-shaped green leaves

A hollow bamboo-like stem

Dense clumps that can be several metres deep

Clusters of cream flowers towards the end of July that attracts bees
What Can I Do About It?
Unfortunately, not a great deal. It's understood that the plant cannot be dug out of the ground, so Japanese knotweed removal isn't effective. If less than a grass of its root is missed in the process, it will rapidly regrow!
However, you can spray or inject herbicides into the stem. But this takes six months to do so you'll need to be patient. It's also costly to do, and can cost £1,500 for a small patch of the weed!
Scientists are planning to release some Japanese knotweed-chomping insects into areas with higher humidity, in the hope they will start feeding off the weed. The bad news is that this is a long term project which will take five to 10 years to make a difference.
Another option to deal with the problem in your garden is eating it! You can cook your Japanese knotweed, though you will need to eat a lot of it before you even come close to eradicating the problem.
Japanese Knotweed Removal Requires Informed Knowledge
Japanese knotweed removal can be tricky if you don't know what you're dealing with. As it only takes a fragment to start a new plant, removal isn't as simple as digging it up.
If Japanese Knotweed is in your garden, you'll want to eradicate the knotweed entirely. Some methods of removal are more effective than others, although costs can vary!
DIY: Getting Rid of Knotweed Yourself
It is possible to dig out the plant yourself, but it does pose some risks – notably, you'll not be able to get a guarantee, which most mortgage providers demand when lending knotweed-affected-property. 
Due to the depth that the rhizomes can penetrate, regrowth usually occurs. You should consider some DO's and DON'TS before taking on knotweed yourself.
#1 Don't spread contaminated soil
Japanese knotweed is classed as 'controlled waste.' As it is so easily spread, this means it requires disposal at licensed landfill sites.
You should never include the knotweed with normal household waste or put out in green waste collection schemes.
#2 Do get to the root of the problem
Remove as much root as possible, then repeatedly destroy regrowth. This way, the energy reserves in the remaining underground parts will be gradually exhausted. The process can take up to several years to be effective.
#3 Don't allow Japanese knotweed to spread to neighbourhood properties
Talk to your neighbours about the knotweed problem and any treatment you have planned. A barrier may be needed as you can be held responsible if it encroaches onto their property.
#4 Don't do any DIY removal if you plan on selling your home
If you plan to buy or sell a property invaded with Japanese knotweed, be careful. Do not undertake a treatment plan you cannot guarantee.
Mortgage lenders usually demand assurances from professional companies that the problem is under control.
Non-Chemical Removal Includes Plant Sucking Bugs
A plant sucker (psyllid) is being released in the UK as a means of biological control. It is currently only being released at a handful of trial sites and is not available to gardeners.
If successful, the insects will be released nationally and become widespread in Britain. Over the next five to ten years, if effective, Japanese Knotweed could be under control!
Top 4 Frequently Asked Questions!
1. Will digging it up and burning it get rid of it?
No. This doesn't work for Invasive species like Japanese Knotweed. They are good at surviving, and digging them up can cause them to spread to another area. (Perhaps, your neighbours!)
This can cause all sorts of problems, including legal action against you! Contact a suitably qualified contractor for advice to tackle the problem.
2. Will Japanese knotweed come back?
There is always a possibility of some regrowth, especially following herbicide treatment. The effectiveness depends on the plant's uptake of the chemical.
If regrowth occurs on a property, this should be treated again.
3. Can I get a mortgage if I have Japanese knotweed on my property?
Yes, but there are risks. You may require a treatment programme, including an insurance-backed guarantee from a contractor. Japanese Knotweed can decrease the value you of your home.
4. How does it spread?
The plant spreads by vegetative means, rather than by seed dispersal.
Rhizomes may grow from either an existing crown, where previous growth has taken place or from a cut stem. New outbreaks of knotweed generally result from fragments of rhizomes within soils being moved from site to site.
This can be because of gardening and DIY projects, fly-tipping, or by natural processes. It's important to dispose of any fragments of the plant at a suitable landfill.