Greenhouses, regardless of the type, serve one purpose. That is to cultivate plant life, provided with an ideal growing environment. Metal greenhouses are no exception.
For starters, steel greenhouses provide an excellent asset. They boast benefits that can't be offered by their wooden and plastic counterparts.
Here's why investing in one is the right move for any serious plant enthusiast, including you.
Metal Greenhouses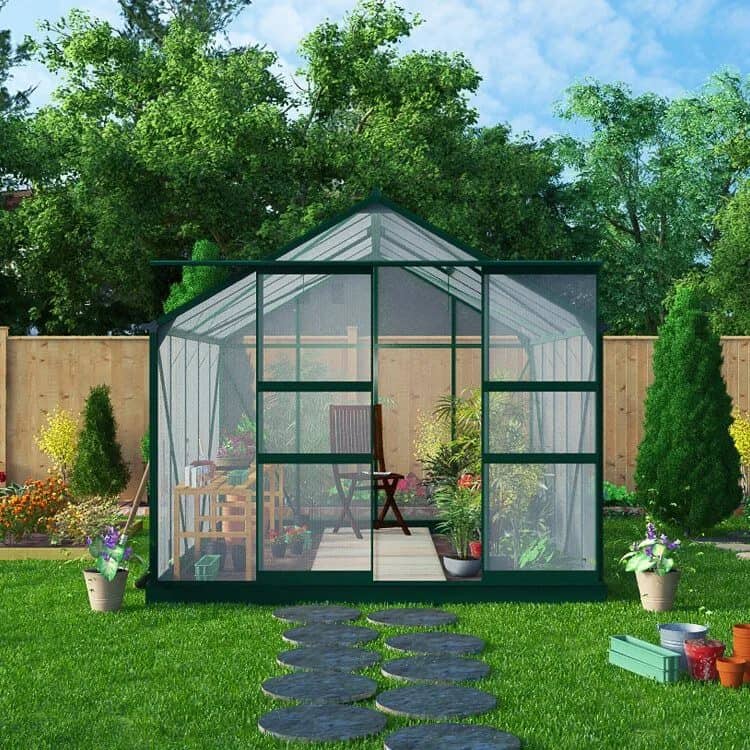 Metal or steel greenhouses are popular among gardeners and farmers, as well as in UK home gardens. But why have they become a garden mainstay?
A metal greenhouse is made primarily from galvanised steel or aluminium. This type of growing structure allows sunlight to enter but keeps out wind and cold air. The aluminium frames offer extra robustness and stability. Insulation may also be added.
Other than shielding plants from often adverse climate conditions, it offers promising advantages. One, you don't have to worry about rust and corrosion, particularly on an aluminium unit. Another standout characteristic of aluminium is its rust resistance, plus its lightweightness.
Comparing to traditional wooden and plastic greenhouses
Metal greenhouses offer many advantages over traditional ones made from wood or plastic. Starting with their durability, which is far superior. This allows the steel structure to last much longer than a wooden greenhouse – with rot issues at bay.
Steel frames can also withstand more weight than most plastics. When it comes to weatherproofing, this can easily be remedied by adding insulation. Doing so can keep the temperature and air circulation inside regulated year-round.
Most plastic and wood options require more manual labour during setup. Even if they come with instructions included. And it happens that metal models come pre-assembled and ready to install out of the box.
As far as aesthetics go, metal frames tend to skew modern and contemporary. In terms of colour, there's an extensive array from which you can choose. Take the metal greenhouse units in green from Garden Buildings Direct, for example.
At the end of the day, personal preference will always determine which type you choose. But overall, steel greenhouses make a cost-effective investment in the long term.
The Advantages
Metal greenhouse structures offer several major advantages over other types, including:
1. Superior plant protection
A prime benefit of a metal greenhouse is the fantastic protection it provides for your greens. Thanks to the robust galvanised steel base and frames that keep the structure stable. If well-maintained, it can last for decades in harsh weather conditions.
You can relax at home knowing your harvest is well protected from the elements. This is particularly true during colder, windy weather. The more secure the environment is, the more the plants will flourish productively!
2. Increased light availability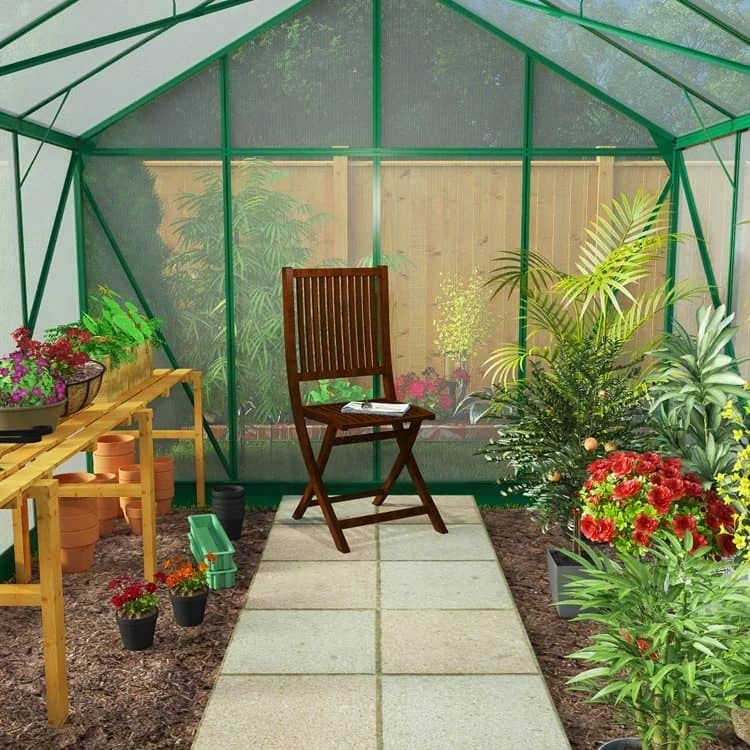 Whatever you grow in your greenhouse will rely on photosynthesis. A lack of sun exposure can make it complicated for them to produce, let alone grow. Thus, the ideal environment for plants requires a good amount of source light.
Aluminium greenhouses are well-insulated against UV rays while still letting enough light in. The sturdy frame, paired with glass panels, takes the precious light and captures the heat. Your plants will get abundant natural sunlight without the need for artificial lighting!
3. Low maintenance cost and energy saving
Metal greenhouses demand less maintenance compared to other greenhouses for sale. This means there's no need to worry about costly repairs due to damages caused over time. Also, since they last longer, you won't incur extra costs, e.g. replacing worn-out pieces, every few years. This implies that their long-term costs become much lower.
And did you know that a steel unit is more energy efficient than a glass greenhouse? 30% more energy can be spared by simply applying metal sheeting around the structure. By settling on a metal variety, you can spare a ton of energy production, saving the environment!
4. Excellent temperature control
Humidity and temperature are key factors in the success of your greenhouse. The good thing is that insulation from both heat and cold extremes is guaranteed in a metal grow house.
In turn, the indoor environment remains consistent throughout the seasons. Whether you grow tropical or exotic plants, you can be sure they'll thrive in the best possible condition.
5. Tough aluminium frames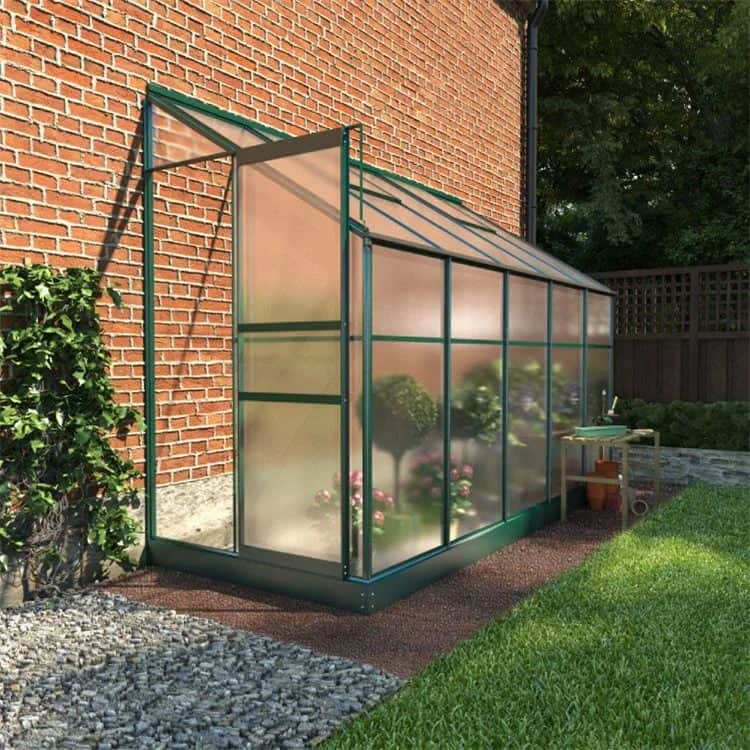 Aluminium used in metal greenhouses is firmly built, where wear and tear have no chance. What's more, the frame is rust-free, which lets you focus on other maintenance duties. This offers more convenience as opposed to patching small cracks with a timber unit.
Also, the aluminium frames will not easily succumb to the sun's intense heat, unlike a plastic unit. In terms of aesthetics, most are designed with a smooth, green outer finish to blend into any garden.
Take a look at the BillyOh Polycarbonate Lean-To Greenhouse. Available in Green colour, it's a stylish and compact solution for your gardening needs. A galvanised steel base is included to create a sturdy foundation for your building.
6. Polycarbonate glazing
Another feature that stands out most is the polycarbonate glazing. Many retailers, like Garden Buildings Direct, use twin-wall polycarbonate instead of glass.
This type of glazing is a premium choice if you live in all kinds of climates. It can withstand harsh weather, is long-lasting, and can remain in good shape for years.
What's more, it diffuses sunlight better and spreads it around the interior. This level of protection ensures your plants are safe from excessive heat. The UV coating also helps improve the strength of the glazing, so keep that in mind.
7. Built-in accessories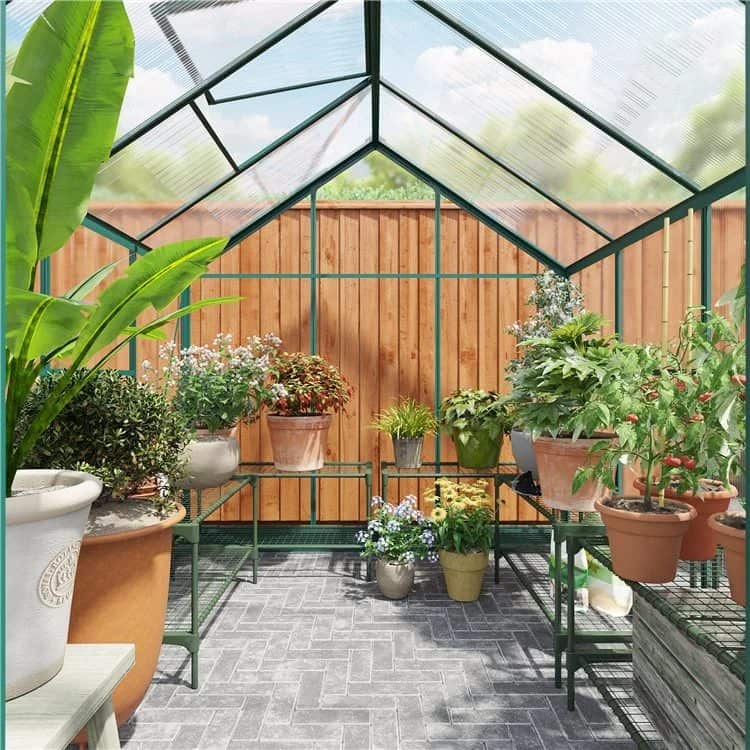 Most metal greenhouses come with built-in features. One is shelving options, allowing you to store tools and help make tending to your plants easier. Some of the best built-in accessories for metal greenhouses also include:
Ventilation systems.

These are essential for regulating temperature and humidity levels inside. Opening roof vents, for instance, give great air circulation throughout the year. A good exhaust fan can also maintain a balanced temperature and humidity.

Lighting accessories.

Although metal greenhouses rely heavily on natural sunlight, artificial light sources can help. One, they can supplement if initial sunlight access isn't available. Some lighting accessories include dimmable LED grow lights with adjustable metal shades.
If you're looking for a steel greenhouse with opening roof vents, check out the BillyOh Rosette! All round glazing allows light all day, and the vents will let you control the temperature.
8. Extending the growing season
Aluminium has a significant impact on the overall performance of a metal greenhouse. This primarily leads to a prolonged planting season.
With this, you can now enjoy the perks of extended gardening, enabling you to get more out of your plants. At the same time, increase your crop production, whatever seasonal plants you have in mind. Only if you have good insulation and climate and pest control going on.
Note: Greenhouses, in general, with careful planning, guarantee the growing season is extended.
9. Economical
Metal lasts longer. It's easier to construct and offers promising benefits for plant development, to add. Furthermore, metal greenhouse kits need minimal work, materials, and installation effort.
We're not saying other materials aren't good enough. We're just asserting that metal is far superior and, in most cases, less expensive. Glass units often end up being around 40& more costly, for instance.
10. Multi-functional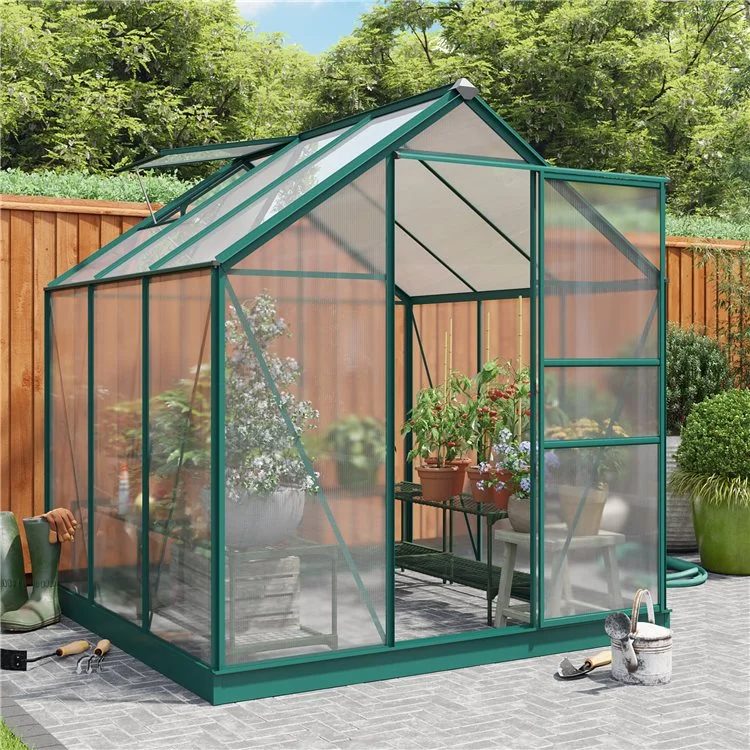 You may utilise your metal building greenhouse for a number of uses and functions! Besides cultivating a variety of plants, you may also grow herbs and houseplants. As long as you understand the state of your seedlings, you're good to go. You also have the freedom to change what you sow and adjust accordingly for your ideal harvest!
Round-up
You've probably heard a lot about why metal is among the greatest and most popular in the greenhouse market. By now, you understand why.
Owning one is an investment that goes beyond simply giving a place to grow and produce food. It can tolerate high temperatures, resists mildew, and is recyclable and inexpensive. Rust and corrosion won't also be a problem.
Providing an optimal environment for plant cultivation, you can generate more harvests! Click the button below to browse now!
Shop Metal Greenhouses