On days when you don't want to stay at home, a summer house offers the perfect escape haven. From the moment the UK welcomes the sunny days until they turn fireside reds and gold. Or when the wintry sun has taken centre stage and greets the dawn of spring later.
All this proves that garden summer houses aren't only bound for warmer months. Investing in one is a sound financial decision. In this post, we'll look at the best range of summer houses to help find you the perfect garden space hideaway!
Why Invest in Wooden Summerhouses?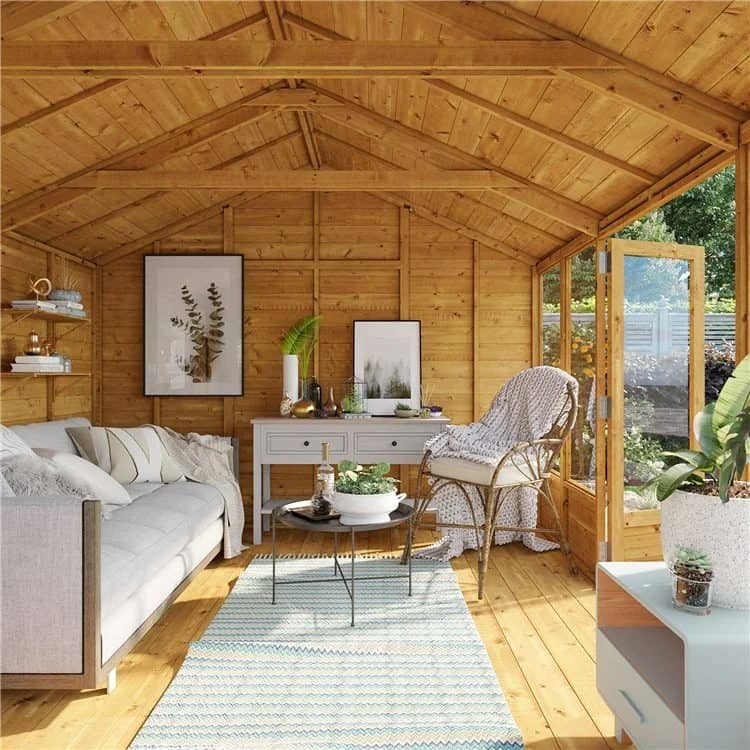 Garden summer houses offer the opportunity to escape the hustle and bustle of city life. This doesn't set them apart from other garden buildings like log cabins. Year-round use is also part of their fantastic advantages. But what makes them incomparable from the rest is their "hits close to home" structure.
A summer house gives an outdoor living space feel – not just a mere storage-like outbuilding. And that's the point! It takes the indoor "hygge" outdoors and thus makes it feel homey as if it's your second home – in your case, a garden house.
Besides being an extra living space, the possibilities are endless for transformation ideas. A stylish summer house also makes a unique office space. This allows you to separate home life from work with the luxury of relaxation in between. A larger model, like a 16×8 summerhouse, is perfect for an office environment.
And, of course, there's the 'instant focal point' it gives for your outdoor space. Plus, the added value it can provide to your property. You can enjoy having a garden summerhouse for now and reap the benefits when it's time to sell.
Note: Additional insulation is also worth considering. Your wooden garden house will be able to keep more warmth in the winter months, keeping it cosy inside. And when the mercury soars, the insulation will hold the coolness so you can relax cosily.
The Best Summerhouses
We've rounded up the best wooden summer houses to enjoy your long lazy days in. Available in a range of styles, there's something on this list for everyone. You can also be sure your investment from Garden Buildings Direct is worthwhile!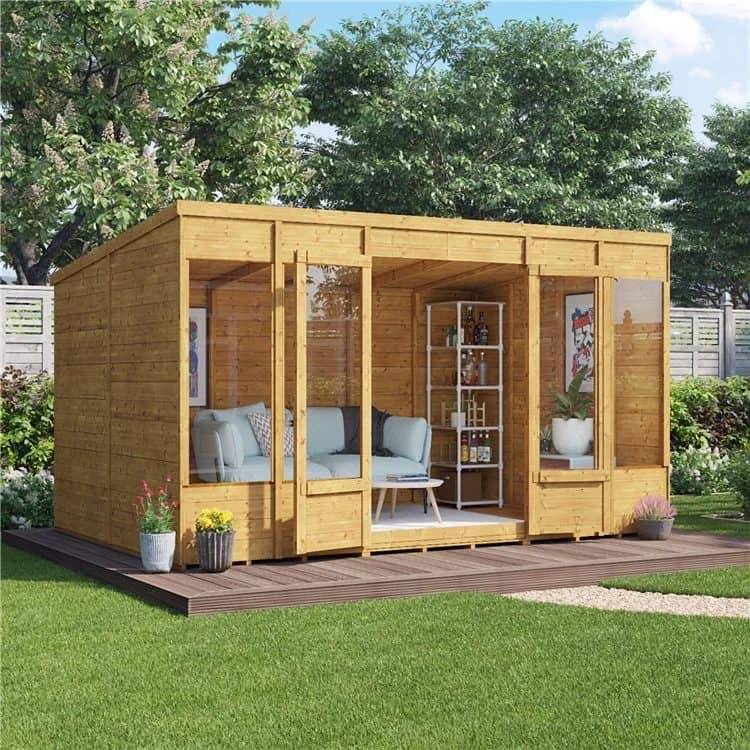 Price: From £1,375.00 to £1,238.00
If a substantial investment in your outdoors is what you're after, then Bella could be your ideal choice! This contemporary garden unit features tall, stylish, glazed windows. Plus, a strong 11mm Tongue & Groove (T&G) roof and floor panelling.
With wide double doors, you can have easy access in and out of the summer house. Durable Single SAN glazing is included as standard for both windows and doors. This floods the interior with plenty of sunlight.
The pent roof style provides excellent head height and runoff. The little no roof overhang doesn't fall under permitted development, to add.
The Bella has everything you could want from a wooden summerhouse. The double French doors, floor-to-ceiling windows, and relaxing indoor space. It's the perfect retreat to enjoy those summer days with friends and family!
Tip: Install insulation to make it a cosy space to sit even on those colder winter days.
Design insights:
10-year anti-rot guarantee

Adaptable configuration to suit you

Upgrade to 19mm Tongue &

Groove floor

panelling available

Water or oil-based wood stain and pressure treatment available

Heavy-duty mineral felt roof covering as standard (with EPDM rubber roof option)

Sizes available: 8×8, 12×8, 10×8, 16×8

(price varies)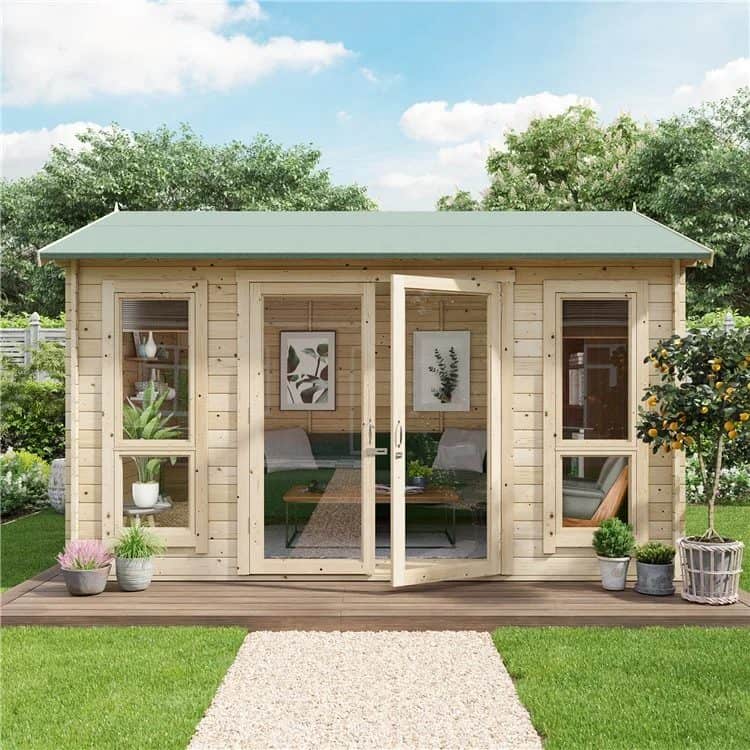 From: £2,105.00 to £1,399.00
What we like about this summer house is it operates as both a log cabin and a summer house. Without fail, Darcy can offer your dream garden living space extension! Sporting a modern reverse apex design, it makes a stunning addition to your backyard.
The tall Reverse Apex roof at 2.5m tall offers you generous headroom. The eaves, which are the lowest point of the roof, have also been raised to a minimum of 6ft, creating a higher ceiling.
There's more! The large glazed double doors and front windows create a bright, airy space. You can expect more natural light and air while relaxing in the cabin summer house.
Its adaptability also enables you to multi-use the unit as a garden office, home studio, or even a gym. Or, create a summerhouse bar by adding the BillyOh Nightjar into the building!
Design insights:
10-year anti-rot guarantee

19 or 28mm T&G log walls

Complete with felt, fixtures and fittings

11mm roof cladding and a reverse apex design

Toughened, double-glazed glass may be available as an upgrade

Sizes available: 10×8, 12×8, 12×10, 14×10

(price varies)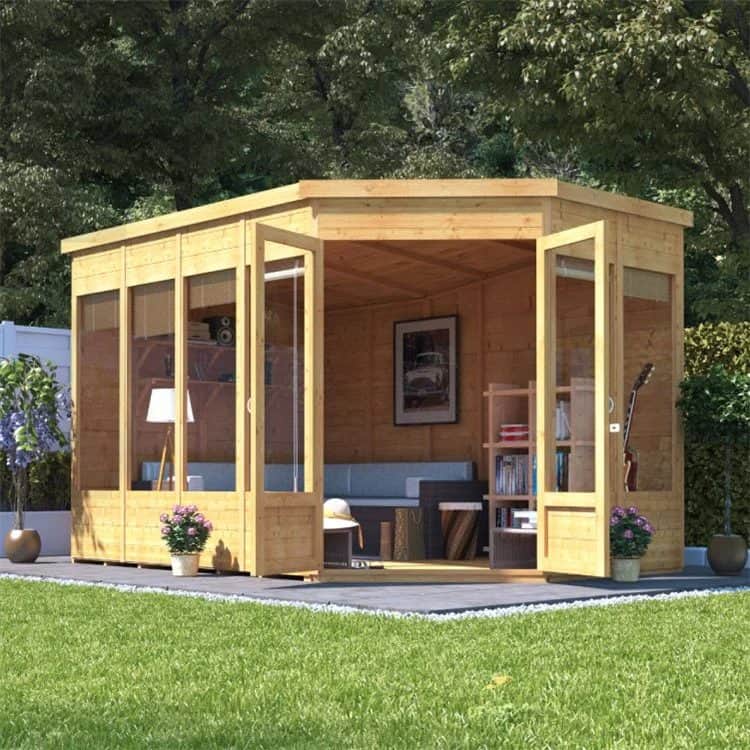 Price: From £1,875.00 to £1,145.00
If space is an important factor, then consider a corner summer house — like Renna! It's a stylish, versatile building with a modern, pent design that can be tucked away in the corner of your garden.
The doorway can be placed on the left or right corner so the building fits seamlessly into the yard nook. The tall glazed windows also fill the interior with sunlight, plus panoramic views.
Besides being located in an out-of-the-way spot, Renna is incredibly versatile as to how it's used. It can act as a place for creative work or for enjoying some much-deserved alone time.
The traditional corner designs are also cheaper than others, making them cost-effective. It's an efficient way to expand your living area without compromising too heavily on price. With tons of internal space and a tall roof height, it can give you the private space to retreat you always need!
Design insights:
10-year anti-rot guarantee

11mm T&G walls, floor and roof

Ecobase Fastfit Base and 4ft stack shelving as extras (optional)

Heavy-duty mineral felt roof covering or EPDM rubber roof option

Size available: 11×7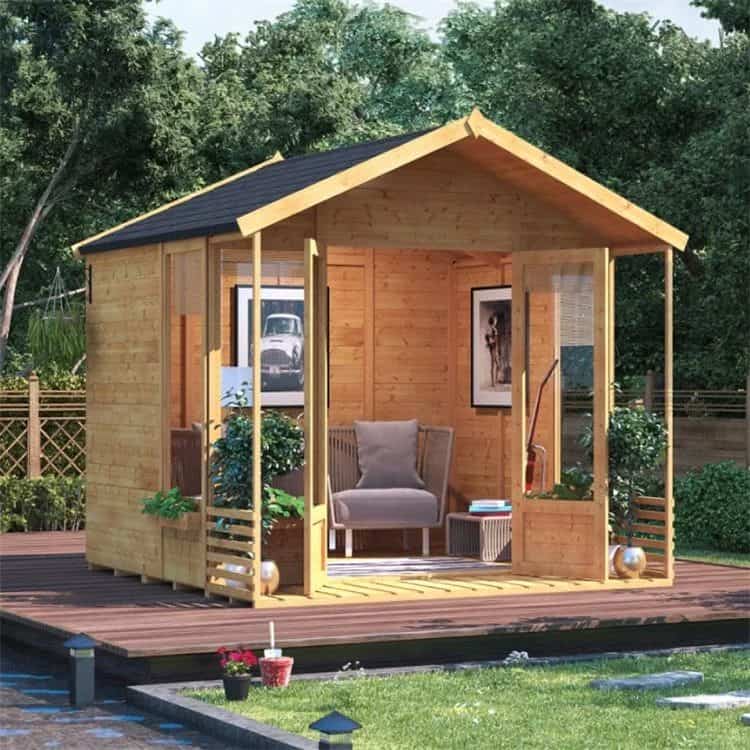 Price: From £1,215.00 to £1,094.00
If simple traditional styling is more your style, Ivy should fit perfectly into your yard. This neat little summer house provides interior wooden cladding and a spacious veranda.
The veranda gives you a decorative space for planters or small garden furniture. And with 4 tall windows around the front and sides and an apex roof, the unit has some true countryside charm.
Although a bit small in size, the eaves have been raised to a minimum of 6'7". This allows for a higher ceiling, keeping your summerhouse feeling fresh and airy.
Design insights:
10-year anti-rot guarantee

Wide double-door feature

Pressure-treated options for increased protection

Flooring can be upgraded to 19mm flooring for more intensive uses

Size available: 8×8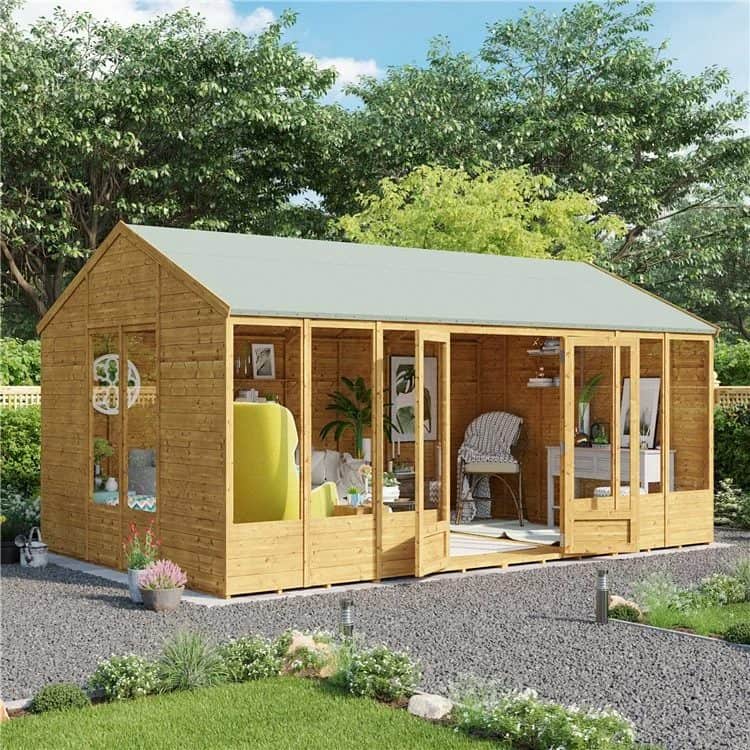 Price: From £1,599.00 to £1,359.00
Escape everyday life with family in the BillyOh Petra, boasting panoramic views. Soak up the beneficial vitamin D from the inside as you sip refreshing cocktails from the bar inside!
This bright and airy summer house lends itself to customisation. The traditional take on this contemporary unit also offers wide-opening double doors. There are a whole host of other customisable options, including roofing upgrades. And with the range of sizes, you can choose the best one to suit your garden.
Whatever you use it for, make the most of your outdoor space with the BillyOh Petra Summerhouse!
Design insights:
10-year anti-rot guarantee

Pressure-treatment option

Reverse apex design for increased head height

Green mineral roof felt is included as standard

High-quality European-sourced timber constructed in tongue and groove panels

Trim colours for personal preference (e.g. for an alpine shade, opt for a light green)

Available sizes: 10×8, 12×8, 12×10, 16×8, 16×10, 20×10

(price varies)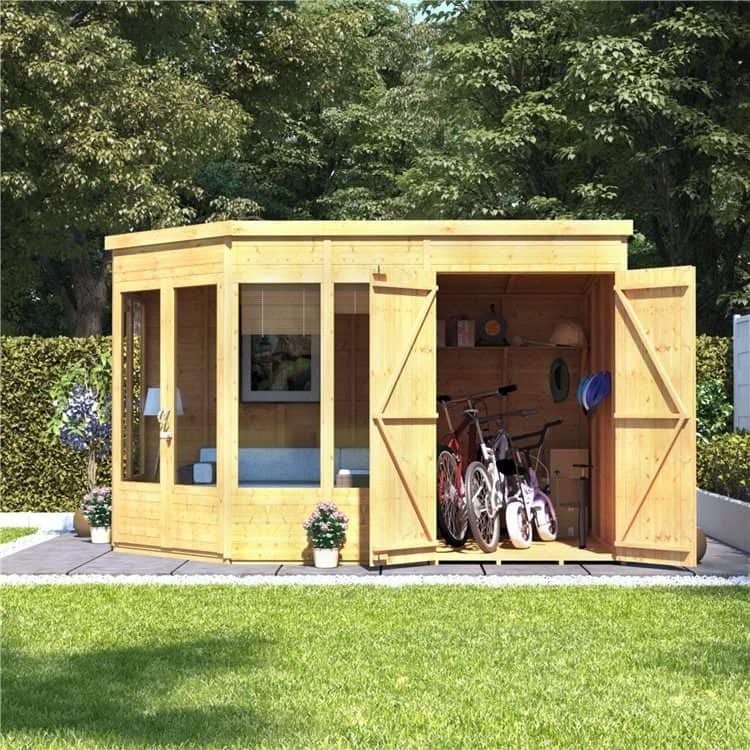 Price: From £1,759.00 to £1,583.00
A corner summer house with a side store has the perfect blend of practicality and luxury. Investing in one means you have ample room for entertaining and storage. Win-win!
This 2-in-1 building is designed with an 11×7 area for leisure use. The storage area sits on the back with enough space for shelves or even a small workbench. A strong boarded double door is also included on the storage to protect your items further, such as your BBQ.
The main garden room's front walls are covered in tall glazed windows and glazed double doors. Natural light floods into the interior while giving you great views of the rest of your garden.
Design insights:
10-year anti-rot guarantee

Complete with felt, fixtures and fitting

11mm tongue and groove walls, floor and roof

Durable Single SAN glazing included as standard

Pressure-treatment option with a 15-year guarantee

Size available: 11×7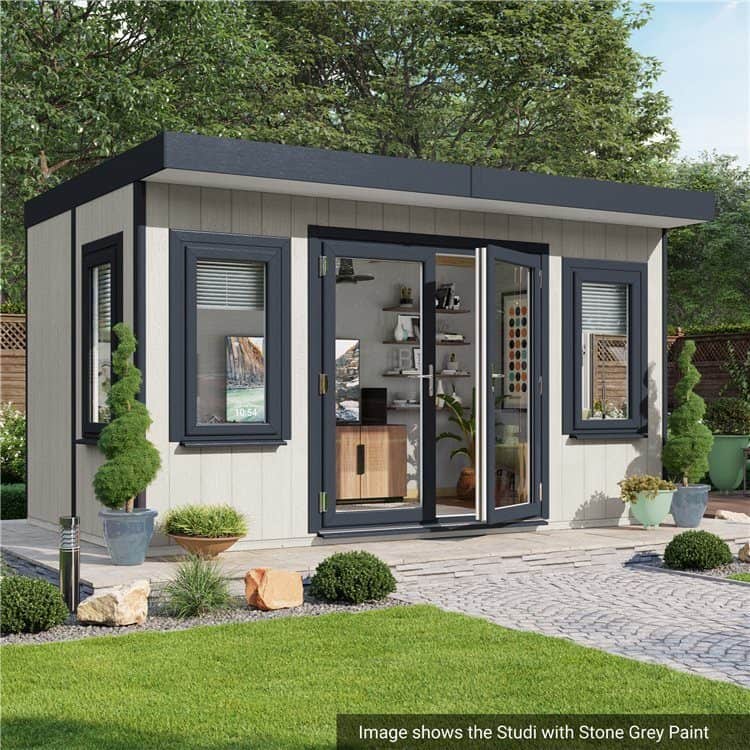 Price: From £13,495.00 to £12,146.00
Adding insulation to your summer house can serve multiple purposes. Plus, this addition can offer more benefits throughout the year. The BillyOh Studi makes a brilliant example!
Such insulation options like this are exceptional. It adds up to the overall functionality and purpose of the structure. It keeps the building cool during hotter months. In colder times, it increases its insulation capabilities for a snugly stay inside.
One of its key features is the pre-primed interior wall with a white finish. The uPVC doors and windows come next, giving you a low-maintenance summer house. Enter its rot-resistant composite finish for the exterior.
You also don't have to worry about safety, as it includes a multi-point locking mechanism. On top of the maximum security, its SIP construction is strong and energy-efficient. You get what you pay for!
The Studi can feel like a home away from home, thanks to its maximised comfort levels.
Design insights:
10-year anti-rot guarantee

Rot-resistant composite cladding

Protective EPDM rubber roofing as standard

Ecobase Fastfit Base and uPVC colour as extras (optional)

19mm log floor foil insulation and 45mm foam roof insulation

Utilises heavy-duty timber studs in between each SIP (48x88mm and 44x44mm)

Optimal thermal efficiency with double-skin insulated walls with insulated floor and roof

Size available:

14×8
Round-up
Buying from Garden Buildings Direct means investing in a guarantee of finest quality. That's why our summer houses come with up to a 15-year structural guarantee of anti-rot. They're also delivered in easy-to-assemble panels – and in just 1-4 weeks in most of the mainland UK.
If you're tight on budget, we offer a pay by finance option on any purchase over the value of £560. So, what are you waiting for? Get yours delivered today!