Your initial step in obtaining your dream shed is purchasing one from a trusted online retailer like Garden Buildings Direct. Once you've found the perfect garden shed for your specific wants and needs, the next move will be building a shed base, in order to to ensure its longevity.
Installing your shed on the ground sure is an easy job, especially if your outbuilding purchase comes with comprehensive instructions like ours! But if you don't have a level surface, this is where our Shed Base Tips article comes in handy.
Why Shed Foundations Are Important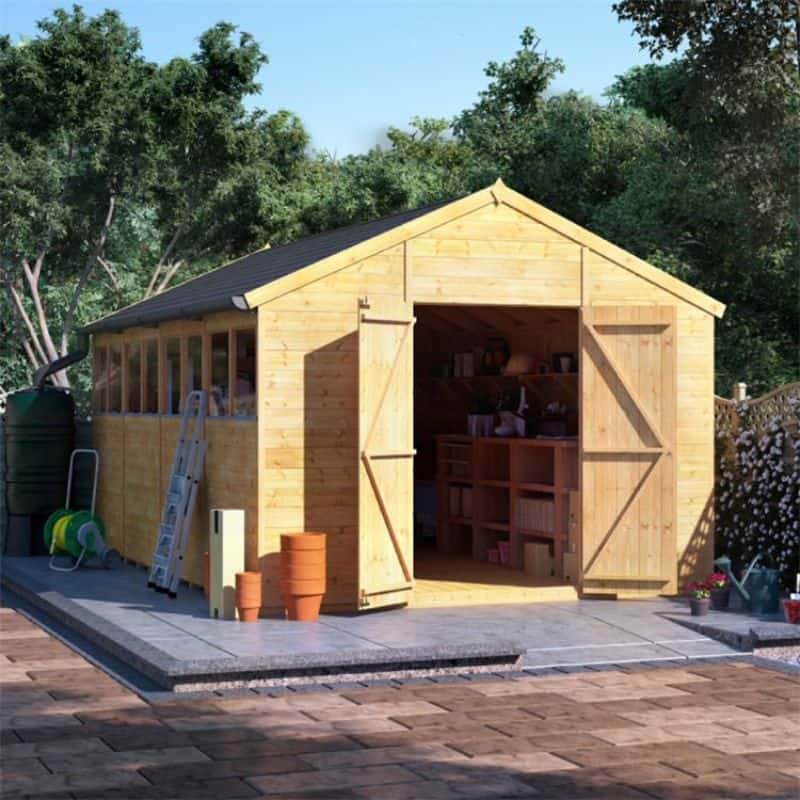 If your shed has direct contact with the ground, it can absorb moisture—causing premature rotting and decay. But when placed on a level surface, not only will this help your garden building to stand and remain stable whilst allowing the doors to function properly, but this will also guarantee your garden shed has proper water drainage and ventilation underneath.
Building a shed base will require some manual labour, but we assure you that it's worth it. Plus, we're here to help you out!
Shed Base Tips
To ensure your shed base is just right, there are a few things you need to consider.
1. Determine If You Need a Shed Building Permit First
Planning permissions in the UK refers to the permission needed so you can legally build on land or to change the use of your property and its existing structures. Local planning authorities (or LPAs) are usually the local district council or borough, and each LPA has their website that allows the public to access necessary application forms, including contact information and other important documents.
Confirm the following with your LPA:
Shed type, size and intended use

Frost line

Location

Foundation type
Doing this will allow you to determine whether or not planning permission is required.
2. Find the Right Spot to Build Your Shed Base/Foundation
To ensure you're building your shed base/foundation on the right spot, your chosen location should be at least within 6 inches of being level, whilst making sure of their being no standing water near the area. You'll also want to make sure that your garden shed has a 3 foot clearance from trees and other hanging objects.
If you own a 10×16 shed or larger, make it a 4 foot clearance, so you can give your outbuilding an adequate amount of space to move.
3. Identify What is The Best Base/Foundation Type for Your Shed
A shed can warpp over time if there's no foundation built on the level ground, and the roof boards will not go on straight, which will cause a noticeable incline in them. Even further, the outdoor structure will be prone to leaking and pest infestation—and long-term problems, such as twisting, straining, cracking, and splitting, can arise.
So when it comes to creating the base, it's also important to know what exactly type of base/foundation you're going to use. In some cases, a flat surface is not enough for an outbuilding to stand for long periods. If you don't have a firm base, there's an alternative you can opt for, and that is to create one.
Our experts recommend at least trying to flatten your chosen dedicated space as much as possible through levelling, using materials such as gravel and concrete, before installing.
Gravel

– Known as the most popular foundation material for a shed, gravelling the area where your outbuilding will go is a practical way of addressing potential problems, such as a distorted garden building. Here's how you can lay a

gravel shed foundation

, courtesy of

Zacs Garden

.

Concrete

– Installing your shed with concrete guarantees its stability, and it's a bit easier than gravel. Here's how you can install a

concrete foundation for your shed

, courtesy of

Site Preparations, LLC.
Purchasing a shed is a great investment, but keep in mind that just like your home, it needs a proper foundation to handle the damp British weather which occurs throughout the year. We hope these tips will give you some ideas when building a shed base/foundation.
If you're still hunting for the best possible shed to add to your garden, then check out the range offered here at Garden Buildings Direct. We offer garden buildings available in a range of styles, sizes, and materials.