Managing a 'grow space' or greenhouse can be a challenge. Let alone starting a garden with a limited plot. That's when a mini greenhouse is called for — and where your DIY skills can come in handy!
Creating your own small greenhouse – or growhouse – from scratch can be a fun hobby. It's also an economical way to keep your plants protected and flourishing year-round. As for the size, it's just enough for your budding green thumb to handle.
As long as you have the right tools and materials on hand, you can get started! But before you do, make sure you know what type of greenhouse design you'll go for.
Ideas for Mini Greenhouse Designs
Many options are available on the internet, so we've compiled the best greenhouse styles for you. There are do-it-yourself building steps along the way, so take out your pen and notebook.
1. Bookshelf
Got any old bookshelf hiding in your garden shed? Or, you came across this charity shop last weekend and found a shelf that'd make an excellent mini grow house. Have no fear – it's easy and inexpensive.
Step 1: Choose your bookshelf
Choose a bookshelf that's strong enough to house a variety of plants. Large enough to allow adequate air circulation. Another thing to keep in mind is how much light will come through during certain times of the day. Are the shelves adjustable, and can they support hanging plants?
Step 2: Gather your materials list
Once you have selected your shelf, it's time to purchase the materials needed for your project. For this setup, you'll need plastic sheeting, cable ties (or zip ties), tape measure and scissors.
Also, prepare at least one-inch thick foam insulation boards. Cut them into shapes that fit snugly into each shelf opening. Use a staple gun to attach them into place.
Step 3: Prepare the shelf
Lay down a full layer of the plastic sheet along each top shelf edge. Once measured out, cut up pieces with scissors and secure each piece with zip ties.
Cut small triangle cuts-out at both upper corners – making two "doors" – so air would flow in when needed. Secure these doors by putting clothespins or paper clips at their edges respectively.
Staple any overlapping amounts until it's nice and taut across each shelf surface. Leave enough length at the bottom of the sheets for irrigation lines later when suitable. Make sure any gaps between plastic sheets are closed off properly against elements.
Step 4: Set up your DIY hobby greenhouse
Place one-inch thick foam insulation board layers over each lower shelf opening. Ensure they fit snugly across openings. Then, connect the piping system (PVC pipes) to the upper plastic sheet layers from step three. The routes shouldn't be blocked by the foam insulation layers below.
Set up your wall panels with screws along both sides and/or top horizontal shelving units. If desired, attach hinges/handles so that doors can be opened for ventilation.
Once assembled, place all the plants inside and arrange them how you want them. For hanging plants, for instance, hang them from shelves with thread or wire. Save the bottom shelf for the potting mix and more.
2. Cold frame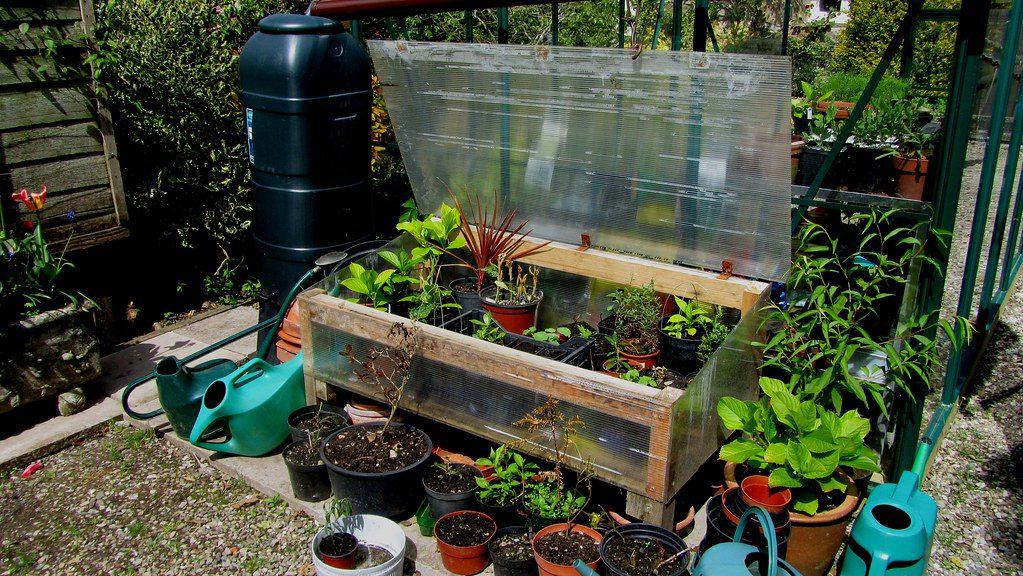 Another type of greenhouse that's easy to build is the cold frame. Despite the tiny size, it makes the perfect home for tender and tropical plants, veggies and herbs.
Basically, the concept is a simple box with a transparent roof for sun exposure. This keeps the greens warm and protected from harsh weather conditions. The materials and making process for this DIY approach are also simple.
Step 1: Make and gather the materials list
You'll need a few basic supplies (mostly framing materials):
Two wooden boards, ideally pines

Four metal corner brackets

Nails and screws

Landscape fabric

A panel of clear plastic for the glass top
Make sure you have a measuring tape, so the boards fit together snugly.
Step 2: Assemble your greenhouse frame
To start, attach the corner brackets on both ends of each board using screws or nails. Once fastened, lay down the landscape fabric over one side of the box; use screws or nails to secure it. Doing so will help protect your plants from pests while encouraging airflow control. That's it for your mini greenhouse frame!
Step 3: Add plastic panel
Add the plastic panel for your "glass" top, which will let sunlight in and offer a barrier from the elements. Measure out and place your plastic panel on top of your cold frame. Then, apply more nails or screws for extra support along its edges.
Step 4: Check your cold frame greenhouse style
Your cold frame mini-greenhouse is now ready! Before adding plants, double-check that all is secure and the panels fit tightly.
Finally, provide adequate drainage holes inside. Do this by drilling a few holes near each end and at least one on either side so any excess water can leave when needed.
3. Greenhouse plastic sheeting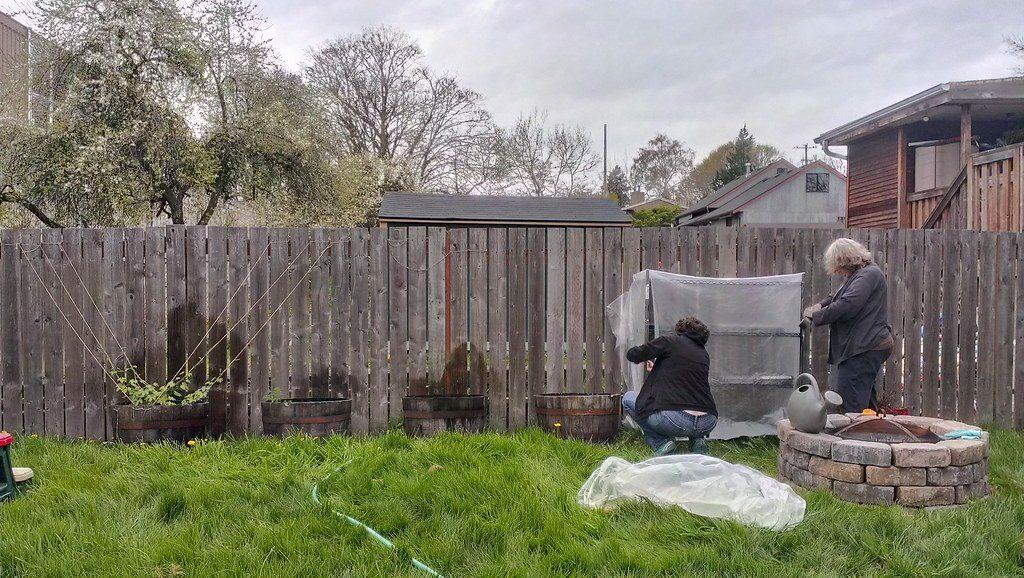 Greenhouse plastic sheeting is cost-effective and has one of the easiest building methods. If you lack a plot in your outdoor space, this concept can fit into your balcony or humble back garden. To build:
Step 1: Choose the site location
Start by selecting a spot in your garden or balcony with plenty of sun throughout the year. Make sure to take into account prevailing winds that might be too strong in certain areas.
If this isn't possible, choose somewhere with partial shade. This way, at least part of the structure benefits from direct sunlight.
Step 2: Assemble necessary materials
You may use recycled materials to save more money. The materials list includes heavy-duty plastic sheets, PVC pipes, and garden tools like:
Shovels

Stakes

Electric drills and screws
Metal frames may need to be purchased separately if desired.
Step 3: Design layout
Prepare a greenhouse plan with a simple design. Conceptualise what the finished product should look like. Use a measuring tape, pencil and graph paper if needed. Develop any angles and measure all walls so cuts can be made accurately before assembly.
Step 4: Digging bases and foundation
Using shovels or stakes, dig around the four sides. Make sure that each side remains straight and perpendicular. Fill dug spaces with about three inches of gravel. Then, followed by two inches of sand for drainage needs before setting posts into place.
Step 5: Frames and braces
Attach lengths of PVC pipes together according to the design specs used. Next, cut the pieces for frames and secure them into place using screws into upright posts. This will provide the structure needed once plastic sheeting is added later.
Step 6: Cut and attach plastic sheeting
Unroll the plastic sheeting using staples every 12-18″ along each joint line. Pay close attention when attaching parts. Incorrect fitting can result in gapping along lines.
After wrapping the structure, cut off excess material before inserting zippers where applicable. This allows for access inside any time without removing the entire covering.
4. Or invest in one
Of course, we believe in your DIY skills. But if you both don't have the time to be in your inner Bob the Builder — and the space to fit a larger greenhouse, fret not! Leave the tools in the garage and use your mouse to order a greenhouse kit online. Here's our recommendation that you won't regret investing in: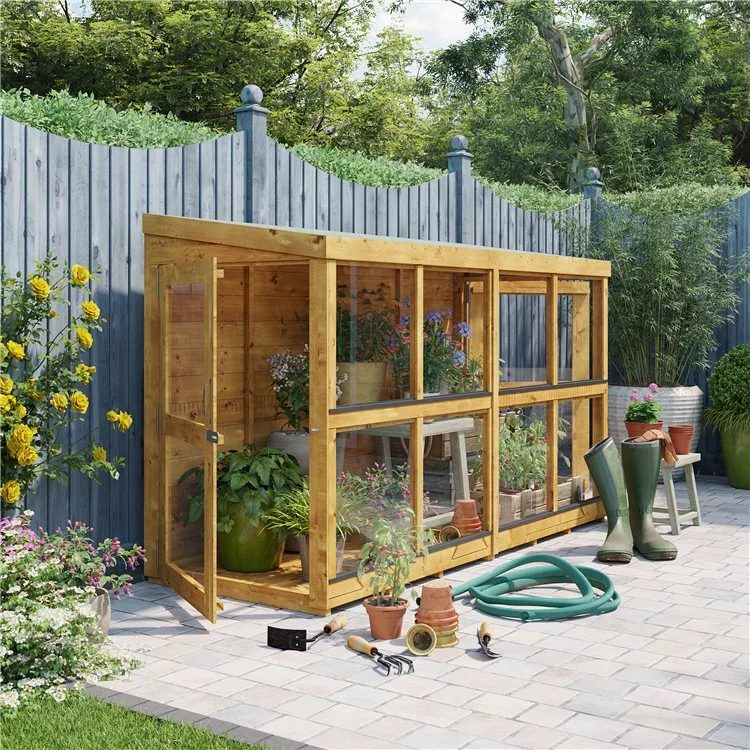 Here, we present a practical way to leap into insulated gardening in exchange for a bulky and costly unit. Designed to fit a walkway, this wooden growhouse opens the possibility of growing year-round. It offers enough crop space for vegetables, fruits, and even tropical plants cultivation.
The pent-roof style makes for extra overhead space. This brilliant feature allows you to store tools and gardening items up high when not in use. As well as shelves, drawers, and even workbenches for potting and general maintenance.
Constructed from engineered T&G panelling, making the grow house durable yet lightweight. These panels are slotted together to prevent water ingress, offering better weather protection. What's more, it's easy to assemble, requiring just basic DIY skills – thank goodness!
Other design insights:
Adaptable roof style with a pent or lean-to style roof

Tall design with an internal height of 1.3m at its lowest point and 1.4m at its tallest point when built

Dual entrance for easy access in and out

Shatterproof styrene glazing as standard as a safer alternative to traditional glass

BillyOh guarantee against rot, decay, and insect infestation is provided
Open up a whole new world with a hobby that'll last you a lifetime. The BillyOh Growhouse will be with you for years to come! From growing delicate plants and harvest-to-table veggies to transplanting plant pots.
With a comprehensive guide provided, this compact grow house is easily put together. So start making the most of your outdoor usable space now!
Round-up
If you want a reliable and eco-friendly way to grow all year, building your own small greenhouse is your best bet. The great thing about having a mini greenhouse is it's smaller than typical greenhouses. Even better, it requires only a small initial investment of money.
Investing in a greenhouse kit is also a great choice if you want to increase your available garden space. At the same time, save your time and energy from building from scratch.
Either way, we hope your mini grow house will remain productive throughout the year. So you can provide yourself with farm-to-table goods without breaking the bank.