Adding a garden shed to your outdoor area is one of the easiest ways you can improve your home space and garden.
If you're looking for the perfect place to store your belongings, with so many choices available in the market, you might end up wondering how you are supposed to know which is the one best garden storage unit that will suit your requirements?
Therefore, to save you confusion, we have put together this ultimate practical guide to garden storage. This is the perfect tool for you to learn everything you need to know about garden storage units.
Ultimate Guide to Garden Storage
What is Garden Storage?
Garden storage can vary in style, design, size and construction. From small plastic structures to large wooden buildings, on our site, you can find any shed that will add the defining element to your garden. An outdoor garden shed is typically the single-storey unit you are likely to see in most homeowners outdoor space.
Every green-fingered individual knows how essential it is to have an outdoor garden box of their own. This is where you can keep your gardening tools such as spades, shears, trowels and other bulky materials like a lawn mower or wheelbarrow.
Basically, a garden shed offers a dedicated area to keep all your gardening materials in one place. A garden shed acting as a garden storage box can be more than mere storage.
It's also an ideal area for potting, growing and dividing plants that you can share with your family and friends. If you are looking to use a shed as outdoor storage read our ultimate guide to garden sheds for a detailed guide on choosing the right shed for your garden.
Types of Outdoor Storage
These are the primary materials used for outdoor garden storage that have different properties and are suited for different purposes:
Wooden sheds are usually the most common style of storage box that will come to your mind first when you think of the garden shed. Even so, metal shed and plastic shed popularity are increasing over time.
Wooden Storage
If you're looking for outdoor storage that can easily complement your garden space, you can opt for wooden storage which are available in modern and traditional styles. Keep in mind that your wooden shed may require maintenance for it to be fully protected from rust, mildew and rot all year round.
So when purchasing a new shed, it is essential to apply a treatment or wood preservative so it will last longer. Unlike any other sheds, you can easily customise or paint your wooden shed to flatter your garden style.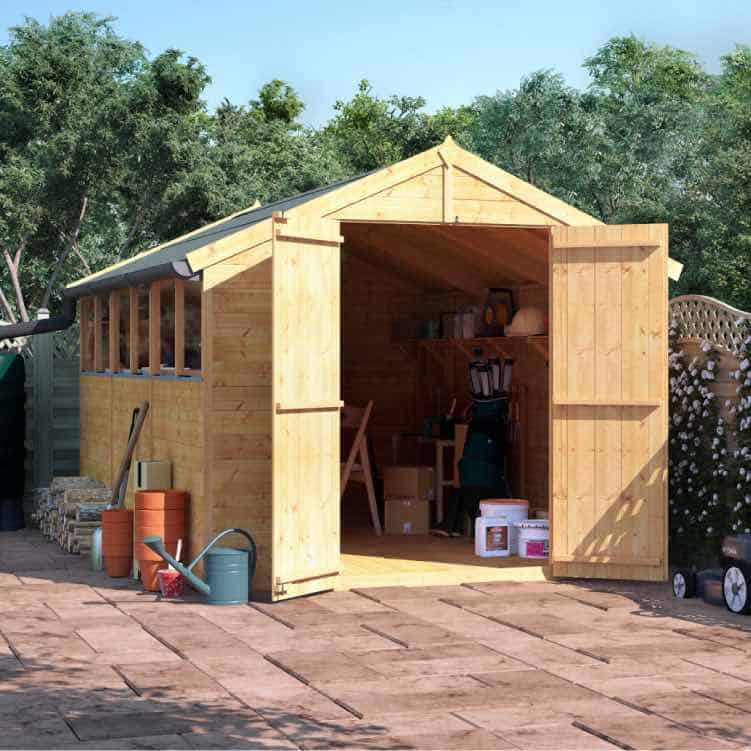 Metal Storage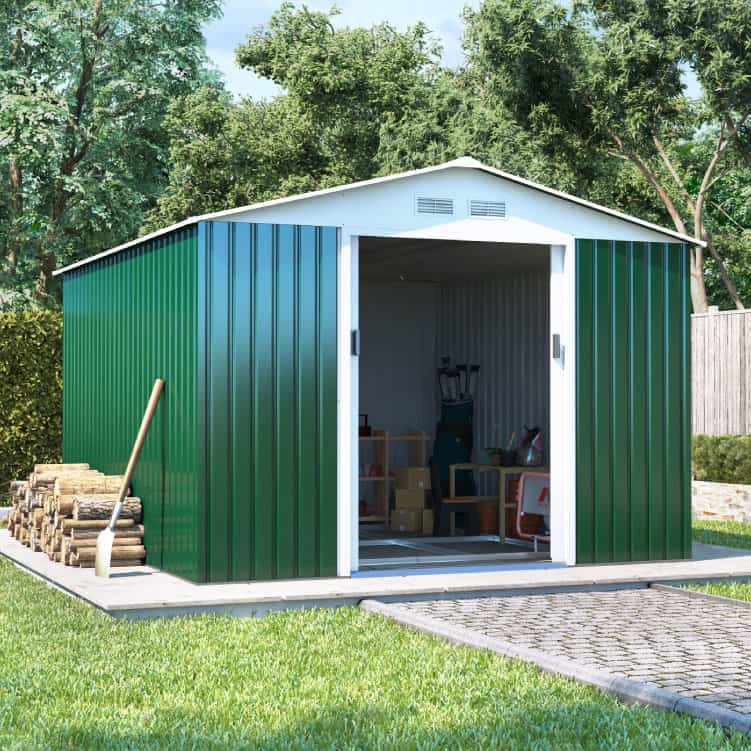 Metal sheds are known for being the most robust and most durable material for sheds. So if you're looking for a secure unit for storage boxes, metal sheds are our best bet as they're made from galvanised steel.
Plastic Storage
Plastic garden storage is less expensive than a metal shed, and are the kind of plastic storage boxes that are low maintenance. It is sturdy yet lightweight, so you can opt for this kind of outdoor storage if you're planning to move it around and change locations into your preferred position in the future.
What is outdoor garden storage Used for?
Garden sheds are known for being highly versatile outdoor structures and garden storage units. However, there are many uses for the humble garden storage boxes/shed which you may not be as familiar with. So, with that in mind, what can outdoor storage be used for?
Garden Storage

Homeowners tend to get a garden shed of their own mainly for storage purposes. A shed provides an ideal place to keep all of your gardening tool and equipment safe and in one area.
A garden shed is an excellent investment for storage space if you want to declutter the things you don't want in your house. Just install a few shelves or plastic storage boxes to organise your belongings according to their purposes.
Bike Storage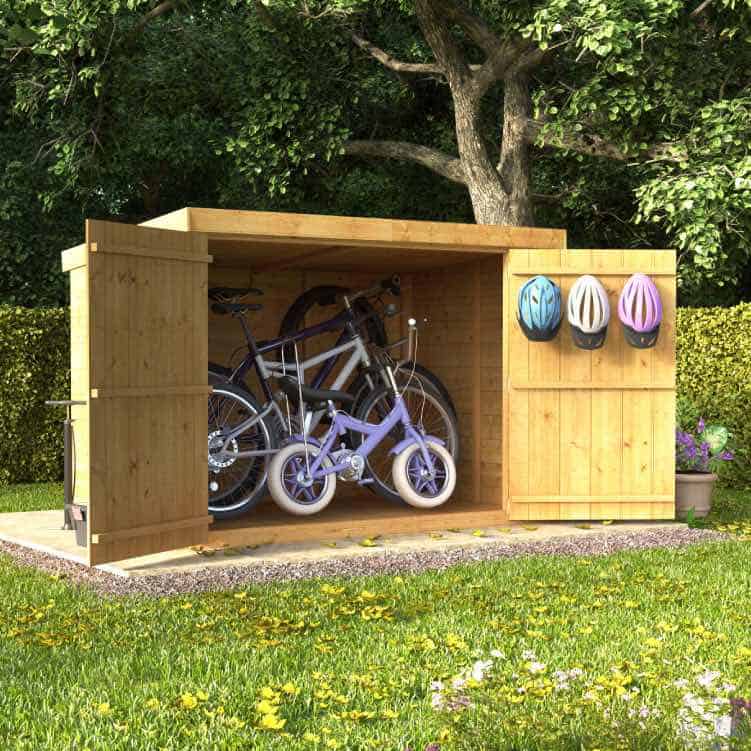 Another good thing about a garden shed is that it can be used as bike storage. It's time to protect your bikes from the harsh weather and reduce the risk of getting them damaged if they are left out in all types of weather.
Workshops
If you're a DIY enthusiast, you can easily transform your garden shed into a fantastic workshop space. You don't have to think about the mess that you're making. Especially because a workshop is a place where you're allowed to get messy.
Just add a workbench, art and crafting materials that you need for your DIY projects and your workshop is good to go. In this way, you will not only have the time to work on your hobby, but this can also double the quality time with your children and friends.
Garden Office
If you are considering setting up a business from home, a garden shed will be a great option. Setting up a garden office is generally for someone who's enthralled with the idea of working at home—mostly for entrepreneurs.
Setting up a business from home has many advantages, for instance, a stable home and work life. Not only that, having a home office is convenient for not only work ethic but for the budget conscious as well.
You don't have to think about the monthly rent bills because you can now have an office space of your own.
Personal Gym Space
Another brilliant alternative shed use which is growing in popularity in the garden is the own gym space. With this, you can now work out and do your workout routine without leaving your house.
Not only that, having your own gym space means you don't have to pay for the monthly gym membership. Whenever you think about your own gym space, there is a high chance that you will work out more often.
Simple Garden Shed Maintenance Tips
In order to effectively keep your shed clean and well-maintained, you have to inspect your garden shed regularly. An easy way to ensure you check the shed regularly is to clean it.
For insulation, keeping your shed warm and comfortable is exceptionally essential. Especially when you're planning to spend a large amount of time inside the outdoor storage.
There are a number of garden sheds available that are made from metal, plastic and wood. All of these materials can be used for all kinds of purposes and uses.
From cheaper garden stores to large workshops, outdoor storage can be an excellent addition to any outdoor garden area. Shop our fantastic range of garden sheds and find a garden building which is perfect for your garden and lifestyle!
Why not take a look at some of our customer stories?
https://www.gardenbuildingsdirect.co.uk/blog/potting-shed-stories/
https://www.gardenbuildingsdirect.co.uk/blog/devon-stories/
https://www.gardenbuildingsdirect.co.uk/blog/storer-overlap-shed-stories/
https://www.gardenbuildingsdirect.co.uk/blog/customer-stories-round-billyoh-harper-tg-apex-summerhouse/
https://www.gardenbuildingsdirect.co.uk/blog/tall-sentry-box-grande-stories/