While any kind of off-road parking is preferable to parking in a public area, the ultimate form of security comes in the form of a garage. Many people are transitioning from the brick-built garage of the past to the increasingly popular wooden garage.
Delivering a brilliant storage space for your vehicles, a wooden garage can also do a great job of providing a space for additional storage and DIy, both for garden enthusiasts and workers.
Wooden Garage from Garden Buildings Direct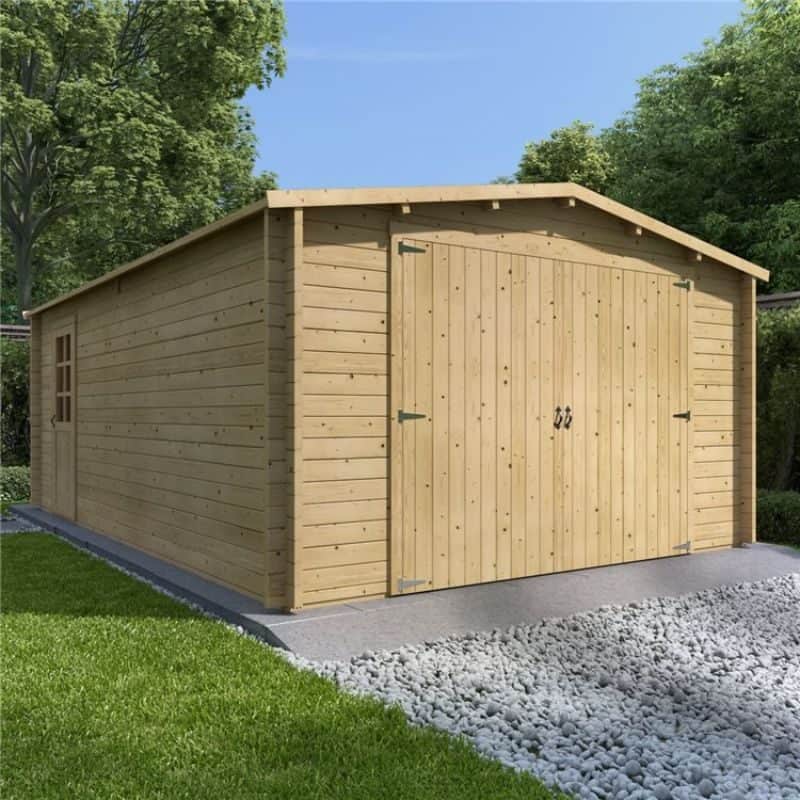 Our wooden garage is built from high-quality materials and is equipped to withstand harsh elements – meaning it's built to last. Providing you with an ideal storage space for years to come, you can safely store away your car or motorbike.
They also feature a remarkable and eye-catching wooden construction, complete with dependable outdoor builds. Often using tongue and groove construction or overlap panels, you'll get a premium quality product with high-quality materials. Overlap panels offer a better value for money solution, whereas tongue and groove will give a longer-lasting unit which is more weather-resistant.
We Present To You: The BillyOh Aston Wooden Garage (

£ 3499.00)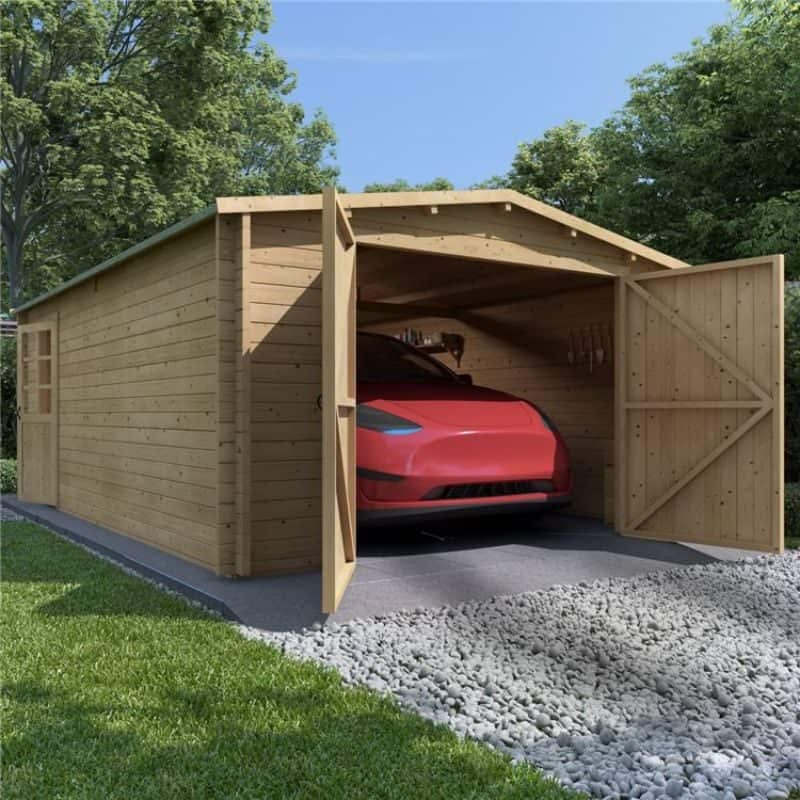 Our timber garage represents a fantastic value for money option, costing just a fraction of the brick-built alternative, despite being just as secure, highly durable and far nicer to look at. 
Possessing an authentically classic aesthetic, the BillyOh Aston Wooden Garage is sure to complement any garden setting while at the same time, providing vehicles with security, optimum care and attention.
Made out of European sourced timber, the Aston offers dependable quality and is built to last. 
Design Insights
The Aston Garage is designed to keep your vehicle safe and secure, with plenty of room inside. Pressure-treatment, as well as green mineral felt and secure fixings are included as standard for your peace of mind.
Classic garden garage with side entrance

A large opening double door gives plenty of room for vehicle access

Pressure Treated as standard to ensure a long life (and less required maintenance) for your garage

Tongue and Groove construction throughout

Complete with green mineral roof felt, fixtures and fittings
Aston's In-Depth Features to Look Out For
Durable Tongue and Groove
The Aston takes pride in its T&G construction, providing stability and security to the building and its contents. With 44mm T&G cladding thickness, it's guaranteed that your treasured cars or possessions within the garage will stay dry and remain in great condition.
The 44mm board is made using interlocking panels, forming a strong connection that protects the building from falling debris, as well as avoiding any further damage.
Integrated 7ft. Wide Double Door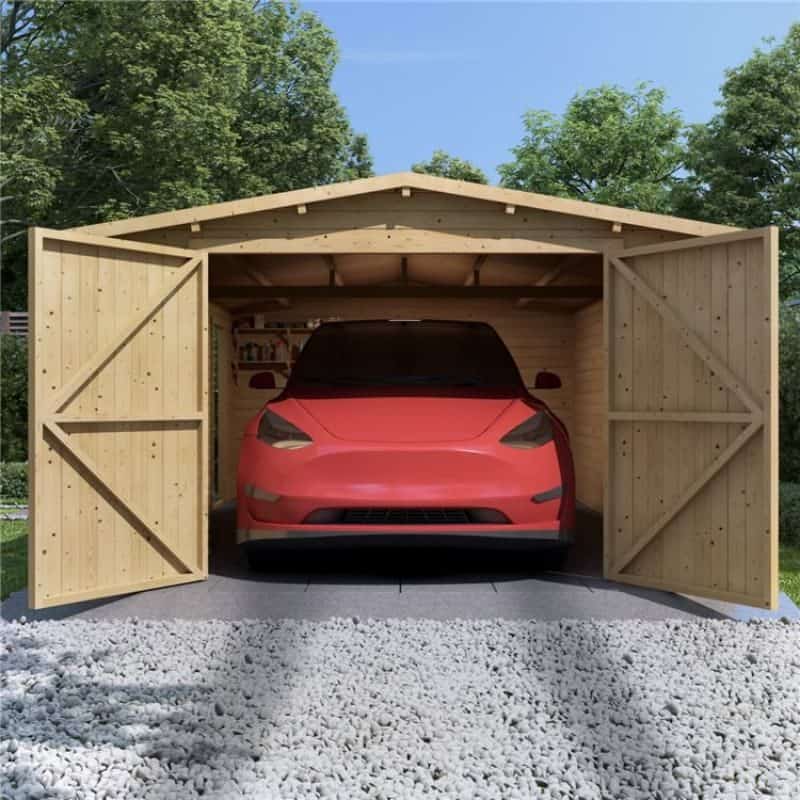 Practicality is very much at the forefront of our timber garage design, with the 3.9mx5.7m size being more than sufficient to comfortably house the vast majority of cars. You could just as easily store a motorbike and use the additional space however you please.
What's more, double-door access at the front makes the task of transporting your vehicles – as well as anything else stored in your wooden car garage – far less of a burden. 
Accessibility is key, which is why plenty of space will remain for you to navigate around your wooden garage, once your car has been securely parked inside.
Dual Entrance Garage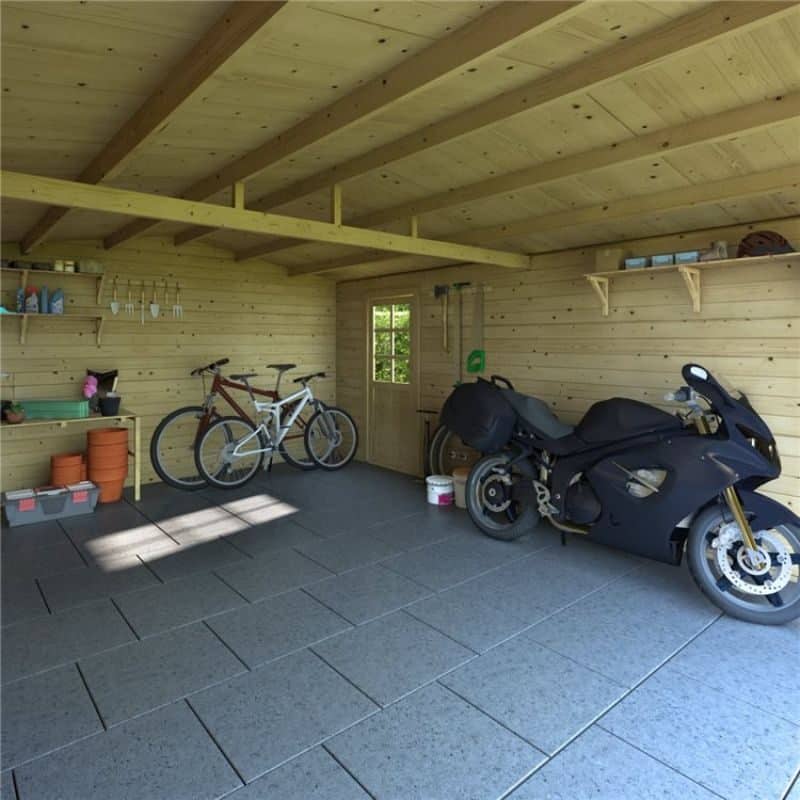 What's not to like about this garage when it features a dual entrance? If you wish to use it as a storage space, this will allow you to manoeuvre large bulky items. Plus, with two sets of T&G doors, you're provided with plenty of flexibility.
The Double doors can be positioned in various locations along the eaves, as long as there is a panel either side of the doors. This means you can place the doors in your preferred position for the easiest form of building access.
Tear Resistant Felt
To protect the roof from harsh weather conditions and water damage, the Aston also features a waterproof felt which gives the overall building structure the ultimate roof protection.
This wooden garage unit offers green mineral felt as a roof covering option. This felt is durable and watertight, which helps in preventing any water from getting through and damaging the roof. In addition, this type of felt is more durable than traditional sand felt. This means that it doesn't need to be regularly replaced, making it a cost-effective option in the long term.
Pressure Treatment as Standard
Maintenance is vital to ensure your wooden garage stays in excellent condition all-year-round. When it comes to upkeep for your garden building, pressure-treatment will come in very handy.
Pressure treatment will help to ensure your garden building remains looking great all year round, no matter what the weather condition.
Customise and Add Optional Extras
Add more storage options:
On Right Storage – 28mm – W1.5m x D2.0m = £459.00
Rear Storage – 28mm – W1.5m x D2.0m = £459.00
On Left Storage – 28mm – W1.5m x D2.0m = £459.00
Shelving:
One Side = £79.00
Both Sides = £119.00
All Round = £159.00
Guttering
Standard One Side = £149.00
Standard Both Side = £275.00
Extras
Discover our range of BillyOh accessories that allow you to customise your very own garden building to the last detail:
Wood Stain and Protector Paint
Exterior Superior Paint
Shed and Fence Paint
A wooden garage will quell the fears of security surrounding your vehicle while complementing just about any garden aesthetic. Don't hesitate to check out our wooden garage for sale today! We're sure that you'll find the timber garage which is absolutely perfect for your needs.