Ready to step into a realm of relaxation where style meets resilience? Our latest additions are here to redefine your outdoor living experience this summer! Introducing our brand new pressure treated summerhouse models:
BillyOh Switch Pent T&G Summerhouse
BillyOh Switch Apex T&G Summerhouse
These aren't just garden summerhouses. They're sanctuaries crafted with precision and treated for longevity. They bring together aesthetics, functionality, and durability in one enticing package. Read on to learn more about our newest retreats!
Transport yourself through eras of indulgence and leisure. Originating as opulent additions in historical estates, summerhouses have transcended time. Once secluded retreats for the elite, they now embrace diverse functions. Today, these structures have become icons of relaxation in modern gardens.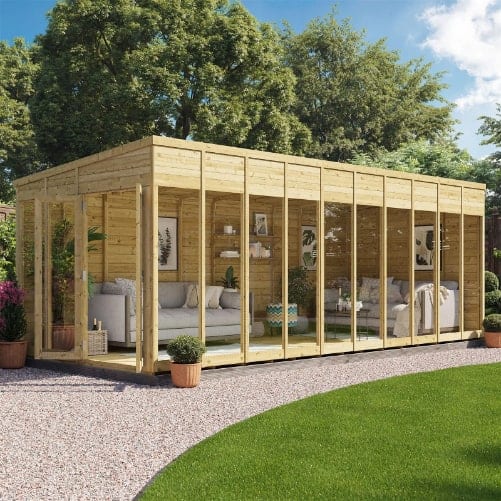 Indulge in a symphony of style and functionality with the Switch Pent T&G Summerhouse. Designed to blend into any garden setting, it's a statement of modern sophistication.
Its sleek lines and contemporary aesthetics elevate the allure of your outdoor space. The pent roof, a hallmark of modern architecture, not only imparts a sense of urban elegance. It, in fact, also serves a practical purpose. Rainwater is guided away, preserving the charm of your summerhouse for years on end.
Built with floor-to-roof windows wrapped around the unit, enjoy a room lit with sunshine! It features reinforced framing and Tongue and Groove cladding for added robustness. Pressure-treated as standard and comes with a 15-year protective guarantee.
Sizes available:
8×6

8×8

12×6

12×8

16×6

20×6

16×8

20×8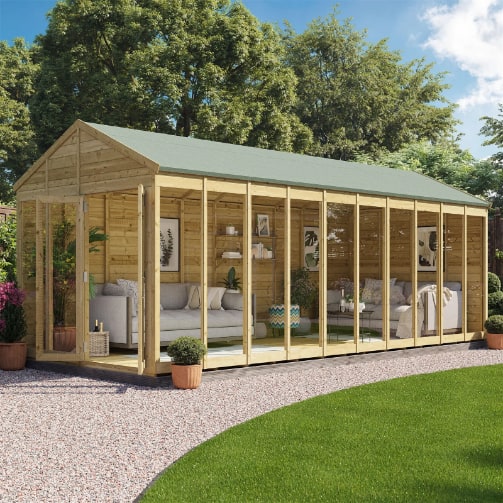 Evoke a sense of nostalgia with the Switch Apex Tongue and Groove Summerhouse. This choice is specially crafted for connoisseurs of classic aesthetics. It's a testament to the timeless allure of traditional design.
Its dual role as an aesthetic feature and a practical advantage is undeniable. The apex roof design pays homage to architectural heritage. Meanwhile, the heightened ceiling space invites you to explore a multitude of possibilities.
The Switch Apex Tongue and Groove Summerhouse stand ready to embrace your desires. Be it for hosting intimate gatherings or pursuing hobbies, you name it!
And like the Switch Pent, this unit is designed with ceiling-to-floor windows. What's more, it's equipped with strong tongue and groove cladding. Pressure-treated for long-lasting use and comes with a 15-year protective guarantee.
As trends come and go, its enduring grace ensures your outdoor space remains inviting. Choose tradition, choose sophistication, and choose a haven that transcends fleeting fads!
Sizes available:
8×6

8×8

12×6

12×8

16×6

20×6

16×8

20×8
The Magic of Tongue and Groove Construction
The ingenious tongue and groove technique doesn't just enhance aesthetics. It also weaves a thread of resilience into the very core. As each piece interlocks with precision, a robust unity forms. This, overall, bolsters the structure's integrity.
This isn't just about looks; it's about enduring strength against the elements. Rain, wind, and time stand no chance against this seamless barrier. Even a shed and summerhouse combined stand not only as a visual delight but as a steadfast shelter!
The Power of Pressure Treatment
The magic lies in the art of pressure-treated wood. A shield against the relentless march of time and the threat of nature's tiny destroyers. This treatment is a meticulous process of infusing wood with protective agents. It erects an impermeable fortress against decay and insidious insects.
With pressure-treated timber as the guardian, your retreat remains unyielding. It can offer generations a haven of cherished memories and unwavering comfort.
Check out our available pressure-treated summer house units for more! We have larger units, such as the BillyOh Pressure Treated Bella Tongue and Groove Reverse Apex Summerhouse. Or perhaps you want a bit smaller model like the BillyOh Pressure Treated Ivy Tongue and Groove Apex Summerhouse. Don't miss out on our offers!
Discover more with this suggested post: The Best Summerhouses For Sale