Finding ways around the house to make extra cash can be a challenge – but your outbuilding might just be the answer! 
Transforming an garden building into a profitable space is an economical way to make the most of what you already have and is a good project to get underway ahead of some warmer weather. Many homeowners use the space for garden storage to tidy up their back garden, but there's much more to a garden shed than shovels and empty plant pots.
To maximise your outbuilding and get the most from your garden, keep reading and explore our expert advise!
---
The True Value of Your Garden building
While we like to refer to outbuildings as the treasure chest of the garden, but many don't realise their true potential.
The most common outbuildings are metal and plastic sheds, but workshops, log cabins and summerhouses are also classed as outbuildings or garden buildings.
For those who are thinking of working freelance, it's the perfect opportunity to turn the outbuilding into a profitable business where you can work from your backyard.
Or if you're currently using the garden shed as a playhouse for the kids, why not utilise the space and start picking up child-minding to make some extra cash in your spare time?
We strongly recommend first checking if there are any permits or permissions you may need from the council before following through with the idea. The possibilities for its uses are endless, so we wanted to share ten different uses for the space to help households get some extra cash in the run-up to spring and summer. 
10 Ways to Monetise Your Outbuilding
Here are some of the clever ways we've found on how you can monetise your outbuilding.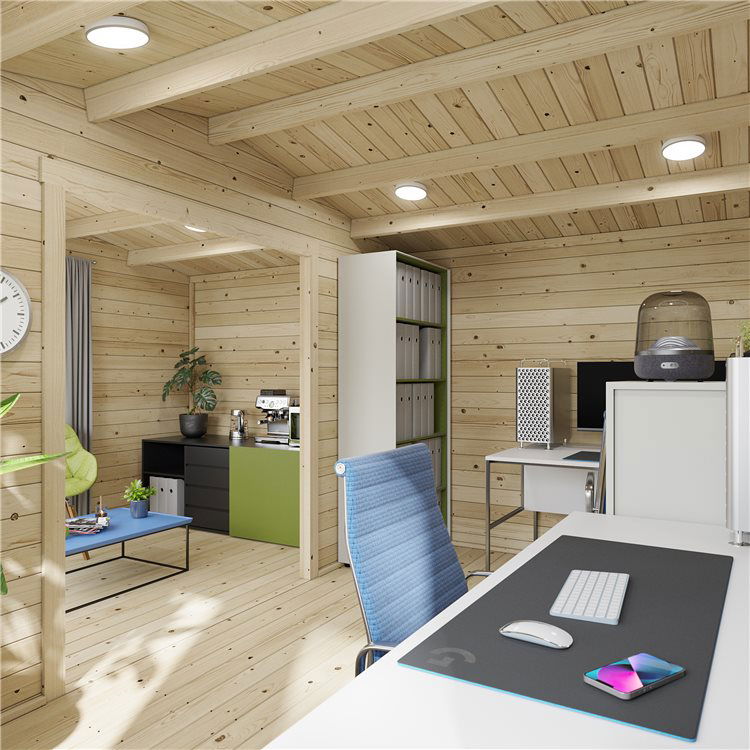 1. Turn it into an outdoor office
If you're able to work remotely from home, you can use the outbuilding as a space to    separate work from home life. Not only that, but it saves on travel costs to the office when you have your very own in the back garden.
2. A miniature greenhouse
With food prices rising and supermarkets running low on supplies of veggies, it's worth using the space as a mini greenhouse where you can grow your own. Potatoes, lettuce and cabbages are examples of what you could grow inside.
3. Grow flowers to sell
Another idea for unused greenhouses is to grow flowers which can be sold during seasonal events. Pansies and petunias thrive in greenhouses and will be sought after near events such as Mother's Day.
4. Back garden salon
It's worth using the space to get some money for those who want to get a haircut in the comfort of someone's home. For qualified hairdressers, it also allows the option to work freelance.
5. Create a home-entertainment space
It could be a mini cinema to watch your favourite film or a fully-fledged garden pub to host your friends in, an outbuilding could be the ideal place for a home-entertainment space. Find a projector and some comfy seating, or equip it with a garden bar and a few of your favourite drinks, then invite friends around or let them use it for a small fee.
6. Play area for child-minding
If you're thinking of registering to become a childminder, you could turn the space into a play area for the little ones to enjoy and when you aren't looking after other kids, it'll allow for your own to use the space as a place to relax.
7. Rent out to others as a space for storage
Storage can be expensive to pay for every month, which is why you can charge a lower fee for others to store their items in the outbuilding and take in extra monthly payments. 
8. Home gym venue
Create a home gym or workout space that neighbours and friends can use as an alternative to their local gym. The seclusion and privacy of a garden building can make for an ideal workout space for those who want to exercise in private. Plus, your prices can be cheaper than any professional service.
9. Art studio 
Masters of the brush can use the space as their very own art studio to create masterpieces to sell. It could even be used as a mini-exhibit to show potential buyers the pieces of work.
10. Increase property value
When it comes to selling your phone, a transformed outbuilding could add 5% to your property value. Make sure to have it fully completed and furnished before putting the house on the market to get the highest return value.
---
Getting the Most From Your Building
There are a multitude of ways to monetise your garden building and start making money from what you already have available in your garden. Get a little bit of extra cash on the side, provide entertainment for friends and family for a tiny fee, or just increase your house value for when the time to sell comes.
If you don't yet have an outbuilding that you can use in this way, then you don't have to go far – simply click the button below and start browsing our
garden buildings
today!
Shop Garden Buildings