Designed to be safe and fun
Garden Building direct has extended the product range combining the benefits from the 19mm or 28mm Pathfinder Log Cabin Range into the already established Playhouse Range. This design encompasses the style and design based on the alpine roof detailing incorporating an integrated verandah.
All of the design details have been considered carefully to provide a light and natural play area for children of many ages. Underpinning this unique log cabin concept is second to none craftsmanship highlighted by the use of interlocking construction maximising the structural integrity of this interlocking playhouse log cabin available in 19mm and 28mm.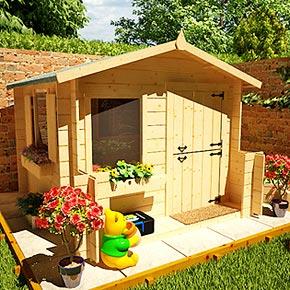 Interior
The interior of this log cabin playhouse provides a light and cosy environment with windows on three of the four sides. There is plenty of height in the ridge for a child to stand comfortably.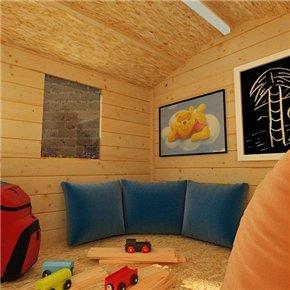 Construction
The log cabin playhouse is constructed preliminary of 19mm or 28mm interlocking logs, combined with framing for added strength and rigidity. All timbers are pre-cut to length ready for quick assembly.
The Log Cabin Playhouse comes complete with easy to follow stage by stage instructions and specific full building technical details. Assembling the cabin should take approximately 4 to 6 hours to assemble based on two people with general DIY knowledge. We highly recommend purchasing the Barrettine water based wood stain option with this building as you will be required to apply a wood preserver/treatment.
Please note: Always ensure that whenever the playhouse is in use that it is whilst under supervision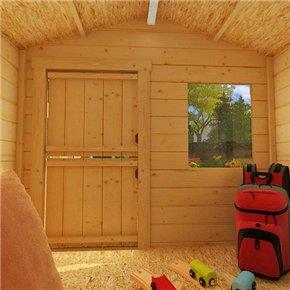 Stable Door
The stable door is constructed of 11mm tongue and groove boards coupled with framing for extra strength. This provides versatility combined with added play value.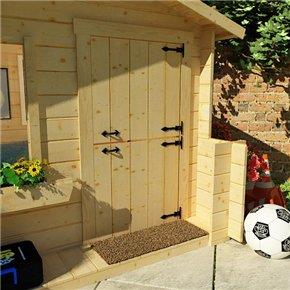 Verandah
The integrated verandah utilises 19mm or 28mm interlocking boards along with a tongue and groove floor. This provides a welcoming entrance to your playhouse ideal for potted plants, adding texture and colour.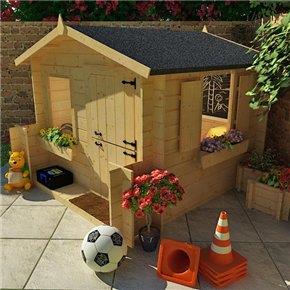 Shutters and Window Boxes
The shutters and window boxes add a perfect feature to paint and differentiate your playhouse adding character. Clever planting can be used to add more colour and vibrancy.
Warnings and Recommendations
Warnings.
1) Only for Domestic Use
2) Outdoor use only
3) Not suitable for children under 36 months - small parts. Choking Hazard
4) Maximum user weight is 50kg

Safety recommendations
1) Adult assembly is required minimum of 2 people.
2) Children require adult supervision when using this product.
3) This product is safety tested to British standards BS-EN71 for domestic use.
4) A minimum clearance of 2m from obstructions or structures is recommended.
5) Building is assembled on a level surface with a minimum clearance of 2m from obstructions or structures.