During the spring and summertime, a lot of us Brits spend time in the garden pruning, BBQing…drinking. But when the colder months start knocking, (or if we ever get to go away on holiday) sheds and garden buildings become targets for thieves.
Whether it's a set of gardening equipment (e.g., lawnmowers, hedge trimmers, etc.) or outdoor party stuff like barbecues, tents, tables and chairs, you want to make sure everything's safe and secured.
That's why below we've come up with 8 security tips to help you up your levels of security (and a few more hacks to boot!).
Start as you mean to go on:
Choose your shed site carefully
Buy a sturdy garden shed
Easy Fixes:
Get a new lock
Install new hinges
Serious Security:
Fitting an alarm and security lights
Anchor your shed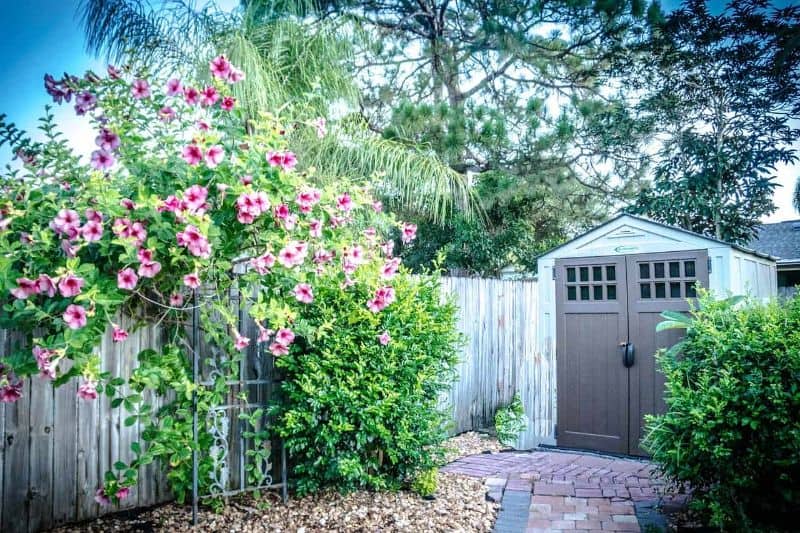 1. Choose the Location Carefully
One of the tips to secure your shed is by choosing its location carefully. To ensure that you can deter thieves from trying to break in in your shed, it should be correctly positioned.
This means you want to be able to see your shed from your main house but not the street. You might also thinking about either having it hard up or slightly off a boundary if there's hidden access behind your garden.
Another solve would be to install full privacy garden gates if you can see your shed down the side entrance.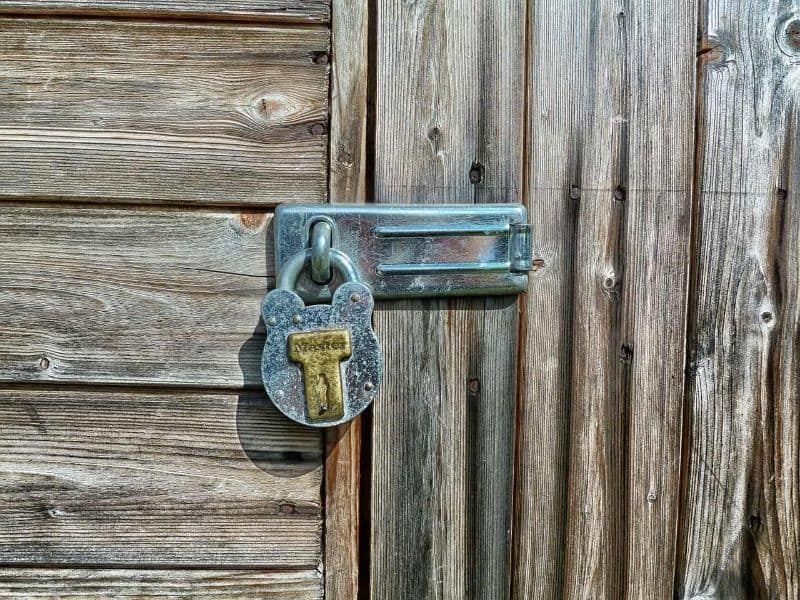 2. Replace the Lock (and invest in security locks)
When it comes to security, padlocks play a major role. They're simple and can give you peace of mind for a fraction of the cost. Avoid using low-quality locks. Instead, invest in combination locks or heavy-duty closed shackle padlocks.
Just remember to hold on to the keys and keep a spare!
Top tip: Avoid attaching anything too flashy or multiple padlocks, though. This could signal to thieves that you've got something worth hiding!
3. Replace the Door Hinge
The main door of your shed will be one of your garden building's weakest points. Most of the doors are usually attached with a short screw, which could be easily taken out, or the hinges forced off.
What you can do is to replace the screws with longer ones than the factory defaults. You could also countersink a larger hole and install nuts and bolts. Superglue the nut to the bolt on the inside of the door to toughen them up.
By doing so, it will deter criminals from trying to prise off your shed's door. But remember – this could cause you problems if you want to get them off again!
Another option would be to install hidden or 'invisible' hinges.
4. Anchor the Shed
One of the unfortunate weaknesses of plastic and wooden sheds is that they could be broken into with enough force. On the other hand, metal sheds are often used for security storage because they can be anchored.
Granted, a wooden shed will be affixed to the floor joists and you can drill stakes to the corners. Still, you can anchor your metal shed to concrete floors with L brackets and coach bolts (anchor bolts), or even attach a shed to a garden wall.
You could also place breeze blocks inside to make it too heavy to lift. This will prevent your shed from blowing away on super windy days too! Double bubble.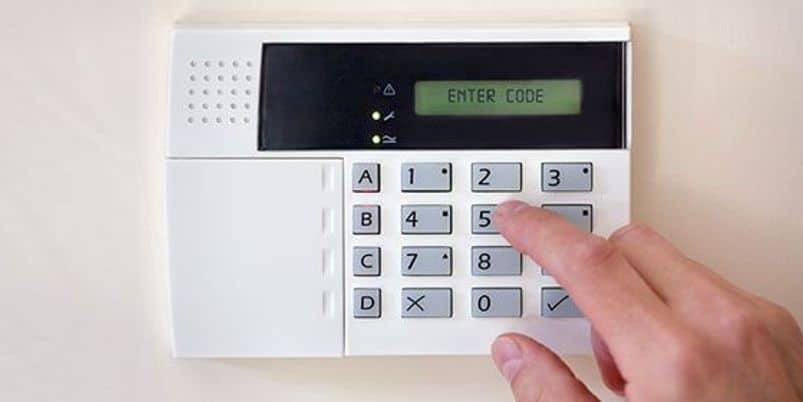 5. Fit an Alarm (or security cameras/security lights)
No matter how secure your shed is, there will be times when professional thieves might target your outbuilding. With the right knowledge and tools, they'll be able to bypass many DIY security efforts.
That's why fitting an alarm could be a great (and fairly inexpensive) way to scare them away. You could even place a motion sensor in the corner of your shed along with a door sensor and a siren. Don't be alarmed when your stuff goes missing – install an alarm instead!
A wireless alarm is also a better option for extra security as it won't need to be hooked up to the mains (where it could be cut).
You could also think about installing:
Movement sensors
Break glass sensors
Burglar alarms
Solar security lights
---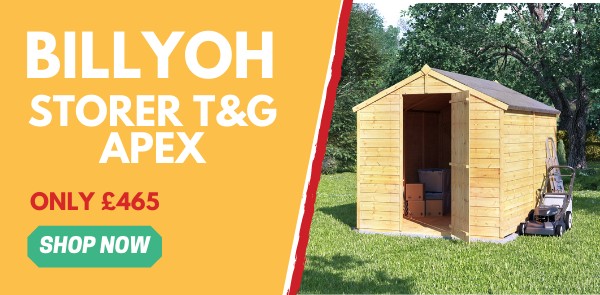 ---
6. Obscure Windows/Windowless Sheds
There's a reason that our windowless sheds are customer favourites. Although you might cry at your lawnmower being deprived of natural light, no windows mean no one can see in.
But not only will there be no eye candy on offer for thieves – but windows are also one of the weakest points in a shed's security. And even with our toughened shatterproof glazing and options to upgrade to double-glazing on windowed models, it's always a concern.
If there's already a built-in window, you can completely block them out with stick-on thick security sheets. Installing blinds or curtains is also a safe bet if you want the option of natural light. Just make sure that they're fully closed when you're not inside.
7. Lock Large Garden Equipment Items Together
Power tools, general garden tools and other expensive items and valuable equipment should be locked away together.
This is where something like a heavy-duty log cabin with side storage comes in handy. You can keep items like lawnmowers and hedge trimmers together without giving up your whole shed to storage.
Top tip: If you're really worried you can even bike lock together items to scupper thieves if they do get in.
8. Mark Your Belongings
If you've taken all the precautions listed above, then the chances of someone breaking into your shed and stealing your belongings are quite slim.
Still, it's better to be safe than sorry. So should the unthinkable happen, you can improve your chances of being reunited with any stolen items by marking them with a security system.
You could do this with something as simple as a UV pen that only shows up in UV light. Or, use tamper-proof security tags with your details on them.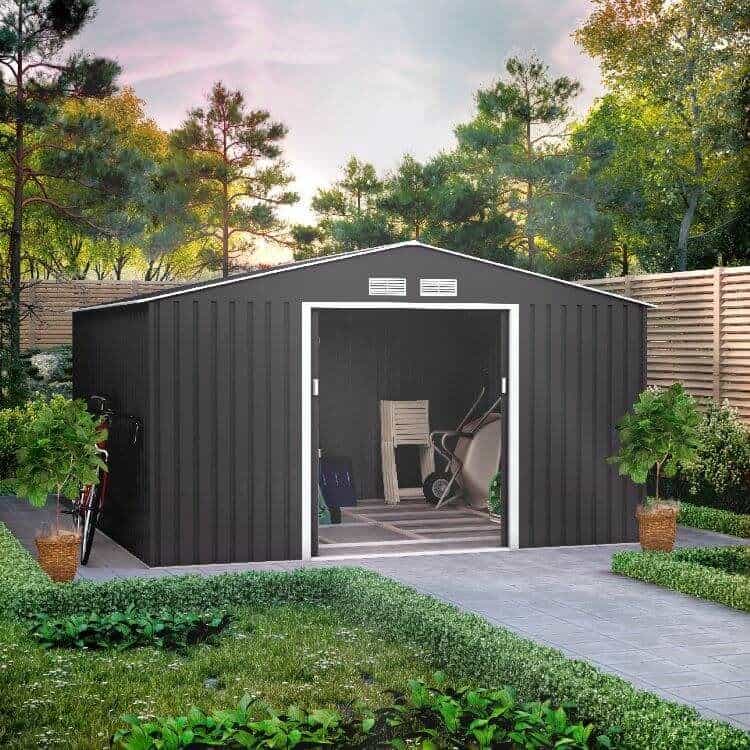 Quality Storage Designs
It's true that our metal shed models do lend themselves to use as security sheds. They're known for their durability and robust qualities, making them an ideal choice if you want a secure shed to store your valuable items.
An Inexpensive Security Option
They're also designed to withstand the harsh elements and are rust and corrosion-resistant, making them very low maintenance. They're also usually cheaper for larger sizes due to the cost-effectiveness of the material.
However, even our BillyOh wooden sheds offer the quality of timber panels made from sturdy, European-sourced wood. Add to that their interlocking tongue and groove construction, you can be sure of the inherent security of our wide range of sheds.
At the end of the day, a good insurance policy will always be your best bet to fall back on. But you needn't wait until that comes into effect. Start out by choosing a sturdy shed from a reputable seller.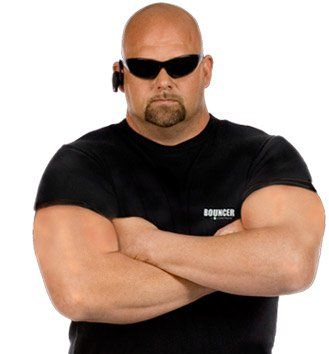 Trust in good-quality materials and construction will help you put your best foot forward. From there, make sure to anchor your shed or at least built it on a sturdy and level base.
Finish up by using low-level security measures like locks and lighting as deterrents. You could even consider using more heavy-duty timber screws (wooden sheds), or anchor bolts (metal sheds) and invisible hinges.
Lastly, you could invest in a burglar and even sensor alarms if you've wired up your shed. And if you're thinking of investing in one soon, this advanced garden shed guide can help!
Shop Metal Sheds
FAQ
Our wooden sheds feature sturdy, interlocking tongue & groove panelling with reinforced framework in the corners. You can also opt for pressure-treatment which, as well as protecting against rot, ensures even better structural rigidity. We also use galvanised hinges on wooden sheds and steel for our metal sheds.
Simply follow the assembly instructions provided with your order. Using some basic tools (and a pair of helping hands) you can easily get your BillyOh shed up in a matter of hours.
Although not as optimal for use as, say, a garden office or potting shed, windowless options are synonymous with security. A windowless option not only deters thieves at the offset because they can't see if you have anything of value, it also deals with the fact that windows are a natural weak point.