Positioning your shed to make sure that it is sturdy, accessible and resistant to rot is key to the longevity and practicality of a shed. Whether it's a new shed, an old shed, a potting shed or a workshop, your shed's position is a key factor to consider to ensure you get the best out of it.
Things to Consider
It's a common trait most of us employ when we purchase anything: buy it now, worry about where to put it later. When positioning your shed, however, you must think before you buy. The placement of a shed is directly proportionate to how long it'll last, and perhaps most importantly, how much you'll enjoy it.
Whether it's sun direction or house proximity, positioning your shed in the right spot will help you to get the very best of your outdoor plot. Here are our seven most important things to consider when positioning your shed:
1. Closeness to Boundaries
Placing your shed right up against a garden fence can cause a whole host of problems. Frankly, it'll probably get on the neighbour's nerves, and moreover, if it's big, the act of putting it there could considered illegal.
There are certain legislations regarding the positioning of a shed with regards to it's size and the subsequent, relevant need for planning position. These can vary between different councils and governments, so check up on your local laws for more information.
Keep in mind that your shed can't be placed within two metres of a property boundary if its eaves are over two and a half metres high, and shouldn't be put in the front garden.
Sounds shocking doesn't it? These things are worth researching before taking the plunge and parting with your cash.
At Garden Buildings Direct, we also recommend that all garden buildings are placed at least two feet away from any boundary for a multitude of other reasons. These include the potential need for you to access the front, back or sides for any reason, and to make sure that water does not soak into the shed's walls from any surrounding shrubbery.
2. Exposure to the Elements
At Garden Buildings Direct, we recommend that sheds are placed at least within the compass of some other building. This is to protect it from the full extent of the British weather assault when the rain and wind does come lashing.
Our sheds are designed to withstand heavy batterings from the elements, but even so, placement in the shadow of a surrounding structure will help give it a bit of respite during the storms.
3. Surrounding Shrubbery
As previously mentioned, plants and leaves in the immediate proximity of the shed could lead to water absorption issues, but other issues could ensue if sufficient care is not taken to make sure that the garden shed is out of the way of branches and foliage. These include scratched and indented wood and bug infestation.
4. Proximity to the House
In the same way that positioning your shed too close to bushes is a no-no, whacking it up right next to the house may also be a bad idea.
It won't allow you access to at least one of the sides in the event that you need to venture round there for any reason, and also means you can't see the building in full view from your upstairs window, making it a more suitable target for potential burglars.
One possible bonus would be the ability to supply the shed with mains power, if it's close enough to a source plug. If it's near a window though, it might end up blocking light from entering the house.
It's up to you to make an informed decision on where to position your shed. Make sure to assess all the downfalls before you decide.
5. Ground Reliability
Any garden building, not least one of our garden sheds, should be placed on a secure level base for a number of reasons, explained in this handy article.
But whether it's on concrete slabs or wooden plinths, the shed should be located on an area of ground which is not susceptible to flooding or to becoming waterlogged. Try and avoid areas of the garden that you know get the most wet – it's a shed, not a ship!
6. Sun Direction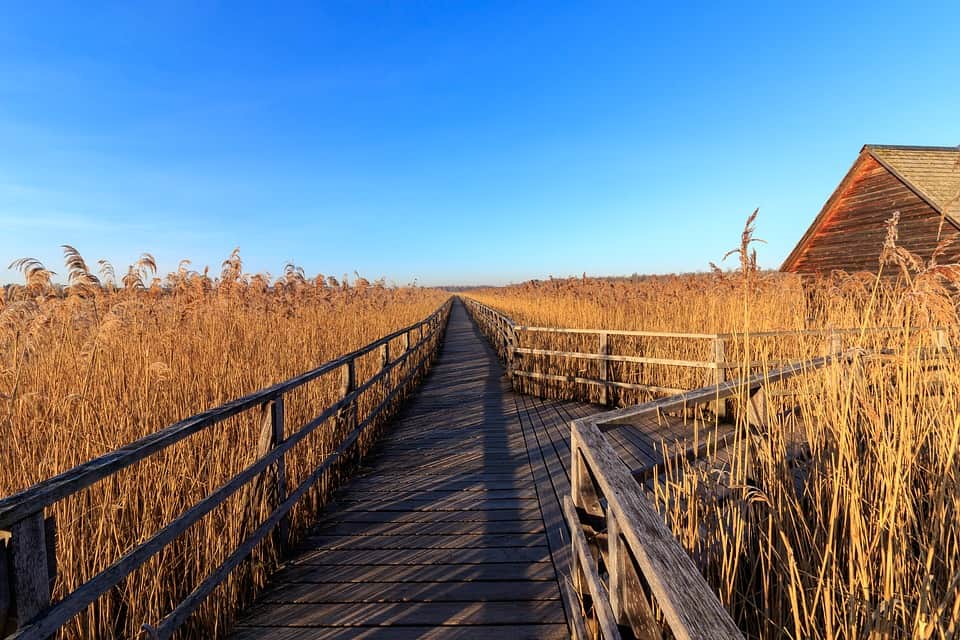 One oft-overlooked consideration in shed placement is its relative proximity to the sun, in accordance with the seasons, and the time of day.
If you're planning to keep plants or grow vegetables inside, you'll ideally want to position it in a place where it's going to get as much sun exposure as possible. But if you're going to be in there a lot yourself, a sun-trap might be troublesome – especially during the height of summer, when the shed might get too hot. 
Contrarily, a shady location might get too cold during the winter. Make sure to take into account exactly what you're going to be using it for when deciding on where you might position your shed.
7. Accessibility
Our final tip relates to making sure you can get to your shed, and inside your shed, safely and easily whenever you might need to access it.
Keep in mind how far you might have to travel if you're going to be in and out a lot, and very importantly, how close the door is to any boundaries if you expect to be lugging heavy, bulky items in and out on a regular basis. Once you've put it up, it's not easy to move around!